This post may contain affiliate links. See our affiliate disclaimer here.
Recent news reports have stated that there are over one million Americans living in RVs or recreational vehicles. However, it is difficult to find hard data about what types of people are part of the RV lifestyle. I recently conducted a survey of 235 full time RVers to find out more about who they are and what motivated them to live in an RV. Here are the results.
How Many Full Time RVers are There?
One million Americans live in RVs, according to an estimate from the RV Industry Association. It is difficult to accurately count the number of Americans living in RVs because it is not a lifestyle accurately captured by the census and other national data sources.
Who are the Full Time RV Families?
According to our recent survey, there are all types of families living in RVs but the majority of full time RVers are couples without children. Over two-thirds of full timers don't have kids living with them. Even among the non-retired, 70% are couples traveling without kids. Only 12% of full time RVers are solo travelers.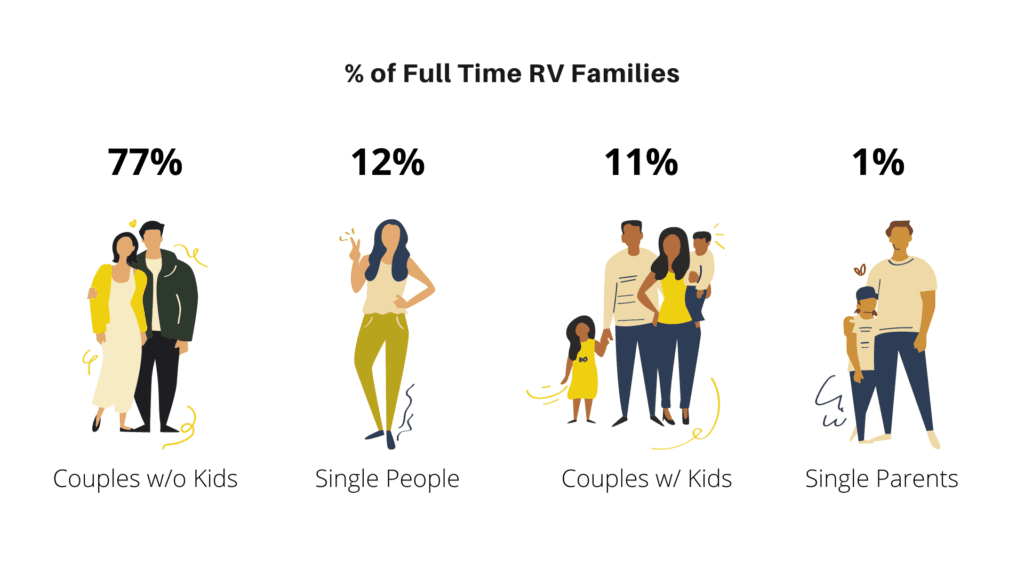 Do Full Time RVers Own Pets?
Yes! 62% of full time RVers travel with at least one pet. It is more common for full time RVers to travel with dogs (51%) than cats (22%). 11% of full timers are like us and travel with both a cat and a dog. For advice on RVing with pets, check out our posts on tips for RV travel with cats and dogs.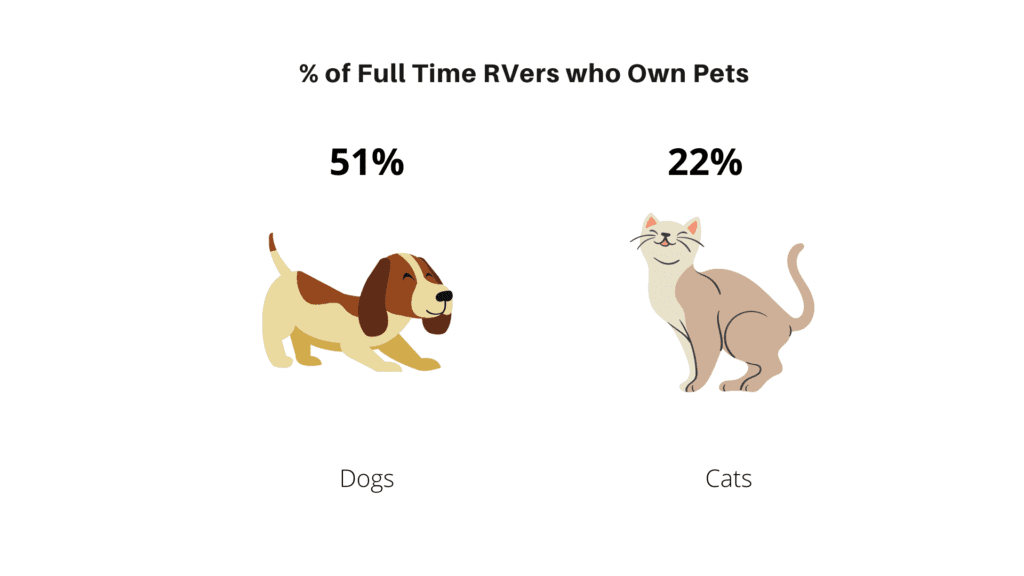 How Do Full Time RVers Make Money?
One key question for people interested in the RV lifestyle is how to make money on the road. According to our survey, 47% of traveling RVers have at least one retired person in their family. Among non-retired full time travelers, 42% are self-employed and 47% are employed by someone else and telecommute or travel for their job. Our article on full time RV career options details possible job opportunities for this community.
How Much Does Full Time RVing Cost?
A whopping 74% of full time RVers said their current monthly budget is lower now than before they moved into the RV. Only 5% of full timers said their spending had increased since moving into an RV. The income of full timers varies greatly with 30% of full timers making less than $50,000 per year and 24% earning $100,000 or more per year. 71% of full timers are members of RV clubs that offer free or discounted camping.
What Type of RVs do Full Time RV Families Live in?
Towable RVs (fifth wheels an travel trailers) are more popular among full timers than drive-able RVs. Among traveling families, fifth wheels and Class A motorhomes are the most popular types of RVs. Stationary full timers are much less likely to live in a Class A RV. 53% of full timers bought a used RV. Learn more about the pros and cons of each type of RV in our complete guide.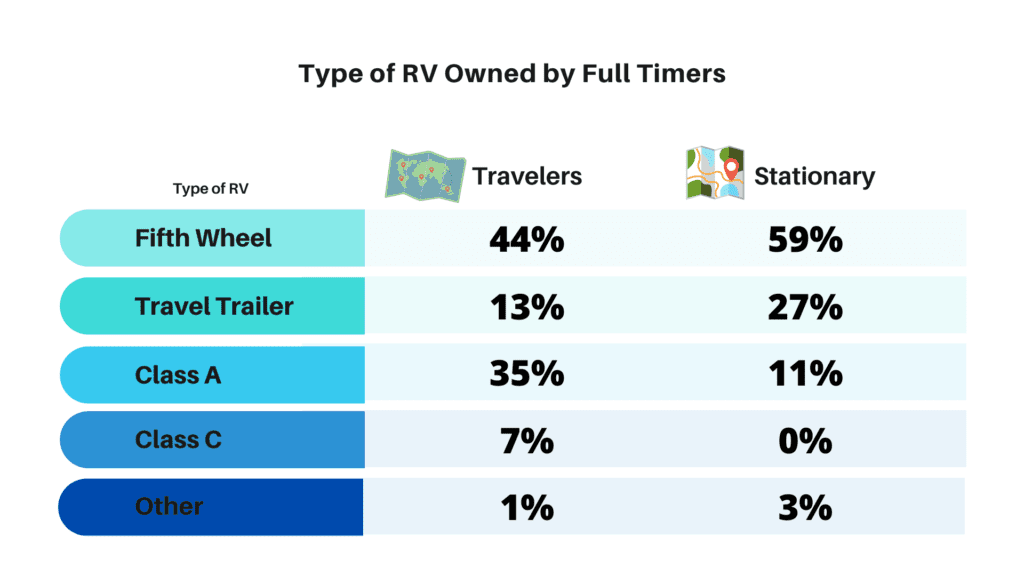 How do Full Time RVers Get Mail?
Another challenge for traveling full time RVers is how to get mail on the road. 38% of full time RVers primarily use a mail forwarding service to handle their mail, while 35% have mail sent to a family member. A smaller portion of RVers receive all of their mail directly at their campground or send it to the local post office.
How do Full Time RVers Access the Internet?
Mobile hotspots are the most popular way to access internet, with 72% of full timers identifying a hotspot as their primary connection. 8% of full time RVers do not pay for internet and only use free WiFi connections. Read more about mobile internet options here.
Why do People Live in RVs?
Not surprisingly, the majority of traveling RVers said travel was their primary motivation for RV living. Other motivations to become full time RVers included the desire to live tiny, a lower cost of living and travel-based careers.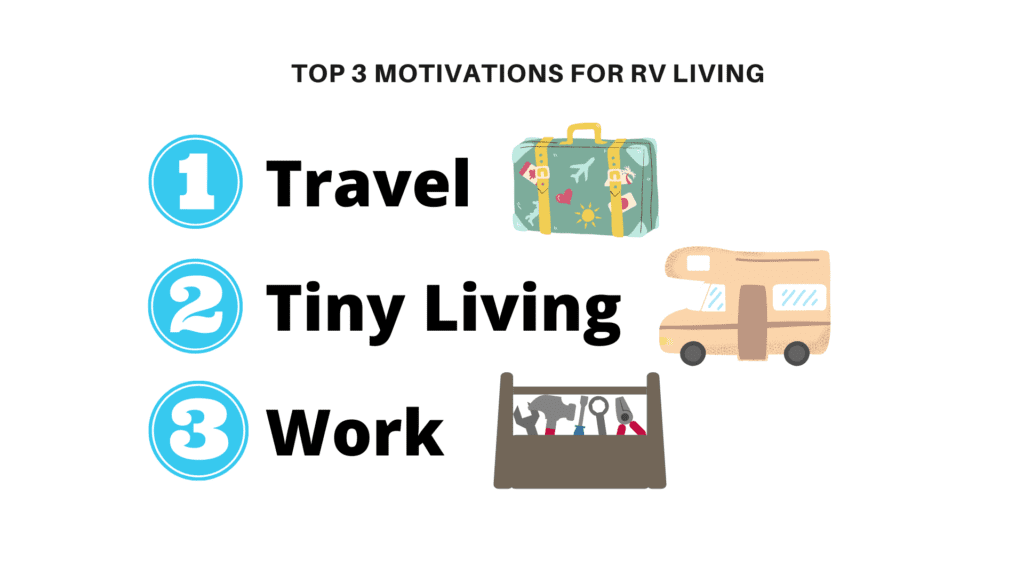 Methodology
Except where noted, all data reported in this article was collected in an online survey conducted in July, 2020. The survey was distributed via social media groups and forums for full time RVers. 235 current full time RVers responded to the survey.