This post may contain affiliate links. See our affiliate disclaimer here.
Are you a motorcycle enthusiast seeking the ultimate adventure on two wheels? Look no further! In this post, we'll explore the world of motorcycle campers and highlight the best options available.
What are Motorcycle Campers?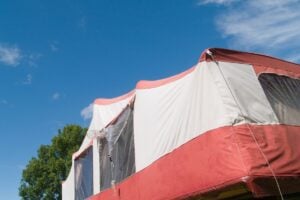 Motorcycle campers are compact and lightweight trailers specifically designed to be towed by a motorcycle. These tiny campers allow motorcycle enthusiasts to carry many comforts and conveniences on cross-country road trips or weekend getaways.
Most motorcycle campers are pop up campers. They fold down to a small hard-sided trailer for towing. Tent material pops up to create higher walls and a larger living space when the camper is expanded.
Despite their compact size, motorcycle campers offer essential amenities such as sleeping quarters, storage compartments and dining facilities, allowing riders to enjoy extended trips without sacrificing comfort.
Motorcycle campers offer an exciting way to explore the world, enabling riders to embark on thrilling journeys while immersing themselves in nature's beauty.
What Size Camper Can My Motorcycle Tow?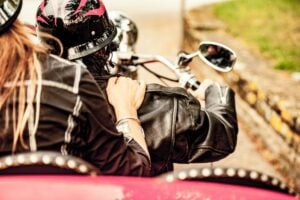 While it is definitely possible to tow a tiny camper with some motorcycles, it is important to understand the limits of your vehicle.
Some motorcycles do not have a powerful enough engine and transmission to tow any trailer. If you are interested in towing a camper with a motorcycle, you will need a bike with a hitch installed. In general, you should not attempt to tow anything with an engine smaller than 1000 ccs.
With a larger engine, you will need to determine the appropriate trailer weight, length and width for your motorcycle. You should always consult with the manufacturer of your motorcycle to determine the camper size and weight that you can safely tow.
A simple way to calculate a rough estimate of the the heaviest trailer your motorcycle can tow is to take 20% of your motorcycle's total loaded weight (including the weight of you and your gear).
Best Motorcycle Campers
Now that you understand what motorcycle campers are, here are our choices for the best motorcycle campers.
Please note: other articles on motorcycle campers list many more available brands, but several companies have recently stopped producing these trailers. Before buying a new or used camper, make sure the company is still in business, and check if replacement parts will be available.
Excel II Tent Trailer
Weight: 330 pounds
The Excel II Tent Trailer is an awesome, lightweight motorcycle camper. This camper is a thin trailer when being towed. After reaching the campsite, riders can lower the jacks, unlatch the roof and raise the side arms to create a comfortable home on the road.
The camper is 14 feet when when open and houses a double bed with a memory foam mattress. Campers who want more space to relax can purchase the add-a-room or screen room options, that create an additional tented room outside of the trailer.
The Excel II also has 30 cubic feet of storage space to fit all of your belongings and camping gear.
Kompact Kamp Mini Mate
Weight: 260 pounds
The Kompact Kamp Mini Mate is a super compact trailer that can be towed by motorcycles and small cars. Its body is made fully of fiberglass, so the Mini Mate is durable.
After a long day on the road, Mini Mate can be quickly set up to form a full-size bed that comfortably accommodates two adults. The camper also has `15 cubic feet of storage space that can be accessed through the rear door.
LED lights, carpet, bed cushions and stabilizer jacks are all included with the standard Mini Mate package. Campers who want more space to relax can add the add-a-room package, which creates a secondary tented room.
Solace Deluxe Motorcycle Camping Trailer
Weight: 400 pounds
From the USA Trailer Store, the Solace Delxue is another pop-up tent trailer that can be pulled behind your motorcycle. When closed, the trailer offers approximately 16 cubic feet of usable storage space.
When opened with the attached tent poles, the camper houses a bed platform with sleeping space for two, and a dining area with a table included. The tent is 6'7″ tall in the dining area, so there is plenty of headroom for most campers.
With the cooler package, the trailer also includes an aerodynamic cooler holder and cooler on the front of the trailer, so food and cold drinks are easily accessible when riding and when camping.
Sylvan Go Camper
Weight: 840 pounds
Unlike the other campers on this list, the Sylvan Go Camper is not meant to be towed with your motorcycle. However, it can carry your motorcycle, which makes it perfect for a rider who wants to bring their family along on the road trip.
The lightweight utility trailer can be towed by a small car, and it transforms to a tent camper. The GO is an ultralight, aluminum trailer that can haul up 800 pounds on the deck, plus another 160 pounds on the upper racks. 
In camping mode, the tent has room to sleep a family of 4 and includes a fold-down dining table for eating and playing games. Multiple interior configurations allow you to customize the camper to fit your needs.
Time Out Camper
Weight: 345 pounds
Another great motorcycle tent trailer, the Time Out Camper boasts as little as 20 pounds of tongue weight making it incredibly easy to move by hand.
When in the trailer mode, the Time Out has 16 cubic feet of storage space. When expanded for sleeping, the trailer houses a queen-size air mattress, a folding chair and a table.
The camper can be fully set up in just a few minutes, and it incudes tinted window screens for added privacy.
---
Thanks for reading our complete guide to the best motorcycle campers. If you are left wanting a camper with a bit more space, check out our list of the best pop up campers with bathrooms.