Campground Overview
Oasis Palms RV Resort is a great RV park and campground located in the middle of nowhere in Thermal, California. This resort is a nice, affordable place to stay near Joshua Tree National Park, but away from the tourists in nearby Palm Springs. Thermal is not normally a very happening place, so be prepared to drive about 30 minutes to access a proper grocery store and full-service restaurants. There is a small local market in walking distance from the park where campers can get very basic groceries.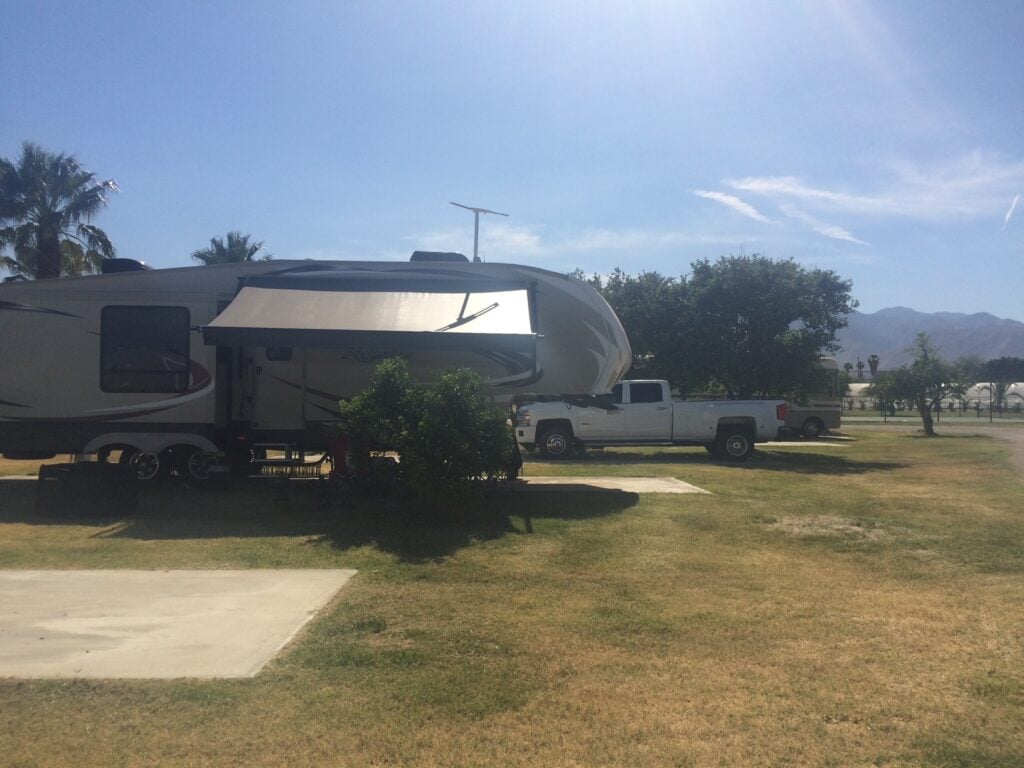 However, the park does become a popular destination a few weekends each year. The park is a short drive from the venue where the Coachella and Stage Coach music festivals are held. Both tent and RV sites are available for music festival attendees.
Oasis Palms RV Park Amenities
While there are limited activities near this RV park, there are plenty of on-site activities and amenities. The park has a nice outdoor swimming pool and hot tub that can be used year-round. Inside the clubhouse, campers can enjoy a pool table, ping pong and board games. The park also offers a small lake and tennis courts. Laundry facilities and free high-speed Wi-Fi are also available.
The grass campsites with concrete pads are spacious, and we enjoyed the view of palm trees in front of nearby mountains. Full and partial hookup campsite are available, and all campers can enjoy fruit from the campground's trees.
Reservations
Oasis Palms RV Resort accepts reservations for RV camping year-round. Nightly rates start at $35, but monthly rates are more affordable ranging from $550 to $700 depending on the campsite and season (summer is more expensive than winter). All utilities and access to the dump station are included in the price of the campsite. A 50% non-refundable deposit is due at the time of booking, so only make a reservation here when your plans are set in stone.
Things to Do Nearby
Visit Joshua Tree National Park
The southern entrance to Joshua Tree National Park is just 30 minutes from Oasis Palms RV Resort. This national park offers numerous hiking trails and opportunities for wildlife sightings. Visit in the spring to see the desert come alive with wildflowers and cactus blooms. Pets are not allowed on any of the trails, so it is best to find someone to watch your dogs while you visit the park.
Hike the Ladder Canyon
The Ladder Canyon Trail in Mecca Hills Wilderness is an awesome and unforgettable hike. The trail traverses through slot canyons with ladders placed throughout the trail to help hikers navigate. It is an unforgettable trail, however, there are also few cautions. The drive to the trailhead is several miles down a long, bumpy dirt road, which will be difficult to access with a small car. The Trail is dog-friendly, but we has to carry Ted up the ladders, so I would not recommend this trail for larger dogs.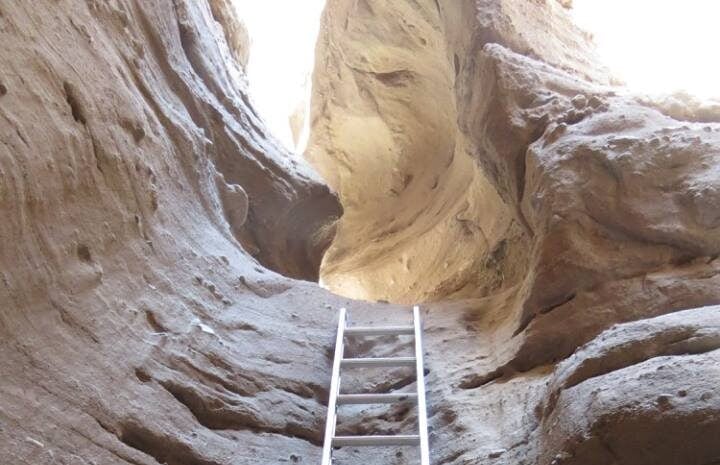 Drive Around the Salton Seas
The Salton Sea is an eerie, but interesting area to explore. Once a resort town in the 1960s, the area was mostly abandoned as the lake began to dry up and contaminated by farm runoff. Today, visitors can drive around the strange area and observe the beaches full of fish bones. It's worth seeing this sea which has been called "the biggest environmental disaster in California history," but I would not plan on spending much time here.
---
If you are planning a California RV road trip, check out our full list of affordable California RV Parks and all of our RV campground reviews.