Campground Overview
Rusty's RV Ranch is located in the quiet, remote town of Rodeo, New Mexico just a few miles from the Arizona border. The park has views of both the Peloncillo and Chiricahua Mountain Ranges. At an elevation of 4124 feet, the summer weather here is milder than most desert destinations. They rarely break 100 degrees and are usually at least 10 degrees cooler than Tucson, Arizona.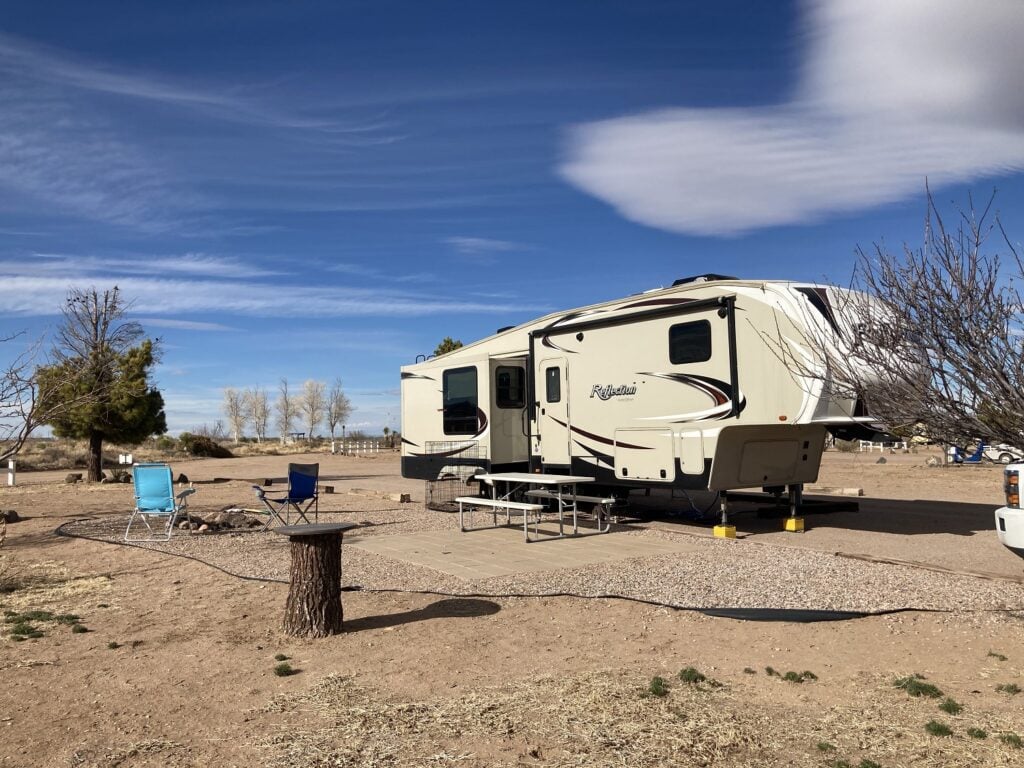 Amenities at Rusty's RV Ranch
Rusty's RV Ranch has some of the most unique amenities of any RV park we have visited. These one-of-kind features include a duck with many birds, including a stunning black swan. Next to the duck pond, is a goat pen with some adorable campground residents. Other amenities include a fenced dog park, a swim spa, walking trails and clubhouse with bathrooms and a laundry room.
Because of its remote location with few other buildings around, Rusty's RV Ranch also offers some of the darkest skies in the country. Be sure to stay up until dark and turn all of your outdoor lights off, so you can enjoy the incredible night skies. The downside of the remote location is a lack of cell service. We had no internet service with our Verizon phones, but other campers reported that AT&T worked well. Free Wi-Fi is available, but it worked sporadically during our stay.
Reservations
Rusty's RV Ranch accepts year-round camping reservations by phone. The rates are very affordable, starting at $29 per night with discounts for weekly and monthly stays. Electric usage is metered for weekly and monthly stays. Both cash and credit cards are accepted, but an additional fee is applied for credit card payments. All of the RV campsites are spacious and offer full hookups.
Insider Tip: We stayed in site number 37 (pictured above), and I think it was the best RV site in the park. It has mountain views and did not face any other campsites. It was also right next to the adorable goats, which may be a downside for some campers but was a bonus for us.
Things to Do Nearby
Hike at Cave Creek Canyon
Nestled in the Chiricahua Mountains of Southeastern Arizona, a few miles from Rodeo, NM, is Cave Creek Canyon, a hidden gem with spectacular cliffs, flowing streams and abundant wildlife. Many visitors have referred to Cave Creek Canyon as "Arizona's Yosemite." South Fork Trail is a great hike for all skill levels. The trail runs through the woods following and crossing a creek. When the creek is flowing, there are small waterfalls along the trail.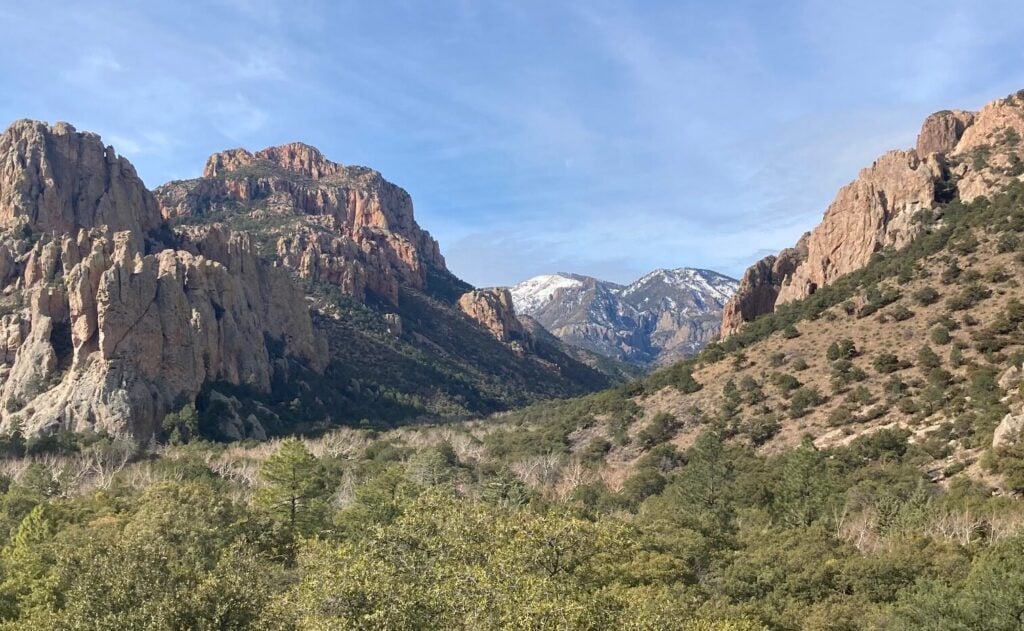 Go Birding
Cave Creek Canyon, Rodeo and all of the surrounding area are best known for their spectacular birding. Look for new birds to add to your life lift on the hiking trails at Cave Creek Canyon. Birders should also visit Willow Tank is a pond that serves as an important destination for migratory birds. The pond is on private property, but is open to all birders.
Visit the Chiricahua Desert Museum
The Chiricahua Desert Museum offers a range of exhibits highlighting the natural beauty and culture of the local area. The museum has several wildlife exhibits as well as an art gallery. Their wildlife and botanical garden provides ample opportunity to intimately observe and photograph native wildlife in natural settings. The garden is open to everyone for a leisurely stroll, an afternoon of bird watching, or some quiet time among the desert's wild inhabitants.
---
Rusty's RV Ranch is a great campground, but there are so many other destinations to consider. For more RV park reviews and recommendations, see our RV campground review page and our favorite summer RV destinations.