Campground Overview
Tahoe Valley RV Campground is the Thousand Trails Lake Tahoe RV resort. The campground is located in South Lake Tahoe, California and is open year-round. While the park is not located directly on the lake, it is less than a ten minute drive to the nearest beach and is very close to shopping and restaurants.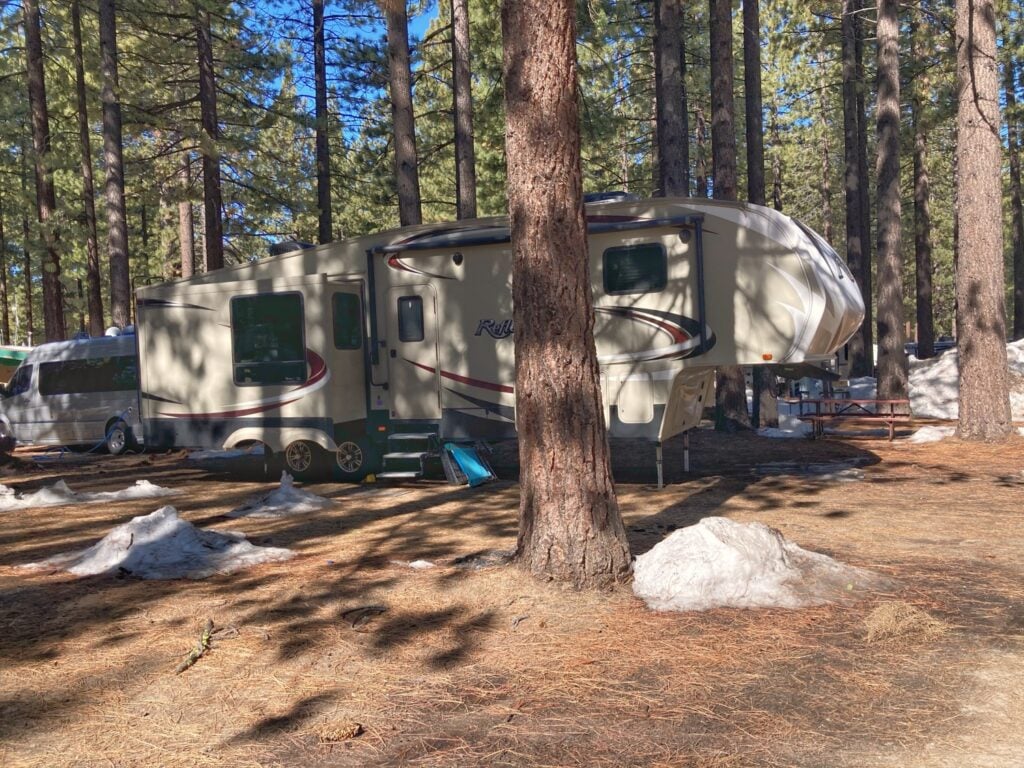 Amenities at Thousand Trails Lake Tahoe
While the Thousand Trails Lake Tahoe campground is open all year, most of the amenities are designed for summer campers. Fun summer activities at the RV park include a swimming pool, playground, basketball court, horseshoe pits and a dog park. There is also an on-site hiking trail that leads to a nearby river. The campground is located in a pine forest, so many of the sites have large trees.
Year-round amenities include laundry facilities, bathhouses and a camp store. We personally visited the Thousand Trails Lake Tahoe in early March, when the majority of amenities are still closed. However, the location and full hook-up RV campsite were all the features we needed to have a great stay. Water is turned off at campsites when there is snow on the ground, but water is available to fill your RV's fresh water tank.
Reservations
Thousand Trails Lake Tahoe reservations can be made online both by Thousand Trails members and non-members. Members should head over to the Thousand Trails website for reservations, while non-members must book a campsite using the RV on the Go website.
Tahoe Valley Campground is a Trails Collection RV park, so members with the Trails Collection option can stay up to 14 nights without paying any nightly fees. For non-members rates vary by site type and season, but are typically at least $75 per night. See our complete guide to Thousand Trails for more details on membership options and the best way to purchase.
Things to Do Nearby
There are many outdoor activities and loads of dining and shopping activities in the area. Our top three favorite activities near the Thousand Trails Lake Tahoe are listed below.
Sun Bath at Pope Beach
Located less than a ten minute drive from the Thousand Trails Lake Tahoe, Pope Beach is a public beach on the lake. The beach is located on National Forest land and is approximately three-quarter miles long with a sandy beach, excellent swimming and picnicking opportunities and incredible views of Lake Tahoe and the surrounding Sierra Nevada mountains. Kayak rentals and a food concession are available on site. Dogs are not allowed on the beach.
Go Tubing at Blizzard Mountain
Snow tubing is an exciting activity for both adults and kids. Blizzard Mountain has a great tubing hill where you can rent a tube for a two-hour time slot and enjoy unlimited rides. There is a rope tow that pulls you and your tube up the hill, so no walking required. Tubing is appropriate for adventurous kids of all ages, but children under 42 inches tall must ride with an adult.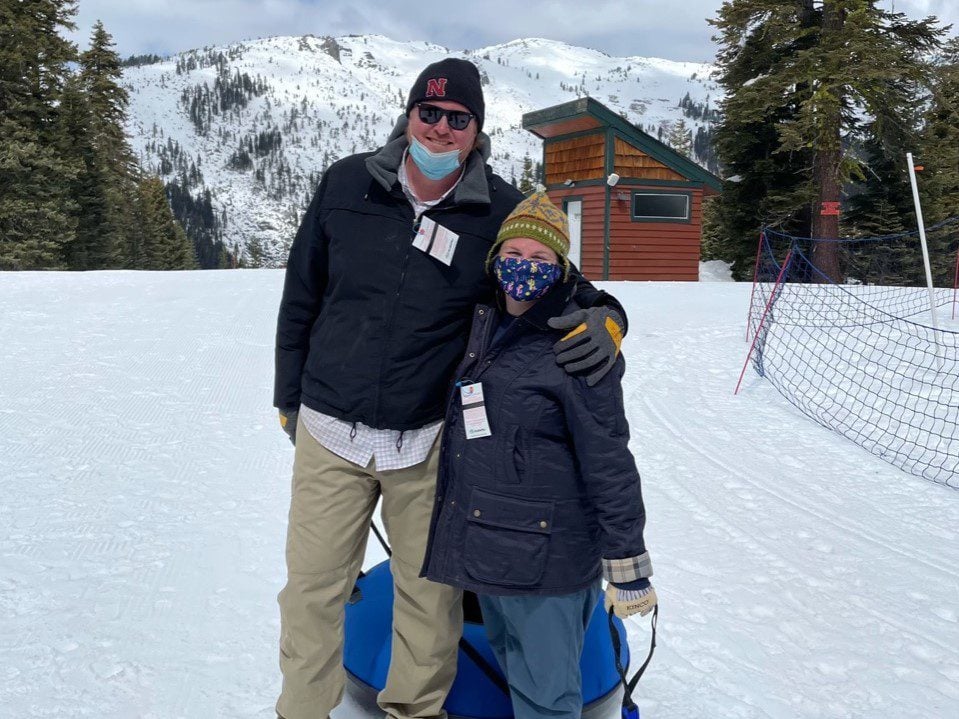 Gamble in Nevada
Just fifteen minutes away from the campground, is the Nevada border and several casinos. In Stateline, Nevada there are several casino options include Hard Rock and Harrah's. Adult campers can head to the casinos to place bets on sports, play bingo or try their hand at blackjack or craps. If you are not a gambler, many casinos also offer great dining options and live entertainment.
---
Thousand Trails Lake Tahoe is a great RV campground, but there are so many other destinations to consider. For more RV park reviews and recommendations, check out our RV campground review page and our favorite summer RV destinations.