Campground Overview
Yosemite Lakes RV Resort, located five miles outside of the national park's western Big Oak Flat entrance. The South Fork of the Tuolumne River runs through this large Thousand Trails RV park. The campground has 254 RV campsites, 130 tent sites, and a variety of cabin and yurt rental accommodations. This campground is the perfect place to park while exploring Yosemite National Park and other nearby national forests.
Yosemite Lakes RV Resort is a Thousand Trails campground. In exchange for an annual fee Thousand Trails campers can camp at member RV parks without paying any nightly fees. To learn more about membership options and how to get the best price on a membership, read our complete guide to Thousand Trails RV camping memberships.
Amenities at Yosemite Lakes RV Resort
Yosemite Lakes RV Resort is a large campground with all the basic amenities, and some extra features for kids. The campground has bathroom and laundry facilities for campers, as well as, a store with souvenirs, gas and basic groceries. Children will enjoy there recreational amenities, including miniature golf course, basketball courts, horseshoe pits and a large playground.
Reservations
As with all Thousand Trails campgrounds, Yosemite Lakes RV Resorts accepts reservations through their member website. Non-members can reserve campsites through the RV on the Go website. Members are able to camp for 14 of more nights, while non-members will pay over $90 per night in the peak season. When we camped here in March, 2021, all campers were allowed to select their own campsite. I am not sure if this is standard practice or if campsites are assigned during the peak season.
Things to Do Nearby
Visit Yosemite National Park
Of course, the main reason to camp at Yosemite Lakes RV Resort is to visit the nearby national park. While the campground is just 5 miles to the park entrance, it takes just under an hour to drive to the park's famous valley with its amazing waterfalls and high granite summits. The Hetch Hetchy Valley is much less visited and also closer to the campground. If you have a small car or tow vehicle, I highly recommend spending time in this remote section of the national park. The road is narrow and is not accessible for RVs or trailers.
Swim at the Rainbow Pool
Just down the road from the campground is the Rainbow Pool Day Use Area in the Stanislaus National Forest. This recreation area features a small waterfall and beautiful pool, where visitors can swim in the warmer, summer months. Pets are welcome at Rainbow Pool, but must be kept on a leash.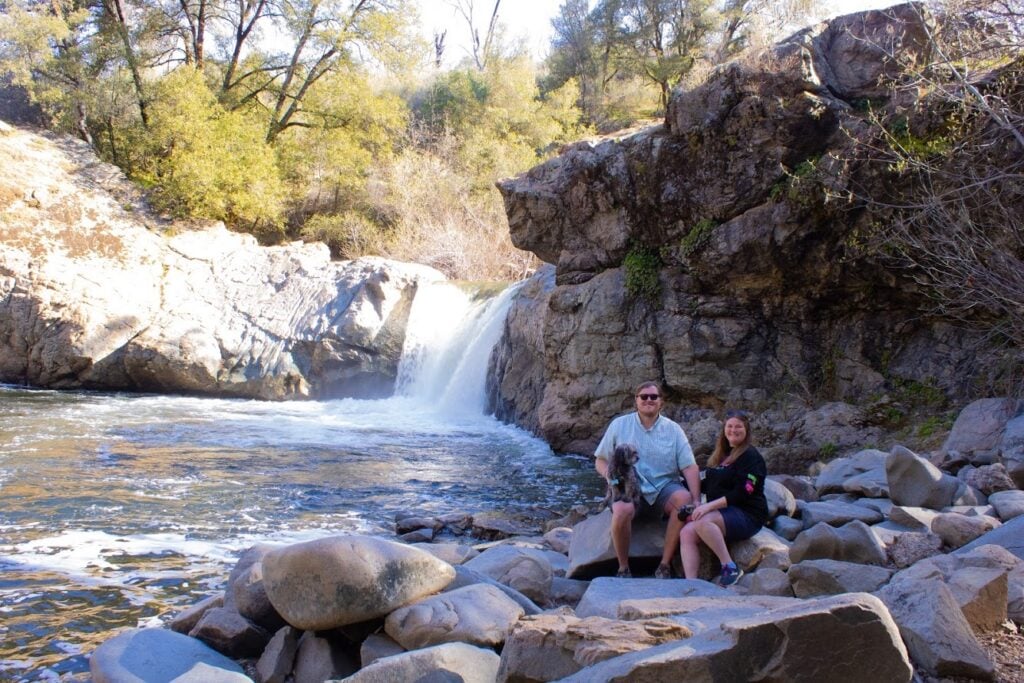 Hike at Hites Cove
If you stay at Yosemite Lakes in the spring when the wildflowers are in bloom, the Hites Cove Trail is must see destination. This trail, located off of Highway 140 behind the Red Bud Lodge, is covered in California poppies and other beautiful wildflowers. The trail is narrow with a very steep drop-off to the river below, so it is not suitable for small children or anyone who is unsteady on their feet. The full trail is 9 miles round-trip, but you only need to walk a few hundred feet to reach the spectacular blooms.
---
Yosemite Lakes RV Resort is a great campground, but there are so many other destinations to consider. For more RV park reviews and recommendations, see our RV campground review page and our favorite summer RV camping destinations.
Current and potential Thousand Trails members should also read all about the best Thousand Trails campgrounds in the country.
Are you a Thousand Trails member? Share your favorite campground with us in the comments sections below.