RV travel and road trips are the ultimate ways to travel and explore all of America's beautiful landscapes. However, the cost of fuel is a major deterrent for some potential road trippers and RVers. Use the below RV and Road Trip Fuel Cost Calculator to estimate how much an RV road trip will actually cost.
For more great RV camping and road trip tips and recommendations, check out our RV travel blog!
RV and Road Trip Fuel Cost Calculator
Average MPG is 6 to 10 for gas RVs or tow vehicles and 8 to 14 for diesel vehicles
National average is currently $2.87 for Gas and $3.09 for Diesel
Pin It For Later
Tips to Save Money on Gas on Road Trips
If the above calculation indicates that the cost of gas will impact for your RV road trip plans, remember there are ways to increase your average miles per gallon to save money!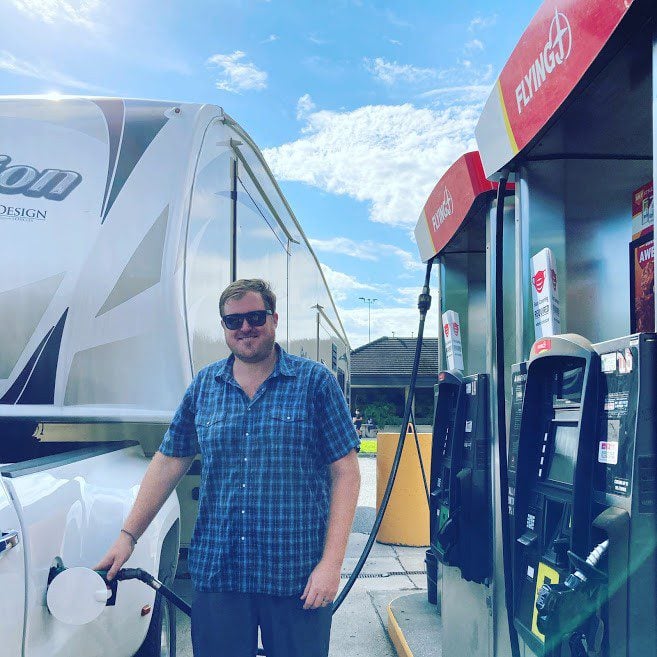 Drive Slow
According to fueleconomy.gov, fuel efficiency usually decreases rapidly at speeds above 50 miles per hour. For every 5 miles per hour you drive over 50 miles per hour, they estimate you will pay an additional $0.20 per gallon for gas.
Aggressive driving (speeding, rapid acceleration and braking) also wastes gas. Keep your RV road trip gas cost in check by driving at a steady speed. Using cruise control is a great way to keep your speed slow and constant.
Remove Excess Weight
RVs should not be over weighted for a number of reasons, and gas mileage is one of them. According to fueleconomy.gov, an extra 100 pounds in your vehicle could reduce your MPG by about 1%.
Evaluate every item brought into your RV and try to limit heavy items. Traveling with empty holding tanks is also recommended to avoid excess weight while driving.
Use Apps to Find the Best Gas Price
The easiest way to save money on RV gas (or gas for any road trip) is to find better gas prices. Always use an app, such as GasBuddy, to located the best fuel price in your surrounding area.
On long travel days, check prices all the way along your route to determine the most affordable places to fill up.
Click here to see more essential RV travel apps.
---
We hope our RV and Road Trip Fuel Cost Calculator was a helpful tool in planning your upcoming road trip or RV vacation!
If you are considering living in an RV or taking an extended RV road trip, check out our guide to RV budget planning. Our budget guide details all the expenses associated with RV life to help you create a personalized and accurate budget.
Happy Camping!