This post may contain affiliate links. See our affiliate disclaimer here.
While many RV campers are trying to disconnect from their devices, smartphones are a great tool for RV trip planning, navigation and maintenance. Below are the 15 best RV travel apps that every camper should download today!
The best RV travel apps help you arrive safely at your destination. Download these navigation and other road trip apps to help make travel days easier.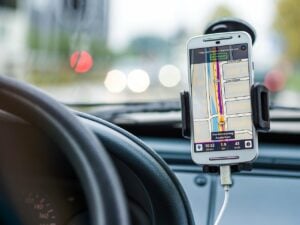 Price: Free
This app is a great tool to find the most convenient fuel, snack and potty breaks along your route. Simply enter your destination and see all truck stops and rest areas along the way.
For each stop the app shows the number of truck parking spots available, which helps you determine if its going to be a big lot or a tight squeeze for your rig. They also note what restaurants are on site and if the stop has a RV dump station.
The upgraded version of Trucker Path ($99.99 per year) also offers truck routing to help RVs and other large vehicles avoid low clearances and other undesirable routes.
Price: Free
This one RV travel app that is probably already installed on your phone, but I am recommending that you use it on each drive day.
While we recommend using an RV GPS system or a road carrier's atlas to plan your route, Google Maps is another necessary travel day app. We recommend using the app for its real-time traffic features.
The app will notify you of any delays and provide alternate routes, to help you avoid being stuck in traffic on a long drive. Always consult your Atlas or GPS before turning on alternate routes.
Price: Free
Fuel is one of the largest expenses on any RV road trip. GasBuddy provides maps with current fuel prices to help RV travelers find the best price on gas or diesel every time they fill up.
App users also have access to the free GasBuddy fuel card, which offers savings on every gallon, at any station. Just securely link your bank account, swipe, and save up to 25¢ per gallon.
Users are also able to track their fuel use to better track their spending. Also, use our RV fuel cost calculator to accurately estimate the cost of gas on your next road trip.
RV LIFE
Price: Free (subscription required for Pro features)
The RV LIFE Pro app is both a navigation app and a trip planner. With an RV LIFE Pro subscription, users have access to an RV safe GPS, trip planning tools, detailed campground reviews and more.
Read our complete review of RV LIFE Pro for more information. An annual membership costs $65, but you can save 25% off your first year with our coupon code TRAVELSWITHTED.
Best RV Trip Planning Apps
The following apps help campers find the perfect RV resorts, campsites and boondocking spots. Most RV travelers will want to download all of these apps to help plan extended road trips.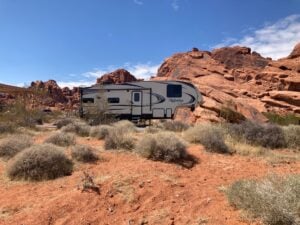 Price: $14.95 per month (discounts for annual members)
My personal favorite app for find RV campgrounds is Arvie.com, which has several unique features. Arvie does not just help you find RV campsites. This RV campground app actually books campsites for you. Their features also include the ability to find and then easily book sold out campgrounds and RV parks.
Read our complete review of Arvie for more information about their unique features and a link to sign-up for a free trial membership!
Price: $9.99
This is the mist comprehensive app to locate RV campgrounds and places to park overnight. You can easily zoom in on a city or highway to see all RV parks, campgrounds and overnight parking spots on your route.
Their extensive list of filters, allow users to limit their searches by price, RV camping club, hookup types and RV park amenities. The app also includes truck stops for travelers to find fuel along their route.
Price: Free
Created by campers for campers, Campendium has tens of thousands of places to camp, from swanky RV parks to free remote destinations. The best part of this RV camping app is the detailed reviews.
Campgrounds and boondocking spots alike have been reviewed by their 580,000 plus members. A $20 annual membership unlocks several additional features, including an ad free experience, cell coverage maps and public land map overlays.
Price: Free
ReserveAmerica, provides online campsite reservations for state, provincial, private and local government RV parks and campgrounds. Most state parks and many other campgrounds use ReserveAmerica as their exclusive online reservation system.
The ReserveAmerica Camping app allows campers to search for campsites, view campground maps and photos and make reservations all over the country.
Price: Free with Membership
Harvest Hosts is a membership club that connects RV travelers with host locations across the country. Members can camp overnight for free at hosts across the country, including wineries, farms, breweries and more unique locations.
Members have access to the Harvest Hosts app which includes a hosts map along with photos, reviews and policies for each host. Members can also make online reservation requests for host stays. Click this link to get the best price (15% off) on a Harvest Hosts membership today.
Price: Free
Kampgrounds of America (KOA) is the world's largest system of privately held campgrounds with more than 500 locations across the United States and Canada. Their huge number of parks means that most RVers will stay at a KOA at some point in their travels.
Use their app to find nearby KOA parks, view RV park information, make and manage RV camping reservations and more. For the best price on your KOA stays, make sure to join KOA rewards before downloading the app and making your first reservation.
Best RV Magazine Apps
Some of the best RV travel apps are digital magazines that share advice on RV camping, travel and living. Download these amazing RV publications to inspire your next road trip.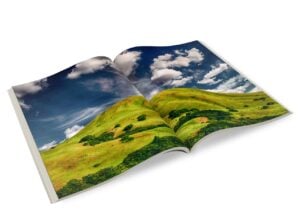 Price: $9.99 Annual Subscription
Rootless Living is a magazine for digital nomads, many of whom travel the country in their RVs. The magazine provides insider tips, hot spots and tools for living and working on the go.
Whether you are a full-time RVer or just a weekend warrior, the magazine provides practical advice and inspiring stories that resonate with all campers. The digital version of the magazine is available through the Rootless Living app.
Price: $19.99 Annual Subscription
RV Destinations Magazine is a travel magazine for the RVer. With stunning imagery from cover to cover, you'll find write-ups on everything from well-known destinations to those hidden gems off the beaten path to help you choose your next RV getaway.
Their app allows you to buy digital editions and access them anytime, anywhere. An annual subscription with access to all eight issues costs $19.99 or single issues may be purchased in the app for $5.99.
Best RV Maintenance Apps
While many of the best RV travel apps are a fun way to plan road trips, others are practical apps to help when things go wrong. Download these RV maintenance apps to help you repair issues quickly.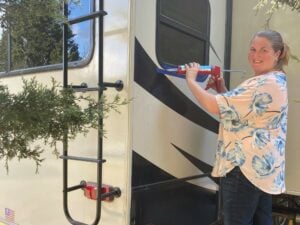 Price: Free
Lippert Components is a global manufacturer or many RV products including leveling systems, power jacks, awnings, campground accessories and much more. The LippertNOW app will arm you with the information you need to learn about, install, operate and troubleshoot Lippert RV products.
The app features comprehensive product information, features, benefits, photos and videos, as well as customer support material including manuals, components lists and LIP Sheets (Lippert Informational Sheets).
Price: Free
YouTube an app you probably already have installed on your phone but it is also a great tool for RVers. When we first starting RVing, we knew nothing about RV repairs. However, we were able to successfully fix several RV issues ourselves after turning to YouTube.
When you're a full-timer, repairs mean hiring a costly mobile service or paying for a hotel while your rig sits in the shop, so learning from others online can save you a lot of money. Before turning to YouTube, download our free RV maintenance checklist to get started.
Other RV Travel Apps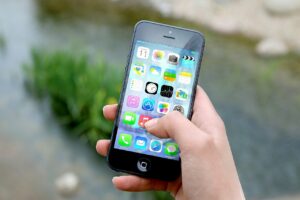 Price: Free
National parks are a top destination for every RV camper. The NPS app is the official app for the National Park Service with tools to explore more than 400 national park locations nationwide.
Find interactive maps, tours of park places, on-the-ground accessibility information and much more to plan your national park adventures before and during your trip. Also, see our complete guide to RV camping in National Parks to help select your next destination.
Price: $2.99
This handy app takes all the cell phone company's data coverage maps and fuses them together as one. Easily determine whether a campground has strong cell service before making a reservation.
This app is especially helpful if you work online and rely on a mobile hotspot for your internet connection. The app includes coverage data across the United States and Canada. All the coverage maps in the app are also updated with all the latest information, including the latest 5G rollouts.
Price: Free
Once you arrive at your destination, its time to start enjoying the local flavor. Use Yelp to find local bars and restaurants. Their extensive filters allow you to sort by specific types of cuisine, price points and dog friendly locations.
Full-time RVers or campers on an extended road trip can also use the app to find other local establishments, such as dog groomers, hair salons, laundromats and more.
---
Once all these apps are downloaded you are ready to hit the road with confidence. To feel even better prepared, read up on our essential RV tips for beginners. We share tips on RV maintenance, travel safety, parking and more!
Happy Camping!