Can you afford to live in an RV and travel full-time? Our RV Living Cost Calculator allows you to quickly and easily calculate your projected annual RV living budget.
For guidance on typical costs, see our detailed blog posts on RV living expenses to understand the typical expenses associated with each item in the RV Living Cost Calculator.
RV Living Cost Calculator
Please enter the percentage of the year you plan to spend at each type of campground. The total of the 4 slides MUST equal 100
25
Free camping outside of campgrounds
25
State park campgrounds costing $30 per night
25
Average RV parks costing $40 per night
25
High-end resorts costing $100 per night
Enter the expected monthly payment for your RV and/or tow vehicle
Enter annual budget for RV maintenance, we recommend a minimum budget of $2000
Enter annual insurance premium for your RV or tow vehicle. The average annual premium is $502 for a travel trailer and $848 for a motorhome.
Enter expected monthly fuel costs. Use our RV Fuel Calculator to calculate: https://www.travelswithted.com/full-time-rv-resources/rv-gas-cost-calculator/
Enter the expected number of RV-sized propane tanks used each month. 2 should be sufficient unless you are boondocking frequently or camping in cold weather.
Enter expected laundromat fees. 6 loads per month at $4 per load would be $24
If you plan on having a storage unit, enter the monthly rent
Enter mobile and internet fees. Our Verizon Plans with 2 Phone Lines and Unlimited Hotspot is $200 per month
Enter your monthly health insurance premiums
Enter your monthly budget for dining out, recreation and entertainment
Enter your typical monthly spending on groceries, pet care and household necessities
Enter the annual amount for any other miscellaneous expenses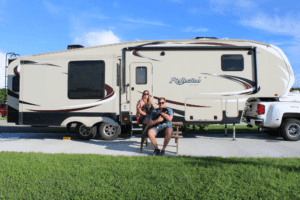 How to Reduce your RV Living Cost
Is your projected annual budget in the RV cost calculator too high? Below are 5 simple ways to cut costs and make RV living more affordable.
Get Expert Help
If calculating and planning your RV budget seems too overwhelming, there are experts who can help you create and stick to a reasonable budget.
Julie and Sean Chickery are full-time RVers who managed to pay off $137,000 in debt while living on the road. Their course, Full-Time RV Finance, helps families customize a realistic RV life budget and create strategies to control their finances more effectively.
Eliminate Storage Costs
We rented a small storage when we moved into our RV over five years ago. Since then, we have used none of the items in the storage unit and spent over $5,000 in rent!
We plan to empty out our storage unit soon, and I highly recommend eliminating this cost from your RV living budget. As an added bonus, selling your stuff instead of storing it can help fund your RV lifestyle.
If you are nervous about the downsizing process, enroll in RV Inspiration's Declutter & Downsize course. The course includes practical tips on the downsizing process, as well as a workbook and calendar to structure the process.
The entire 5-part course is just $78 or you can purchase individual lessons, such as Closet Cleaning or Downsizing Sentimental Items, for just $18.
Find Free Camping
As you can see in our RV Living Cost Calculator, campground fees are one of the biggest line items on many full-time RVers' budgets. Finding free or low-cost camping will make RV living significantly cheaper.
Affordable camping doesn't always mean boondocking or dry camping in the desert. See our guide to free camping with full-hookups for some examples of awesome free RV sites.
Another way to reduce camping costs is to join an RV membership club that offers discounted camping to members. Our favorite RV club is Thousand Trails which offers camping with no nightly fees to all members.
Elite memberships do have large upfront costs, but campers will definitely enjoying savings on rent in the long-term. See our full guide to Thousand Trails membership options for more details.
Travel Slower
Fuel is another major expense for most full-time RVers. Taking shorter trips and staying at each destination longer is the best way to reduce fuel costs.
The benefit of moving into an RV is being able to travel all the time instead of only during your two-week vacation. With 52 weeks of travel there is plenty time to explore, so go slow and save yourself some dough! (I couldn't help the cheesy rhyme)
Choose an Affordable RV
Your first RV doesn't need to be your dream RV. If money is your biggest hurdle to getting on the road, start with a small RV or travel trailer. You can always upgrade later, although you may not want to.
We personally wish we had selected a smaller RV, and I've heard from countless full-time RVers who learned the hard way that smaller is better. See our picks for the best RVs for full-time travel for some RV buying inspiration.
More Tips
See our guide to cheap RVing for more ideas on saving money while traveling in an RV.
Resources for Aspiring Full-Time RVers
We hope our RV Living Cost Calculator and money-saving tips helped you understand if full-time travel works for you. If you are interested in the RV lifestyle, check out these other great resources!
---
What was your projected annual budget from the RV Living Cost Calculator? Share your results and your plans for RV living in the comments section below.