This post may contain affiliate links. See our affiliate disclaimer here.
Love RV camping, but stuck inside during the winter? Take yourself back to the campground with these fun RV TV shows. Our list of the 15 best RV TV shows will keep you busy until you are back on the road this spring!
Best TV Shows about Buying RVs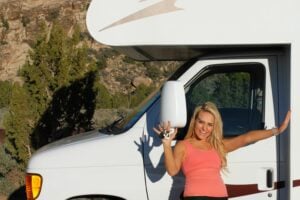 If you love House Hunters, you will also love these awesome shows all about shopping for RVs. See families shop for everything from tiny trailers to luxury motorhomes!
Going RVing
The show follows RV shoppers around the lot as they tour different campers. The long-running show features all types of RV shoppers from couples looking for a home on wheels to families looking for a weekend rig.
Going RVing is a great watch for anyone considering an RV purchase, as you can go inside hundreds of RVs without leaving your couch!
Where to Stream: Stream on Hulu or Sling TV with premium subscription plans.
Big Time RV
Big Time RV gives you an all-access pass inside a large, Florida RV dealership. See how the staff tries to satisfy the demands of RV shoppers looking to buy or rent the biggest, most over-the-top RVs available.
Where to Stream: Stream on Discovery Plus.
Tiny House Hunters
Homebuyers across the country hunt for tiny houses that fit their lifestyle. On each episode, the shopper views multiple homes under 600 square feet before deciding if they are ready to join the tiny house movement.
Many of the shoppers on Tiny House Hunters tour and consider RVs as one of their options.
Where to Stream: Stream on Discovery Plus or through the HGTV GO app.
Best RV Life TV Shows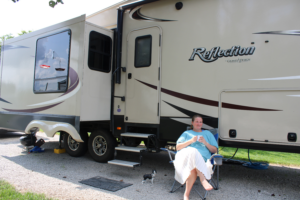 Curious about the RV lifestyle? These awesome RV TV shows will take you inside the real life of families living in their campers.
The RVers
Starring successful RV life vloggers, The RVers is an educational show created to teach current and aspiring RVers. The cast shares their experiences and practical tips on all things RV life.
Segments include learning to drive an RV, boondocking for newbies and mobile internet options.
Where to Stream: 3 seasons of the show are available for purchase through Amazon Prime Video.
RV Unplugged
RV Unplugged is a unique competition series testing the skills and endurance of RVers while off-grid camping. The online show features 15 RVers (many of them full-time RVers) competing for the chance to win $10,000.
Where to Stream: Stream the entire show for free on YouTube.
Best RV Renovation TV Shows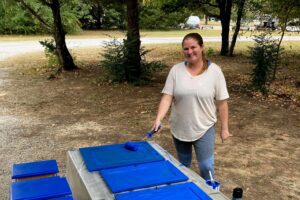 Who doesn't love an amazing transformation? These fun RV renovation TV shows will show you how an RV can be transformed into a stunning home on wheels.
Rock my RV
Rock My RV follows legendary Poison lead singer, Bret Michaels, and his design and build teams as they transform ordinary RVs into outrageous mansions on wheels. Their insane remodels include the ultimate roof deck and some incredible tailgating features.
Where to Stream: Stream the 16 episode season on Discovery Plus or purchase episodes on Amazon Prime Video.
Extreme RVs
Another RV TV show with mind-blowing renovations, Extreme RVs follows renovators as they transform RVs.
From cutting-edge futuristic designs to multimillion dollar restorations of classic RVs, the show's designers and craftsmen bring outrageous, one-of-a-kind machines to life.
Where to Stream: Stream on Discovery Plus or through the HGTV GO app.
Van Go
On Van Go, Brett Lewis, the owner of the Chewy Design Company, renovates vans into tiny homes on wheels, innovating creative solutions and tackling the many challenges that come with custom outfitting each vehicle for his clients' lifestyles.
Where to Stream: Stream on Discovery Plus or purchase episodes on Amazon Prime Video.
Best Travel RV TV Shows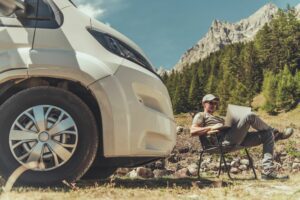 Already own an RV and want to plan your next trip? These RV travel shows will teach you about great camping destinations all over America and beyond.
RV There Yet?
Buckle up and hit the road with Kevin, an adrenaline junky, television producer and his wife Patrice, a self-proclaimed RV culinary expert.
On RV There Yet?, the couple hikes, camps and tastes their way across America, meeting new people, learning history and inspiring viewers to plan their next RV adventure.
Where to Stream: Stream with the Discovery GO app or purchase episodes through Amazon Prime Video.
RV Explorers
One of the few RV TV shows about international travel, RV Explorers follows a couple as they explore the towns and regions of New Zealand. Along the way they visit various tourist attractions and events and join in with other RV campers to experience their favorite activities.
Where to Stream: Purchase episodes on Amazon Prime Video.
Guy's Family Road Trip
Guy Fieri is used to hitting the road to visit some of the most unique eateries in America. On Guy's Family Road Trip he loads his family into an RV to take part in an American tradition: a family road trip.
Guy and his family go from coast to coast on a vacation that is bound to create lifelong memories.
Where to Stream: Stream on Discovery Plus.
America's Scenic RV Adventures
America's Scenic RV Adventures follows award-winning filmmakers, John Holod and Jodie Ginter, on their RV travels. The six-episode informational series includes RV adventures to Alaska, the Northeast Coast, the Southeast Coast, the Gulf Coast and beautiful Baja, Mexico.
Where to Stream: Purchase episodes on Amazon Prime Video.
Roadtrip Nation
Roadtrip Nation explores what it means to build a career—and more importantly, a life—around the things you love.
Follow the journeys of groups of people as they travel across the country in a green RV, sit down with professionals who share their interests, and gain insight into what it takes to overcome struggle and find personal success.
Where to Stream: Stream on the PBS website.
Best Fictional RV TV Shows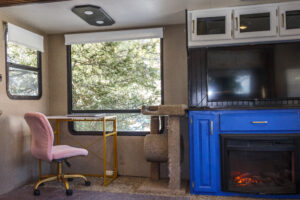 Looking for an escape from reality? These fictional dramas and sitcoms revolve around RV living or RV travel.
Living the Dream
Living the Dream is British comedy series focused on the Pembertons, a married couple who decide to leave the UK and move to sunny Florida with their two teenage kids. Having bought an RV park, they hope to create a new life.
However, the reality of living in the States soon becomes apparent, and the Pembertons must try to find some common ground with their quirky new neighbors
How to Stream: Stream on Amazon Prime Video with a premium subscription.
The Detour
The Detour is a sitcom, created by Jason Jones and Samantha Bee, about a family vacation road trip that quickly devolves out of control.
On the hilarious trip, the family experiences several dramatic delays such as car trouble, run-ins with law enforcement, unforeseen medical mishaps and intervening locals. 
How to Stream: Stream the four-season series on Hulu.
---
Thanks for reading our complete guide to the best RV TV shows. If you are looking for more camping entertainment, check out our list of the Best RV movies.
Happy Camping!