This post may contain affiliate links. See our affiliate disclaimer here.
RV parks are often cramped, generic and downright boring. However, more campgrounds are offering fantastic and unique amenities to entice RVers. Below is our list of the 8 most unique RV parks in the USA. With unusual features ranging from a drive-in theater to wildlife sightings, every type of camper can find a park to add to their bucket list.
Hi-Way Haven RV Park
Hi-Way Haven in Sutherlin, Oregon seems like a typical RV park at first glance. When the sun sets, the experience begins. This unique RV park was built on the site of a classic drive-in theater. The movie screen is still in place, and they play classic movies several nights a week.
The movies are included in the price of the RV site, and delicious, fresh popcorn is also provided. When booking, ask for a campsite directly behind the screen so you can view the movie from your home on wheels.
Chairs are set-up on the lawn for campers parked further away. You can hear the sound if you are sitting close to the screen or use an FM radio to hear the movie from further away.
Calico Ghost Town and Campground
Calico Ghost Town and Campground in Yermo, California is an authentic old west mining town. The town was constructed around a silver mine in 1881 and abandoned before the turn of the century when silver prices fell.
The town was restored in the 1950's and is now the site of large campground. In addition to campsites, the ghost town offers museums, mine tours, historic train rides, restaurants and shops.
If you love telling scary stories around the campfire, sign up for one of their ghost tours held every Saturday night.
Oasis RV Park and Golf Course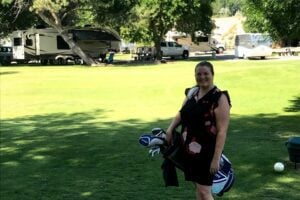 Oasis RV Park in Ephrata, Washington is not only an RV park, it's also a golf course. Many of their campsites are located directly on a nine-hole, par three golf course. For $18, you can play unlimited golf all day long.
You can play a few holes, run in the RV for a break and play some more as soon as you are cooled off. Visit during the week to avoid weekend crowds both in the campground and on the golf course.
The park also offers a colorful and challenging 18-hole mini golf course for the young golfers in your group. Check out our list of 10 more awesome RV parks with on-site golf courses.
Camp Taylor Campground
Camp Taylor in Columbia, NJ is a serene, forested campground. The campground offers a large swimming lake, boat rentals and direct access to hiking on the Appalachian Trail.
However, the Lakota Wolf Preserve, located on site, is what makes this a truly unique RV park experience. Campers visiting the wolf preserve can attend educational talks and join tours to photograph these majestic creatures.
The preserve is also home to bobcats and foxes. If you listen carefully, you can hear the wolves howling when you are back at your campsite at night.
Elk Country RV Resort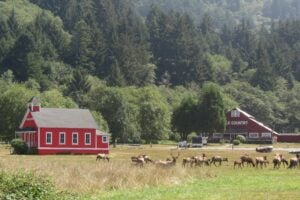 Elk Country RV Resort in Trinidad, California is unique for its namesake herd of Roosevelt Elk. Located close to Prairie Creek Redwoods State Park, the campground is part of a large elk herd's home range.
Roosevelt Elk are the largest surviving subspecies of elk in North America, and the males have enormous antlers. The Elk frequently graze and rest throughout the campground, and create a particularly picturesque scene when they surround the park's little red schoolhouse. The park is split into forest and meadow campgrounds.
Forest sites provide better scenery and more privacy, while meadow sites provide more sun in the cool Northern California climate.
Turpentine Creek Wildlife Refuge
Turpentine Creek Wildlife Refuge in Eureka Springs, Arkansas has a small RV park with water and electric hookups. This unique RV park is located at a wildlife refuge that rescues exotic cats.
The refuge is home to tigers, leopards, bobcats, bears and several other larger animals. The RV park is part of their non-profit organization, so all proceeds from your stay will go to supporting the refuge.
Turpentine Creek offers daily walking and trolley tours to view and learn about the animals they have rescued.
Harvest Hosts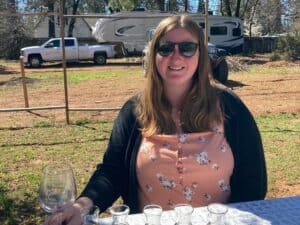 Harvest Hosts is actually a network of wineries, breweries, farms and more that provide unique RV parking spots across the country. Members of the program can camp overnight for free at any of their locations.
Some of the most unique camping spots include alpaca farms, an active salt mine and an air museum. The wineries and breweries also provide a special opportunity to enjoy local businesses and meet the people who run them.
Sign-up now using this link and receive 15% off a Harvest Host membership. The membership costs less than a few nights at a typical RV park and will provide endless, unforgettable camping experiences. They also offer a separate golf membership that allows you to park your rig at golf courses all over America.
Mystic Hot Springs
Mystic Hot Springs in Monroe, Utah has an RV park on their property. The venue also offers the chance to soak in mineral-rich hot springs. You can soak in the spring water in one of two concrete pools or six cast iron bathtubs.
Relax in the mystical waters during the day or enjoy a Utah sunset from a tub before heading back to your rig for the night. Mystic Hot Springs also hosts regular live concerts on three stages and an annual music festival.
The RV sites offer full-hookups from April to October and can accommodate rigs up to 40 feet long.
If you are looking for more great Utah camping experiences, check out our list of the best luxury RV resorts in Utah.
---
Staying at any of these unique RV parks will provide an exciting and unforgettable experience to cure your camping boredom. If you are seeking more thrilling campgrounds, check out these RV parks with on-site water parks or this RV park in the heart of New York City.
Have you stayed at any epic or unusual campgrounds? Comment below with the name of your favorite one of a kind RV park.