This post may contain affiliate links. See our affiliate disclaimer here.
Vacationing or camping with your dog makes every trip more rewarding and enjoyable. However, many National Parks restrict the areas and trails where you can take your dog. Redwoods State and National Parks only allow pets in a few areas, such as developed campgrounds and overlooks.
While dog friendly Redwoods activities are limited, they are not impossible to find. Below is our complete guide on the best dog friendly Redwood hikes, tourist attractions, beaches and lodging.
Dog Friendly Redwood Hikes
Redwoods State and National Parks do not allow pets on any hiking trails. Instead you can hike with your dog outside of the park boundaries or along gravel roads.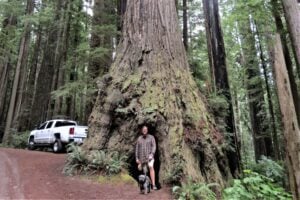 Cal Barrel Road: This gravel road in Prairie Creek Redwoods State Park makes for a fantastic dog friendly hike. The road climbs up through old growth redwood forests, and has tons of enormous trees right off the path. The road is open to vehicle traffic, but is typically quiet. The hike is 3.6 miles long, but you can drive in and park at one of the pullouts if you want a shorter hike.
Walker Road: Jedediah State Park also allows dogs to hike on Walker Road. The gravel road runs through an old growth redwood forest, and provides picturesque scenery. The road is just under a mile long one-way.
Trinidad Head Lighthouse: Just south of the Redwoods parks, you can find dog friendly hiking in Trinidad. The Lighthouse trail is a 1.7 mile loop trail with views of the Pacific Ocean. Aim to hike this trail on a sunny day as fog will obscure the views.
Before embarking on your trip, make sure you have all the dog friendly hiking gear you need. Make sure you have a collapsible water bowl to take on the trail and a dog backpack so your dog can carry their own gear.
Dog Friendly Redwoods Attractions
While the Redwoods National and State Parks restrict activities with dogs, several dog friendly activities can be found just outside the park boundaries.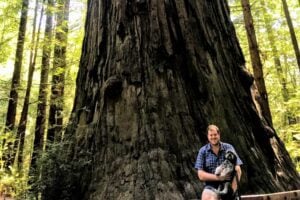 Trees of Mystery: Trees of Mystery is a tourist attraction located off highway 101 near Klamath, California. The highlights of the park are the hiking trail and SkyTrail. After paying the entrance fee, you hike a short trail through a redwood forest. About halfway along the trail, you reach the SkyTrail loading area. The SkyTrail is a gondola that carries you above the forest for 360 degrees views of the area. The entire park is dog friendly including the gondola and gift shop. At first glance, Trees of Mystery seems like a tourist trap but it offers one of the best redwood trails to walk with your pup.
Avenue of the Giants: Avenue of the Giants is a stunning 30 mile dog friendly drive through redwood forests. Driving along this stretch of road, hundreds of old growth redwoods are visible without ever leaving your vehicle. The drive is surrounded by Humboldt Redwoods State Park, so dogs are not allowed on most nearby hiking trails. However, both people and dogs will enjoy the scenic drive. The road offers many pullouts and parking areas to stretch your legs and enjoy the trees up close.
Crescent City Dog Park: If your dogs need a place to run, take them to the Crescent City Dog Park. The off leash dog park offers separate fenced-in areas for large and small dogs to run and play. The park is located in Crescent City, California at the northern edge of the Redwoods National and State Parks.
Dog Friendly Beaches
While most visitors come for the trees, the Redwoods area also offers beautiful beaches on the Pacific Ocean. Even more exciting? Many of the beaches are dog friendly!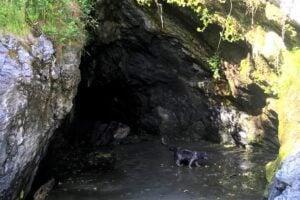 Moonstone Beach: Moonstone beach is located Trinidad, California just south of the Redwoods State and National Parks. This county beach is not only dog friendly, they also allow pups off leash as long as they are under voice control. In addition to the Pacific, the beach offers tidal pools and sea caves to explore at low tide.
Gold Bluffs: Gold Bluffs Beach is the best dog-friendly Redwoods State Park beach. Surrounded by golden colored bluffs and coast redwoods, the 10 mile stretch of beach is a stunning scene. Dogs are allowed on the beach, as well as the adjoining campground, as long as they are kept on a leash. The beach is located at the end of a long gravel road which makes it less crowded than other beaches in the area.
Freshwater Beach: This easily accessible beach is located right off of highway 101 a few miles south of Orick, California. A fresh water lagoon sits on one side of the highway with the ocean and beach just across the street. Ample parking is available, and while many tourists park to view the stunning sunsets, the beach itself is typically not very crowded. The parks allows dogs on the beach, but they must be kept on a leash.
Pet Friendly Lodging
Dog friendly redwoods lodging options are numerous, and include a range of options from tent camping to high-end hotels. However, when traveling with a dog, renting an RV is the best lodging option.
While hotels do not allow dogs to be left alone, they can be left in an RV for short periods of time. RVs also have more space for everyone to stretch out while driving. Visit RVezy to rent a dog friendly RV today!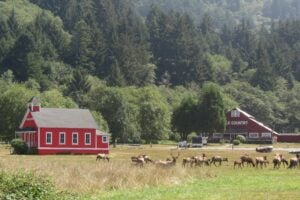 Redwoods State Park Camping: While the trails of Redwoods State Parks prohibit dogs, the four developed campgrounds do allow pets. Gold Bluffs Beach Campground is the best choice for tent campers because the dog friendly beach is connected to the camping area. Reservations can be made through Reserve California and camping fees are $35 per night.
Elk Country RV Resort: If you are traveling in an RV, stay at Elk Country Resort just south of Redwoods National Park. A herd of Roosevelt Elk frequently graze and rest throughout the property. The campground offers full hook-up RV sites in both forested and meadow areas. If you are interested in RV camping, check out our full list of unique RV parks to visit this year.
Benbow Historic Inn: The Benbow Historic Inn is located south of Humbuldt Redwoods State Park and is the perfect spot to stay near the Avenue of the Giants. The hotel rooms are beautifully furnished and there is a fine dining restaurant located on the property. Book a stay at Benbow Historic Inn if you and your dogs are looking for a more luxurious accommodation in the Redwoods. The inn allows guests to have up to two pets for a fee of only $30 per stay.
---
Looking for more dog friendly adventures beyond the Redwoods? Check out our other travel guides.