This post may contain affiliate links. See our affiliate disclaimer here.
Oregon is a top destination for hikers, especially those interested in impressive waterfalls. However, many hikers are reluctant to head out on the trail without their favorite furry companions. Below is a list of the 12 best dog friendly hikes in Oregon.
Best Dog Friendly Hikes Near Portland, Oregon
Horsetail Falls and Ponytail Falls Trail
Length (roundtrip): 0.9 miles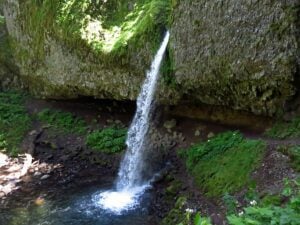 Just a 40-minute drive from Portland, along the Columbia River is this short but steep dog friendly trail. The trail features over 300 feet of elevation gain, but hikers are rewarded with views of not one, but two impressive waterfalls.
The first fall, Horsetail, is visible from the road while the second, Ponytail, can only been seen from the trail. Although the hike is less than a mile, it can be rocky, so sturdy footwear is recommended.
The trailhead is just a few miles up the road from the more famous Multnomah Falls, so tourists should make a detour on the way to the hike.
Hoyt Arboretum Trails
Length (rountrip): 1.3 miles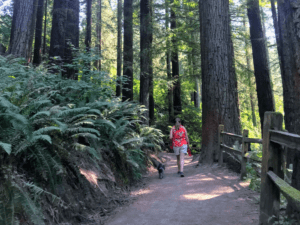 Hoyt Arboretum allows urbanites and their dogs to take a leisurely stroll in the woods without ever leaving the city limits. Founded in 1928 to conserve endangered species and educate the community, Hoyt Arboretum is home to 2,300 species of trees and shrubs from six continents.
The trail has some minor elevation gain, but is a relatively easy hike. The arboretum is open to the public, and there is no fee to use the trails. For hikers looking for a longer walk, this hike connects to many other trails and can be extended several miles.
Latourell Falls Loop Trail
Length (roundtrip): 2.1 miles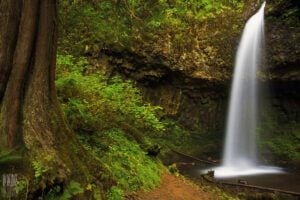 A short drive from downtown Portland, Latourell Falls Loop Trail is a moderately difficult hike through Guy W. Talbot State Park to Upper Latourell Falls. This is a very popular trail to the third tallest waterfall in the Columbia River Gorge.
The majority of the trail's elevation is at the beginning of the hike. Certain areas can get slightly muddy and slippery, so proper footwear is required. As with all of the trails on this list, dogs are welcome but must be on a leash.
Best Dog Friendly Hikes Near Mount Hood
Castle Canyon Trail
Length (rountrip): 1.5 miles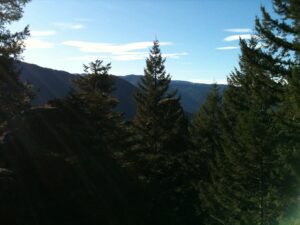 Located in the Mount Hood National Forest, the Castle Canyon Trail is a challenging hike for humans and canines alike. The first half of the trail is a gradual incline through old-growth forest.
However, the second half of the hike is steep, gaining around 800 feet in elevation in a short time. Once at the top, hikers are greeted with stunning views of the forest and tower-like rock formations.
The very last part of the trail is a short rock scramble that is not suitable for dogs. Hikers should take turns on this part of the trail or skip it altogether if you are hiking solo with your pup.
Ramona Falls Trail
Length (roundtrip): 7.1 miles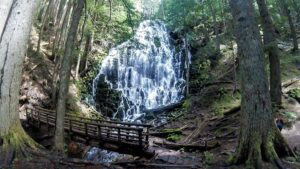 Widely considered as one of the best dog friendly hikes in Oregon, Ramona Falls Trail is a beautiful, moderate hike for you and your furry friend. The first mile of the trail is mostly flat terrain.
Then, it begins to climb uphill to Lake Ramona. Despite some steep inclines, the trail is absolutely worth visiting because of its beautiful features. These include the river, scenic forest views, blossoming wildflowers and, finally, the magical Ramona Falls.
The Sandy River crossing on this trail does not have a footbridge, so some dogs may need assistance crossing depending on the water level.
Umbrella Falls Trail
Length (roundtrip): 3.9 miles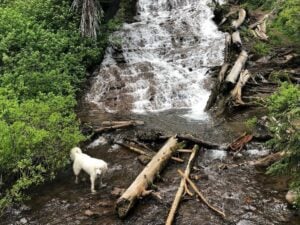 At just under 4 miles, this loop hike is a great moderate trail for hikers with dogs. The hike features incredible views of Hood Meadow and two waterfalls (Umbrella Falls and Sahalie Falls). In late summer, hikers will also be treated to a display of wildflowers.
The hike is rated as moderate because of its over 800 feet in elevation gain. However, it is an appropriate trail for most kids and dogs in good physical shape. The footbridge near Umbrella Falls is a great spot for a lunch break and to cool off in the clear pool below.
Check out this guide to waterfalls in Oregon for more dog friendly cascades.
Best Dog Friendly Hikes near the Oregon Coast
Astoria Riverwalk
Length (roundtrip): 9.8 miles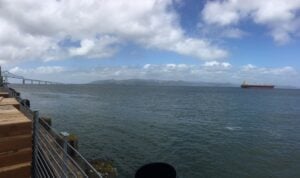 The Astoria Riverwalk is an easy, dog friendly trail that runs along the south side of the mouth of the Columbia River. A former railroad track, the trail is wide and paved with sections of boardwalk.
Lucky hikers may spot various marine species, including sea lions, cormorants and, more rarely, humpback whales. While the trail stretches for over four miles each way, local Carol Zahorsky recommends the 2-mile round trip walk from the north end of 9th Street (at the Bowline Hotel) to Bridgewater Bistro at Cannery Pier, which is just beyond the stately Astoria-Megler Bridge.
Drift Creek Falls Trail
Length (roundtrip): 3.2 miles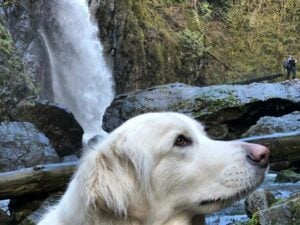 Located near Lincoln City, the Drift Creek Falls Trail offers something for everyone, a waterfall,  a 240-foot suspension bridge (the longest in all of Oregon!) and a walk through the lush Coast Range forest.
The trail is wide and well maintained. It is also fairly easy with just over 500 feet of elevation gain. However, hikers should note that the elevation gain is backwards. The first half of the hike is all downhill, but hikers have to climb back up to return to the trailhead.
Due to its beautiful scenery, this hike can be crowded, so visiting on a weekday is ideal.
Best Dog Friendly Hikes near Bend, Oregon
Benham Falls Trail
Length (roundtrip): 1.5 miles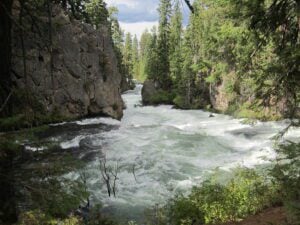 Located in the Deschutes National Forest, the Benham Falls Trail leads to the largest cascade on the Deschutes River. However, Benham Falls does not look like your typical waterfall. The falls are rapids with a pitch of 22.5 degrees, that are rated Class 5 for watercraft. 
Although, the falls are relatively small compared to those found in other parts of the state, the hike features scenic river views throughout. The trail is wide, flat and level making it easy to navigate for most hikers and their dogs.
No Name Lake and Bend Glacier Trail
Length (roundtrip): 5.5 miles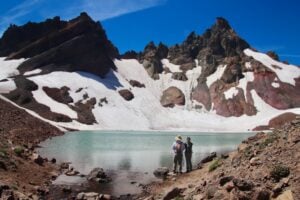 Also located in the Deschutes National Forest less than an hour drive from Bend, the No Name Lake and Bend Glacier Trail is one of the best dog friendly hikes in Oregon. However, it is also one of the most challenging hikes on our list.
The highlight of the hike is No Name Lake, a sparkling turquoise lake hidden in the snow-capped mountains. Only prepared hikers and dogs should attempt this trail, as the road to the trailhead is rough and a Central Cascades Wilderness Permit is required to hike.
Other Amazing Dog Friendly Hikes in Oregon
Alsea Falls and Green Peak Falls Trail
Length (roundtrip): 2.4 miles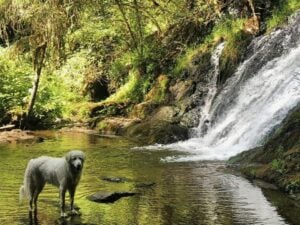 Located an hour drive from Eugene, the Alsea and Green Peak Falls Trail is an easy trail that is accessible year-round. As with many of the trails on our list of the best dog friendly hikes in Oregon, this trail features multiple impressive waterfalls.
The Alsea Falls is first on the trail and is 20-feet high, while Green Peak Falls is an impressive 60 feet. The trail is a short loop that goes through both second growth and old growth forests. As and added bonus, hikers often see salmon jumping up the falls.
Marys Peak Trail
Length (roundtrip): 5.2 miles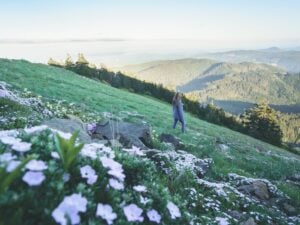 Marys Peak is a sky island, an isolated mountain surrounded by lowland environments. As such, the 4,000-foot tall peak is a familiar landmark in the central Willamette Valley. There are multiple trails on and around the peak, including this one that takes hikers all the way to the summit.
On a clear day, from the top of the peak, hikers can see both the Pacific Ocean as well as many of the Cascade peaks to the east. The trail is well-maintained, but hikers and their dogs should be prepared for a relatively tough hike with over 1,400 feet of elevation gain.
Tips for Hiking with Dogs
Like most things in life, hiking is better with a dog by your side. However, hiking with your furry companion requires extra preparation and gear. Follow the below rules to make sure you are prepared for dog friendly hikes on your Oregon adventure.
---
Are you interested in learning about more dog friendly destinations? Click here to see all of our dog friendly travel guides.
Where is your favorite dog friendly hike? Share your pick with us in the comments section below.