This post may contain affiliate links. See our affiliate disclaimer here.
The U.S. Army Corps of Engineers manages more than 400 lake and river recreation projects across the country. Visitors to these recreation sites can enjoy boating, fishing, hiking and camping.
In our complete guide to COE campgrounds, we share everything you need to know to camping at these awesome locations.
What are COE Campgrounds?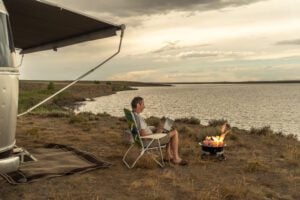 COE campgrounds are managed by the U.S. Army Corps of Engineers, which was founded in 1802. The agency's goal is to strengthen the country's security by building and maintaining critical infrastructure, especially waterways and dams.
The COE also offers recreation opportunities at many of the waterways they manage, including over 600 campgrounds. COE campgrounds are comparable to many state parks, either offering primitive camping or RV campsites with water and electric hookups and bathroom facilities.
COE campgrounds do not offer swimming pools or other luxury amenities, but most of the campgrounds are located on rivers or lakes and offer plenty of outdoor activities.
Many campers confuse U.S. Army Corps of Engineers campgrounds with campgrounds on military bases. However, COE campgrounds are actually open to the public and do not require any military connection.
COE Campground Prices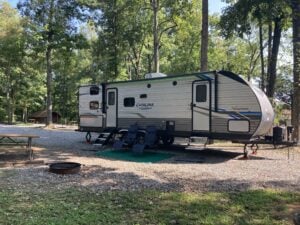 Prices for COE campgrounds vary by location and amenities. RV campsites with electric and water hookups typically cost between $20 to $30 per night, which makes COE campgrounds a very affordable option for RVers.
COE campsites without electric hookups are typically less than $20 per night.
Campers with an America the Beautiful Senior Pass, American the Beautiful Access Passes, Golden Age or Golden Access Passports receive a 50% discount on camping at COE locations.
Campers may also be charged a day use fee to access U.S. Army Corps of Engineers recreation areas. However, entrance is free with any America the Beautiful Pass.
COE Campground Reservations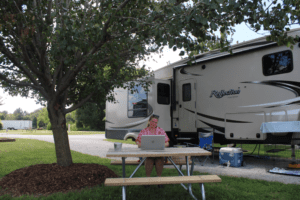 Reservations for most COE campgrounds can be made on Recreation.gov, which manages camping reservations for many federal agencies.
The website allows campers to view pictures and details of each campsite before reserving. The website can also apply camping discounts for eligible pass holders.
List of COE Campgrounds by State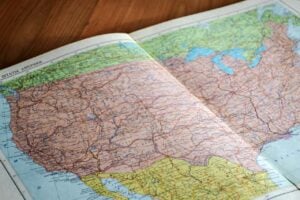 Below is a comprehensive list of U.S. Army Corps of Engineers campgrounds. A map of COE campgrounds and more details about each campground can be found on the Corps Lake Gateway.
COE Campgrounds in Alabama
Amity
Bells Landing
Belmont
Bluff Creek
Burchfield Branch
Chilatchee Creek
Cochrane
Damsite West Bank
Deerlick Creek
Elm Bluff
Forkland
Foscue Creek
Gunter Hill
Hardridge Creek
Isaac Creek
Jennings Creek
Lenoir Landing
Millers Ferry
Pickensville
Prairie Creek
Rocky Point
Service
Silver Creek
Six Mile Creek
White Oak Creek
COE Campgrounds in Arkansas
COE Campgrounds in California
Acorn
Alpine Meadow
Buckhorn
Bushay
Codorniz
Coyote Point
Englebright Lake (Boat-in only)
Hidden View
Horse Creek
Horseshoe Road
Island Park
Kyen
Liberty Glen
Mchenry Avenue
North Tule
Oak Knoll
Orland Buttes
Slate Cove
South Tule
Trimmer
Valley Oak
Wakalumi Wildlife Management Area
Wildcat
COE Campgrounds in Connecticut
COE Campgrounds in Florida
Franklin North
Ortona South
St. Lucie Lock
COE Campgrounds in Georgia
Bald Ridge Creek
Big Hart
Bolding Mill
Cotton Hill
Doll Mountain
Duckett Mill
Eastbank
Faceville Landing
Georgia River
Hales Landing
Harris Branch Park
Holiday
Mckaskey Creek
Mckinney
Old Federal
Old Highway 41 #3
Payne
Petersburg
R Shaefer Heard
Ridge Road
Ridgeway Park
River Junction
Sawnee
Sweetwater
ToTo Creek
Twelve Mile
Upper Stamp Creek
Van Pugh South
Victoria
Watsalder
Whitetail Ridge
Winfield
Woodring Branch
COE Campgrounds in Idaho
Albeni Cove
Canyon Creek
Dam View
Dent Acres
Grandad
Little Meadow Creek
Lucky Peak Lake
Macks Creek Park
Priest River
Riley Creek
Springy Point
COE Campgrounds in Illinois
Blanding Landing
Boulder
Coles Creek
Coon Creek
Dale Miller
Dam East
Dam West
Fishermans Corner
Forest W. Bo Wood
Gun Creek
Kaskaskia River Lock and Dam
Lithia Springs
Lone Point
North Sandusky
Okaw Bluff
Opossum Creek
South Marcum
South Sandusky
Thomson Causeway
Wilborn Creek
COE Campgrounds in Iowa
Acorn Valley
Blanchard Island
Bob Shetler
Bridgeview
Buck Creek
Bulger's Hollow
Cherry Glen
Clarks Ferry
Cottonwood
Howell Station
Island View
Ivans
Linder Point
North Overlook
Prairie Flower
Prairie Ridge
Sandy Beach
Shady Creek
Sugar Bottom
Tailwater East
Tailwater West
Wallashuck
Whitebreast Camp
West Overlook
COE Campgrounds in Kansas
Arrow Rock
Bloomington East
Bloomington West
Canning Creek
Carbolyn Park
Card Creek
Cedar Point
Cherryvale Park
Coeur D'Alene
Cottonwood Point
Curtis Creek
Damsite Park
Farnum Creek
French Creek Cove
Hillsboro Cove
Kit Carson Cove
Longview
Lucas Park
Marina Cove
Marion Cove
Michigan Valley
Minooka Park
Mound Valley
Neosho Park
North Richey Cove
Old Town
Outlet
Outlet Channel
Richey Cove
Riverside East
Riverside Park
Riverside West
Rock Creek
Rock Ridge Cove
Rockhaven Park
Rolling Hills
Santa Fe Trail
School Creek
Slough Creek
Stockdale
Sundance
Sylvan Park
Timber Creek
Timber Hill Park
Turkey Point
Tuttle Creek Cove
Venango Park
Whitehall Bay
Wolf Creek
Woodridge Park
COE Campgrounds in Kentucky
Axtel
Baileys Point
Beaver Creek
Cadiz
Canal
Cave Creek
Cumberland Point
Dog Creek
Eureka
Fall Creek
Fishing Creek
Grapevine
Holmes Bend
Hurricane Creek
Kendall
Laurel Branch
Littcarr
Moutardier
North Fork
Pikes Ridge
Smith Ridge
Tailwater
Trace Branch
The Narrows
Waitsboro
Wax
Wilson Creek
COE Campgrounds in Louisiana
Ivan Lake
South Abutment East
Tom Merrill
Wenks Landing
COE Campgrounds in Maryland
COE Campgrounds in Masschusetts
COE Campgrounds in Minnesota
Cross Lake
Gull Lake
Leech Lake
Pokegama Dam
Sandy Lake
Winnibigoshish
COE Campgrounds in Mississippi
Bayou Point
Beach Point
Blue Bluff
Bryant
Chicksaw Hill
Clear Creek
Dewayne Hayes
Dub Patton
Ford's Well
Gin Creek
Grenada Landing A
Gums Crossing
Hernando Point
Hurricane Landing
Jamie L. Whitten
Long Branch
Kelly's Crossing
North Abutment
North Graysport
Oak Grove
Outlet Channel
Pats Bluff
Persimmon Hill
Piney Grove
Pleasant Hill
Plum Point
Sleepy Bend
South Abutment
Town Creek
Twiltley Branch
Wallace Creek
Water Valley Landing
COE Campgrounds in Montana
Blackwell Flats
Bone Trail
Crooked Creek
Devils Creek
Down Stream
Duck Creek
Dunn Creek
Flat Lake
Floodplain
Fourchette Bay
McGuire Creek
Nelson Creek
Round House Point
The Pines
West End
COE Campgrounds in Nebraska
Cottonwood
Gremlin Cove
Hunter Cove
Methodist Cove
Nebraska Tailwaters
North Outlet
South Outlet
COE Campgrounds in New Mexico
Cerrito
Cochiti
Riana
South Area
Tetilla Peak
COE Campgrounds in North Carolina
Bandits Roost
Fort Hamby Park
Warrior Creek
COE Campgrounds in North Dakota
Beaver Creek
Douglas Creek
Downstream
East Ashtabula
East Totten Trail
Eggerts Landing
Hazelton
Mel Rieman
Pipestem
West Ashtabula
Wolf Creek
COE Campgrounds in Ohio
COE Campgrounds in Oklahoma
Afton Landing
Appalachia Bay
Applegate Cove
Bear Creek Cove
Beaver Point
Belle Star
Big Bend
Birch Cove
Blaine Park
Blue Bill Point
Blue Creek
Bluff Landing
Boulanger Landing
Brewers Bend
Brooken Cove
Brush Creek
Bull Creek Peninsula
Buncombe Creek
Burns Run East
Burns Run West
Canadian
Caney Creek
Cardinal Point
Carters Landing
Chicken Creek
Chisholm Trail Ridge
Cookson Bend
Coon Creek
Cowlington Point
Dam Site
Dam Site East
Elk Creek Landing
Elm Point
Fairview
Flat Rock Creek
Gaines Creek
Gentry Creek
Hawthorn Bluff
Hickory Point
Highway 31 Landing
Highway 9 Landing
Holiday Cove
Jackson Bay
Johnson Creek
Keota Landing
Kiowa Park
Ladybird Landing
Lakeside
Leflore Landing
Little Sansbois
Little River Park
Longdale
Lost Rapids
Kiamichi Park
Mahaffey Point
McFadden Cove
Mill Creek
Moneka Park
Oak Ridge
Osage Cove
Osage Plains
Petit Bay
Pine Creek Cove
Platter Flats
Porum Landing
Post Oak Park
Potato Hills Central
Potato Hills South
Rattan Landing
Redbud Bay
Rocky Point
Sandy Cove
Sandy Park
Sardis Cove
Sarge Creek
Short Mountain Cove
Sizemore Landing
Snake Creek
Spaniard Creek
Spencer Creek
Strayhorn Landing
Supply Park
Tall Chief Cove
Tamaha Park
Taylor Ferry
Tullahasse Loop
Turkey Creek
Twin Cove Point
Twin Points
Verdigris River Park
Virgil Point
Wahoo Bay
Walnut Creek Park
Washington Cove
Washington Irving South
Washuhga Bay
Wichita Ridge
Wildwood
COE Campgrounds in Oregon
Fire Glen
Four Corners
Giles French Park
Ivan Oakes Park
Lepage Park
Philippi Park
Pine Meadows
Sand Station
Schwarz Park
Threemile Canyon Park
Warehouse Beach
COE Campgrounds in Pennsylvania
Bush Recreation Area
Crooked Creek Lake
East Branch
Ives Run
Kellettville
Nancys Camp
Outflow Recreation Area
Seven Points
Shenango
Susquehannock
Tionesta
Tompkins
Woodcock Lake Park
COE Campgrounds in South Carolina
Bussey Point
Coneross Park
Crescent
Hawe Creek
Leroys Ferry
Modoc
Mt Carmel
Oconee Point
Spingfield
Twin Lakes
COE Campgrounds in South Dakota
Cold Brook
Cottonwood Springs
Left Tailrace
North Shore Ramp
Old Fort Thompson
Right Tailrace
COE Campgrounds in Tennessee
Anderson Road
Bumpus Mill
Cages Mill
Cedar Creek
Dale Hollow Damsite
Dam Hollow Lake
Defeated Creek
Floating Mill
Harpeth River
Holleman Bend
Lillydale
Lock A
Long Branch
Obey River
Poole Knobs
Ragland Bottom
Salt Lick Creek
Seven Points
Willow Grove
COE Campgrounds in Texas
Airport Park
Alley Creek
Bear Creek
Brushy Creek
Buckhorn Creek
Canyon Park
Campers Cove
Cedar Breaks
Cedar Creek Park
Cedar Ridge
Cedron Creek
Clear Lake Park
Clear Spring
Copperas Creek
Cranes Mill
Damsite Texas
Dana Peak Park
East Fork Park
Ebenezer
Flatrock
Friendship Park
Hanks Creek
Hickory Creek
High View
Holiday
Jim Hogg Park
Juniper Point
Lakeside
Lavonia Park
Lofers East
Lofers West
Liberty Hill
Live Oak Ridge Park
Magnolia Ridge
Malden Lake
McCown Valley
Midway Park
Mill Creek
Mott Park
Murrell Park
North Park
Oak
Oakland
Owl Creek
Pat Mayse East
Pat Mayse West
Pecan Point
Piney Point
Plowman Creek
Potters Creek Park
Preston Bend
Promontory
Rayburn
Reynolds Creek Park
Riverside
Rocky Creek
Rocky Point
Russel Park
San Augustine
Sanders Creek
Sandy Creek
Soldiers Bluff
Sowell Creek
Speegleville
Steele Creek Park
Tejas Park
Taylor
Thomas Lake
Twin Dikes
Union Grove Park
Walling Bend Park
Waxahachie Creek
Willis Creek
Wilson H Fox
Westcliff Park
White Flint Park
Winkler Park
Wolf Creek
Yegua Creek
COE Campgrounds in Vermont
COE Campgrounds in Virginia
Buffalo Park
Cranesnest
Deer Island
Goose Point
Horseshoe Point
Longwood Park
Lower Twin
North Bend Park
Pound River
Rudd's Creek Park
Salthouse Branch
COE Campgrounds in Washington
Ayer Boat Basin
Blyton Landing
Charbonneau Park
Devils Bench
Fishhook Park
Hood Park
Illia Landing
Lambi Creek
Lower Granite North Shore
Little Goose Landing
Little Goose North Shore Tailrace
Little Goose South Shore
Nisqually John Landing
Offield Landing
Paradise Park
Plymouth
Riparia Park
Roosevelt Park
Rocky Flats
Texas Rapids
Wawawai Landing
Willow Landing
Windust Park
COE Campgrounds in West Virginia
Battle Run
Bakers Run
Bee Run
Bulltown Camp
East Fork
Gerald Freeman
Guyandotte
Riffle Run
Robert W Craig
COE Campgrounds in Wisconsin
Blackhawk Park
Grant River
Highland Ridge
COE Campgrounds FAQ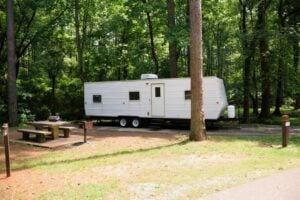 What are COE Campgrounds?
COE campgrounds are public campgrounds and RV parks managed by the U.S. Army Corps of Engineers. Most of these campgrounds are located on or near rivers or lakes managed by the COE.
How can I find COE campgrounds in my state?
The website, Corps Lake Getaway, run by the U.S. Army Corps of Engineers has a detailed map and list of COE recreation areas and campgrounds in each state.
How much do COE Campgrounds cost?
The nightly fee for COE campgrounds varies by locations and amenities. RV campsites with electricity are generally between $20 to $30 per night, while primitive campsites are generally less than $20 per night.
---
Thanks for reading our complete guide to COE campgrounds. If you have any unanswered questions, drop them in the comments section below.
For more affordable camping options, see our complete guide to RV clubs and memberships.
Happy Camping!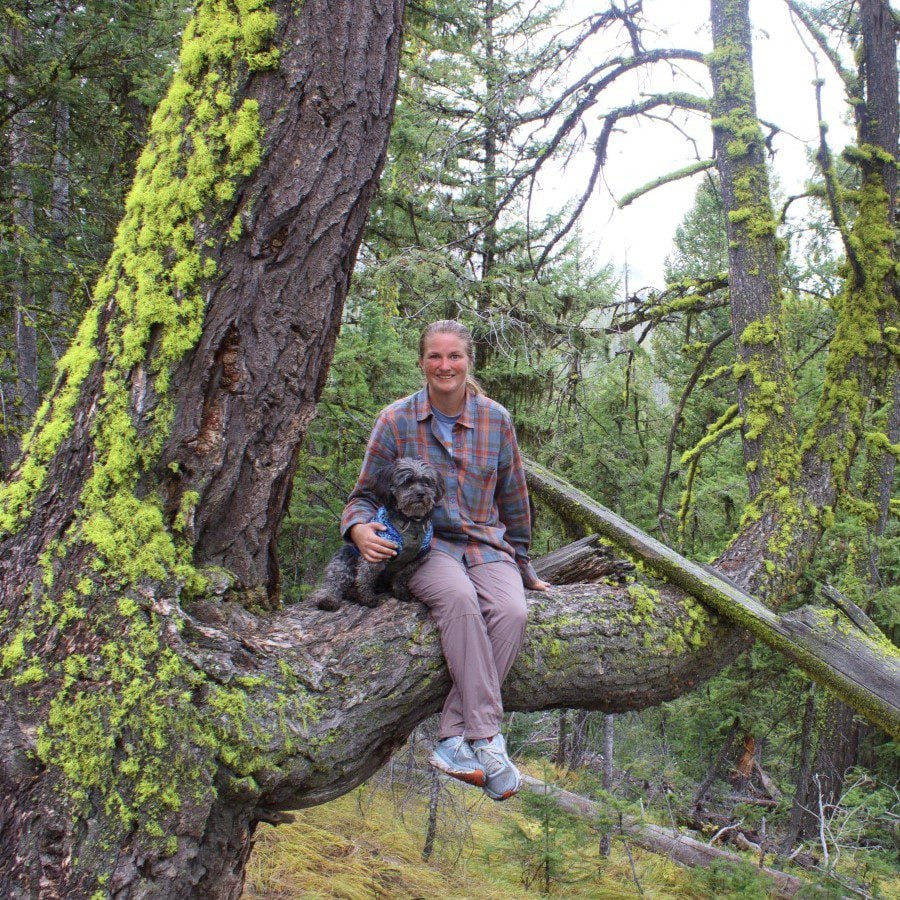 Christina Pate is a seasoned full-time RVer who, along with her husband Justin, has journeyed across the US, Canada, and Mexico. Drawing from her extensive travels, RV repairs and RV renovations, she founded Travels with Ted to guide and inspire fellow RV enthusiasts. Christina is also the co-author of The Owner's Guide to RV Maintenance and the creator of My RV Log Book.