This post may contain affiliate links. See our affiliate disclaimer here.
As full-time RVers, finding affordable rates at campgrounds and RV parks is a big priority. Many RV parks charge over $50 per night for a camping site with full hookups. However, there are several RV park memberships and discount clubs that can help lower the cost of RV camping.
Below is a complete breakdown of all of the RV membership clubs available in America. Read on to choose which RV parks and discount clubs offer the best deal for your RV camping needs.
For a full-breakdown of the cost of living in an RV, see our article on RV living budgets.
RV Membership Parks & Clubs
RV park memberships are groups of RV parks that offer free or discounted camping for members. Most RV park memberships charge an annual fee for all members and a larger, one-time fee for upgraded memberships.
Thousand Trail Zone Pass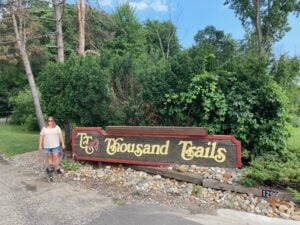 Thousand Trails is the most popular RV park membership as they offer FREE camping for members. The basic membership, also known as a zone pass, retails for $670 and includes free camping within a specific region of the country.
There are five Thousand Trails zones: Northwest, Southwest, Midwest, Northeast and Southeast. Each zone includes between 8 and 23 campgrounds. New members can opt to include additional zones in their membership for $90 per zone.
Members can also add the Trails Collection, which adds more than 100 affiliated campgrounds across the country to your plan.
Thousand Trails zone pass members can camp up to 14 days in one RV park for free. If you stay four nights or more in a campground, you must wait seven days before camping at another Thousand Trails park.
This zone plan is a great option for RVers who camp more than two weeks per year. With the cost of RV camping averaging over $40 per night, you only need to camp 16 nights per year for this membership to pay for itself.
For an even better deal, email or call (804-366-0798) membership specialists Sharon and Warren Lewis and tell them Christina from Travels with Ted sent you.
Thousand Trail Elite Memberships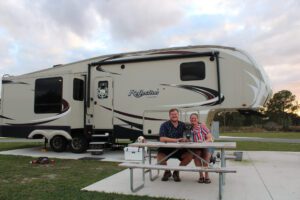 For full-time RVers or frequent campers, the Thousand Trails Elite Basic membership may be a better bargain. In addition to the annual zone pass fees, elite members must pay a one-time fee to purchase the upgraded membership.
The one-time fee is typically $8,995, but you can often receive discounts based on current specials if you contact the membership specialists mentioned above.
The Elite Basic membership allows you to stay for free in a Thousand Trails park for up to 21 days and move between parks without any days out of the system.
You also receive discounts on cabin rentals and other non-RV travel discounts, as well as a free 1 year membership with RPI. You can resell your membership at any time, so there is no concern about losing your investment if your RVing habits change in the future.
There is also an Elite Connections membership that retails for $11,345. This upgraded membership offers free cabin rentals for 10 years, a 2 year free RPI membership and a longer reservation window.
However, the Elite Basic is the best value for most RVers. See our complete guide to Thousand Trails memberships for more details.
Resort Parks International (RPI)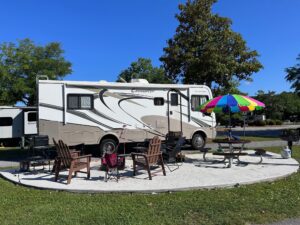 Resort Parks International is another great RV membership club & park network. Their network includes more than 200 membership RV resorts, 400 public campgrounds, and hundreds of condominiums and cabins across North America.
RPI members are able to camp at all membership RV parks for a $10 per night. Affiliated public campgrounds offer RPI members discounted rates (typically 50% off). Cabins and condominiums are available for discounted rates that vary by location.
Typically RPI memberships must be purchased directly through one of their member RV parks. The annual fee will vary based on which park you select. Therefore, the most affordable way to join RPI is through your Thousand Trails Elite Basic membership.
Once you purchase the Thousand Trails membership, you will get a free one year RPI preferred access membership that can be renewed for just $165 per year. Both RPI and Thousand Trails have online portals that allow you to make camping reservations online.
For more details, see our complete guide to RPI RV memberships.
Coast to Coast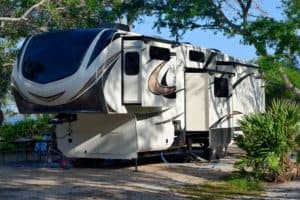 Coast to Coast RV resorts is a network of RV resorts across the country. The Coast to Coast membership is similar to the RPI membership. They have hundreds of RV parks where members camp for a discounted rate (typically $10 per night).
Coast to Coast memberships are only sold at member RV resorts. The prices will be different depending on where you purchase the membership, so you should call multiple member parks to find the best deal.
They also offer a free 3 day/2 night stay for RVers who are interested in purchasing a membership. You will be required to attend a tour of the park and membership orientation, so I would only take advantage of this offer if you are genuinely interested in purchasing a membership.
For more information, see our complete guide to Coast to Coast RV memberships
RV Discount Clubs
RV discount clubs are membership programs that offer discounts on nightly rates at campgrounds or boondocking locations across the country.
Good Sam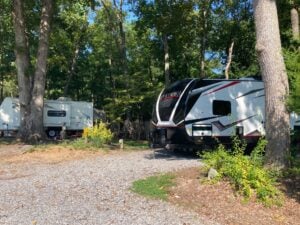 Good Sam is a popular RV discount club that offers a discount at a huge number of RV Parks across the nation. The majority of the discounts are only 10% off the nightly rate.
However, this membership is still a good value as it is only $29 per year (or less if you purchase multiple years upfront). They have over 2,000 member RV parks and campgrounds, so you are bound to stay at a few Good Sam parks if you RV regularly.
Good Sam also offers several other perks in addition to discounted camping. Members receive savings on fuel, propane and RV supplies from Camping World.
Good Sam also partners with their parent company, Camping World, to offer members-only deals, 10% off purchases, free RV dumps and free shipping.
Members also receive 5 cents off gas and 8 cents off diesel at select Flying J locations. If you plan to stay at least 7 nights per year at a Good Sam RV park or you regularly shop at camping world, this membership is good value.
See our complete guide to the Good Sam RV Club for more information.
Passport America
The Passport America membership program is similar to Good Sam, offering a discount on nightly rates.  Their discount is much larger (50% off vs. Good Sam's 10%).
An annual membership costs $44, but Passport America offers multi-year deals including a lifetime membership for $399.
This is a great program for full-time RVers to find affordable overnight rates while traveling between destinations. We are not currently Passport America members, because we typically use our Thousand Trails or Harvest Host memberships for overnight stays while traveling.
However, Passport America's large number of parks make it a good option for long road trips across the country. See our complete guide to Passport America for more information.
Harvest Hosts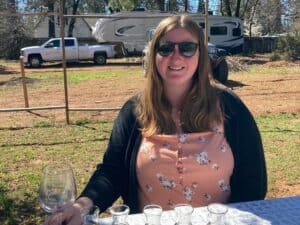 Harvest Hosts is an RV membership club that offers free RV parking at wineries, breweries, farms, museums and golf courses across the country. Some of the most unique camping spots include alpaca farms, an active salt mine and an air museum.
The program also provides an opportunity to support local businesses and meet the people who run them. 
Sign-up now using this link and receive 15% off your Harvest Host membership. Simply click on the link and enter HHFRIENDS15 in the coupon code box during check to receive the discount. A membership costs $84.15 with our special offer.
Boondockers Welcome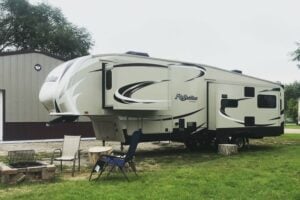 Boondockers Welcome is another unique RV membership club that connects members with free RV parking on private property. Host members offer free camping in their driveway or on their land.
It costs $50 per year (or $25 if your are also a host) to join Boondockers Welcome. However, new members can click this link and enter code BWFRIENDS15 to get 15% off.
They are also expanding globally with host sites available in Europe, Australia and New Zealand. We are currently members of Boondockers Welcome and love it for the same reasons we love their parent company, Harvest Hosts.
Escapees
Escapees is an RV membership clubs that has a smaller list of campground partners than Good Sam or Passport America, so I would not recommend this club for discounts alone.
However, they do have some special benefits that you may consider. You will need to purchase a membership if you plan to use their mail or domicile service. 
They also offer a workamping job board, community events and own a few parks that you can only visit if you are a member.  Click here to read our complete guide to the Escapees RV Club
KOA Value Kard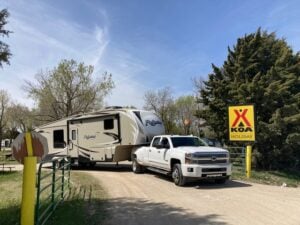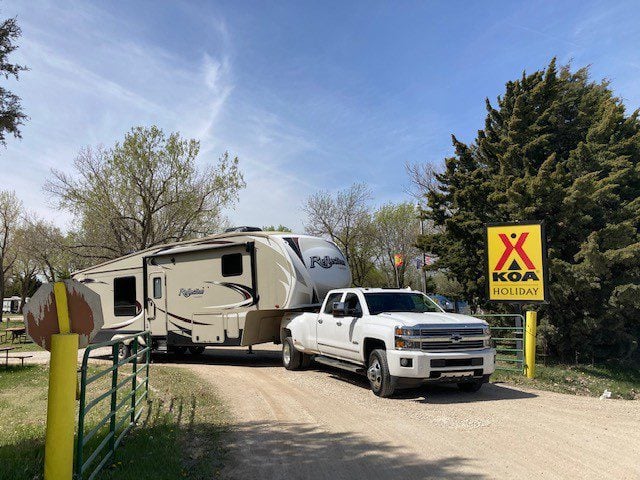 KOA (Kampgrounds of America) has their own rewards program and does not participate in other RV discount clubs. The KOA Value Kard membership offers a 10% discount off your rate at all KOA campgrounds.
The costs of the membership is $30, so it is typically worthwhile if you are going to spend more than a week at KOA sites. Members also earn rewards points which can be redeemed for free nights at KOA RV membership parks.
KOA is the only campground option when we are visiting part of our family in the Midwest, so we maintain a membership to keep costs down for these stays. KOA also offers a nice app so you can easily claim rewards and make reservations from your phone.
---
If you are looking for more ways to save money when RVing across America, check out our article on FREE camping options.
Do you know of any other RV membership clubs or RV discount clubs? Share your tips in the comments section below.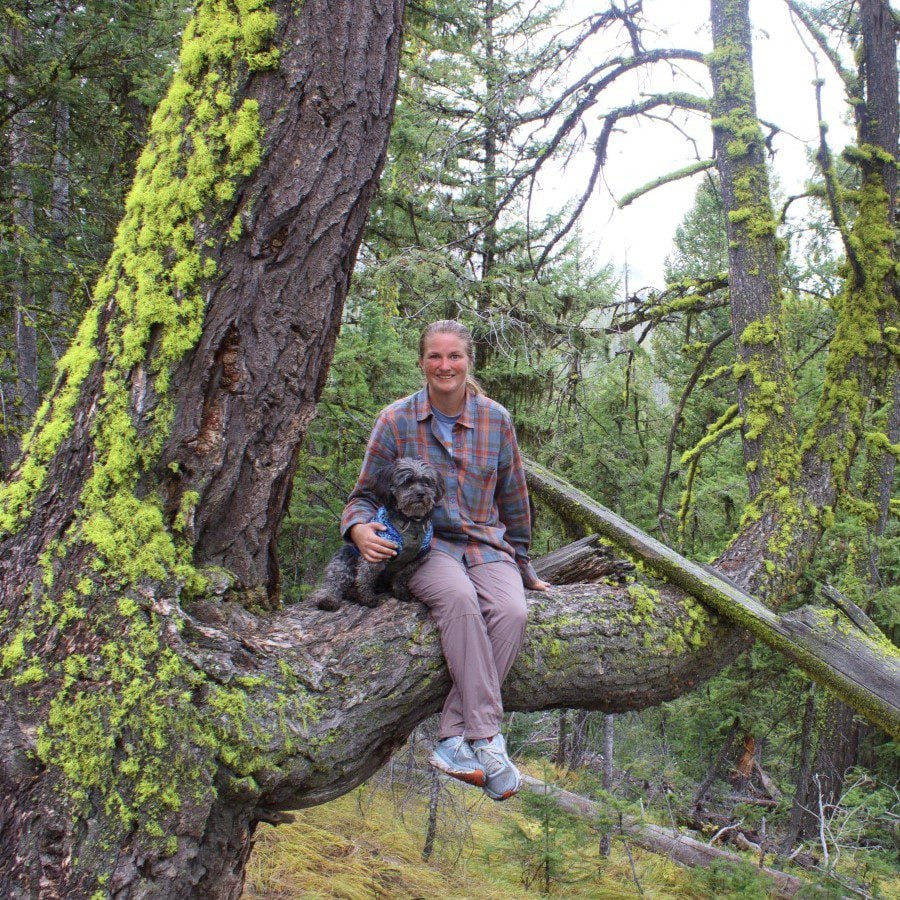 Christina Pate is a seasoned full-time RVer who, along with her husband Justin, has journeyed across the US, Canada, and Mexico. Drawing from her extensive travels, RV repairs and RV renovations, she founded Travels with Ted to guide and inspire fellow RV enthusiasts. Christina is also the co-author of The Owner's Guide to RV Maintenance and the creator of My RV Log Book.