This post may contain affiliate links. See our affiliate disclaimer here.
While summer may be the busiest camping season, it is fun to enjoy the great outdoors all year. New products, such as these heated camping chairs, make fall and winter camping more comfortable. Here are the 10 best heated camp chairs for your next cool weather RV camping trip.
What is a Heated Camp Chair?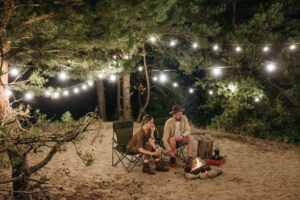 Heated camping chairs are just what they sound like: portable outdoor chairs with a heated seat and/or back. Most heated camp chairs rely on battery power for the heating elements to functions.
If you RV or tailgate in cool weather, a heated camp chair is a must have accessory.
The Best Heated Camp Chairs
The best of the best heated camp chair is the Gobi Terrain. This highly-rated chair offers a heated seat and back. The heating elements are easily turned on by attaching a cable to the compact battery located in the chair's side pouch.
With adjustable heat settings and 9 hours of battery life, the Gobi Terrain can keep a camper's tush warm all day long. The chair is built on a durable steel frame and comes with its own carrying case.
If you already love your camping chair, consider purchasing a heated seat add-on instead of a whole new chair. The Chaheati MAXX attaches to existing camping chairs with hook-and-loop fasteners.
The seat add-on runs off of a rechargeable lithium battery and has three temperature settings. Other notable features include water resistant fabric and up to 7 hours of battery life.
The King Trek Heated Camp Chair is a great option for cold campers. With 3 heat settings and separate control buttons for the back and seat, the King Trek chair can easily be adjusted to meet your personal warmth needs.
Powered by a battery, this heated camping chair works up to 10 hours on the lowest setting. Once the chair temperature reaches 131℉, the battery will turn off, keeping campers warm and safe at the same time.
If you love the Kings Trek Heated Camp Chair but like to swing, their hammock-style chair is the perfect solution. Like the other Kings Trek model, the hammock chair has 3 temperature settings, separate seat and back heating controls and can run up to 10 hours.
The hammock seat attaches to the base with high-strength metal buckles. To keep the chair from tilting while in use, it is also equipped with a safety buckle. The chair easily folds down and comes with its own carrying case.
The Hot Seat Camping Chair features USB-powered heating technology that heats the seat up to 110℉ with the push of a button. Campers need to buy their own portable USB battery to power the chair.
A heated seat isn't the only thing that makes The Hot Seat super comfortable. High-density foam padding provides excellent comfort and back support. The chair also has extra-large armrests and 3 reclining positions.
SunnyFeel makes the best heated camp chairs for big and tall campers. Their oversized chair features a high back and is made to hold up to 500 pounds. The heating elements in the chair can be powered with any USB battery pack.
With the push of a button, the seat of the chair heats up to 110℉. For full relaxation, the chair features fully padded armrests and a smooth-rocking design. The chair includes a shoulder strap attached carrying case.
In addition to their rocker chair, SunnyFeel makes a club style heated camping chair. The round chair is also designed for big and tall campers with a large seat, high back and a capacity of up to 500 pounds.
The heating element is in the seat, heats up to 110℉ and can be powered with any USB battery pack. Made with double-seam Oxford cloth, mesh and foam padding, the chair is strong, durable and breathable.
MacSports makes another great option for a heated club style camping chair. With 3 different heat modes, the seat of the chair can be warmed up to 131℉. Like many of the chairs on our list, the MacSports is powered by a portable USB battery, which is not included with the chair.
This sturdy chair is well built with a powder-coated steel frame that can support up to 375 pounds. It also folds up for travel and comes with its own carrying case.
Made by Abscondo, this chair is a smaller option for a round heated camping chair. It is also powered by a USB battery and features adjustable temperature settings with a maximum of 131℉.
The seat is made of thick quilted fabric for comfort, while the frame is made of steel and can support up to 300 pounds. Non-slip feet provide added stability, and the portable chair comes with a carrying case.
If portability is your priority, then The Hot Seat is one of the best heated camp chairs. It weighs just under 4 pounds and can be stored in a compact 15-inch carry case. Because of its ultralight design, the chair can only hold up to 250 pounds.
The heated seat plugs into any USB battery pack, and offers 3 heat settings up to 115℉. The height of the chair is also adjustable for greater stability on uneven terrain or just to fit your desired height.
---
Thanks for reading our complete guide to the best heated camp chairs. Check out our complete guide to RVing in winter for more cold weather camping essentials.
Happy Camping!