The size of the fresh water and grey water holding tanks are an important consideration when purchasing an RV. Our RV Water Tank Size Calculator allows you to estimate how long your family can camp without dumping your tanks.
To use the RV Water Tank Size Calculator, simply input the number of times you expect to engage in each activity during your RV camping trip.
The calculator will estimate the total gallons of water used. Compare the total gallons from our calculator to your fresh water and grey tank sizes to determine how long you can camp without dumping your tanks.
RV Water Tank Size Calculator
Enter the number of times you plan to wash dishes. Assumes water actively running for 5 minutes.
Enter total number of teeth brushing sessions. Assumes 30 seconds of running water.
Enter total number of hand washes. Assumes 30 seconds of running water.
Enter total number of efficient (4 minute) showers.
Enter total number of full-length (8 minute) showers.
Enter number of loads run in RV washing machine. Assumes 12 gallons per load.
Typical RV Water Usage
Our RV Water Tank Size Calculator assumes your RV is equipped with efficient shower heads and faucets made for RV use. To check if your camper's water usage matches our assumptions, simply time how long it takes to fill up a gallon jug from each of your faucets.
A typical RV shower head uses approximately 1.5 gallons of water per minute. Residential shower heads typically use 2 or more gallons of water per minute. Therefore, it is always best to use water-saving showerheads that are made for RV campers.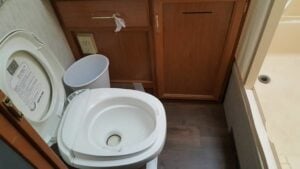 RV showerheads also typically feature an on-off button to help reduce water usage while showering. If your RV's shower is wasting too much water, consider upgrading to the Oxygenics Fury Shower Head, which was made to reduce water usage.
Typical RV sinks in the bathroom and kitchen use an average of about 0.5 gallons per minute. As with shower heads, RV sinks should use significantly less water than their residential equivalents.
While washing machines in RVs are very convenient, they are the biggest user of water. A typical RV washing machine uses 9 to 16 gallons per load, depending on the size of the load and the selected cycle. Given the large amount of water used, it is only reasonable to use a washing machine when parked at a full hookup campsite.
Tips for Using Less Water while RVing
If your estimated water usage from the RV Water Tank Size Calculator is alarming, use the following tips to help you save water while dry camping.
Wash Dishes Efficiently
We try our best to follow eco-friendly practices while camping, so we avoid using disposable plates and utensils.
However, this means we must rely on our RV's water supply to hand wash all our dishes and cookware. To limit the water used when washing dishes, we use the following system:
Immediately after use, wipe plates/pots with a rag to prevent hard-to-remove stains
Accumulate at least one-day's worth of dishes before washing
Plug the sink while washing dishing, so the water can be re-used for other dishes
Only run the water when rinsing, turn it off while scrubbing
Use the Bathhouse
Showers use a ton of water, especially for people who are washing long hair. If you need to shower frequently while camping, consider using the campground's bathhouse.
Using the public showers could allow your family to camp several more days without needing to dump. If there are no showers available at your campsite, consider purchasing a solar shower and rinsing off outside.
Bring Re-fillable Water Jugs Camping
To reduce water usage inside the RV, bring extra water that can be used outside of the RV.
Purchase a few Aqua-Tainer 7-gallon water containers, and bring them along on your camping trip. The water in these jugs can be used to rinse dishes and hands, brush teeth and even drink.
---
We hope our RV water tank size calculator and tips were helpful in determining what size grey tank you require and how long your can dry camp. For more essential information for new RV owners, check out our comprehensive list of RV travel, safety and maintenance tips for beginners.