This post may contain affiliate links. See our affiliate disclaimer here.
RVing in Canada allows you to take an exotic, international vacation without the hassle of airports. However, driving into Canada from the U.S. requires advance thought and planning. Below is a complete guide to ensuring smooth RV travels in Canada.
Crossing the Border into Canada
Prohibited Items
In preparation for your border crossing, you must learn what items are prohibited or restricted. It is important to refer to the official Canada Border Services website to ensure you understand current guidelines.
Avoid bringing any of the following prohibited or regulated items into Canada:
Fresh Meat and Produce
Plants
Firewood
Firearms or weapons
Alcohol (no more than a case of beer or 2 bottles of wine)
Tobacco products (no more than a carton or cigarettes)
Required Documents
Before attempting to cross the border, make sure you have all of your documents in order. Each person in your RV will need a passport, passport card OR NEXUS card.
You also need the registration or title document for each vehicle, including your RV.
Documentation for Pets
Bringing your cat or dog on your Canadian adventure will be a breeze as long as you have the proper paperwork. For each pet, you must provide proof of a current rabies vaccination.
The rabies vaccination certificate must be signed by a vet, indicate the date of vaccination and the trade name and serial number of the vaccine.
Crossing the Border
Once you have all your documents and clear your RV of prohibited items, you are ready to drive your RV into Canada. There are often long waits at border crossings, so avoid crossing at peak times, such as rush hours or long weekends.
You can view current wait times on the Canada Border Services Agency's website. Finally, remember to be patient and answer all the border patrol's questions honestly. If you have prepared properly, you are likely to breeze through the border.
Driving and Fuel Stations while RVing in Canada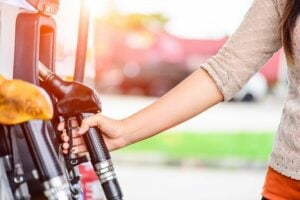 RVing in Canada is very similar to driving in the United States. Canadians also drive on the right side of the road and traffic laws are similar.
However, speed limits are posted in kilometers per hours, so you will need to be able to calculate the conversion to avoid a speeding ticket. One kilometer is equal to 0.62 miles, so a 100 km per hour speed limit is 62 miles per hour.
You will also need math skills to calculate the price of fuel while RVing in Canada. Fuel prices in Canada are posted in price per liter.
To convert the price per liter to a price per U.S. gallon simply multiply by 3.76. Then, multiply by the current exchange rate to calculate the price in U.S. dollars. If gas is posted as 0.97 cents per liter, it would be 3.65 Canadian dollars per gallon. Then, based on the current exchange rate of 0.76, the price would be 2.78 U.S. dollars per gallon.
If you have a diesel RV, you should be aware that diesel pump handles are not green. We learned the hard way that gas pumps may be green in Canada, and pumped a few gallons of gasoline in our diesel engine. Pay careful attention to the signs before pumping any fuel into your RV or tow vehicle.
Finding a Campsite while RVing in Canada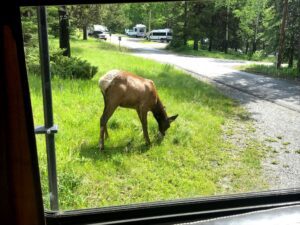 You can use many of the same resources to find campsites while RVing in Canada as your would in the U.S.  If you want to stay in a provincial or national park, you will need to make a reservation through government websites. 
Each province has their own system for provincial park camping reservations. National park campsites can be booked through the Parks Canada website. 
If you want to camp within a popular national park, such as Banff, you will need to make a reservation months in advance.  Reservations for the year, open in January and vary for each national park. If possible, book your campsite the day reservations open in January.
Cell Phones and Internet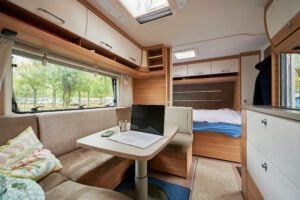 Many American cell phone companies will allow you to use your plan in Canada. Before RVing in Canada, call your cellular provider to confirm if your phone will work and if there are additional charges.
Our Verizon unlimited plans provided unlimited calls and texts with no additional charge. However, high speed data was limited to 0.5 GB per day. If we needed additional data, each additional 0.5 GB costs five dollars.
If having access to internet is important, plan to stay at private RV parks that offer WiFi. You can also visit local coffee shops to access WiFi as needed.
Renting an RV in Canada
If you don't own your own rig, there are several rental options for RVing in Canada. Cruise Canada offers truck camper and motor home rentals across the country.
If you want a larger selection of RV types, RVezy is a marketplace that allows you to rent RVs from private owners. RVezy was founded in Canada and offers all types of trailer and RV rentals.
---
RVing in Canada will be the experience of a lifetime. Traveling in an RV will allow you to see more of this beautiful country and meet locals along the way. If you are new to RVing, make sure you purchase must have RV supplies before starting out on your trip.
Which Canadian destinations are on your RV bucket list? Let us know in the comments below.