This post may contain affiliate links. See our affiliate disclaimer here.
This comprehensive guide describes the pros and cons of the five reliable ways to watch TV in an RV:
Today's RV models all come equipped with one or more flat screen TVs, but one of the most common questions new full-time RVers ask is how to access TV while traveling.
When you are a weekend warrior, TV is not a necessity in your RV. Once you go full-time, it is nice to have the option to relax in front of the screen on cool nights or rainy days. Keeping reading for all the ways to watch TV in an RV with or without Wi-Fi or cable.
Watch Antenna TV in an RV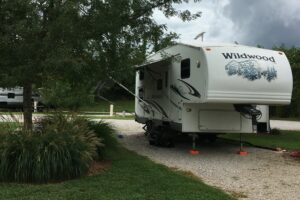 The simplest way to watch TV in an RV is to use an antenna to access over-the-air channels. Most new RV models come with built in HDTV antennas, so the only setup required is to turn on the TV and scan for channels from the main menu.
The scanning process can take ten minutes, so it is best to complete the scan on the day you arrive. You lift the antenna by rotating a handle built into the ceiling of your RV. You do not have to raise the antenna to access channels, but lifting it increases picture quality.
If your signal is choppy or blurry, you can also use this control to move the antenna in another direction. Just don't forget to put the antenna down before hitching up and driving to a new location.
If your rig did not come equipped with an antenna, you can buy this one for under $40 on Amazon.
The number of channels varies greatly depending on the area. Most locations offer at least a couple of the main networks (ABC, CBS, NBC and FOX) and other channels like PBS and ION. You will never find cable-only channels like ESPN or Discovery.
In most locations, we are able to watch twenty to fifty channels just using the antenna. You can view the available channels at an RV park by going to TV Guide Listings.
On the guide, you can enter the zip code and select antenna to see the full list of channels available. TV Guide is useful for finding programs since the on screen guide is limited when watching over the air TV.
Pros
Over-the-air TV is free. If you are traveling on a budget, this is the best way to access TV without emptying your wallet.
Local news channels are available so you can keep up with current events in the area you are currently located.
Limited channels and no on demand options allow you to have TV when you really want it, but won't encourage you to sit on the couch all day.
Cons
Channels are limited. While most locations have several channels, we have been in some locations where we only picked up one or two. If you watch cable series or want access to more movies and sports, you will need a paid TV service.
Quality can vary by location, channels are often fuzzy and the signal often becomes blurry in heavy rain.
Streaming TV for RV Travel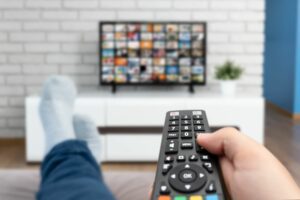 Streaming TV is the main way we currently watch TV in our RV. Of course, you have to have access to high speed internet to regularly stream TV in an RV.
When we first moved into our RV in 2016, we rarely found parks with reliable Wi-Fi but over the last year, we have found that the majority of private campgrounds are now offering improved internet connections, so we are streaming TV more often.
The simplest way to stream TV in your RV is to use a Roku.
The Roku Express costs less than $30 and the installation process is super easy. You literally just plug it in to the HDMI port on your TV and it is ready to go. It is also easy to move if you have multiple TVs.
You can also use Apple TV, Google Chromecast or an Amazon Fire Cube, but the Roku is the best value. The difficult part of streaming is choosing which service or services are the best fit for your traveling family.
Amazon Prime Video, Netflix and Hulu all offer a mix of cable TV series, movies and original content. You can browse the offerings on each service to choose the one that has the best selection for you.
If you are not on a tight budget, you can easily subscribe to all three for way less than the cost of a typical sticks and bricks cable service. My preferred choice is Amazon Video because it is included with your Prime membership.
The two-day shipping offered with Amazon Prime is a great for RVers because you can guarantee your online purchases will arrive at the RV park before you move on. Use this link to sign-up for a 30-day free trial of Amazon Prime and Prime Video.
Sling TV is a streaming platform that lets you watch live TV. The best part of Sling is that you get to customize a package with only the channels you want. The service starts at $25 per month, and is a great option if you want access to certain cable channels like ESPN.
The last streaming option is premium channels. HBO, SHOWTIME and STARZ have streaming-only subscriptions that allow you to access their movies and shows without a cable subscription.
If you just want movies or love certain premium series, this is an affordable way to have limited TV. I love the series Shameless on SHOWTIME, so after each season finishes airing, I will pay for one month of their streaming subscription and watch the whole season before canceling.
If you are not a full-time RVer, you can also download Roku apps for most network and cable TV channels. These apps allow you to stream on-demand shows and sports for free with the login information for your home cable or satellite service.
Pros
Streaming TV provides variety. Most streaming services allow you to access a wide selection of movies and TV shows.
Streaming TV for RVers also provides flexibility. You can cancel and re-subscribe as often as you like.
Cons
Access will be limited by your internet connection. Streaming is only a good option if you stay in campgrounds with Wi-Fi or have an unlimited mobile hotspot. If you plan to stay in state parks or boondock regularly, streaming may not be the best option. See my article on RV internet for more detail on internet options.
The price can add up. While the individual services are affordable, your monthly bill can add up if you subscribe to multiple services.
Satellite TV for RVers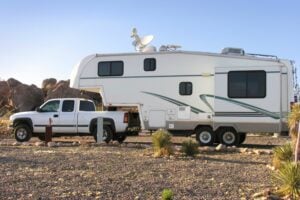 Satellite is the only way to reliably watch TV in an RV with all of the bells and whistles of a TV subscription. In the US, you have two choices for satellite TV: Dish and DirecTV.
You can use the KING portable tailgater satellite dish with both companies (here are links to buy the Dish version and the DirecTV version).
The offerings and prices are similar for both companies, so just check which company is offering a better sign-up promotion.
One difference is that Dish offers a Pay As You Go option that allows you to turn off service during months where you are not using your RV TV. This is a great option for RVers who only travel half the year or are not full-timers.
Pros
Satellite RV is just like TV in your sticks and bricks. You can get all the TV channels and include features like a DVR.
Sports packages are available for fanatics who cannot miss a game while traveling.
Cons
This is the most expensive RV TV option. If you add premium channels, sports packages and a DVR the month bill can be very expensive.
The satellite will not work if it obstructed by trees or bad weather. You will have to select open RV sites with less shade to make sure the satellite can get a signal.
Watch Cable TV in an RV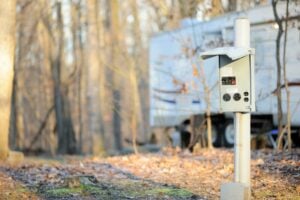 If you have a cable input pre-installed on your RV, you can take advantage of free or paid cable that many RV parks offer. Most RV parks that offer cable have a hook-up in or near the electric box, so you just simply plug the cord into your RV and the park's box.
Free cable at campgrounds typically includes between 10 and 30 channels.  The advantage of cable over antenna TV is that you often get a better channel line-up including programming like ESPN.
How to Setup RV Cable TV
If your current RV park or campground offers cable TV, follow these simple steps to connect your RV TV.
Locate the cable TV hookup on your RV. (This is typically a small, round input labeled "CABLE" or something similar)
Connect one end of a coaxial cable to the campground's cable TV outlet.
Connect the other end to the cable TV input on your RV.
If your RV has a built-in antenna booster, turn it OFF.
Turn on your TV and switch the input to the cable setting.
Open the menu on your TV and select the option to scan for channels.
Start watching.
Pros
You can watch live cable channels, typically at no extra cost from the RV park.
Since cable is from the local provider, you can access local news programs.
Cons
This TV option is only available at a limited number of private RV campgrounds.  If you make this a requirement for selecting RV parks, you will not have many places to choose from.
Watch DVDs in an RV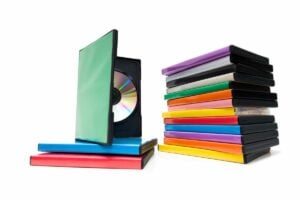 The final way to watch TV in an RV is to pack DVDs. Many travel trailers and motorhomes come equipped with DVD players. If you RV does not have one built-in, it is also very simple to connect a DVD player to your RV TV with a HDMI cord.
If you want to stock your RV with a DVD collection, browse the under $1 DVD section on Amazon for some awesome deals.
Pros
Watch TV in your RV without cable of Wi-Fi.
Watch exactly what you want, since you can choose your movies and shows in advance.
No monthly fees for a TV subscription.
Cons
Requires advance planning to buy and pack DVDs for your RV road trip.
If you only have DVDs, you will not have access to sports and other live TV events.
FAQs about RV TV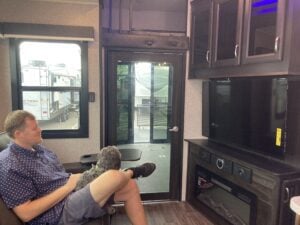 Is there a difference between RV TV and regular TV?
Not necessarily, some RVs come equipped with standard TVs while other RVs have 12 volt TVs that are able to be powered by the RV battery without an invertor.
How do I get free TV in my RV or Camper?
Using an antenna to access over-the-air channels is the best way to access free television in your RV. Most RVs are equipped with TV antennas, so campers just need to turn on the TV and scan for channels.
Can I use a Roku or Fire Stick in my RV?
Yes. As long as your have access to internet, a Fire Stick or Roku will work with your RV TV. Campers can use a mobile hotspot or a Starlink satellite to connect their RV TV streaming devices.
---
The final option for watching TV in an RV? Don't!
Skip the TV and choose to focus more on being outdoors, reading and being productive. I am not ready to completely cut the cord yet, but I think it is an awesome thing to do.
We have one TV in our Grand Design Reflection fifth wheel, and have chosen to use a combination of antenna and streaming to watch TV.
We used to have a second TV that we could setup outside to watch football and basketball games, but it was shattered during a drive. When the Wi-Fi is bad, we just watch less TV and get outside more.
Whichever option you select as your RV TV solution, don't forget to turn it off, get outside, and go enjoy your travels. Save TV for when you are sick or the weather is nasty!
On the other hand, if you are stuck in your house for the winter check out these awesome TV shows about RVing!
Happy Camping!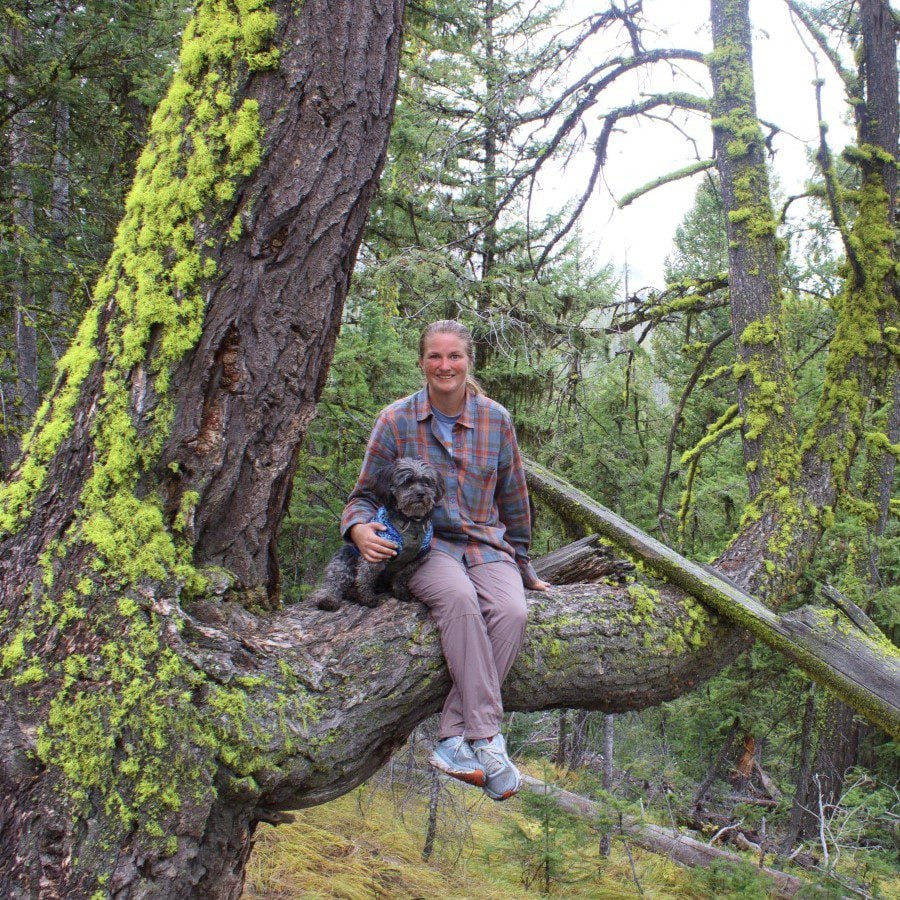 Christina Pate is a seasoned full-time RVer who, along with her husband Justin, has journeyed across the US, Canada, and Mexico. Drawing from her extensive travels, RV repairs and RV renovations, she founded Travels with Ted to guide and inspire fellow RV enthusiasts. Christina is also the co-author of The Owner's Guide to RV Maintenance and the creator of My RV Log Book.