This post may contain affiliate links. See our affiliate disclaimer here.
Your first holiday season living in an RV is likely to be different from previous holidays celebrated in your sticks and bricks.  You may be spending less or more time with family, your decorating scheme will need to be adjusted and you will definitely need to think twice about the types of gifts you wish to receive. 
Although these changes can be stressful, the holidays are the perfect time to reflect on why you moved into an RV and be thankful for your new, adventurous life.  Below, several full time RVers provide tips on how to make the most of celebrating Christmas in an RV.
Exchanging Christmas Gifts while Living in an RV
Exchanging gifts is a large part of many family's Christmas gatherings. However, when you are celebrating Christmas in an RV, gifts may need to be minimized or downsized. Consider forgoing gift exchanges or be clear with family which gifts are and are not acceptable for your RV lifestyle.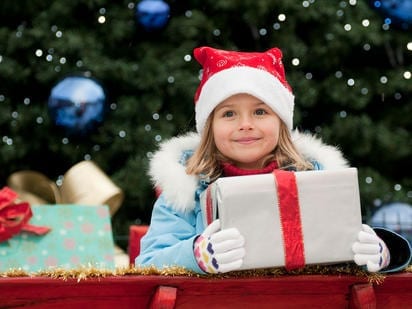 When becoming a full time RVer, you'll likely need to educate your friends & family on the types of gifts that are appropriate for your new lifestyle. You now live in a super small space and just simply don't have space to store "stuff" that isn't necessary. You might need to make some suggestions of things you actually need – perhaps even providing a link to a gift list on Amazon. Or perhaps ideas for RV club memberships that you need or consumable gifts that don't take up space for long.
Dustin and Jen of 5th Wheel Wanderers
This year we are gifting ourselves a trip to Hawaii. We prefer to spend our money on travel and experiences that will last a lifetime. As for gifts for future – we are sticking to stocking stuffers & small gifts that will get "used up". I think a great idea for kids/families would be to spend money on things your kids want to "do" versus "get" such as theme parks, travel, etc.
Need some ideas for gifts to add to your wish list this year? Check out our 30 top gift ideas for RV owners and our list of 25 personalized Christmas gifts for RV campers.
DIY RV Christmas Decorations
When celebrating Christmas in an RV, limited space does not have to mean limited cheer! Use these DIY RV Christmas decoration ideas to deck out your RV for the holidays.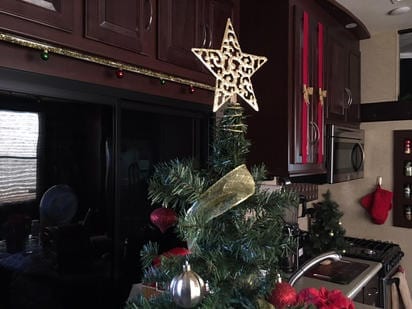 Melinda and Eryk, Full Time RV Couple
For Christmas decorating every year we purchase a live potted tree from Home Depot. They are usually only a few dollars and less than two feet tall. This way we only have to store a few mini ornaments and a string of battery operated miniature lights.
Ingrid of Live Laugh RV
Since storage in our RV is in short supply, holiday decorations are almost non existent around our tiny home, but that doesn't mean I don't enjoy celebrating holidays. I've always enjoyed baking, and the holidays give me the perfect excuse to indulge in the joys of baking. Since my little RV oven has a tendency to heat up the rig, it's a win-win situation during a day of baking. The oven not only bakes my treats, but takes the chill out of the air, not to mention the delightful aroma wafting through the air in our RV. With an abundance of homemade treats and only so much freezer space, I enjoy spreading a little holiday cheer by sharing my baked goods with workers at the RV park or with neighbors and friends.
Julie Chickery of Chickery's Travels
Your RV is your home, so don't be afraid to embrace the holidays and decorate it. The first year in our RV, I got a little depressed at Christmas because when I downsized I let go of all my holiday decorations. The second year, I decided that I had room to keep one storage bin of decorations including a tree. I made room in our fifth wheel for a 6' tree! But don't worry if you have a smaller space, there are plenty of table top style trees too. Dollar Tree is great place to get inexpensive holiday decorations in case you don't want to keep them afterwards. Check out Chickery's Travels holiday tour from last year for some great ideas on decorating your RV.
Christina from RV Life Military Style
Here is a holiday idea that is fun for kids and adults alike to use to decorate your RV for the holidays. When I was younger something I remember growing up were the handmade clay ornaments we made for our tree. The recipe is really easy. So here it is below. Mix the flour (4 cups all purpose), salt (1 cup) and water (1/2 cup). Knead dough until smooth. Roll out dough and cut into desired shapes. Bake at 350 degrees F for 1 hour. Once cool paint with colors, if desired. Easy peasy right? I went to Hobby Lobby and got some small holiday cookie cutters and some acrylic paints. Then from there it's just up to your imagination. Then you can string them up on your Christmas tree with some holiday style ribbon!
Cooking Christmas Meals in an RV
Large, decadent meals are another Christmas staple in many households. But, how do you cook a multi-course dinner while celebrating Christmas in an RV? Here are two great options for creating a fabulous Christmas dinner in your tiny home on wheels.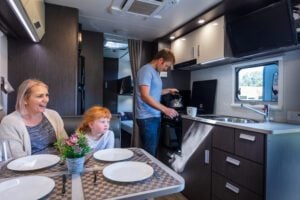 Jeanine Libby of Libbys on the Loose
If you want to cook ALL of your favorite holiday foods, space it out and start a few days early! Crockpots and Instapots can be a big help, and have you ever put your turkey or ham on the grill? YUM! By starting early, when it comes time for your holiday dinner – it's super stress free just to reheat everything so instead of cooking all day, you can enjoy your company.
Christina of Travels with Ted
When your are celebrating in Christmas in an RV as couple, it can be easier to order a pre-cooked holiday dinner. Many restaurants and grocery stores sell pre-cooked turkeys, hams and side dishes that can be purchased a day or two in advance and heated up on Christmas day. When it is just the two of celebrating a holiday, ordering out allows us to have the big holiday meal without having to cook everything in the RV oven.
Cold Weather Tips for Christmas in an RV
For many campers, celebrating Christmas in an RV means enjoying warn weather or sunshine in Florida or Arizona. However, some full time RVers choose to brave the cold so they can be near family over the holidays.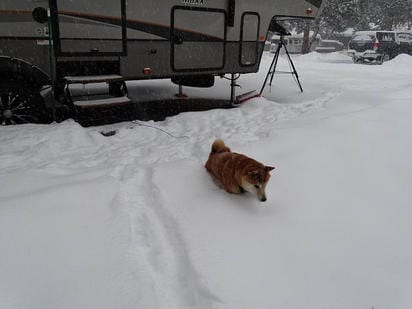 Kevin and Kym of 33andfree.live
Celebrating a Christmas in an RV is no different than celebrating in a normal Sticks & Bricks home. We love to decorate and prepare for the colder weather that comes with the holidays. While some RVs go all out and decorate the inside and out, we have always preferred something small and intimate. Add a little color, get the kids or fur kids involved, make some hot chocolate and put in White Christmas! Preparing for the cold is what can be different than normal homes. We have to do a little more preparation to keep warm and dry inside. Other than that, we still have to shovel snow, plug in the car and make sure the heat is turned up!

Our first winter in an RV was in 2016 and boy did we pick a crazy one for our first. There were multiple learning curves and struggles, but we wouldn't have changed it for anything! It's an experience and one that is worth doing. Being a full time RVer is not just one long trip, it's a lifestyle. A lifestyle with the same ups and downs as a "normal" home, just different.

For more detailed tips on preparing your RV for winter, check out this article on 33andfree. The picture above proves they have really experienced Winter in an RV!
Celebrating Christmas with the RV Community
Many full time RVers choose not to travel to family in cold weather destinations of the holidays. While the warm weather is not, celebrating Christmas in an RV can be lonely for many couples. Check out these tips for finding community to celebrate with on the road.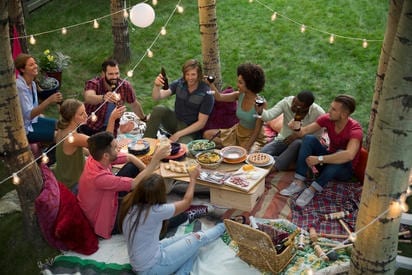 Melinda and Eryk, Full Time RV Couple
Our Holiday travel tip is to plan ahead with reservations! Campgrounds will be full. Recreational campers tend to come out on holidays which makes it harder to wing it with reservations. Remember, many of these campers have planned all year for this vacation so be patient with them and let them have fun!
Jeanine Libby of Libbys on the Loose
If you think you'll miss having big family and friend gatherings for the holidays because you're out exploring and who really wants to travel over holidays anyways… Look no further than your campground! Most of them host holiday potluck style dinners where everyone who chooses can meet and enjoy a day with a "family" of nomads! The biggest thing we hear over and over that surprises people the most about full time RVing is just how much a community it is and how often you'll meet up accidentally or intentionally.
Julianne Crane of RV Wheel Life
The first two holiday seasons we were on the road full-time, we volunteered with Habitat for Humanity's RV Care-A-Vanners. These are individuals who travel in their own recreation vehicles, covering their personal expenses, to Habitat affiliates across the United States and Canada, to help build houses with Habitat families. Each caravan usually lasts two weeks and includes eight to ten RV units. We found this to be a perfect way to experience the holiday season. We were able to donate our time and skills to a deserving cause. There are numerous worthy causes that could use help. Just pick one and give them a call.
---
Do you have more tips for celebrating Christmas in an RV? Comment below to share your best tips!