This post may contain affiliate links. See our affiliate disclaimer here.
Yellowstone is America's first national park and one of its busiest! The best way to experience this beautiful but crowded public land is to camp in or near the park. Campers can wake up to the area's natural beauty and beat other visitors to popular hiking trails and attractions. In this complete guide to Yellowstone Campgrounds, we detail all of the RV and tent camping options in and around Yellowstone National Park.
Campgrounds in Yellowstone National Park
There are twelve campgrounds within Yellowstone National Park. Staying at one of the park's campgrounds is the best way to beat the crowds to popular destinations. However, most of the park campgrounds do not offer hookups for RVs (the only one that does is closed in 2021)and it can be difficult to snag at these popular spots last minute. Reservations can be made through the Yellowstone National Park Lodges' website.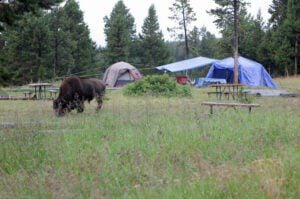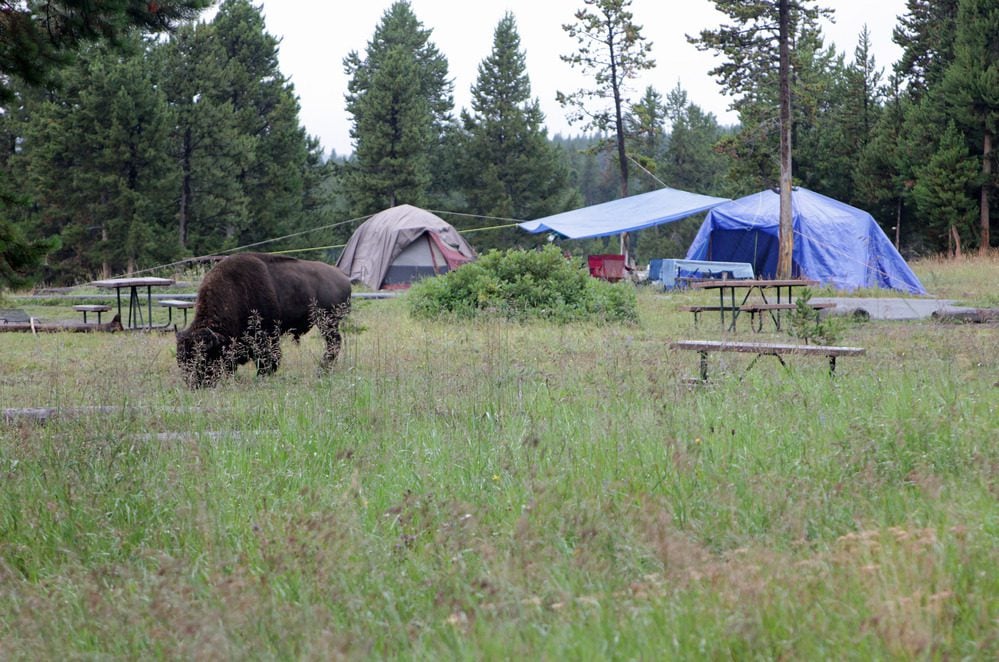 Reservable Campgrounds in Yellowstone
Bridge Bay Campground: Located near Yellowstone Lake, Bridge Bay offers 432 campsites that can accommodate tents and RVs. There are no RV hookups, but flush toilets, potable water and a dump station are available. Stay at Bay Bridge to enjoy views of Yellowstone Lake.
Canyon Campground: Set in the lodgepole pine forest in the center of the park, Canyon Campground has 273 campsites for both tents and RVs. No hookups are offered, but the campground has restrooms with flush toilets and hot showers as well as water and a dump station. Stay at Canyon Campground for the convenient location near the stores and restaurants of Canyon Village.
Fishing Bridge RV Park: Please note Fishing Bridge is closed in 2021 for renovations. Located just north of Yellowstone Lake, Fishing Bridge is the only RV park in Yellowstone. The campground has 310 full hookup sites for RVs. Tents are not permitted at this campground due to frequent bear activity. Stay at Fishing Bridge for RV amenities.
Grant Village Campground: On the southern side of Yellowstone Lake, Grant Village has 430 primitive campsites for tents and RVs. Campground amenities include potable water, an RV dump station and full bathrooms with hot showers. A boat ramp, stores and restaurants are all located close by. Stay at Grant Village if you plan to boat on Yellowstone Lake.
Madison Campground: Located near the west Yellowstone entrance, Madison Campground has 278 dry campsites, some of which accept RVs up to 30 feet. The campground has flush toilets, water and a dump station, but no showers. Stay at Madison Campground in early summer to see Yellowstone's wildflowers in bloom.
First Come, First Served Campgrounds in Yellowstone
Indian Creek Campground: Located at the base of the Gallatin Mountains, Indian Creek offers views of Electric Peak from its 70 campsites. The only amenities at this campground are vault toilets and water. Stay at Indian Creek for peace and quiet.
Lewis Lake Campground: Lewis Lake is the southernmost Campground in Yellowstone. The 84 primitive campsites are within walking distance to the lake. There are vault toilets and potable water available. Stay at Lewis Lake to explore the southern region of Yellowstone.
Mammoth Campground: Located near the north entrance to Yellowstone, Mammoth is the only campground open year-round. There are 85 dry campsites that can accommodate tents or RVs up to 30 feet. Flush toilets and potable water are available in the campground. Stay at Mammoth Campground for off-season camping at Yellowstone.
Norris Campground: Norris Campground is located near the intersection of three main roads near the center of the park. The campground has 111 sites for both RVs and tents. Flush toilets and potable water are available, but there are no showers or dump stations. Stay at Norris for a central location to explore everything Yellowstone has to offer.
Pebble Creek Campground: Located by the northeast park entrance, Pebble Creek Campground is a small campground with 27 campsites. The tent and RV campground has great mountain views, potable water and vault toilets. Stay at Pebble Creek for long pull-thru sites for RVs.
Slough Creek Campground: Another small campground, Slough Creek has just 16 sites for tents and RVs. The campground is located in the Lamar Valley where bears, bison and wolves are frequently spotted. The only amenities are vault toilets and potable water. Stay at Slough Creek Campground for the best opportunity to see Yellowstone's wildlife
Tower Fall Campground: This campground is located near the 130 foot waterfall that it is named after. Tower Fall offers 31 primitive RV and tent campsites. The only amenities at the campground are potable water and vault toilets, but the Tower General Store is located close by. Stay at Tower Fall to beat the crowds to the falls viewing area.
Campgrounds North of Yellowstone
For campers who want more amenities, such as full hookup campsites and swimming pools, staying outside of Yellowstone is the best choice. The closest RV parks to the north entrance are located in town of Gardiner, Montana. These northern campgrounds all offer easy access to Yellowstone's Lamar Valley and the Mammoth Hot Springs.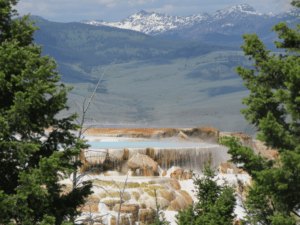 Rocky Mountain RV Park and Cabins: This RV park offers back-in and pull-thru full hookup RV sites. Deluxe sites also offer cable television. The RV park is in walking distance to local stores and restaurants. On-site, Rocky Mountain offers mini golf, laundry, Wi-Fi and shower houses.
Yellowstone Destinations: This campground offers both tent and RV sites. Both full hookup and dry RV sites are available. The tent sites are walk-in only, but tent camper can also book dry RV sites to car camp. Most importantly, the campground is located right next to Yellowstone Hot Springs where campers can soak in the natural mineral waters.
Yellowstone RV Park: This picturesque RV park offers 46 campsites overlooking the Yellowstone River. Their RV sites have full hookups as well as cable TV connections. The park also offers grassy tent sites. Showers, laundry and Wi-Fi are available to all campers.
Campgrounds West of Yellowstone
The town of West Yellowstone, Wyoming also offers full service camping accommodations close to the national park. West of the park is the best area to stay for campers looking to visit the Geyer Basin and Old Faithful.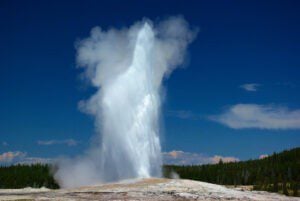 Buffalo Crossing RV Park: The closest RV campground to Yellowstone's west entrance, Buffalo Crossing has a lot to offer campers. In addition to spacious, full hookup campsites, the RV park offers laundry, bath house and Wi-Fi. Campers can easily walk from the RV park to local shopping and attractions.
Yellowstone Grizzly RV Park and Cabins: Also located within walking distance of the town of West Yellowstone, Grizzly RV has full hookup campsites and cabin rentals. Park amenities include a playground, bath houses, gift shop and laundry room.
Yellowstone Park / West Gate KOA: The West Gate KOA is located a little further west of the park entrance, but offers everything a kid could want. Family friendly amenities include mini golf, a heated indoor swimming pool, fire pits, a snack bar and a dog park.
---
No matter where you choose to camp, visiting Yellowstone will be the experience of lifetime. For more national park camping recommendations, see our complete guide to RV camping in national parks.
Which Yellowstone Campground would you stay at? Share your pick in the comments section below.