This post may contain affiliate links. See our affiliate disclaimer here.
If you travel in an RV, it won't take long until you encounter a campground with foul tasting (or smelling) water. Using a water filter can improve the taste, smell and safety of water while camping in an RV. In this article, we share our pick for the best RV water filter, as well as, other effective RV water filter systems. Keep reading to learn everything you need to know about RV water filtration systems.
The Best RV Water Filter
Drumroll 🥁….and the best RV water filter is the Travel Berkey.
The Berkey water filtration system isn't just the best RV water filter, it's one of the best water purification systems available. In fact, this is the same system used by the Red Cross when going into areas with non-drinkable water.
This is an ideal water filter for RVers, especially RVers who boondock, because it is gravity fed and does not require water pressure or electricity to operate.  To use, simply pour water into the top chamber. The water will be filtered and purified and the clean drinking water can be accessed through the spigot on the bottom chamber.
Benefits of the Travel Berkey
We bought a Berkey after trying several other RV water filters. Below are the reasons we think it is the best RV water filter on the market.
Long-Lasting Filters: The included filters will easily last 7+ years before they need to be changed.
Convenient: Simply pour water in and pour water out. There is no need to set-up at each campsite.
Aesthetically Pleasing: The filter is made with highly polished stainless steel and won't be an eyesore on your counter.
Compact: The Travel Berkey is only 18″ high when in use, and can be nested down to 12″ for storage and travel.
Off-Grid: The Berkey does not require power to use, so it is perfect for boondockers.
Effective: Delivers great tasting, clean water every time we use it.
Downsides of the Travel Berkey
We honestly believe the Berkey is the best RV water filter, but there are a few downsides to consider before purchasing.
Price: The Travel Berkey costs $345, which is not small change, but it costs more because it works better.
Free-Standing: The Berkey is free-standing, so it will not filter water coming out of the sink and shower faucets.
The Best RV Water Filter Honorable Mentions
The Best Exterior RV Water Filter
Our pick for the best exterior RV water filter system is the Clearsource Premium RV Water Filter System. This two-stage canister filter is attached between your RV and the city water connection to filter all water coming into the RV. The first-stage 5-micronfilter improves taste and removes or reduces sediment, chlorine, VOCs and other contaminants. Then, the hospital-grade 0.2-micron filter removes or reduces bacteria like Legionella and E. Coli, as well as, cysts like Giardia.
The Clearsource Premium also has the approval of RV owners. With hundreds of reviews, the filter has the best RV water filter reviews on Amazon with a 4.8 star rating.
Benefits of the Clearsource Premium
Comprehensive: The exterior design means that all water coming into the RV is filtered, so clean water is accessible through any RV faucet.
Effective: The comprehensive filtering system is effective at removing sediment and bacteria.
Durable: With a powder-coated standalone chassis and stainless steel fittings, this water filter system is very durable.
Downsides of the Clearsource Premium
Price: At $399.99, the Clearsource Premium is even more expensive than the Travel Berkey.
Filter Lifespan: Clearsource recommends annual filter replacement for infrequent campers and replacement every 2 to 3 months for full-timers.
Bulky: The filter system is relatively large, so owners will need to find somewhere to store it during travel.
The Best Economical RV Water Filter
The Camco TastePure is the best economical water filter. This inline RV water filter uses a Granular Activated Carbon filtration method to reduce bad taste, odor, chlorine and sediment. The TastePure also wins the best inline RV water filter. The filter hooks onto the end of your garden hose and includes a hose extension to attach the other end of the filter to the city water outlet.
Benefits of the Clearsource Premium
Price: This filter was selected as the best economical RV water filter because it cost less than $30.
Compact: This small tube is just 2.5 inches tall and 10 inches long, so it is easily stored for travel.
Comprehensive: The inline design means that all water coming into the RV is filtered, so clean water is accessible through any RV faucet.
Easy to Use: The filter easily attaches to any standard garden hose.
Downsides of the Clearsource Premium
Filter Lifespan: The TastePure filters only last an average of 3 months.
Limited Capabilities: The filter only removes particles greater than 20 microns.
Best Practices for Using RV Water Filters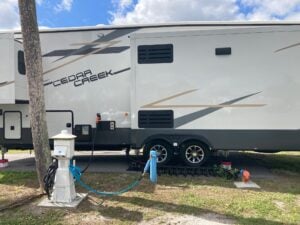 Even if you buy the very best RV water filter, it must be used correctly to ensure the best results. Follow these best practices to get the most out of your RV water filter.
Replace Filters On Time
Even the best RV water filter won't work without functional filter. Read the owner's manual that comes with your filter, and track it's usage, so you know exactly when the filter needs to be replaced. Go ahead and order extra filters with your initial purchase, so you are ready when the filter needs to be replaced.
One of reasons we choose the Travel Berkey as the best RV water filter is its long-lasting filters, which can be used to filter 6,000 gallons of water before you need to purchase a new filter.
Check the Temperature Rating
Most RV water filters will work in a broad range of temperatures. However, some water filters have a limited temperature rating. For example, the Culligan RV-800 RV water filter is rated to work between 40 and 100 degrees Fahrenheit, so it is not effective for winter campers.
If you plan to camp in cold, winter weather, be sure to check the temperature rating on your desired RV water filter system before purchasing.
Check your Water Pressure
Many exterior and inline RV water filters require a specific water pressure rating (PSI), in order to function properly. For example, some RV water filters need a PSI between 30 and 60 to work effectively. To ensure the PSI is within the filter's recommended range, use a water pressure regulator to control the flow rate of water into the RV.
Regardless of your selected RV water filter system, all RV owners should utilize a water pressure regulator. Water pressure regulators also prevent high pressure from damaging delicate RV water lines. A regulator should be use anytime an RV is connected to city water. To use the regulator, simply connect it between the city water connection and your garden hose. For more RV essentials, see our list of must have RV camping supplies.
Sanitize your Fresh Water Tank
Simply using an RV water filter is not sufficient to ensure the water coming into your RV is clean. The RV's fresh water tank also needs to be sanitized to prevent contamination of water in the tank. Fresh water tanks should be sanitized on new RVs before being used for the first time, after long periods of storage and after contamination.
Cleaning the fresh water tank is a fairly simple process that involves running bleach through the tank and the water lines. Read our guide to sanitizing an RV fresh water tank for step-by-step instructions.
RV Water Filter FAQs
Have more questions about RV water filters and the best RV filter? Check out these commonly asked questions.
Should you use a water filter for an RV?
Absolutely! The quality of water varies greatly by city and state. Use a water filter to ensure the water in your RV is always safe for drinking and cooking. Also sanitize your fresh water tank regularly to ensure RV water quality.
What is the best RV water filter?
The Travel Berkey is the best RV water filter for cleaning drinking water. While, the Clearsource Premium is the best exterior RV water filter to clean all water coming into the RV.
How many gallons is an RV water filter good for?
The lifespan of an RV water filter depends on the brand and model. Check the owner's manual to confirm the lifespan of any RV water filter.
Where do you attach an RV water filter?
RV water filters can be attached at either end of a hose. We recommended connecting the filter next to the city water inlet on the RV. Most inline water filters come with a hose attachment to attach the filter to the inlet. Then, a water pressure regulator can be attached to the other end of the hose that connects to the campground faucet.
Do RV water filters work?
The simple answer is yes, but some filters are only efficient at filtering out certain types or sizes of contaminants. For the cleanest water while traveling in an RV, use a Travel Berkey to filter drinking water.
---
Thanks for reading our guide to RV water filtration and the best RV water filter. We hope you found the best water filter solution for your RV.
Now that you know how to access clean water while camping, it is time to learn how to properly dispose of waste water. Head over to our complete guide to RV holding tanks to learn about proper procedures and maintenance of RV gray and black tanks.
Happy Camping!