This post may contain affiliate links. See our affiliate disclaimer here.
Utah's 5 national parks have some of the most memorable hikes in the country. However, there are only a handful of trails within the parks that permit dogs. Fortunately, there are tons of unforgettable, dog friendly hikes in Utah. Below are the 18 best hikes that allow pets, sorted by location.
Dog Friendly Hikes near St. George, Utah
All of the below dog friendly hikes are within an hour drive of St. George, Utah. These six hikes are great dog friendly day trips for visitors to Zion National Park or any part of southern Utah.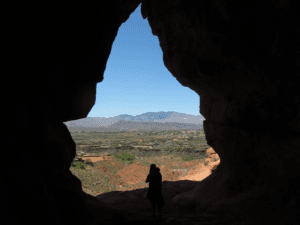 Scout Cave Trail
Located in Snow Canyon State Park, the Scout Cave Trail is a 4.4 mile out and back trail with moderate elevation gain. This Utah trail is an unforgettable, dog friendly hike because of its eponymous cave. The trail ends at a small cave that hikers can climb up to and explore.
Coral Pink Sand Dunes
While there are no actual trails in this state park, you can create your own path up, over and around these uniquely colored sand dunes. Dogs are allowed throughout the park, and hiking up the dunes is a great workout for people and pets. Summer visitors should arrive early and check the sand temperature before hiking with a dog.
Red Reef Trail
Located in the Red Cliffs Recreation Area, the Red Reef Trail offers – you guessed it – red rocks! The full trail is 5.9 miles, but most hikers stick to the easy portion of the trail which is just 1.5 miles. The end of the easy hike is easily identified by a small waterfall and pool. Visit in the spring for the best chance to see the waterfall at full force.
Third Ravine Loop
Third Ravine is a 5 mile dog friendly, loop hike located a few minutes west of St. George, Utah. The trail wanders through a narrow gorge before climbing to awesome views at the top of a mesa. There are also two caves alongside the trail that hikers can explore. See the trail review in The Independent for detailed directions to the caves.
Dino Cliffs Trail
Dino Cliffs Trail in Washington, Utah is a great family and dog friendly hike in southern Utah. The full trail is about 3 miles roundtrip, but you only need to walk about 200 yards from the west end of the trail to see dinosaur footprints in the wash. The trail also provides up close views of large, red rock formations.
Elephant Arch Trail
Unlike the more famous Utah arches in the eastern part of the state, Elephant Arch can be visited with a dog. The out and back trail is just under 4 miles and ends at an arch that resembles the head of an elephant. The trail has only a few hundred feet of elevation gain, but the soft, sandy track makes the hike more challenging.
Dog Friendly Hikes near Salt Lake City
The six dog friendly hikes listed below are within a hour drive of Salt Lake City, Utah. These hikes are perfect day trips from the city for a little adventure.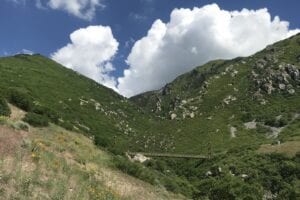 Bear Canyon Suspension Bridge Trail
This moderate dog friendly hike in Draper, Utah leads to a suspension bridge over bear canyon. There are a few routes to the bridge, but the easiest starts from Orson Smith Park. In addition to the bridge, the hike offers great views of the mountains and valley below.
Adams Canyon Trail
Adams Canyon is one of the most impressive dog friendly waterfall hikes in Utah. The out and back trail is just under two miles each way and ends at the 40 foot waterfall. There is a small pool to wade in below the falls. In winter, the fall may be fully or partially frozen.
Flag Rock
There are two pet friendly trails leading to Flag Rock. The more popular southern trail is a 3.3 mile, moderate round trip hike. The trail is named for the flag staked at the top of the trail which was placed here as a memorial to a local man who was born on flag day. The top of the trail also provides awesome views of Salt Lake City and the surrounding area.
Bonanza Mine Trail
The Bonanza Mine Trail in Park City, Utah is a great trail for hikers interested in local history. The 2.5 mile loop trails that takes you through the resort to an abandoned mine. The historic buildings are in disrepair, so hikers should be cautious and view them from a distance.
Neffs Canyon Trail
Neffs Canyon is a challenging dog friendly hike appropriate for humans and dogs in good shape. The 7 mile out and back trail follows a stream that dogs can cool off in during the warmer months. The trail climbs 1000 feet per mile and ends at a ridge with amazing views looking down into Big Cottonwood Canyon.
Silver Glance Lake Trail
Silver Glance Lake Trail is another difficult but rewarding dog friendly hike near Utah's capital. This unforgettable hike leads to not one but two picturesque alpine lakes. The full hike to the second lake is just under 6 miles and climbs over 2000 feet in elevation. For an easier hike turn around after the first lake.
Dog Friendly Hikes near Escalante, Utah
The following six hikes are all dog friendly trails located in or around the Grand Staircase-Escalante National Monument.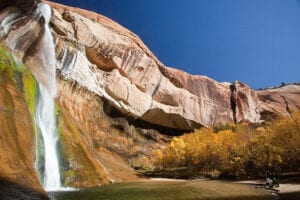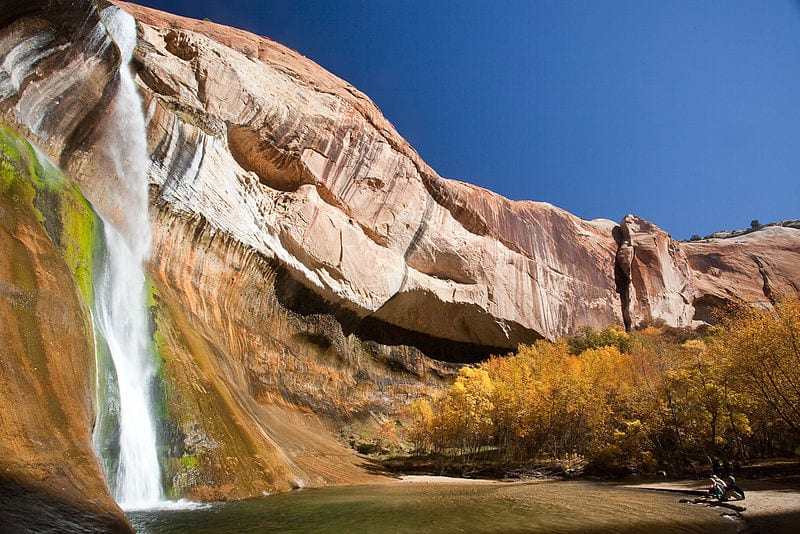 Devils Garden
Devils Garden is an easy 1 mile loop trail with a big payoff. This trail is great for dogs who are not up for more challenging hikes. The trail leads to impressive rock formations that hikers can wonder around. Access to the trail is a 12 mile unpaved road, so it is best to have a high clearance, four-wheel drive vehicle.
Lower Calf Creek Falls
Lower Calf Creek Falls is a 6 mile dog friendly hike to one of Utah's most spectacular waterfalls. The hike is mostly flat, but can be challenging due to deep sand. The trail ends at a 126 foot waterfall with a pool where hikers can cool off in the summer months. Along the way, hikers will also see beaver dams, a pictograph and red rocks.
Upper Calf Creek Falls
Waterfall chasers can also hike with their dog to the upper falls of Calf Creek. The hike to the upper falls is just over 1 mile each way. The trail ascends over slickrock down to the falls, so the return hike is a bit of a strenuous climb. The waterfall is smaller than the lower falls, but does have a pool where hikers can cool off.
Cedar Wash Arch
Cedar Wash is a dog friendly trail in the national monument that leads to a natural, sandstone arch. The easy, out and back trail is just over 2 miles with minimal elevation gain. Many online reviewers note that the trail can be difficult to follow, so be sure to download a map from AllTrails before starting the hike.
Phipps Arch Trail
This 6.4 mile out and back trail leads to a more impressive arch. The unforgettable hike can be overgrown and difficult to navigate, so wear long pants and download a map before setting out. Hikers and their pups will also need to be prepared to cross a river, which can be ankle deep.
Deer Creek Lake
North of Escalante, Deer Creek Lake provides a nice change of scenery from the the national monument. The 6.9 mile out and back trail leads to a picturesque lake. The hike is moderate with a gentle incline, but may be difficult for hikers and dogs who are not used to hiking at a high elevation.
Tips for Hiking with Dogs
Like most things in life, hiking is better with a dog by your side. However, hiking with your furry companion requires extra preparation and gear. Follow the below rules to make sure you are prepared for dog friendly hikes on your Utah adventure.
---
Where is your favorite dog friendly hike in Utah? Share your trail suggestions in the comments the below!
If you are planning a trip to Utah, check out our list of the best RV resorts in Utah.
If you are looking for more dog friendly hiking and travel ideas, check out all our dog friendly vacation guides.