This post may contain affiliate links. See our affiliate disclaimer here.
RV camping is a great way to travel and explore America, but many RV parks and resorts charge exorbitant prices for small spaces. While there are many free RV parking options across the county, most require campers to bring their own generator or solar power for electricity.
Here are 20 campgrounds that offer free RV parking with hookups. All of the RV campgrounds listed below are completely free with no membership required.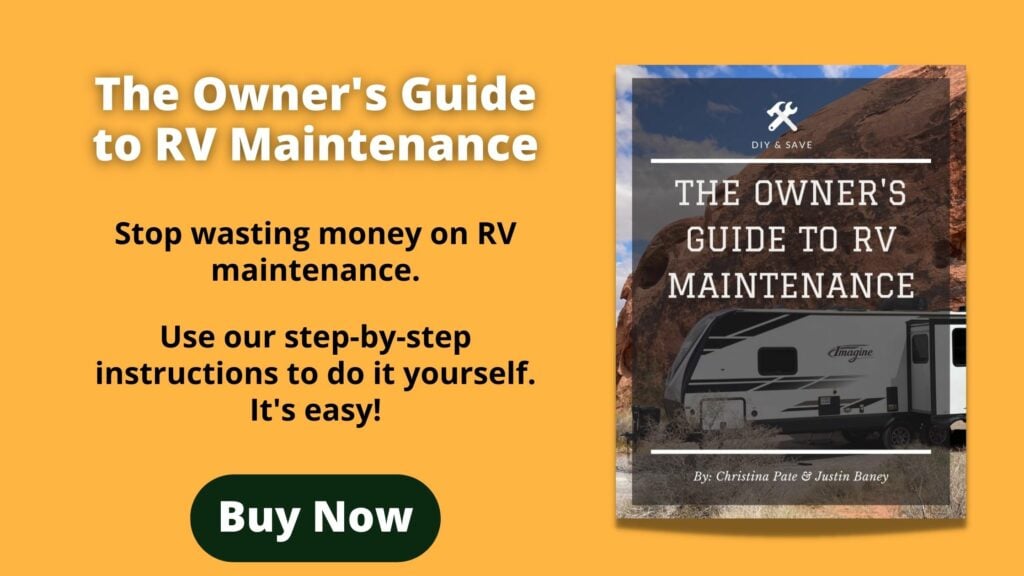 Free City and County RV Parks with with Hookups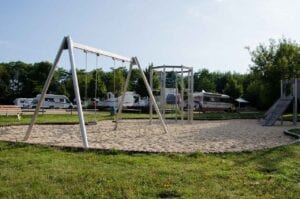 City of Britton RV Park in South Dakota
Travelers in South Dakota can camp for free for two nights at this city park. The park offers full hookup RV campsites with 30-amp electric. RV parking is $15 per night after the first two nights. Reservations are not accepted, but all campers should sign in at City Hall on the day of their arrival.
Jal Lake Park in New Mexico
Jal Lake is a man-made oasis in the middle of the New Mexican desert. The city park offers seven RV campsites with a covered picnic table, BBQ and water and electric hookups. A free dump station is also available on site. Stays are limited to three consecutive nights and six total nights each month.
Karrer Park in Nebraska
Located in southwest Nebraska, Karrer Park is a city park with seven free RV parking spaces with electric hookups. Water and a dump station are located on site. The restrooms are available only in the summer months, but camping is allowed year round. No reservations are accepted, and stays are limited to three days.
Lamar City Park in Missouri
This city park offers RV camping with electric hookups for a maximum of seven nights. The first two nights are completely free, and additional nights are only $10 per night. The Lamar Aquatic Park, which has pools and water slides, is also located in the park and can be used by campers for a small fee.
Lewis Park in Wyoming
Free RV parking with electric hookups is available at this large city park in Wyoming. Water and a dump station are also available within the park. Camping is completely free, but stays are limited to three nights within a 30 day period. The park is great for kids with miniature golf, skate park, basketball courts and more.
Lincoln Park Campground in Nebraska
This city park offers RV parking on 20 concrete pads with water and electric hookups. Campers can stay for free for up to 14 nights, but donations are accepted and appreciated. There is also a dump station available in the park. Campers can also enjoy the other park facilities which include a swimming pool, disc golf and playground.
Marysville City Park in Kansas
This city park in northeast Kansas offers free RV parking in beautiful, shaded campsites with water and 50 amp electric hookups. A free dump station is also available to campers. The park has an aquatic center, tennis courts and sic gold course.
Michigan City Park in North Dakota
The name of this city park would make you think you were in a different state, but it actually offers some of the best free camping in North Dakota. The park offers four RV campsites with electric hookups. The campground is located next to a nice golf course.
Spring Creek Park in Texas
This county park in Texas, located just north of Houston, offers free RV camping with full hookups. Campers are allowed to stay up to seven consecutive nights each month. Reservations are accepted and can be made up to three months in advance. The park also has playgrounds, sports courts and walking trails.
Waylon Jennings RV Park in Texas
Located in west Texas, this city park offers eight RV spaces with water electric hookups. Two of the sites are pull-thus and the campground also offers a dog park. A dump station is also available. Campers may stay at the park for a maximum of four days.
Casinos with Free RV Parking with Hookups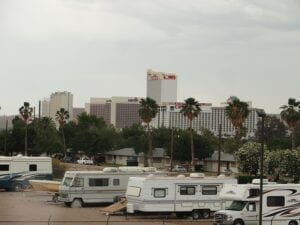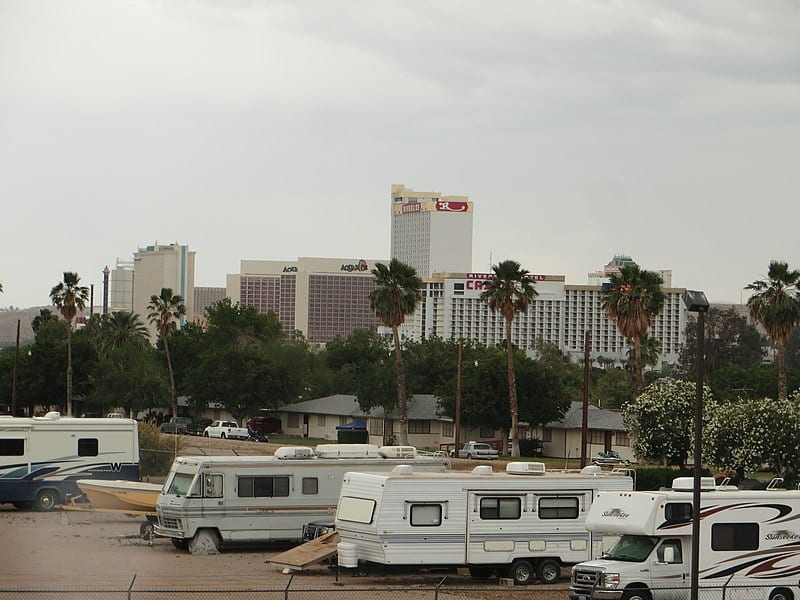 50,000 Silver Dollar Casino in Montana
Located in the middle of the Lolo National Forest, the 50,000 Silver Dollar Casino has a small RV parking are with free electrical hookups. Campers are allowed to park for free and no registration in required. In addition to the casino, the Silver Dollar has bars, restaurants and the state's largest gift shop.
Lucky Star Casino in Oklahoma
The Lucky Star Casino in Concho, Oklahoma offers free RV parking spots with electric hookups. The gravel parking spots are back-ins, so travelers should plan to park before dark. Recent campers who signed up for a player's card reported receiving $10 to spend at the casino.
Kewadin Casino in Michigan
The Kewadin Casino's location in Manistique, Michigan offers 10 free, RV campsites with electric hookups. Most of the hookups are 20 amp, but there are two 30 amp poles available. There is a restaurant and free Wi-Fi inside the casino.
Potawatomi Carter Casino Hotel in Wisconsin
This Wisconsin casino offers complimentary RV parking with electric hookups as well as a free dump station. Campers are asked to register at the Guest Services desk and to cap stays at no more than three nights. There are two restaurants in the casino for those who don't want to cook in their RV.
Seminole Casino Hotel in Florida
The Seminole Casino is one of the few places with hookups to park an RV for free on the east coast. The casino provides 50 amp electric hookups. Campers should register at the security desk at arrival and are allowed to stay up to three nights.
Other Campgrounds with Free RV Hookups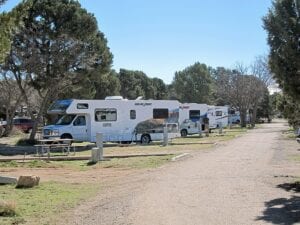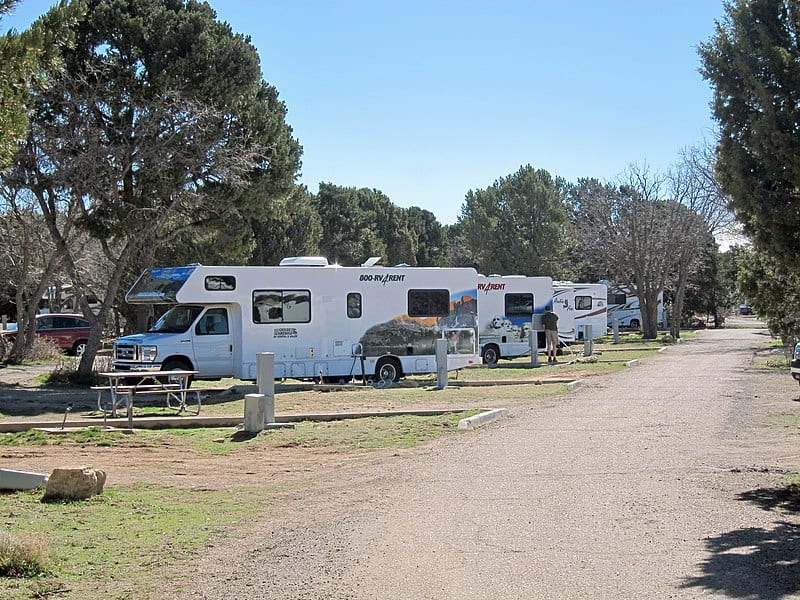 Honey's Park Camping in Idaho
Honey's Park is a unique campground in Idaho. The park, which is actually just a generous individual's property offers "dry, dusty, bumpy, rarely level" campsites in a field. There are also electric hookups on site and a county-owned dump station just down the street. Check out their website for an idea of the local flavor to expect from Honey's.
Raleigh Reservoir Campground in North Dakota
This campground on land managed by the Department of Fish and Wildlife offers eight sites with electric hookups. Camping stays are limited to five consecutive night and a total of two weeks each season. The campground is located in a park with a reservoir and fishing pier for public use.
Santa Fe Safari RV Campground in Kansas
The Santa Fe Safari RV campground, located in southeast Kansas, has 28 paved campsites with 50 amp electric and water hookups. There is a dump station and shower facilities on site as well. RV parking is free for the first two days. Campers are allowed to stay up to 10 days within a 30 day period, but campsites cost $10 pre night after the first 48 hours.
St. Albans Roadside Park in West Virginia
St. Albans offers free, paved RV campsites for travelers passing though West Virginia. RVers are allowed to park here for two nights within a 15 day period. Each campsite has an electric hookup. The campground also offers water, a dump station, picnic shelters and a playground.
Winnebago Visitor Center in Iowa
If you own a Winnebago RV, the company offers free RV parking outside their visitor center in Forest City, Iowa. Campsites offer 50 amp electric hookups and camping is free for Winnebago owners for two nights. Potable water is also available to fill fresh water tanks.
Free RV Dump Stations
Most of the free RV parks and campgrounds in this article only provide electric and water hookups. However, there are also plenty of places to dump your RV holding tanks for free.
See our guide to where to dump RV waste for free for the complete list!
---
You can camp for free for many nights visiting all of the above free RV parks. However, for those looking to RV on a budget for an extended period of time, consider purchasing one of these RV memberships that offer discounted camping. Specifically, Thousand Trails offers free camping at nice RV parks with hookups.
Where is your favorite free camping spot? Tell us in the comments section below.