This post may contain affiliate links. See our affiliate disclaimer here.
Since our blog is named after our dog, Ted, I thought it was time for a post about the needs of our furry friends while living full-time in an RV. If you are like us, your dog is part of your family and you want to ensure they are happy, healthy and safe on the road.
Exploring new hikes, lakes and rivers with Ted is one of the best parts of full-time travel, but there are also some difficulties living with a dog in an RV. Read on for our best tips on RV living with dogs.
Don't worry cat lovers. We also travel with a cat, Mr. Man. Check out our guide on RV living with cats here.
Finding a Dog Friendly RV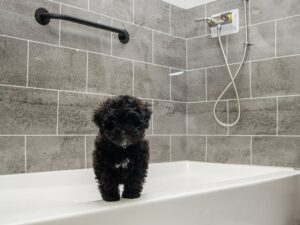 It's important to consider you dog when selecting an RV to call home. Find an RV that has sufficient space for your dog's kennel or other large accessories. Also, try to find an RV with no carpeted floors.
The small corners and tight spaces make cleaning fur off the carpet difficult. For shopping inspiration, check out our list of the best RVs for dogs, including an RV with a dog kennel built-in and an RV with a full dog washing station.
Vet Visits and Records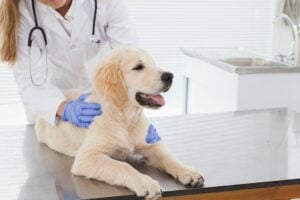 When we first moved into our RV, we tried to keep all vet and vaccination appointments in one town. However, we soon realized, that different vaccinations are needed at different times and it is not realistic to use a single provider.
Now, we have a home vet in North Carolina, but we take Ted to the nearest local vet for vaccinations. I highly recommend you find a primary vet in a town you plan to visit every year.
To keep his records organized, have each vet print out a copy of the vaccination and check-up report. Store these hard copies in your RV or tow vehicle, so they are easily accessible if you need proof of vaccination.
It is also a good idea to save a digital copy in case the hard copies are lost. When you visit your primary vet, bring a copy of any new records so they also have an updated file.
Unfortunately accidents happen while traveling, so you need to be prepared to find vet care nearby. Each time you visit a new location, identify the closest emergency vet.
Write down the phone number and address, so you are ready to go if your dog has an emergency. At the same time, also find the nearest hospital, storm shelter and mobile RV service.
Travel Days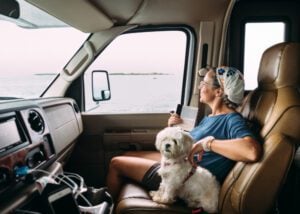 Travel days are a big part of RV living with dogs. Long road trips with dogs can be easy as pie or very trying depending on the temperament of your dog. Fortunately, Ted is a good sleeper so he snoozes away while we are driving.
To keep any dog comfy, always keep a bowl of food in the backseat and stop every two hours for a potty break. These collapsible water bowls are great for travel days and hikes.
Vets and safety experts will recommend that you buckle your dog into a special seat that snaps into the seat belt. You can purchase a booster seat with a safety clip to buckle into the backseat of your truck or the couch of your motorhome.
If your dog gets motion sickness in your car, you can give them Dramamine thirty minutes before traveling. Ask a vet for approval and the proper dosage for your dog.
RV Camping with Dogs
Most RV parks are pet-friendly though many parks do have breed restrictions. Some RV parks charge a small pet fee, but most allow up to two pets for free. KOA campgrounds will ask for proof of Rabies vaccination, but most private RV parks do not ask for any documentation.
Many RV parks also offer fenced runs for dogs to play fetch off-leash. We also travel with a small, portable dog fence so Ted can safely chill with us at the campsite. A few RV parks prohibit fences, but 90% of them will allow you to put up an enclosure.
So how do you shop or go out to dinner when RV living with dogs? Most RV parks prohibit leaving your dog unattended in the RV. Of course, never leaving your dog alone is not realistic so everyone does it.
If your dog is calm and quiet, you will not have any issues leaving them in your RV. However, if your dog has separation anxiety and barks like a maniac when you leave (like Ted), you will need to restrict the amount of time they are left alone.
So, we try to find dog friendly restaurants and activities at each new destination. If we are going to leave Ted by himself in the RV, we go on a long walk to tire him out first.
Then, we turn on the fan and TV (click here to learn how to watch TV in an RV) to drown out any barking. We also let our neighbors know that our dog tends to bark, and ask them to contact us instead of the park office if they have issues with the noise.
In a few destinations, we have been lucky enough to meet fellow RVers with whom we trade dog sitting duties. When we are gone all day to places that aren't dog-friendly (some cities and most national parks), we find a local dog sitter to watch Ted for the day.
Ted loves other dogs, so we only choose doggie daycares that allow group play. You can easily use Google to find a sitter that meets your dogs needs.
Save on RV pet and travel gear at Camping World with our exclusive offer! Take $10 off orders $75 or more! Use code CWSAVE at checkout!
Safety for RV Dogs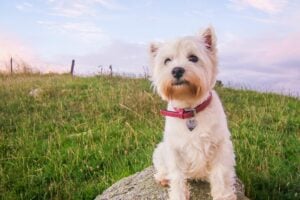 When leaving your dog in the RV, you should take measures to ensure they are safe. Installing a temperature sensor allows you to monitor temperature inside your RV from your phone.
Although these devices are a bit pricey, they are an essential safety tool for RV living with dogs. The sensor's app allows you to set an alert limit, so you will be notified if the temperature rises due to a power outage or air conditioner failure.
Also make sure your dog is easily identifiable in case they get lost. Discuss micro-chipping with your vet or have them wear an ID tag with your phone number.
Ted once ran off at a Florida campground, but we located him quickly because fellow campers were able to call us. It was a scary experience, but it worked out because he was wearing proper ID.
Senior dogs may also need an RV dog ramp to make sure they can safely enter and exit the RV without injuring their legs.
Exploring with your RV Dog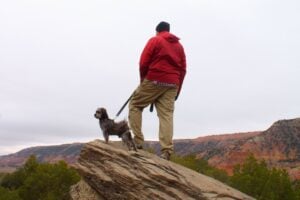 You didn't move into an RV to stay at the campsite all day. So, you will want to find lots of dog-friendly adventures. AllTrails is a great app to find hikes. They allow you to filter for trails that allow dogs on or off leash.
While most national parks do not allow dogs on trails, there are 10 super dog-friendly national parks. State parks and national forests are also great options for hiking with dogs.
To find dog-friendly restaurants and dog parks, I use the website Bring Fido. This site is really awesome, but not always up to date, so call the restaurant to verify their dog policy before you drive there. RV living with dogs is so much more fun if they are part of your adventures.
---
We have met many full-time doggies on our travels and we have yet to find one who did not love life on the road. Comment below and share where you are most excited to explore with pup.