This post may contain affiliate links. See our affiliate disclaimer here.
One of our favorite parts of full time travel is visiting an exploring America's national parks. However, our stays in national parks are limited by pet restrictions that force us to either find a dog sitter or stay in the car during our visit. There are a handful of genuinely dog friendly national parks that allow you to hike and explore with man's best friend.
Below are 10 pet friendly national parks that allow dogs to join you on hiking trails or view the main natural attractions. Let's start planning your next dig friendly national park adventure!
When traveling with dogs, RV camping is the best lodging option. RVs have plenty of space for everyone to spread out, and provide a safe space for your dog to chill if have non pet-friendly activities in mind. Search for affordable, dog friendly RV rentals on RVezy.com.
Acadia National Park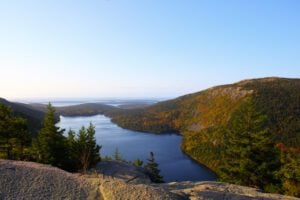 Acadia is one of the most popular dog friendly national parks in the country. There are over 100 miles of hiking trails where pets are allowed, and all the parks has three dog friendly campgrounds.
However, there are a few trails that prohibit dogs because they are too steep or require the use of ladders. Consider hiking with your dog on the Bar Island Trail, an easy 2 mile walk to a sandbar that can be reached around low tide.
Also, stop by the Jordan Pond House where you can enjoy lunch or tea with incredible views. Dogs can join diners at Jordan Pond's outdoor tables.
Congaree National Park
Congaree National Park in South Carolina welcomes dogs on ALL of their trails. Most of the hiking trails are relatively flat, so dogs of all ages and fitness levels can enjoy this park.
The Weston Loop Trail is an awesome 4 mile hike with views of Cedar Creek. If you want to get in the water, you can also take your dog in the creek in a kayak or canoe.
Alternatively, nearby Palmetto Outdoors allows dogs to ride on their shuttles and rent tubes so you can float down the river with your pup in tow.
Cuyahoga Valley National Park
Dogs are welcome on the trails and in the campground of Cuyahoga Valley National Park in Ohio. For scenic waterfall views, hike the 1.5 loop trail to Brandywine Falls or the 3 mile Blue Hen Falls trail.
Visitors can also go fishing for steelhead trout and bullhead in the Cuyahoga River. Dogs can hang out on the dock or shore while you catch dinner. If your dog doesn't mind the cold, rent snowshoes and hit the trails during the winter months.
Gates of the Arctic National Park
If you and Fido are looking for a real adventure, visit Gates of the Arctic National Park in Alaska. The park is true untouched wilderness with no trails, roads or campsites.
However, the Gates are also a truly dog friendly national park with no restrictions on where you can take your dog. If you and your dog have the proper outdoor skills and equipment to handle the rugged terrain, you can enjoying hiking, backpacking and fishing in the park.
Grand Canyon National Park
Grand Canyon National Park does not permit pets below the rim of the canyon, but does permit dogs on the south side Rim Trail. The dog friendly trail is 13 miles long with incredible views of the canyon.
The entire trail can be walked or you can drive between several lookout areas. Dogs are not allowed on shuttle buses, so try to visit outside of summer months when more parking will be available. For a great dog friendly vacation, rent an RV and take a road trip with a stop at the Grand Canyon.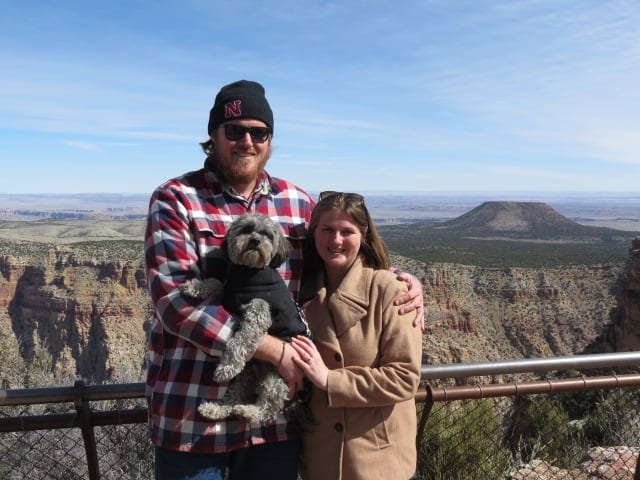 Great Sand Dunes National Park
Another great national park to visit with dogs, is Great Sand Dunes in Colorado. Dogs are allowed in the main use areas of the park including sand dunes and trails.
To protect your pet's paws, make sure to visit early in the morning or in cooler months when the sand won't be too hot.
Make sure you also check out the dog friendly Zapata Trail just a few miles outside of the park. The road to the trailhead is steep and bumpy, but the hike to a hidden waterfall is a unique experience.
Hot Springs National Park
Hot Springs National Park in Arkansas permits dogs on all 26 miles of hiking trails and in the campground. Hike the Mountain Trails for an easy walk with scenic views below.
There are also many establishments in the town of Hot Springs that welcome pets. After a day of hiking, take your dog to the outdoor seating at Superior Bathhouse Brewhouse to grab a beer and a bite.
For a unique adventure outside of the park, take a cruise on the dog friendly riverboat the Belle of Hot Springs.
Petrified Forest National Park
Another dog friendly national park with very few restrictions is Petrified Forest in Arizona. Leashed dogs are allowed on all trails and in the backcountry, and are only prohibited from buildings.
Stop by the short Giant Logs trail to see the largest log in the park. For a more challenging hike, try the Blue Mesa trail which winds through beautiful hills formed from blue bentonite clay.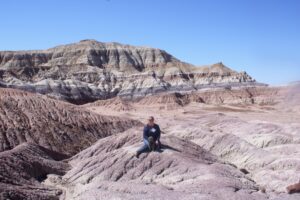 Shenandoah National Park
Another dog friendly national park on the east coast is Shenandoah in Virginia. Over 90% of the hiking trails are open to dogs and the campgrounds are also pet friendly.
Hike the 4 mile Rose River Loop for a great hike where you and your dog can get wet in the stream if its hot outside. The trail also features an impressive 67 foot cascade.
Less active dogs can still enjoy the park by hanging out the window on Skyline Drive. The 105 mile road features nearly 70 overlooks with views of the Shenandoah Valley.
White Sands National Park
The last (but not least) truly dog friendly national park is White Sand in Colorado. One of our newest national parks, White Sands loves dogs and allows them to explore the dunes and hike the trails.
The park even offers pet walking stations with poop bags near the visitor center. To best experience the park hike the misleadingly named Alkali Flat Trail that runs up and over dunes.
Dog Friendly National Parks Tips
While most national parks do not cater to pets, you can still drive around most parks with your dog. Check out our guide to a pet friendly Redwoods National Park vacation for examples of activities in other parks.
If you are planning a national park adventure with your dog, consider traveling by RV for an ultra pet friendly vacation. RVShare offers pet friendly RV rentals across the country and most National Park campgrounds are pet friendly even if their trails are not.
Finally, to keep our national parks dog friendly, be a good pet parent. Always keep your dog on a leash of six feet or less. Always pick up your dog's poop ( and anyone else's you find on the trails).
To protect your pet, bring plenty of water on hikes and avoid hiking in hot weather. Consider participating in a Bark Ranger program to learn the best ways to enjoy dog friendly national parks.
If you want to follow along with our dog Ted's RV camping and national park adventures, follow us over on Instagram.