This post may contain affiliate links. See our affiliate disclaimer here.
Many RV owners love bringing their dogs along on camping trips. However, the tight spaces in many campers are not built with pets in mind. Fortunately, some RV manufacturers are now creating floorplans that work great for families with pets. Below are the 5 best RVs for dogs, including one RV with a dog kennel built-in.
Once you find the perfect dog-friendly RV, you need supplies to keep your furry companion happy on the road. Check out our Amazon list of RV camping essentials for dogs.
Best RVs for Dogs
The following RVs include several features to keep dogs safe and comfortable while camping. If you are considering living in your RV, check out our guide to RV living with dogs for more tips.
Best RV with a Dog Kennel
Keystone Outback Ultra-Lite 244UBH
The Keystone Outback travel trailer is the best RV with a dog kennel because it is the only RV with a built-in dog kennel available in the United States. Since 2019, most Outback floorplans have offered dog kennels built into the base of the bed.
The 244UBH floorplan also offers several other dog friendly features, including pull-out dog dishes underneath the entertainment center, an outdoor shower to clean muddy paws and zero carpeting for easy accident and fur clean up.
The travel trailer is 29 feet long and includes double-over-double bunks, so there is plenty of sleeping space for the whole family.
Best RV for Dirty Dogs
2022 Keystone Cougar 357UMR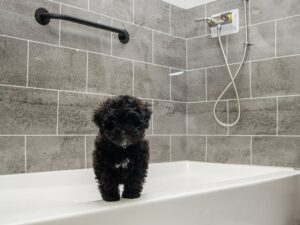 Another great dog friendly RV from Keystone, the 2022 Cougar 357UMR was specially designed for pet owners. The main pet friendly feature is the utility mud room.
This rear mud room has a separate entrance and features an oversized walk-in shower for campers to wash dirt and mud off their dogs. Hooks on the wall of the utility room also provide storage for leashes and other dog accessories.
Like the Outback travel trailer, the dog friendly Cougar RV is carpet free. The Cougar 357UMR is a 39 foot fifth wheel with an island in the kitchen and large main bedroom.
Best Class A RV for Dogs
Thor A.C.E
Available in 5 different sizes and floorplans, Thor A.C.E motorhomes are built for families with dogs. Pet friendly features include a carpet free design, pull-out food and water dishes and a bird's eye window that allows dogs to see everything happening outside.
These motorhomes also include a multi-purpose tie down designed to secure a dog's leash and keep them at the campsite.
Thor A.C.E RVs also offers several great features for humans, including the option for white cabinets, a handy mudroom compartment for dirty shoes and Wi-Fi connectivity.
Best Budget RV for Dogs
Highland Ridge Open Range Conventional 20MB
Starting at $25,000 this Highland Ridge travel trailer is a great option for dog owners searching for a budget-friendly RV. While the RV does not have elaborate pet features, such as a food drawer, it was designed with pets in mind.
The floor is completely covered in residential vinyl for easy clean-up. The 20MB floorplan also features a murphy bed, which creates extra space for your dog to play and relax during the day. Finally, the bathroom has a shower/tub combination for easy dog washing.
Click here to see more RVs with bathtubs.
Overall Best RV for Dogs
4pfoten-Mobile TE 741
The 4pfoten-Mobile (translates as 4 Paws Mobile) is the ultimate dog friendly RV. These RVs include a specially designed area in the rear that offers kennel space for up to two large dogs.
The separate dog room features a mat for comfort and an extendable dog ramp for easy entry. There is even a camera included for campers to monitor their dogs.
For safety, there are two doggie belt locks and rings attached on the outside of the RV to secure leashes. Unfortunately, this RV is produced and sold in Germany, and is not currently available on this side of the Atlantic.
Dog Friendly RV Features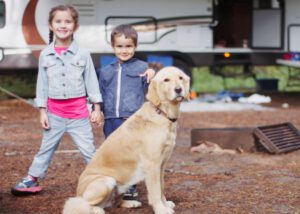 When shopping for an RV, dog owners should search for the following features.
Kennel Space
If you are searching for an RV with a dog kennel, but are not happy with the built-in options, search for an RV that will easily allow a custom kennel build. Under-bed storage areas, dinette benches and bunkrooms are spaces RVers often convert into dog crates.
Flooring
Carpet, especially long shag carpet, is a nightmare for RV owners with pets. Carpets attract pet hair and make accident clean-up more difficult. Since most RVs have several small corners and small spaces, cleaning is more difficult than in a house.
Instead, search for an RV with vinyl flooring throughout. Even with vinyl floors staying on top of pet hair clean-up is important. Check out our list of the best RV vacuum cleaners to keep your RV fur free.
Entrance and Stairs
Many dogs will have trouble navigating shaky RV entrance stairs. To keep dogs safe, considering upgrading to one of these sturdy RV staircases with a large top platform. If your dog is unable to navigate steps, purchase a portable dog ramp to place over the stairs.
---
Once your find the perfect RV with a dog kennel or other dog friendly features, it's time to start planning your adventures. Check out our list of the best dog friendly RV parks in the country and the best national parks for dogs for trip planning inspiration.
Is an RV with a dog kennel your dream rig or is there another pet friendly feature at the top of your wish list? Share your thoughts with us in the comments section below.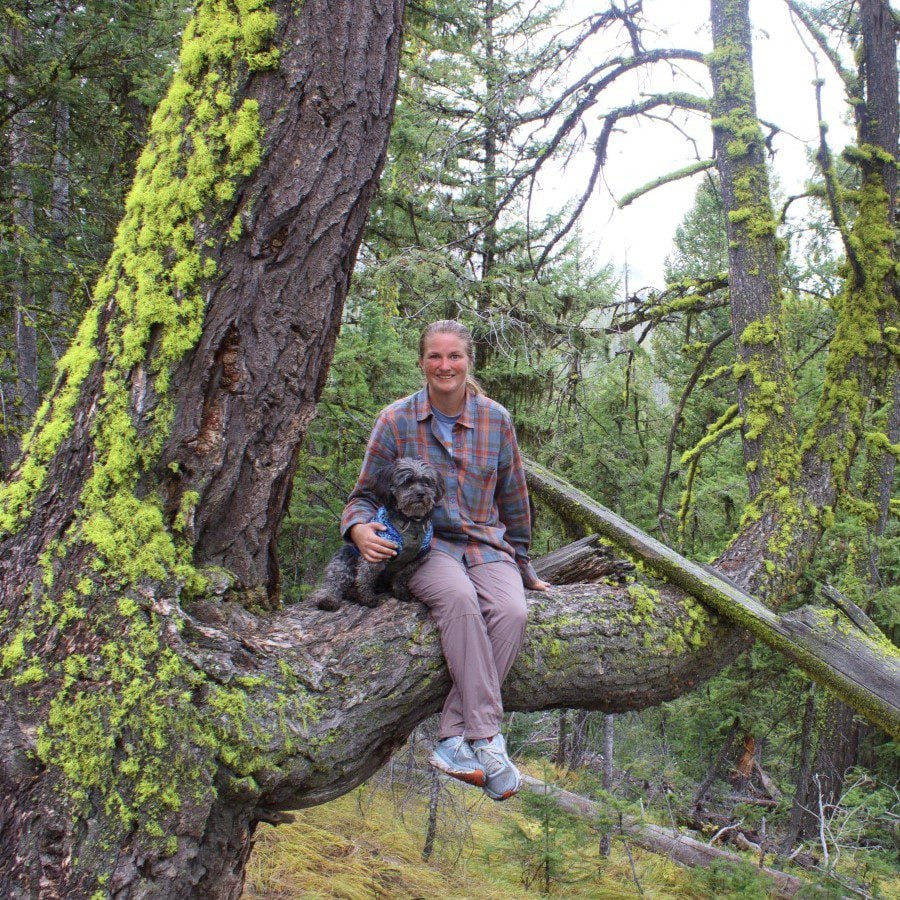 Christina Pate is a seasoned full-time RVer who, along with her husband Justin, has journeyed across the US, Canada, and Mexico. Drawing from her extensive travels, RV repairs and RV renovations, she founded Travels with Ted to guide and inspire fellow RV enthusiasts. Christina is also the co-author of The Owner's Guide to RV Maintenance and the creator of My RV Log Book.