This post may contain affiliate links. See our affiliate disclaimer here.
Lake Tahoe is the ultimate summer RV destination. The area offers travelers stunning views, quality eats and endless hiking trails. However, finding and booking a last minute RV campsite in Lake Tahoe was almost impossible, until now!
Arvie is a new platform that makes finding and booking RV campsites super easy. With Arvie's service campers can book last-minute Lake Tahoe RV camping reservations in just a few minutes. Keep reading to learn about all of Arvie's benefits and Lake Tahoe RV camping options.
Disclosure: This post is sponsored by Arvie, but we personally use their services and we only promote products we use and love.
How to Book Lake Tahoe RV Camping Reservations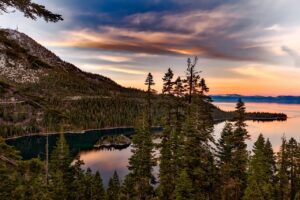 As we noted above, Arvie is the easiest way to find and book campgrounds. Using Arvie, travelers can even secure last minute reservations at sold out campgrounds. Follow the below steps to get your Lake Tahoe RV camping reservations today!
Step One: Search for Campgrounds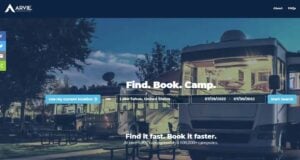 To find RV campsites at Lake Tahoe, first head over to Arvie's homepage and create a unique profile. Simply enter your desired destination and dates and Arvie will return a map of all the campgrounds in the area.
Filter your results based on your RV size, number of slide outs and whether or not you are traveling with pets.
Step Two: Check Availability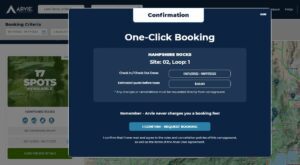 The next step is to check availability at your desired campground or RV park. Simply click on the campground, and select the "Check Availability" button.
Arvie's technology will quickly determine whether or not the campground has a site available that is large enough for your RV. If campsites are available, you can view the details and price of each option. Then, book your stay.
With Arvie's one-click booking, simply select the site and confirm your booking request and Arvie travel agents will finalize your reservation.
Step Three: Conduct a Sold Out Search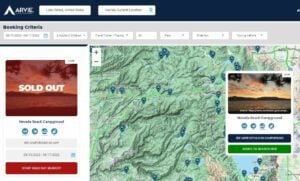 If your desired RV campground in Lake Tahoe is sold out, don't worry. Simply use Arvie's sold out search feature to make a reservation request. Click "Start Sold Out Search" and Arvie will monitor cancellations for your desired dates every five minutes, around the clock – even while you sleep.
Users can select to be notified by text and/or email. However, for the best chance at securing the reservation, users should select to have Arvie instantly book the campsite when an available spot is found.
Arvie's sold out search feature is not only easy to use, it is also super effective. Arvie has a 62% success rate at finding a cancellation at a sold out campground for the upcoming weekend.
If all the RV campgrounds in Lake Tahoe are booked, campers should also consider conducting a sold out search at multiple locations. If an Arvie camper runs 3 sold out searches for 3 different sites in the same area, they have a 92% chance of booking one of those sold out campgrounds for the upcoming weekend.
If a camper runs 5 sold out searches at once, they have a 99% chance of staying at one of the 5 campgrounds for the upcoming weekend.
Last-Minute Lake Tahoe RV Camping Reservations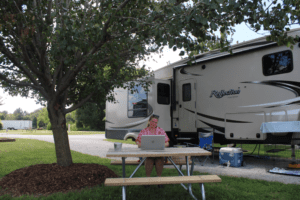 Although Arvie's sold out search statistics are super impressive, I decided to test the success of the feature for Lake Tahoe RV camping reservations. Spoiler alert: I was amazed by the results.
On a Monday in July, right in the middle of peak Lake Tahoe camping season, I searched for an RV campsite for the next weekend. All of the campgrounds were sold out, so I conducted a sold out search for 3 campgrounds.
Before the day was over, Arvie notified me of a cancellation at one of the campgrounds. Later in the week, Arvie also found campsites at both of the other campgrounds.
Arvie Membership Details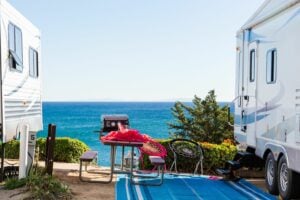 Campers can test out this amazing new platform by signing up for a free trial on Arvie.com.
After the free trial membership, the monthly pay-as-you-go fee is just $14.95, or $99.95 per year to use all of Arvie's premium booking features, plus double the sold-out searches. Arvie will even let you pause your membership so you don't get billed during months you aren't camping.
Users who sign-up for an annual membership by August 31, pay only $69.95, or less than $6 per month!
Arvie never charges a booking fee, so you always pay the same amount for your reservation as you would if you had booked directly with the campground.
Lake Tahoe RV Campgrounds
Below is a complete list of RV parks and campgrounds where Arvie offers Lake Tahoe RV camping reservations. Keep reading to find your dream Lake Tahoe camping destination.
Campground by the Lake
Located in the heart of South Lake Tahoe within walking distance to the lake is a beautiful city campground and RV park. The campsites can accommodate both tent campers and RVers.
While there are no electric or water hookups at the campsites, the campground does offer showers, bathrooms and potable water.
Fallen Leaf Campground
Located less than a mile from the south shore of the lake, Fallen Leaf Campground is a great option for RV camping at Lake Tahoe. The campground has over 200 sites that can accommodate RV or tent campers.
The campsites at Fallen Leaf do not have RV hookups, but the campground does have bathhouses for RVers to use.
Hope Valley Campground
Hope Valley Campground is located in its beautiful namesake valley at an elevation of 7,300 feet, just 40 minutes south of Lake Tahoe. The small campground has 20 sites that are able to accommodate tents or RVs.
There are no RV hookups available at Hope Valley, but all campers have access to vault toilets and drinking water.
Meeks Bay Campground
Located on the west side of Lake Tahoe, Meeks Bay Campground is another great option for RV travelers. The small campground has tent sites, as well as 16 sites that can accommodate motorhomes or travel trailers.
The sites are a bit smaller at Meeks Bay, so the maximum RV length is 35 feet. No hookups are available, but the campground does have bathrooms.
Nevada Beach Campground
Located in the forest, but close to the shore of Lake Tahoe, Nevada Beach Campground is a great place to camp and relax. The campground has over 50 RV campsites, many of which can accommodate RVs up to 40 feet long.
The campground does not have hookups, but bathrooms and potable water are available to all campers.
William Kent Campground
Last, but not least on our list of campgrounds where Arvie offers Lake Tahoe RV camping reservations is William Kent Campground. Located on the lake's west shore, the campground has over 70 RV campsites, many of which can accommodate big rigs.
As with many of the campgrounds near Lake Tahoe, the RV sites do not have hookups. However, the campground does have bathrooms and drinking water.
---
Thanks for reading our complete guide to booking Lake Tahoe RV camping reservations.
If you are taking an extended California road trip, check out our list of the best luxury RV resorts in California.
Happy Camping!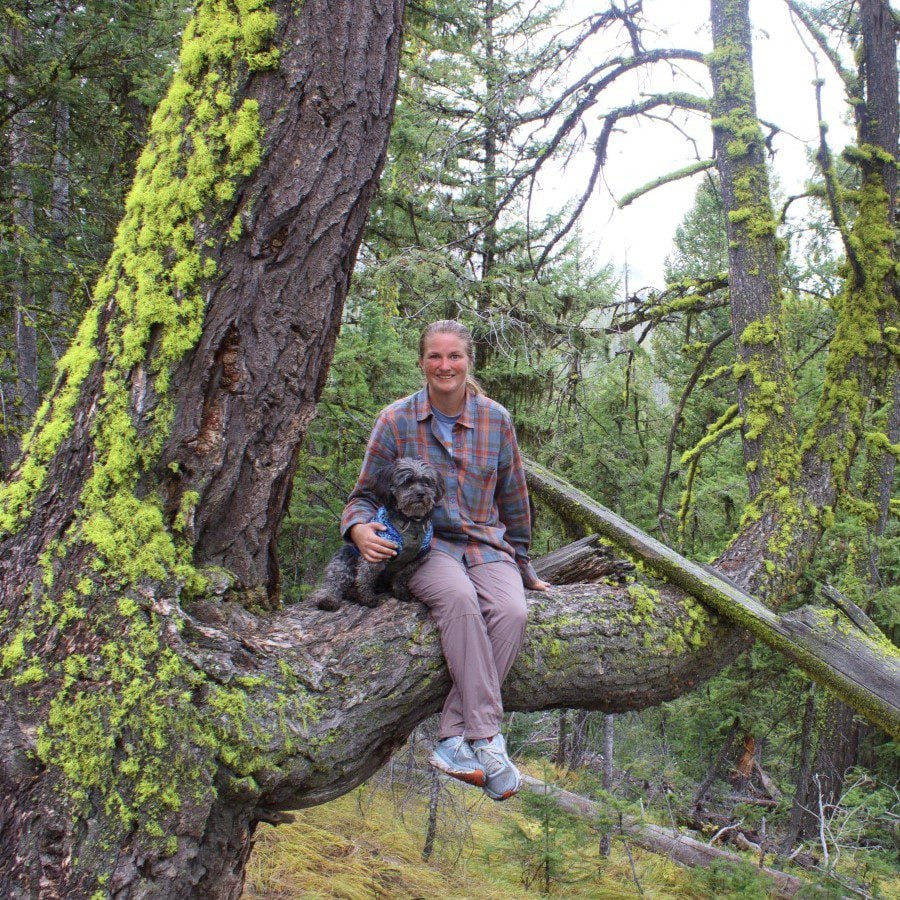 Christina Pate is a seasoned full-time RVer who, along with her husband Justin, has journeyed across the US, Canada, and Mexico. Drawing from her extensive travels, RV repairs and RV renovations, she founded Travels with Ted to guide and inspire fellow RV enthusiasts. Christina is also the co-author of The Owner's Guide to RV Maintenance and the creator of My RV Log Book.