This post may contain affiliate links. See our affiliate disclaimer here.
With millions of Americans traveling the country in an RV, campsites are harder than ever to find. Fortunately, there is a new platform that helps RVers secure campsites at popular destinations, even at the last minute. Continue reading to learn all about the best RV campsite app to use in 2023.
Disclosure: This post is sponsored by Arvie, but we personally use their services and we only promote products we use and love.
What is the Best RV Campsite App?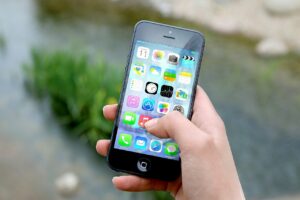 Our new favorite app to find RV campgrounds is Arvie. I have lived in my RV since 2016, and have always used a variety of apps to find campsites on our route. However, Arvie has additional features that I have never seen before!
First of all, Arvie does not just help you find RV campsites. This RV campground app actually books campsites for you. Their features also include the ability to find and then easily book sold out campgrounds and RV parks.
Why is Arvie the Best RV Campsite App?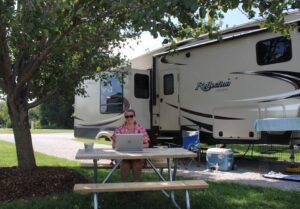 I believe Arvie is the best RV campsite app available because of their unique campground search and booking features. Specifically, there are 3 unique and innovative features that Arvie provides for RV campers: campground availability search hub, one-click booking and sold out search.
Real Time Availability Checking
Arvie is the first and only RV camping app where campers can check real-time availability across multiple booking platforms. Users simply enter their destination, dates and RV details and Arvie returns a map of all the campgrounds and RV parks in their preferred area.
If campers are looking for an RV site for that weekend, they can also use Arvie's "Use My Location" option to find RV parks near their current location.
Then, campers can select their desired campground and immediately see a list of campsites available for their specific dates. Arvie's platform includes real-time availability checking at over 4,300 campgrounds across the country.
Destinations available on Arvie include most state and national park campgrounds. Searches on Arvie also include private RV parks and other public campgrounds. Arvie also continues to expand the number of campgrounds available.
Check out our guide to the best National Parks for RV camping, then head over to Arvie.com to book your campsite!
One-Click Booking
Arvie not only saves RVers time when finding RV campgrounds, they also simplify the booking process. New members complete their profile information, including their payment information and RV details.
With the profile information saved on Arvie's secure platform, users can use the one-click booking feature. Arvie's search hub allows campers to view a list of over 4,300 available campsites.
Once their preferred campsite is selected, users simply click on their desired campsite, confirm their request and an Arvie agent completes the entire booking process for you. With this unique feature, RV travelers can find and reserve campsites in a matter of minutes.
Profiles also include the camper's Good Sam, AAA and KOA membership numbers, so Arvie can ensure their users get the best price on the campsite. When booking on Arvie, there are never additional booking fees and you pay the exact price as when booking directly on the campground's website.
Sold Out Search
The third, and most exciting, innovative feature is Arvie's sold out search! If a camper's desired campground or destination is completely booked, they can use Arvie's sold out search feature to make a reservation request.
Once Arvie reports zero availability at the desired campground, users simply select the option to conduct a sold out search. Then, Arvie will monitor cancellations for your desired dates every five minutes, around the clock – even while you sleep.
Users can select to be notified by text and/or email. However, for the best chance at securing the reservation, users should select to have Arvie instantly book the campsite when an available spot is found.
Arvie's sold out search feature has produced incredible results for campers. The RV camping app has a 62% success rate at finding a cancellation at a sold out campground for the upcoming weekend.
RV travelers can further increase their chance of securing a reservation by conducting multiple sold out searches. If an Arvie user runs 3 sold out searches for 3 different campgrounds or RV parks in the same area, they have a 92% chance of booking one of those sold out campgrounds for the upcoming weekend.
If the user runs 5 sold out searches at once, they have a 99% chance of booking a reservation at one of the 5 campgrounds for the upcoming weekend.
The Bahia Honda Camping Reservations Test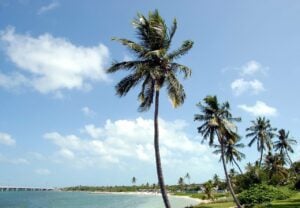 We recently tested out Arvie's unique campsite search and reservation features on one of the most popular camping destinations in the country: Bahia Honda State Park.
Bahia Honda State Park offers waterfront RV campsites in the Florida Keys. The park's sandy beaches, crystal clear waters and magnificent sunsets make it a popular camping destination year-round.
RV campsite reservations at Bahia Honda are available through the Florida State Park reservation service 11 months in advance. However, reservations at this park often sell out the same day they become available. The popularity of this destination makes it almost impossible to secure reservations without planning nearly a year in advance.
Since we do not plan our travel more than a few months in advance, we have never been able to secure an RV camping reservation at Bahia Honda. However, Arvie changed that!
Recently, on a Thursday morning, I requested an RV campsite at Bahia Honda for the upcoming weekend using the sold out search feature. By the end of the day, I received a notice that Arvie had found a campsite! This was the moment I was convinced that Arvie is truly the best RV campsite app.
For more proof on Arvie's ability to book sold out campgrounds, check out our article on making last minute RV reservations in Lake Tahoe.
Arvie Membership and Pricing Details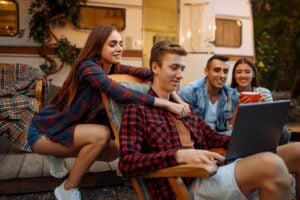 While Arvie.com is not a free RV camping app, it is very affordable.
After the free trial membership, the monthly pay-as-you-go fee is just $14.95, or $99.95 per year to use all of Arvie's premium booking features, plus double the sold-out searches. Arvie will even let you pause your membership so you don't get billed during months you aren't camping.
Users who sign-up for an annual membership by August 31, pay only $69.95, or less than $6 per month!
Arvie never charges a booking fee, so you always pay the same amount for your reservation as you would if you had booked directly with the campground. Campground's standard cancellation policies apply. If cancellations are allowed, Arvie users can make the request directly to the campground.
Not sure yet if Arvie is the right RV park finder app for you? No worries. All memberships to Arvie include a completely free trial, so users can test Arvie's innovative features before paying any fees. The free trial or membership can be canceled at any time. Click here to sign-up for your free trial!
---
Thanks for reading our review of the best RV campsite app! What campground or RV park would you most like to book using Arvie's sold out search feature? Share you pick with us in the comments.
For more awesome RV camping tools and resources, check out our complete list of the best RV travel apps.
Happy Camping!