This post may contain affiliate links. See our affiliate disclaimer here.
Class A toy hauler RVs are rare, but they do exist. In this article, we will share a complete list of all the 2023 Class A toy haulers available, and all the reasons why you would want to own one.
Once you find the perfect RV, you will also need to buy lots of gear to keep you safe and happy while traveling and camping. Check out our Amazon shopping list for all the gear you need to successfully hit the road.
What is a Class A Toy Hauler RV?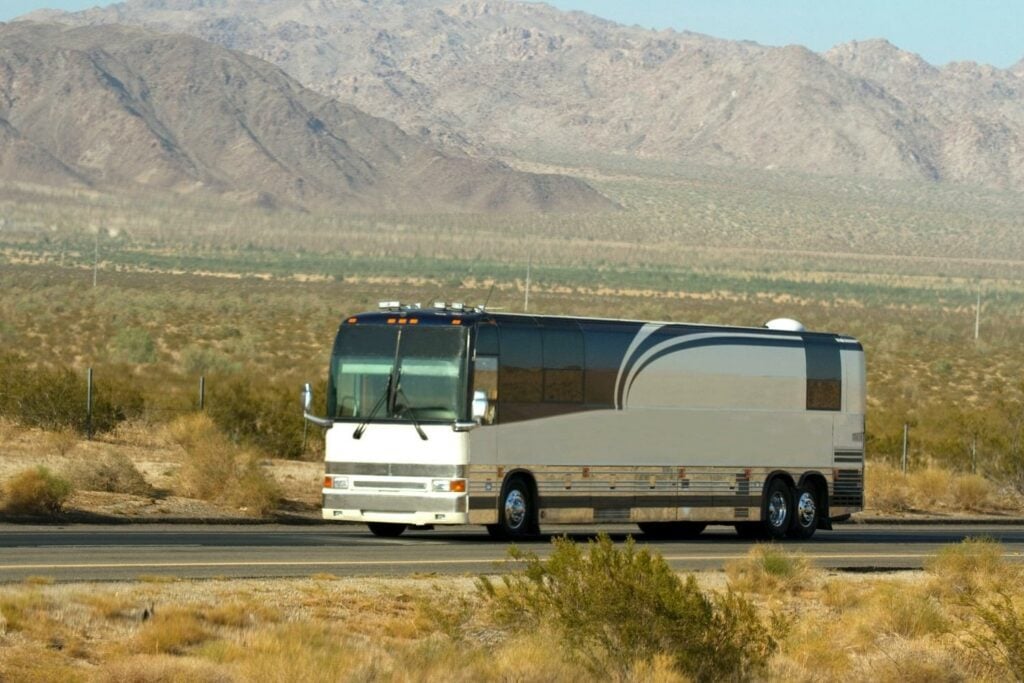 Class A toy haulers are exactly what they sound like: motorhomes built to haul toys such as motorcycles or golf carts. All Class A toy haulers have a rear garage that is built to carry heavy toys.
While there are plenty of travel trailer and fifth wheel toy haulers on the market, there are only two brands that make Class A toy haulers: Newmar Canyon Star and Thor Outlaw.
Since Class A toy haulers are some of the most luxurious RVs on the market, they also come with a big price tag. One of these awesome rigs will cost you at least $200,000 and some are priced closer to $400,000.
If you want a toy hauler RV that is more affordable, check out our guide to the best Class C toy hauler RVs.
What are the Benefits of a Class A Toy Hauler?
Hauling Toys
The main benefit of Class A toy haulers is right there in their name. Built-in garages allow RVers to bring motorcycles, golf carts and other toys without having to tow a trailer behind the RV.
Not having to tow a trailer for toys, also means you have the ability to tow a car behind the RV for daily use. With these toy haulers, you can bring your off-road vehicles and your everyday car on every camping trip.
Extra Interior Space
The garage space built for hauling toys, also serves as an additional room in these Class A RVs. Once you are parked, and the toys are pulled out this room can easily be converted for another use.
Common uses for the garage room, include an extra bedroom, an office space or a craft room. However, the possibilities are endless.
Built-In Patio
Another big benefit of some Class A toy haulers is a large patio. Some toy hauler models offer the option to convert the toy ramp into a porch with railings around the side.
Click here to see more RVs with porches and side patios.
The Best Class A Toy Haulers
Newmar Canyon Star Class A Toy Haulers
Newmar's Canyon Star motorhomes are unique in several ways. First of all, they are the only front engine diesel Class A RVs on the market. The Canyon Star line is also one of only two brands of Class A toy haulers.
All of the Canyon Star RVs come with a Cummins "B" diesel engine with 340 horsepower and 700 lb./ft. of torque. An onboard 6 KW Cummins Onan generator is also included in all models.
The exterior of the Canyon Stars are all decorated with a beautiful full-paint Masterpiece Finish. There are three exterior paint options. The most unique option is the Bellona which features teal swirls on a beige and white background.
The garage in the Canyon Star models includes a fueling station, a separate entrance with automatic steps and an optional additional air conditioner with a heat pump. Buyers can also choose to have electric lift bunk beds installed in the garage for additional sleeping space.
Inside the motorhome are many luxury features including maple cabinets, a pillow top mattress, stainless steel appliances, a continuous flow water heater for endless hot showers, vinyl tile floors and a sound bar system.
Other optional upgrades available in Canyon Star RVs include a stacked washer and dryer in the garage, a dish washer, a central vacuum system and holding tank heat pads.
Canyon Star 3737
The first and smallest Canyon Star Class A toy hauler is the 3737. It is 37 feet and 11 inches long with an 8-foot garage, and a ramp that converts into a rear patio.
The main bedroom with a queen-sized bed is in the rear of the RV, right next to the garage. The floorplan also includes a full bathroom, galley kitchen, sofa and a dinette booth.
Canyon Star 3947
The next Canyon Star floorplan is the 3947. The 3947 has an almost identical interior layout to the 3737, except it is two feet longer at 39 feet and 11 inches.
The extra space in this model is dedicated to the 10-foot garage. The garage also has a hump which makes it ideal for hauling motorcycles and ATVs. The ramp in the 3947 cannot be converted into a patio.
Canyon Star 3957
The final Canyon Star Class A toy hauler floorplan is the 3957. It is also 39 feet and 11 inches long, and the interior layout of the 3957 is very similar to the other two models.
Like the 3737, the garage in the 3957 is also 8-feet long and the ramp can be converted into a rear patio. One unique feature of the 3957 is a king-sized bed in the main bedroom.
Thor Outlaw Class A Toy Haulers
The only other current year line of Class A toy haulers is Thor Outlaw. The line includes two floorplan options both of which are 39 feet and 10 inches long.
One major difference between the Outlaw toy haulers and the Canyon Star toy haulers is the engine. Outlaws come equipped with a 7.3L PFI V8 gas engine with 335 horsepower and 468 lb./ft. of torque.
The exterior of all Outlaws boasts a full-body paint with gel-coated sidewall and invisible front mask paint protection. All of the exterior paint options have a black and gray base, but the swishes can be red, green, light blue or dark blue.
Both floorplans include a 10-foot garage with a drop-down Zero-G ramp door. The ramp easily converts into a porch with a standard snap-in patio system. There is also a patio awning for shade.
The garage also includes two jacknife sofas and work-shelf storage cabinet. A remote fueling station with pump is included to easily refill your toys.
Premium interior features include stainless steel appliances with a residential refrigerator, a hot water recycling system, residential vinyl flooring, solar and privacy roller shades on the windows and solid wood cabinet doors.
Outlaw 38MB
The first of the two Outlaw Class A toy hauler floorplans is the 38MB. The floorplan features a rear bedroom with a queen-sized bed and full bathroom. The main living area includes a galley kitchen, a sleeper sofa and a large dinette booth.
The 38MB has the higher garage capacity of the two floorplans at 1,450 pounds.
Outlaw 38KB
The Outlaw 38KB has a similar layout to the 38MB with a few key differences. First of all, the 38KB has an upgraded king-sized tilting bed and washer and dryer hookups in the bedroom closet.
The garage also includes a SkyBunk, which is a lofted sleeping area with storage cabinets. However, the garage carrying capacity is a bit lower than the 38MB at just 1,350 pounds.
---
Thanks for reading our complete guide to Class A toy haulers. We hope you found the perfect RV for your family and toys!
If you are still searching for the perfect RV, see our guide to the best RVs for every family size.
Happy Camping!