This post may contain affiliate links. See our affiliate disclaimer here.
Fiberglass roofs are known for their durability, leak resistance and ease of maintenance compared to rubber RV roofs. Plus, they often provide better insulation, keeping your RV cooler in the summer and warmer in the winter.
However, not many brands offer fiberglass roofs in 2024. Here is a complete list of motorhome and travel trailer RV brands with a fiberglass roof.
List of RV Brands with a Fiberglass Roof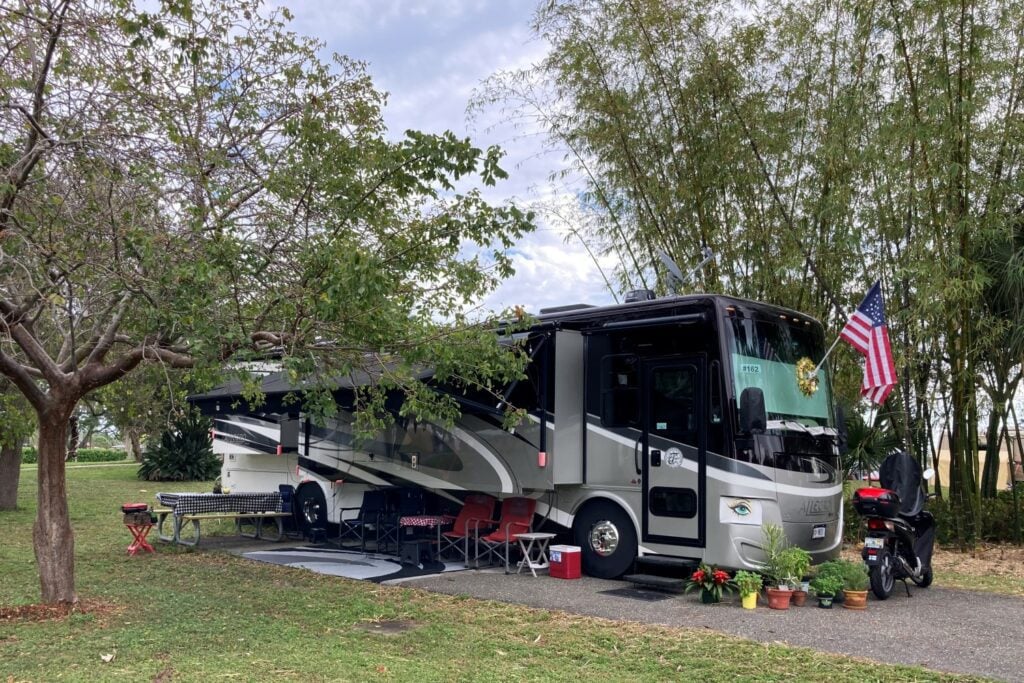 Motorhome RV Brands with a Fiberglass Roof
Below is a list of current year motorhome RV brands that are built with a fiberglass roof.
Coachman Encore
Forest River Berkshire
Forest River Charleston
Forest River Forester
Forest River FR3
Forest River Georgetown
Forest River Solera
Forest River Sunseeker
Jayco Alante
Jayco Granite Ridge
Jayco Greyhawk
Jayco Melbourne Prestige
Jayco Precept
Jayco Seneca
Newmar Bay Star
Newmar Canyon Star
Newmar Dutch Star
Newmar Essex
Newmar King Aire
Newmar Kountry Star
Newmar London Aire
Newmar Mountain Aire
Newmar New Aire
Newmar Super Star
Newmar Supreme Aire
Newmar Ventana
Thor Tuscany
Thor Venetian
Tiffin Allegro Bay
Tiffin Allegro Breeze
Tiffin Allegro Bus
Tiffin Allegro Red
Tiffin Byway
Tiffin Midas
Tiffin Open Road Allegro
Tiffin Phaeton
Tiffin Wayfarer
Tiffin Zephyr
Travel Trailer Brands with a Fiberglass Roof
Travel trailer and fifth wheel RVs are way less likely to have a fiberglass roof. Below is a list of the three towable RVs with a fiberglass roof in 2024.
DRV Mobile Suites (optional upgrade)
Forest River r•pod
Venture Sonic
Please note: this article does not include molded fiberglass campers, such as Casita RVs. See our article on the best fiberglass travel trailers for more details on those RVs.
Details about RV Brands with a Fiberglass Roof
Learn more about each 2024 RV brand that offers a fiberglass roof.
Coachman Encore
Coachmen Encore is a line of gas-powered Class A motorhomes. These RVs are constructed with a crowned, laminated fiberglass roof and high gloss "oyster" gelcoat sidewalls.
DRV Mobile Suites
DRV Mobile Suites are luxury fifth wheel RVs known for the quality construction inside and out. The standard equipment in these fifth wheels is a seamless, one-piece rubber roof. However, customers have to option to upgrade to a one-piece fiberglass roof.
Additionally, customers can choose to add custom molded one-piece fiberglass fender skirts to protect the underside of their RV.
Forest River Motorhomes
The motorhome division at Forest River has gone all-in on fiberglass roofs. Every motorhome brand manufactured by Forest River includes a fiberglass roof.
Forest River class C RV brands with a fiberglass roof include Forester, Solera and Sunseeker. Their class A RV brands include Berkshire, Charleston, FR3 and Georgetown.
Forest River r•pod
Unlike their motorhomes, most Forest River travel trailers do not have a fiberglass roof. However, some floorplans in their r•pod Classic line are built with a one-piece fiberglass roof.
Floorplans that have the fiberglass roof include the RP-171C, the RP-180C and the RP-190C. Other floorplans in the line come with a PVC roofing membrane.
Jayco Motorhomes
Several of Jayco's Class C and Class A motorhomes also come with a one-piece, seamless, crowned fiberglass roof.
Jayco Class C RV brands with a fiberglass roof include Granite Ridge, Greyhawk, Melbourne Prestige and Seneca. All of their Class A RVs, including the Alante and Precept brands, also have a fiberglass roof.
Newmar Motorhomes
All of Newmar's motorhome brands, with the exception of the Bay Star Sport, come equipped with a fiberglass roof. Their fiberglass roof Class A brands include Bay Star, Canyon Star, Dutch Star, Essex, King Aire, Kountry Star, London Aire, Mountain Aire, New Aire and Ventana.
Two of their Super C motorhome brands, Super Star and Supreme Aire, also come with fiberglass roofs.
Thor Motorhomes
Two of Thor's Class A motorhome brands, Tuscany and Venetian, come with a domed fiberglass roof. Both of these brands are high-end diesel pusher RVs.
Tiffin Motorhomes
Every Tiffin Motorhome comes with one-piece fiberglass roof. In fact, the company highlights these leak-resistant roofs as one of their top innovations in motorhome design.
Tiffin Class A brands are Allegro Breeze, Byway, Allegro Red, Open Road Allegro, Phaeton, Allegro Bus and Zephyr. Their Class C brands are Allegro Bay, Midas and Wayfarer.
Venture Sonic
Sonic travel trailers are ultra-light RVs built for maximum towing efficiency. All Sonic and Sonic Lite floorplans come with one-piece seamless fiberglass roofs that extend from the front profile to the rear bumper.
---
Thanks for checking out our guide to RV brands with fiberglass roofs. We hope you found some great RV options for your family.
Happy Camping!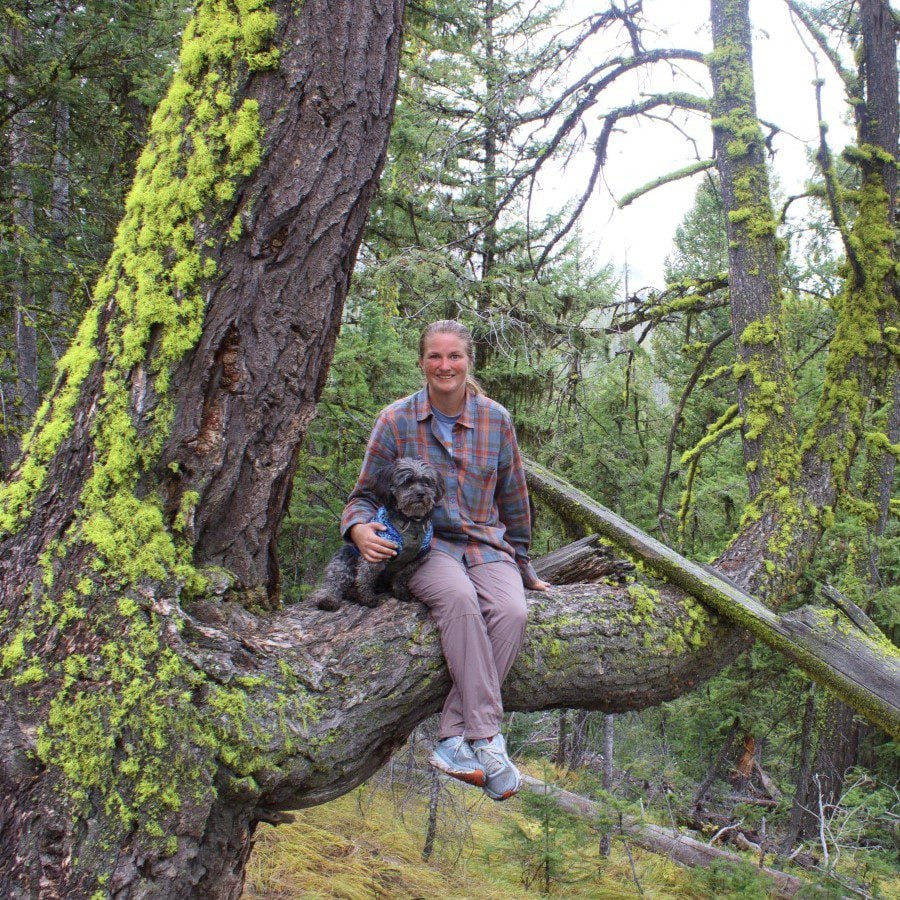 Christina Pate is a seasoned full-time RVer who, along with her husband Justin, has journeyed across the US, Canada, and Mexico. Drawing from her extensive travels, RV repairs and RV renovations, she founded Travels with Ted to guide and inspire fellow RV enthusiasts. Christina is also the co-author of The Owner's Guide to RV Maintenance and the creator of My RV Log Book.