This post may contain affiliate links. See our affiliate disclaimer here.
Not all fifth wheels are created equal. If you are looking for a high-end fifth wheel built with quality materials and filled with premium features, check out these 10 luxury fifth wheel RVs.
The Most Luxurious Fifth Wheel RV
Space Craft Manufacturing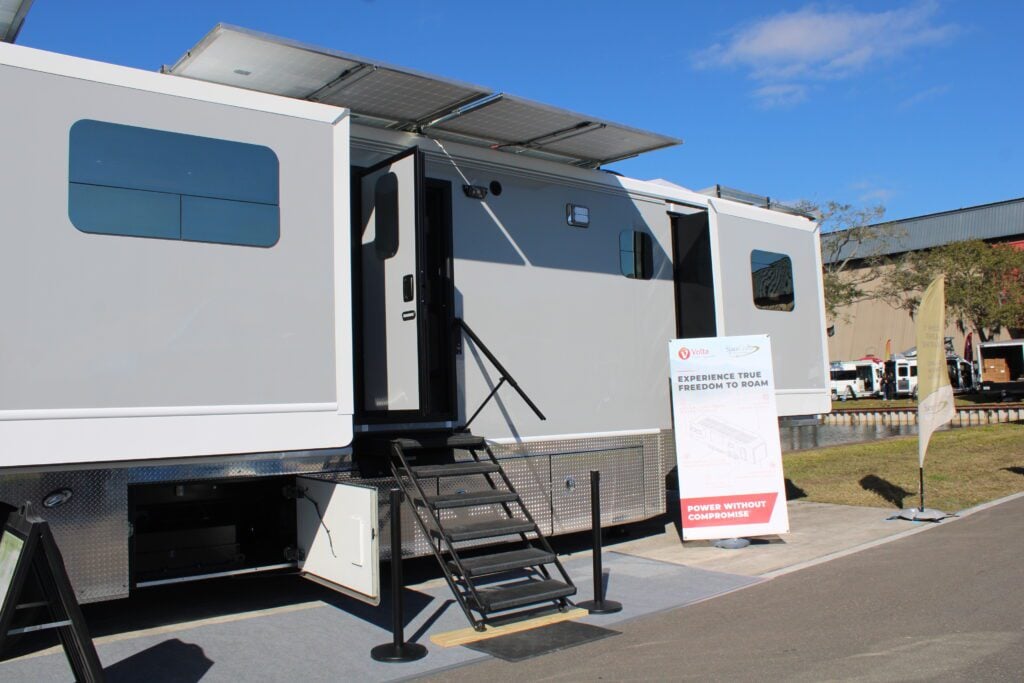 The most luxurious fifth wheels are fully customized rigs manufactured by Space Craft. Customers work with the company's team to design a complete custom build specifically tailored to their needs and desires.
All Space Craft fifth wheels have a custom welded chassis, molded fiberglass ceilings, insulated basements and roofs and cedar-lined closets and wardrobe drawers. Customers also have the option to add a mini-split HVAC and painted walls. A custom fifth wheel can be anywhere between 35 and 51 feet long.
At a recent RV show, Space Craft showed off a custom boondocking fifth wheel with tons of cool and innovative features. Luxury upgrades included a full roof of solar panels and a huge bank of lithium ion batteries. Premium interior features included heated floors and a 50-inch fireplace.
Luxury Fifth Wheel RVs
All of the below luxury fifth wheel RVs include premium interior features and high-quality construction. Keep reading to find your perfect rig.
Brinkley Model Z
One of the newest (and nicest) fifth wheel manufacturers is Brinkley RV. Their Model Z line consists of mid-sized fifth wheels with luxury features inside and out.
Ranging from 33 to 42 feet long, Model Z fifth wheels come equipped with custom wheels with 16-ply H-rated tires, frameless windows, connected gray tanks with a 90-gallon capacity and a rear storage compartment to maximize cargo space.
Inside these RVs are filled with small details that make camping easier and more enjoyable. Luxury touches include pop-up outlets, drawers designed to hold spices, silverware and paper towels, motion sensing lights under the bed and pull-out pet dishes.
The interiors are also beautiful. Notable design elements include white walls and countertops, light gray cabinetry, real tile backsplashes and furniture that doesn't look like it was meant to be used in an RV.
Read my full review of the Brinkley Model Z fifth wheel.
Crossroads Redwood
Redwood RVs were created in 2010 with the intention of providing luxury fifth wheels at an affordable price. Today, the line offers a variety of floorplans, including front bathroom and front living models.
Most of the floorplans are over 40-feet long, and all of them are built on the FIT chassis system. The foundation of these premium fifth wheels includes 8,000 pound axles, 16-ply H-rated tires and an upgraded suspension system.
The kitchens in Redwood fifth wheels are a dream. They come with stainless steel appliances, white solid surface countertops and white hardwood cabinetry. Other notable features include tilting gel foam king beds, large custom showers and linoleum flooring throughout.
DRV Mobile Suites
DRV Mobile Suites is another line of luxury fifth wheels that are well-built inside and out. Ranging from 39 to 46 feet, Mobile Suites are built on a 15-inch triple box tube frame – one of the largest, most rigid fifth wheel frames in the industry.
This design eliminates flex around the pin box, and frames even the upper deck with steel to open up the storage compartment, providing more space for personal belongings. There is also an AI-enabled voice assistant to control features like security cameras, temperature settings and audio-visual controls.
Inside, the gourmet kitchens include tile backsplashes, lighted pantries and stainless steel residential appliances (including a dishwasher). Hand-laid vinyl plank tile flooring, ceiling fans and residential furniture are some of the other luxury features inside Mobile Suites fifth wheels.
Luxe Gold
The name says it all, Luxe fifth wheels are opulent homes on wheels. Their Gold line of fifth wheels was specifically designed to be the best luxury fifth wheel for full-time living.
Designed for camping throughout the year, Gold fifth wheels' super composite walls provide the maximum amount of insulation per inch of any product used in the industry. The materials have also been shown to not retain or wick moisture, degrade over time, mold or mildew
Inside, Luxe uses high-quality hardwoods of the same species for trim, cabinets and the interior doors. Other notable features include stainless steel residential appliances and attic storage, that creates tons of storage space for full-time RVers.
New Horizons Majestic
New Horizons Majestic fifth wheels are fully customizable luxury RVs. The company offers fifth wheel floorplans ranging from 32 to 48 feet, or customers can choose to have a custom floorplan designed specifically for their needs.
The company takes craftmanship seriously, and builds their fifth wheels with durable materials. Notable features include a custom-built chassis, PVC roofing and hydraulic level and slide out systems.
Built for four season camping, the company guarantees their tanks and lines will not freeze in temperatures above -10° Fahrenheit. Inside, these fifth wheels include granite or solid-surface countertops, custom backsplashes, residential-style furniture and Onyx Collection® showers and tubs (yes, you can get a soaking tub!).
Click here to see more RVs with bathtubs.
Luxury Fifth Wheel Toy Haulers
For campers who want a luxury RV that doesn't limit their adventures, these luxury fifth wheel toy haulers offer quality construction, stunning interiors and room for all the gear.
Brinkley Model G Toy Haulers
In addition to traditional fifth wheels, Brinkley also has a line of luxury fifth wheel toy haulers. The Model G line ranges from 40 to 45 feet, and all floorplans include a garage with a zero-gravity ramp door.
The garages include tough-ply floors, an adjustable tie-down system and everything else campers need to haul toys. However, the garage was also built to be a flexible space. It includes Happijac sofas, a loft sleeping area and a fold n' stow table that can be used as a desk.
In the main area of the RV, the thoughtful details are endless. Features include pull-down silverware drawers and knife racks, residential appliances and cabinetry, pull-out pantries and linen closets and dimmable lights throughout.
DRV Full House
Built on the same 15-inch triple box tube frame as the Mobile Suites fifth wheels, Full House is DRV's line of toy haulers. All of the floorplans in this line are 46 feet long, but the garages range from 10 to 13 feet long.
The garages include industrial metal cabinetry for storing gear and tools. They also have a big screen LED TV, so the space can be used for entertaining and tailgating. A electric queen bed is also included, so the garage can be converted into a spare bedroom.
Of course, the luxury features don't stop in the garage. Full House fifth wheels include stainless steel residential appliances, hand-laid vinyl tile floors, king beds with innerspring mattresses and a vanity slide that makes the bedroom feel super spacious.
Heartland Cyclone
Another premium line of toy hauler fifth wheels is Cyclone by Heartland RV. These RVs start at just under 40 feet and go up to 46 feet. The garages include steel tie downs, built-in cabinets, power queen beds and entertainment centers.
Luxury exterior features include a pull-out residential three burner grill and griddle combo, an easy reel power cord, 150 gallon fresh water tanks and a basement with three-sided access that provides 30% more storage space.
In the living area, the luxury continues. Premium features include tilting king beds, full height shaker cabinetry, overstuffed residential furniture and carpet-free slide outs. All of the floorplans also include a second half or full bathroom.
Click here to see more fifth wheels with two bathrooms.
Luxe Toy Haulers
Last, but not least on our list of luxury fifth wheel RVs is Luxe's toy hauler line. These toy haulers are 45 to 48 feet long, and they are crafted with the same quality four season construction as the brand's traditional fifth wheels.
Luxe's garages are built to both haul toys and provide extra sleeping space. Each garage includes electric bunks, a loft space and a half bathroom.
Inside the fifth wheels, Luxe uses high-quality hardwoods of the same species for trim, cabinets and the interior doors. Other notable features include high-end furniture, stainless steel appliances and tile backsplashes in the bathrooms and kitchens.
---
Thanks for reading our guide to the best luxury fifth wheel RVs. We hope you found the perfect RV for your glamping adventures.
Happy Camping!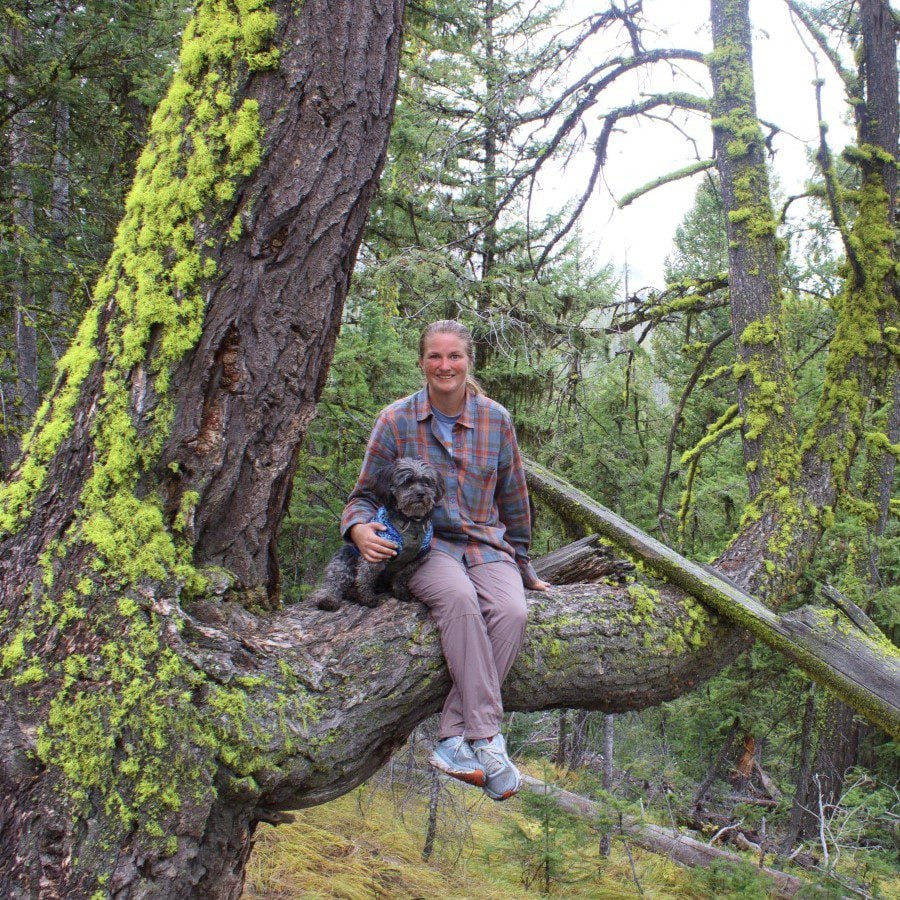 Christina Pate is a seasoned full-time RVer who, along with her husband Justin, has journeyed across the US, Canada, and Mexico. Drawing from her extensive travels, RV repairs and RV renovations, she founded Travels with Ted to guide and inspire fellow RV enthusiasts. Christina is also the co-author of The Owner's Guide to RV Maintenance and the creator of My RV Log Book.