This post may contain affiliate links. See our affiliate disclaimer here.
Molded fiberglass travel trailers are a unique type of RV with special designs and benefits. In this complete guide to fiberglass campers, we share the pros and cons of fiberglass campers, the best fiberglass campers and more. Keep reading to find out if a molded fiberglass camper is the right RV for your family.
What are Fiberglass Campers?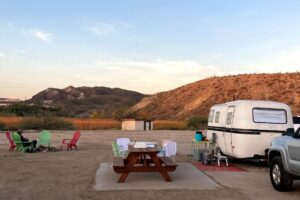 Fiberglass campers are travel trailers that are made by pouring fiberglass into a production mold. Typically, the top and bottom are each poured into a mold and sealed together.
The process creates a lightweight RV with very few seams. The reduced number of seams make the trailers much less prone to water damage, and therefore longer-lasting than other travel trailers.
There are only about 10 manufacturers that produce molded fiberglass travel trailers. The majority of these companies do not utilize dealer networks, and only sell direct to consumers.
Also, most fiberglass camper manufacturers only produce a small number of floorplans that max out around 25 feet in length.
Popular manufacturers of fiberglass campers include Oliver, Scamp, Bigfoot and Casita. Molded fiberglass travel trailers are often referred to as "Egg Campers" because of their rounded shape and white exterior finish.
There are also campers that are not completely made of fiberglass, but have fiberglass RV roofs and other exterior features.
Pros and Cons of Fiberglass Campers
If you are considering purchasing a fiberglass camper, read this detailed list of pros and cans to decide if an egg camper is right for your family.
Pros of Fiberglass Campers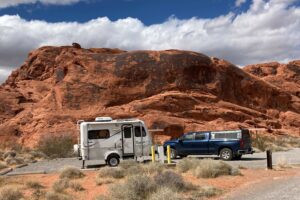 Lightweight for Easy Towing
Fiberglass trailers are great for towing. They are lightweight, and their shape makes them more aerodynamic. Most fiberglass campers have a dry weight between 1,500 and 6,000 pounds.
The smallest molded fiberglass campers are easily towed with an SUV, so no expensive new tow vehicle is required. Of course, larger molded fiberglass travel trailers with more features may still require a full-size truck for towing.
With today's super high fuel costs, having a smaller vehicle is a huge benefit.
Durable and Long-Lasting
One of the biggest benefits of molded fiberglass campers is their high-quality construction. Leaks and water damage are one of the biggest headaches for RV owners.
Since fiberglass campers have rounded corners and few exterior seams, they are much less likely to face leaks and water damage.
The fiberglass frames also hold up better during travel. There are less pieces to fall off, and their size and structure make them less likely to get damaged on bumpy roads.
High Resale Value
Because of their reputation for standing the test of time, molded fiberglass campers hold their value better than other types of RVs.
For campers who aren't sure if their egg will be their long-term rig, this is a huge benefit. Read our pricing guide for more information about how to determine the fair price of a used RV.
Cute and Stylish
Campers love these fiberglass trailers for their practical features, but they also happen to be adorable.
Who wouldn't want pictures of their shiny little egg camper parked in front of beautiful landscapes? New fiberglass RVs give campers a vintage feel without the vintage problems.
Click here to see more new campers with retro style.
Cons of Fiberglass Campers
While fiberglass campers are generally awesome, there are some downsides to consider before purchasing one.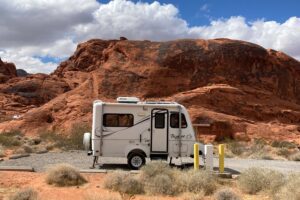 Expensive for the Size
Fiberglass campers hold their value well, but they also cost more when purchased new or used. Tiny fiberglass campers without so much as a bathroom cost over $15,000 new.
Larger fiberglass campers with all the interior amenities will cost campers anywhere between $50,000 and $90,000.
Available in Limited Sizes
The largest molded fiberglass campers are around 25 feet long. Because the production molds are expensive to create, most fiberglass travel trailer manufacturers only produce a handful of floorplan options.
Fiberglass campers also do not offer slide outs, which significantly limits the interior square footage. Being small has many benefits, such as easy towing and access to the best boondocking spots.
However, the limited floorplans available means that fiberglass campers are not suitable for all families, especially larger ones. These RVs are best suited for solo travelers or couples. If you have a large family, see our recommendations for the best RVs for families of every size.
Rounded Corners
While the rounded corners create an great exterior aesthetic, they make the interior of the RVs less functional. The round edges mean odd-shaped cabinets with limited storage space and lower ceiling heights in some areas of the camper.
The Best Fiberglass RV Campers
Unlike most types of RVs, almost all molded fiberglass campers are well-built. This means you can't go wrong with almost any fiberglass RV travel trailer. Below are a few of our favorite makes and models.
Best Tiny Fiberglass Camper
Winner: Scamp 13′ Deluxe
Scamp is one of the best known names in the fiberglass RV industry. Their 13′ Deluxe models fit a ton of features into a tiny package. There are three Deluxe floorplan options.
All of the floorplans include a kitchenette with a refrigerator and a two-burner stove, a 45-amp converter and a dinette that converts into a bed.
Our favorite Scamp Deluxe floorplan is layout B, because it also offers a bathroom. The wet bath is located in the front of the trailer and features a dry flush toilet and shower.
Best Luxury Fiberglass Camper
Winner: Oliver Legacy Elite II
The Oliver Legacy Elite II is a 23.5 feet long travel trailer, and features tons of upgrades not available in all fiberglass campers. These trailers are built with a double-hulled fiberglass shell making them ready for camping in any season.
Oliver's luxury travel trailers also feature more modern interiors than many fiberglass brands. They have white walls, white cabinets and neutral furniture that help make the interior feel bright and spacious.
The Legacy Elite II is available with two different floorplans, a standard layout and a twin bed layout. Both floorplans include a full three-piece bathroom and a two-person dining table.
The standard layout includes a large dinette that converts into a bed for two, while the twin bed layout has two single beds that can double as couches.
Best Fiberglass Camper for Families
Winner: Casita Heritage
For families of four or more who want a fiberglass trailer, the 17 foot Casita Heritage is the perfect rig. With a large convertible dinette and bunk beds, the RV comfortably sleeps four people.
Larger families, can select the standard floorplan, which offers an additional set of bunk beds. The deluxe floorplan has a bathroom in place of the extra beds.
Both of the Casita Heritage floorplans have insulated interiors, lightweight fiberglass furniture, almost 50 cubic feet of storage space and a full kitchen. Heritage travel trailers also have bright, white interiors that make the campers feel more spacious.
FAQs about Fiberglass Campers
Do fiberglass campers last longer than other travel trailers?
Yes, molded fiberglass campers are generally more durable and hold their value longer than the average travel trailer. These campers have few exterior seams which protects them from leaks and water damage.
How are fiberglass campers made?
Fiberglass campers are travel trailers that are made by pouring fiberglass into a production mold. Typically, the top and bottom are each poured into a mold and sealed together. The process creates a lightweight RV with very few seams.
What do I wash a fiberglass camper with?
Wash the fiberglass travel trailer with a solution made of one cup of liquid laundry detergent and one gallon of warm water. Dip the sponge in the solution and start cleaning from the roof line down.
What are the benefits of fiberglass travel trailers?
Fiberglass travel trailers are leak-resistant and durable, and their durability also leads to high resale values. They are also small and aerodynamic which makes them easy to tow, even with small vehicles.
---
Thanks for reading our complete guide to molded fiberglass campers. Once you have your perfect tiny camper, see our list of the best accessories for small RV.
Which fiberglass camper are you considering? Share your pick with us in the comments section below.
Happy Camping!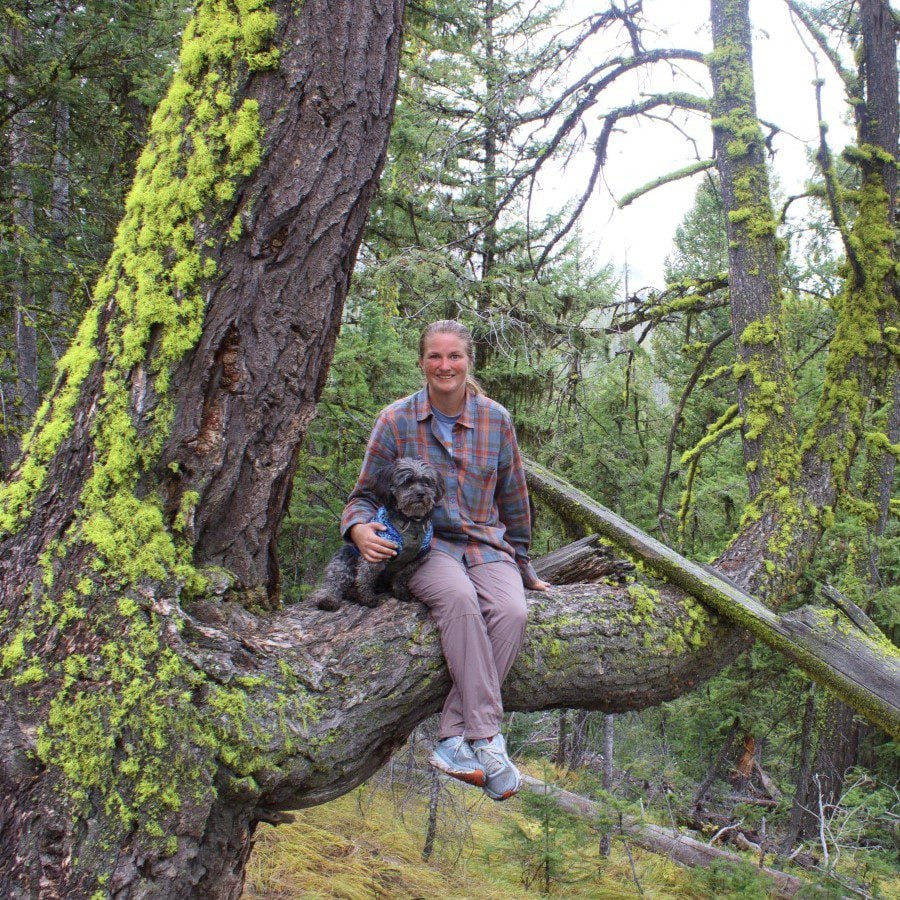 Christina Pate is a seasoned full-time RVer who, along with her husband Justin, has journeyed across the US, Canada, and Mexico. Drawing from her extensive travels, RV repairs and RV renovations, she founded Travels with Ted to guide and inspire fellow RV enthusiasts. Christina is also the co-author of The Owner's Guide to RV Maintenance and the creator of My RV Log Book.