Welcome to our guide to RV depreciation. Use our RV depreciation calculator to generate a rough estimate of the current or future value of your RV. Then, keep reading to learn how to maximize the value of your RV.
RV Depreciation Calculator
This calculator is intended to be used by RV owners who purchased a new RV, and is based on average depreciation rates.
Enter the price paid for your new RV WITHOUT COMMAS
1
Enter the number of years since purchasing your new RV
Understanding RV Depreciation
Depreciation by RV Type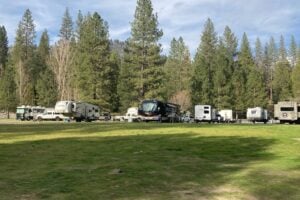 Depreciation only varies slightly by RV type, which is why we did not consider the type of RV in our RV depreciation calculator. The Camping Nerd calculated average RV depreciation rates and found only slight differences in depreciation by RV type.
For example, after 5 years of ownership Class A motorhomes had the highest average depreciation of 36.6% while Class C motorhomes had the lowest average depreciation rate of 34.7%. The average depreciation of fifth wheels and travel trailers was 35.8% and 35.6%, respectively.
RV Depreciation by Mileage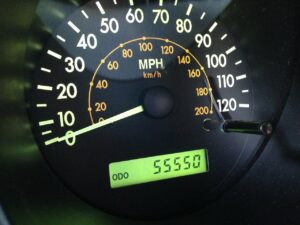 For drivable motorhomes, the mileage may also significantly impact depreciation. According to Guaranty RV, the average RV is driven about 5000 mile per year. If you have put significantly more miles on your RV, expect its value to be less than our RV depreciation calculator estimated.
RV Depreciation by Brand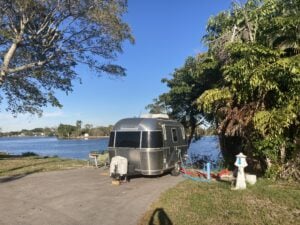 While the type of RV may not have a huge influence on depreciation, the RV brand may impact the value. RV makes and models that are in high demand will hold their value better than other RV brands. For example, Airstream travel trailers tend to have better re-sale values because their reputation for quality drives a higher demand for used Airstreams.
Condition of the RV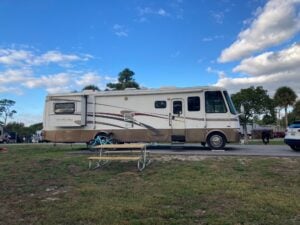 Our RV depreciation calculator uses average depreciation values, and therefore assumes the RV is in average condition. RVs that need major repairs or have water damage will depreciate much more quickly than RVs that are properly maintained.
Economic and Market Factors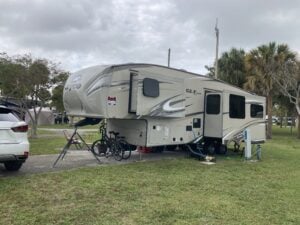 Of course, current economic and market factors also impact the value of used RVs. For example, the post-pandemic demand for RVs has driven up the price of both new and used RVs. However, if demand starts to decrease and many pandemic buyers start to list their RVs, prices for used RVs may start to plummet.
Ways to Counter RV Depreciation
If you are unhappy with the results of our RV depreciation calculator and are looking to increase the value of your RV, consider these options to offset depreciation.
Perform Routine Maintenance
The easiest way to maintain the value of your RV is to perform regular maintenance. All RVs should be inspected and repaired by a professional RV technician at least once each year. RV owners should also perform routine maintenance throughout the year to prevent issues, such as appliance failure and water damage.
Our eBook, The Owner's Guide to RV Maintenance, provides step-by-step instructions for routine RV appliance and exterior maintenance.
Renovate your RV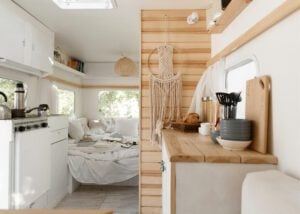 The old wisdom was that renovating your RV would lower the re-sale value. However, in the last several years demand for renovated RVs has significantly increased, making this old rule out-of-date. Therefore, a quality RV renovation can actually increase the value of your RV.
To ensure RV renovations add value, follow these simple rules:
Use neutral colors that appeal to many buyers
Do not decrease the sleeping capacity of the RV
Perform quality work
Buy Used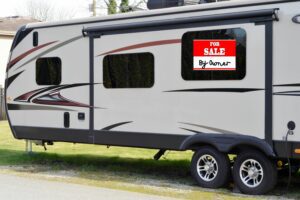 The easiest way to maintain an RV's value is to buy a used RV in the first place. As your can see in our RV depreciation calculator, most RVs lose about 20% of their value in the first year of ownership. Some experts even say that initial 20% depreciation occurs as soon as the RV is driven off the lot.
When you purchase a used RV, the initial depreciation has already occurred. Therefore, the total depreciation from purchase to re-sale will be significantly less than if you purchased a new RV. Read our guide to valuing a used RV to understand how to calculate a fair price for a used RV.
---
Thanks for checking out our RV depreciation calculator and reading our guide to RV depreciation.
Do you have any questions about buying or selling RVs? Drop them in the comments section below.
Happy Camping!