This post may contain affiliate links. See our affiliate disclaimer here.
Anyone who has camped in or shopped for RVs knows that most RV interiors are ugly. The hideous design of most RVs has driven a huge surge in RV renovations. Like many RVers, we wanted to update our RV to feel more like a home, but we lacked construction and design skills.
Fortunately, there are easy ways to update your RV interior that do not require special skills. Below are 11 small RV remodel ideas that will transform your RV from boring beige to modern and cozy.
All of the following small RV remodel ideas can be executed in a single day without any special skills. If you really want to avoid doing any work, check out our list of RVs that come beautifully designed with white interiors straight from the factory.
Hang Curtains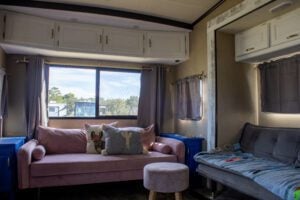 One of the biggest design complaints many RV owners have are the horrible, boxy window treatments that come in most RVs. Fortunately, removing and replacing the standard valances and blinds is a relatively simple project.
One of the most difficult parts of hanging new curtains in an RV is finding pre-made curtains that fit a variety of window sizes. We purchased Koufall curtains from Amazon because they offer a variety of sizes, including short curtains that fit many RV windows.
Other things to consider when hanging new curtains in an RV are holes and mounting hardware. After removing the original blinds, there will be holes in the wall that will need to be covered or filled with putty.
When selecting curtain rods for your new curtains, try to find ones with mounting brackets that fully secure the rod, so they do not need to be removed for travel. Also make sure screws for the mounting hardware are short enough for use in your RV walls.
Paint Cabinets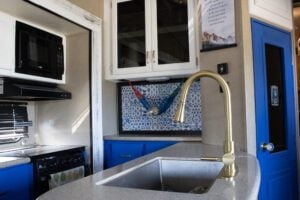 The most time consuming project on our list of small RV remodel ideas is painting the cabinets. While painting the cabinets is not a tiny project, it is much easier than painting all of the walls. Painting just the cabinets makes a big impact with less taping and less crouching in small corners.
There are a few tips to make painting your cabinets an even easier project. First, consider using chalk paint. Chalk paint can be rolled directly onto wood without any priming or sanding. While you will still need multiple coats of paint, chalk paint will take less time than normal primer and paint.
Also, be sure to number all of the doors when you remove them for painting. Just because two doors are the same size, doesn't mean they were installed exactly the same. See our guide to painting RV cabinets for more details.
Replace Cabinet Hardware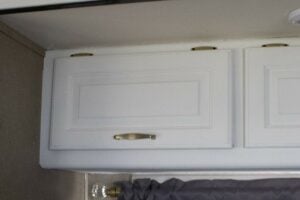 Whether or not you chose to paint the cabinets, replacing the cabinet hardware can change the look of your RV interior. We chose simple gold handles to match other new fixtures in our RV.
However, the opportunities are endless. Simply browse cabinet hardware on Etsy for a huge variety of modern knobs and pulls.
If you are not painting your cabinets, you will need to select new hardware in the same size as the original handles to avoid having to drill new holes. If you paint your cabinets and purchase new handles, remove the hardware and putty the holes before painting.
Also consider upgrading other hardware and fixtures, such as toilet paper holders and towel racks.
Install a Faux Tile Backsplash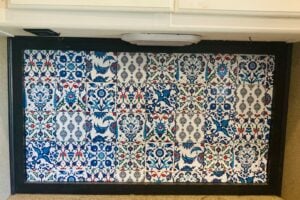 Another simple project to spice up your RV kitchen is installing a faux tile backsplash. While real tiles may be too heavy for an RV renovation, sticker tiles weigh almost nothing.
These peel and stink squares are also super easy to install. Simply clean and dry the wall, then place stickers on. If you mess up, the stickers can easily be removed and replaced.
Installing a sticker tile backsplash was the first renovation project we completed in our RV, which proves these stickers are durable as well as pretty. We have traveled for over four years with these SnazzyDecal tiles, and they have not faded or peeled at all.
Replace Slide Trim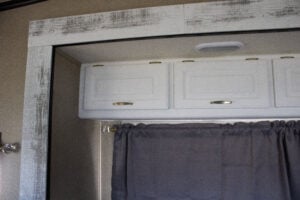 If I had known how easy it was to replace the slide trim in our RV, I would have done it years earlier. The slide fascia, as its known in the industry, is typically outdated and often downright ugly. Fortunately, it is a breeze to replace with the finish of your choice.
Most slide trims are just a thin layer that can be easily peeled off with a pry bar or screwdriver. When selecting your new trim, remember to select thin wood or composite panels that will not add weight to your slide.
Once you have painted or stained the wood with your desired finish, simply cut it to size and nail it up in place of the old trim. See our complete guide to removing and replacing RV slide out trim for more details.
Replace Light Fixtures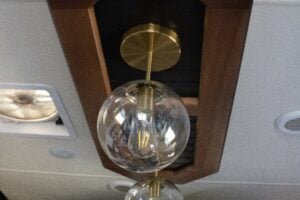 Installing new light fixtures is another easy RV remodel project. We have replaced both the reading lights in our bedroom and the pendants above our kitchen island. Any light fixtures can be used in an RV, but you must ensure they are the correct voltage.
First, determine if the fixtures that came in your RV are 12v or 110v. If they are 12v fixtures (made to run on the battery), you must replace them with a 12v fixtures. There are two options for finding 12v fixtures.
The first option is to purchase a 12v LED light fixture that is specifically made for use in RVs. Pretty RV lights can be difficult to find, but we have compiled a list of the best 12v LED lights available.
Alternatively, you can purchase a normal light fixture and replace the bulb with a 12v LED bulb. If you are unsure about which lights are appropriate, consult an electrician.
Replace the Kitchen Faucet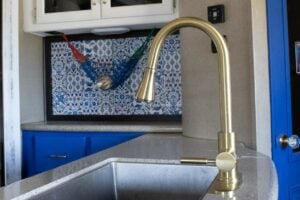 Replacing the faucet on your kitchen or bathroom sink is another easy RV remodel project. While replacing the whole sink would be an undertaking, replacing the faucet takes less than an hour.
Residential faucets can be used in your RV, but there are some factors to keep in mind when shopping. First, make sure the new faucet will easily fit in place of your old one and use the same holes for the water lines.
Also check the flow rate of your new faucet to ensure it will not use too much water while dry camping. Typical RV faucets use 0.5 gallons per minute.
Recover the Headboard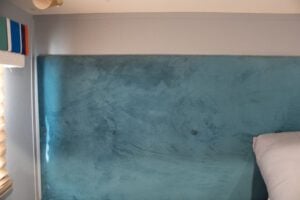 Many RV beds come equipped with headboards covered in brown faux leather or printed, beige fabric. Recovering the RV headboard is a simple way to add personality to your traveling bedroom.
Recovering the headboard is very easy. Simply, remove the headboard from the wall, remove the old fabric and staple on new fabric. See our article on our RV master bedroom renovation for more details.
Create an Accent Wall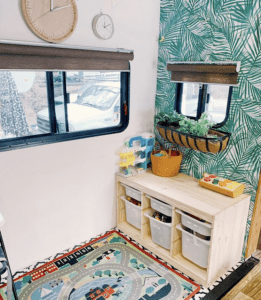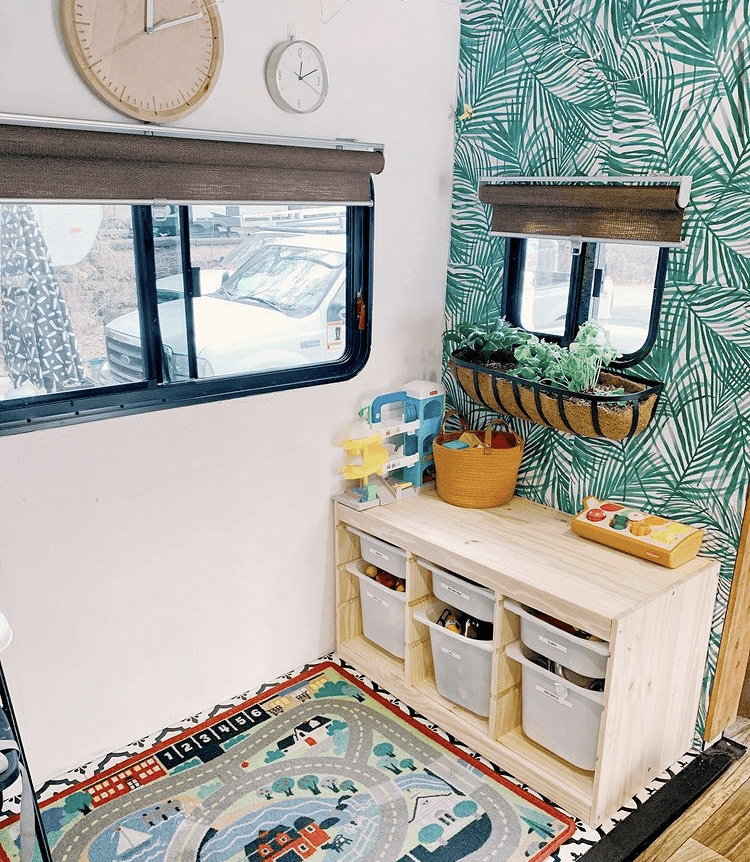 If painting your entire RV isn't in your plans, creating a single accent wall is great way to add color or texture. The easiest way to create an accent wall is to use peel and stick wallpaper.
It is easy to install and can be removed before selling your RV. For easy installation, chose a small wall without curves. Click here to see more fun RV wallpaper ideas.
Add a Rug
Most modern RVs have vinyl floors in the main living area. Adding a rug to the living room makes for a cozier space. When selecting a rug for your RV consider size and durability.
For size, measure your living room floor with the slides in, then select a rug that won't need to be rolled up on travels days. Also look for rugs that are machine washable for easy cleaning, like the RealLife rug pictured above.
Buy Throw Pillows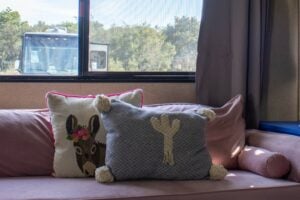 Last, but not least on our list of small RV remodel ideas is throw pillows. Adding a few fun pillows to your sofa or recliners is as simple as browsing a store and throwing them down.
We waited to buy throw pillows until we found special ones during our travels. We picked up handmade throw pillows during our travels to Terlingua, Texas and Baja, Mexico. If you don't want to wait, browse Etsy for fun throw pillows.
---
Turning your house on wheels into a home doesn't have to involve loads of paint or major construction projects. Simple changes have a big impact in a tiny space.
If you are not ready for to take on an RV remodel, check out these fun RV accessories and décor pieces that can add pizzazz to your space without any work.
Which small RV remodel ideas do you want to implement in your RV? Share your plans with us in the comments section below.