This post may contain affiliate links. See our affiliate disclaimer here.
Buying or selling a used RV can be a stressful process. How do you know if you are getting a good value as a buyer or making top dollar as a seller? Fortunately, there are plenty of resources to help your determine the correct price for any used RV. In this step by step guide, we share how to find the value of a used RV.
Step 1: Check NADA Values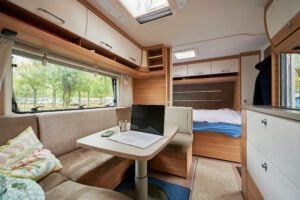 When trying to determine the value of a used RV, the best place to start is finding the NADA RV value. NADA, the National Automobile Dealers Association, provides free guides sharing the estimated retail value of any RV. Kelley Blue Book does not provide RV values, but NADA is considered the authority on "book" values for RVS.
NADA guides provide three values for used RVs:
Low Retail Value: The retail value for a used RV that may have extensive wear and tear. Body parts may have dents and blemishes. Vehicles Valued at this rate, may have dents, blemishes and needed repairs, but should be in safe running order.
Average Retail Value: On the other hand, the average retail value is for used rigs that are clean and without glaring defects. Tires and glass should be in good condition, and the interior should only have wear in relation to the age of the vehicle.
To find the NADA retail values for your RV, simply go to their website and enter some basic information about the travel trailer or motorhome. To get an accurate value you will need at least the year, make and model of the RV. Knowing additional details, such as which optional features are included, will give you the most accurate pricing information. Also use our RV depreciation calculator to get a rough estimate of your RV's value based on its age.
Step 2: Compare RV Prices

The NADA value is a great place to start, but you need to check current market prices to verify the value of a used RV. RVT.com, one of the largest online RV marketplaces, offers a price checker tool so you can see the current listing prices of similar RVs. The tool shows the highest, lowest and average price of RVs that match your specifications. After using the price checker tool, spend time browsing the relevant listings to better understand how similar used RVs are being valued.
If you are looking to buy or sell a renovated RV, browse the listings on the RV Inspiration Marketplace for comparable vehicles.
After analyzing current book values and comparable listings, use your best judgment to determine your ideal sale or purchase price. When buying and selling any vehicle online, be sure to be cautious and alert to avoid falling victim to scams. See tips here on how to avoid scams
Additional Tips for Sellers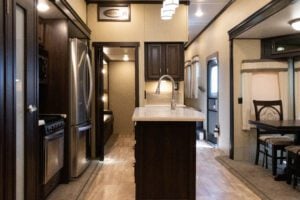 Listing Your Used RV
RVT.com and RV Trader are the two largest online marketplaces for selling used RVs. Listing your used RV on both of these sites, as well as in local classified ads, will help you maximize the number of potential buyers who see your RV.
RVT's basic listing cost $19.99. This basic seller's package includes a 30 day listing with unlimited text and 5 photos of your RV. A bit more expensive, RV Trader's basic listing option is $34.95 and includes a 2 week listing with 4 photos. Both companies offer other listing options for sellers who want a longer duration, more photos or premium ad options, such as video or a prominent position in search results.
If you do not want the hassle of creating your own listings and dealing with buyers, consider RV consignment. Our guide to RV consignment shares details on the bets way to sell your RV through a dealership.
Used RV Value vs. Trade In Value
If you are considering trading your RV for a new rig, it is important to understand the difference between a used RV's value and the trade in value. As a general rule, dealerships will value a trade in at 10 to 20 percent below the book value, so they still have room to make a profit. To get the best trade in value, arm yourself with information. In addition to knowing the NADA value of your used RV, research similar listings in your area to see what the market rate is.
To ensure the highest trade in value, detail your RV and fix any minor cosmetic issues before taking it to the dealership. Also consider visiting several dealerships, to get multiple trade in quotes and increase your negotiating power.
Consider Renting
If you need some additional cash flow, but would prefer not to sell you RV, renting is a great option. Long-term, renting will bring in more income than selling your RV outright. RVshare is a peer-to-peer marketplace where you can list your RV for local campers to rent. In order to protect their RVs, owners can set rules about pets and choose whether to provide drop-off or allow renters to drive/tow the RV. RVshare also provides insurance coverage during the rental period to provide peace of mind. List Your RV for Free on RVshare
Additional Tips for Buyers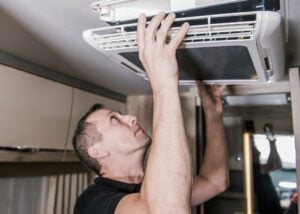 Find the Right RV
Before you starting shopping for new RVs, make sure you are selecting the best type and size for your family. We have articles detailing the pros and cons of each type of RV and the best RVs for full time travel. Read these and tour new RVs at a dealership or RV show before deciding on which type of used RV to purchase.
Search Far and Wide
With so many RVs being bought and sold across the country, expanding the location of your search is the easiest way to expand the RVs available to you. The more used RVs you are able see, the more you will know about used RV values and the more likely you are to find a great deal. Consider, shopping in neighboring states, or even nationwide, to find the best value for your money.
Get an Inspection
If you are the buyer in a transaction, you need to have the used RV inspected before negotiating a final price. A used RV may appear to be worth several thousand dollars based on book values and market prices, but it will be worth significantly less if it has severe water damage or other major issues. Never buy a used RV without an inspection. Find a certified RV inspector at the NRVIA's website.
---
Many RV shoppers wonder is leasing an RV is an option. Read our guide to RV lease alternatives for the answer.
Buying or selling an RV is way less stressful once you know hot to accurately determine the fair market value. Are you buying or selling a used RV? Tell us about your experiences in the comments section below.