This post may contain affiliate links. See our affiliate disclaimer here.
As a full-time RVer, I am always on the lookout for upgrades that enhance my travel experience. This year, after lots of research, I made a switch to the Oxygenics Fury RV shower head, and let me tell you, I wish I had done it sooner!
The difference it has made in my RV showers is nothing short of remarkable. Here's why the Oxygenics Fury stands out as the best RV shower head.
Why Oxygenics Fury is the Best RV Shower Head
Easy Installation
Installing the Oxygenics Fury was a breeze, which was a pleasant surprise! I'm all about DIY upgrades that don't require a professional. It took less than 5 minutes to switch out my old shower head for this new model.
Simply unscrew the old hose and shower head, and screw the new Oxygenics shower head and hose in its place. Then, immediately enjoy a better RV shower. The shower head also includes a wall mount, but the Fury fit perfectly into our original mount.
Water Efficient
When camping in an RV, conserving water is always a top priority. The Oxygenics Fury is impressively water-efficient without compromising on performance. This means longer showers without the worry of depleting my water supply too quickly – a real game-changer for boondocking trips!
This RV shower head only uses 1.8 gallons per minute (standard residential shower heads use 2.5 gallons per minute). It also has a flow control lever on the back of the shower head that allows you to easily reduce the water pressure.
Instead of completely turning off the water, the "off" setting on the control lever slows water to a trickle. This prevents hot water from backing up and scalding you when the water is turned back on.
Oxygenics has even partnered with WaterSense, an EPA conservation program, to certify that their products meet the highest quality standards while using significantly less water. 
Great Pressure
The main reason I love the Oxygenics Fury is the incredible water pressure. There's nothing worse than a weak shower, especially after a day of hiking or exploring.
The Fury easily has double the pressure of the shower head that came in our RV. It's like having a bit of luxury in the wilderness, ensuring I start and end my day feeling rejuvenated.
Multiple Spray Settings
I also love versatility, and the Oxygenics Fury offers just that with its 5 different spray settings. Using the toggle on the bottom of the shower head, it is easy to change the width and pressure of the stream.
The high-powered massage setting feels great, and also works well for cleaning your RV shower.
High Quality Details
When designing the Fury RV shower head, Oxygenics also paid attention to the details. Its 72-inch long hose makes it easy to reach anywhere in the shower. This is particularly convenient when I am washing our small dog.
The Fury also has rubber finger grips that keep campers from dropping the detachable shower head.
Affordable
Investing in RV upgrades can often be costly, but the Oxygenics Fury is surprisingly affordable. It's a small price to pay for such a significant improvement in my RV lifestyle. Plus, considering the durability and performance, it feels like a steal!
How Do Oxygenics Shower Heads Work?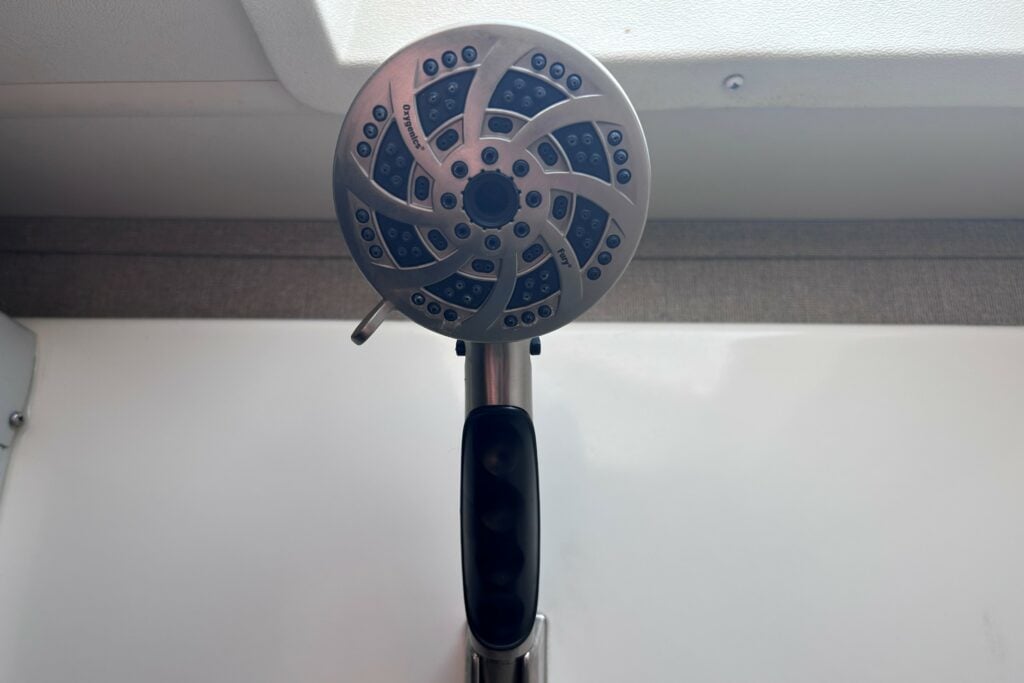 Not all Oxygenics shower heads are made specifically for RVs. However, the technology they use to create residential shower heads also works great for campers. So, how do Oxygenics RV shower heads work so efficiently?
The Oxygenics engine is what drives the Oxygenics spray settings. First, water is introduced into a pressure chamber that works like a mini turbine jet, increasing water velocity.
Water then passes through an air vacuum at high speed, which infuses oxygen into every drop. The pressurized and expanded water is released through the shower head nozzles, creating a highly efficient use of water that conserves energy and water.
To summarize in simpler terms — By adding oxygen to the water, Oxygenics shower heads provide great pressure, but use less water
Other Great Oxygenics RV Shower Heads
In addition to the Fury, Oxygenics has several other shower heads specifically designed for use in RVs. Keep reading to learn about other great Oxygenics RV shower head options.
Oxygenics BodySpa
Sale
ETL Oxygenics 26488 BodySpa RV Handheld Shower
Powerful Oxygenic setting amplifies existing water pressure and widens coverage
Easily control the flow of water with the push of a button. This results in more pressure, less water use, and more savings.
The BodySpa is a simpler, but still powerful RV shower head by Oxygenics. It is equipped with the same water efficiency measures as the Fury, and also offers top-notch water pressure.
The shower head come with a 60-inch hose and has a push button that controls and reduces water pressure as needed. If budget is a concern, the BodySpa model is even cheaper than the Fury.
Since it has a smaller head, the BodySpa does not offer the ability to change the spray setting. However, it does provide wider coverage than many RV shower heads.
Oxygenics BodySpa Adventure
The BodySpa Adventure RV shower head is very similar to the BodySpa with a few upgraded features. One notable feature is the 72-inch long hose that makes it easier to reach the shower head down when cleaning the shower or bathing dogs.
Instead of a button, the water pressure can be adjusted or slowed to a trickle by twisting the head.
---
Thanks for reading my review of the Oxygenics RV shower head. I truly believe this is the best RV shower head on the market, and I wish I had purchased it years earlier.
See our list of the best luxury RV accessories for more ways to upgrade your camping experience.
Happy Camping!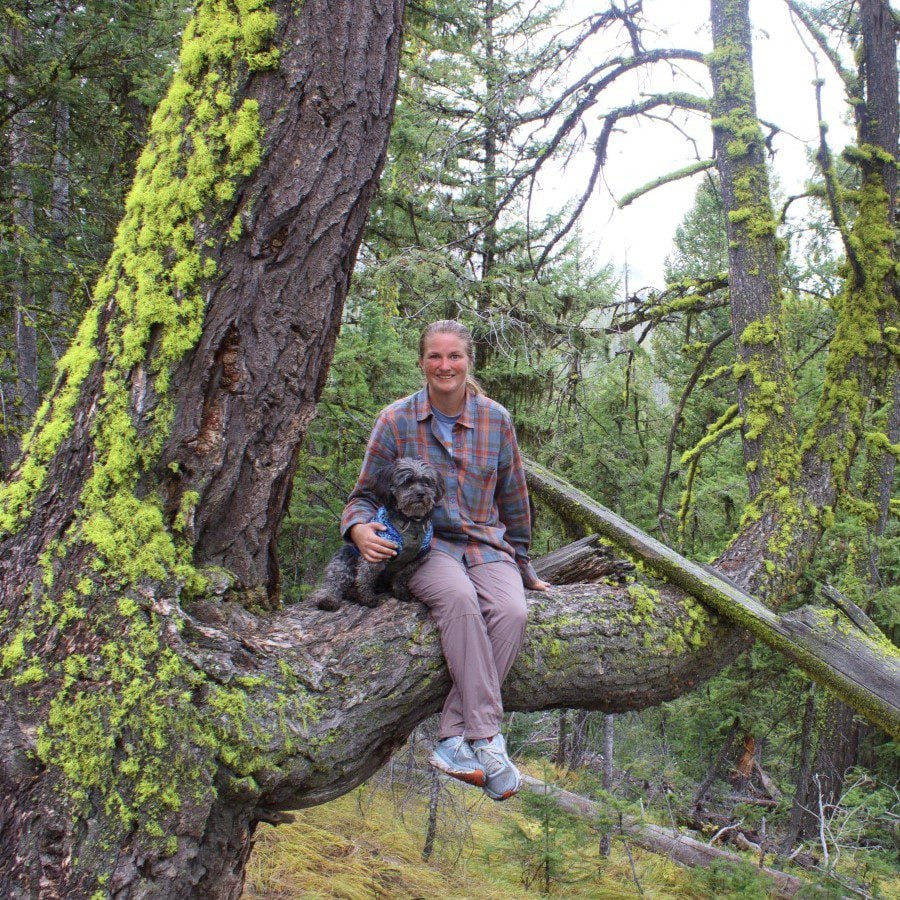 Christina Pate is a seasoned full-time RVer who, along with her husband Justin, has journeyed across the US, Canada, and Mexico. Drawing from her extensive travels, RV repairs and RV renovations, she founded Travels with Ted to guide and inspire fellow RV enthusiasts. Christina is also the co-author of The Owner's Guide to RV Maintenance and the creator of My RV Log Book.