This post may contain affiliate links. See our affiliate disclaimer here.
Boondocking is an increasing popular method of camping in the RV community. Simply put, RV boondocking is camping without hookups on undeveloped land. In this definitive guide to RV boondocking, we share everything you need to know to prepare for your first boondocking adventure.
RV Boondocking Overview
What is Boondocking in RV Terms?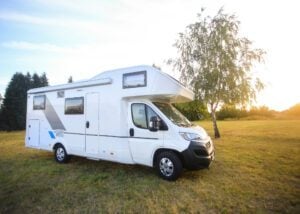 While some people use the terms "boondocking" and "dry camping" interchangeably, boondocking usually refers to dry camping on undeveloped land. Therefore, boondocking is always is dry camping but dry camping is not always boondocking.
Boondocking is when you find a place in nature, outside of a developed campground, to park your rig. Common boondocking locations include forests, beaches and public lands, managed by the U.S. Forest Service or Bureau of Land Management.
Other Ways to Dry Camp
There are several other situations where RVers camp without power or water, but that don't qualify as boondocking. Below are other typical forms of dry camping. Regardless of if you plan to boondock or just dry camp, this article will help you prepare for camping without hookups.
Overnighting at Walmart or Other Parking Lots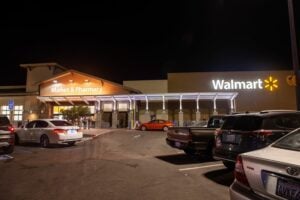 RVers often use free parking at businesses for convenient, free overnight camping. Many Cracker Barrel restaurants and Cabela's stores offer free overnight parking to RV travelers. Some Walmart locations also allow overnight parking.
In states where gambling is legal, RVers may also find free parking at casinos. Many casinos offer free parking for RVs to entice campers to spend money at the tables or slot machines.
Moochdocking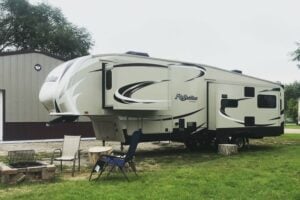 Moochdocking is camping for free in a friend or family member's yard or driveway. Moochdocking has several advantages over boondocking. While the views may not be as spectacular, campers can utilize all the amenities of their friend's house.
While moochdocking is often dry camping, it does not have to be. Campers may use utilities from the house to fill their water tanks and plug in their RV. When plugging in to a house's 120 volt electric, campers should carefully monitor power usage and not use energy suckers, like the microwave or air conditioner.
Harvest Hosts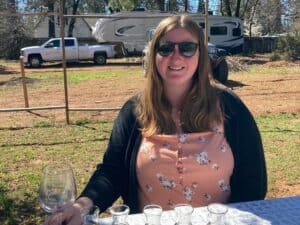 Harvest Hosts is a membership club that connects RV travelers with host locations across the country. Members can dry camp overnight at hosts across the country, including wineries, farms, breweries and more unique locations. Check out our complete guide to Harvest Hosts, for membership options, prices, a promo code and a detailed review.
Boondockers Welcome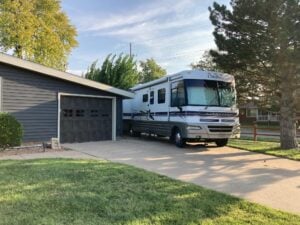 Boondockers Welcome is another unique RV membership club that connects members with free RV parking on private property. Host members offer free camping in their driveway or on their land. Ironically, we do not consider camping with a Boondockers Welcome membership as boondocking. In reality, it is more like moochdocking with strangers. Read our complete guide to Boondockers Welcome for more information.
Reasons to go Boondocking
Some readers may wonder why RV travelers would choose to boondock, when there are so many RV parks and campgrounds offering electricity, dump stations and swimming pools (or full water parks). There are three main reasons RV campers choose boondocking over campgrounds: money, privacy and access to nature.
Opportunity to Save Money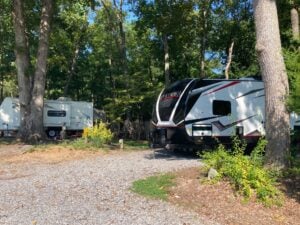 Money is a driving force behind many RVers decision to boondock. People who live in their RVs often chose to boondock part of each month to save money. With many RV parks charging upwards of $40 per night, a few nights of boondocking can lead to real savings.
While boondocking spots are typically free or very low cost, there are other expenses associated with boondocking. Most boondockers require additional propane or fuel to run appliances or a generator. See our guide on how to run your RV fridge off propane for more details.
Most boondockers also have to pay to dump their holding tanks, while most campgrounds include use of a dump station. See our guide to finding free RV dump stations to lessen your boondocking expenses.
If you are considering living in an RV, use our RV Living Cost Calculator to see how boondocking impacts your monthly budget.
Increased Solitude and Privacy
Most RV parks offer approximately five feet of space between each campsite, sometimes less. State park campgrounds and high-end RV resorts often offer more space, but there will still be several other campers within eyeshot and earshot.
To avoid the congestion of campgrounds, campers take their RV boondocking. However, not all boondocking locations offer solitude. As boondocking, and RVing in general, becomes more popular many boondocking spots are crowded during peak camping season. Going to more remote boondocking spots may be necessary to have real privacy.
Access to Nature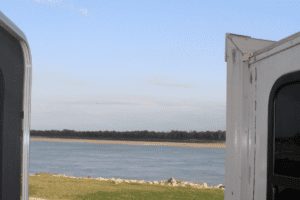 In addition to the solitude offered in some boondocking locations, many of the public lands where RVers camp offer easy access to exploration opportunities, such as hiking, paddling and other outdoor activities. Some RVers choose to boondock simply for closer proximity to these activities.
RVers may also prefer boondocking spots for the views. While many campgrounds offer a view of a road or other RVs, the best boondocking campsites offer uninterrupted views of the ocean, desert or mountains.
Boondocking in a beautiful location is a completely different experience than staying at a campground. The best spots offer the freedom to explore nature without crowds.
How to Find Boondocking Locations
RV Boondocking Websites and Apps
Campendium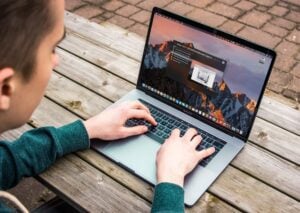 Campendium, an online database of camping destinations, is one of the best apps for finding boondocking locations. Their site and their app have information on tens of thousands of RV camping destinations, including everything from fancy RV parks to remote boondocking spots.
The app provides the address and GPS coordinates of each location and other basic information. Detailed reviews by other campers include photos and information on camping fees, cell service, regulations, camping limits and accessibility.
Camping information and reviews on Campendium are free for all users. However, Campendium members get exclusive access to special tools, including cell service overlay maps, public land overlay maps, trail maps and an elevation filter.
iOverlander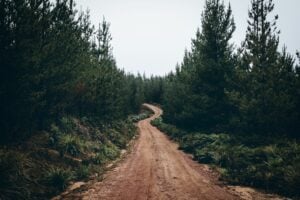 iOverlander is another popular app for finding RV boondocking campsites. Like Campendium, iOverlander's database includes traditional campgrounds as well as dry camping and boondocking spots. The app also includes the location of key resources for RV dwellers, including laundromats, dump stations and water fills.
To find places to boondock in the iOverlander app, filter the results to only show "wild camping" and "informal campsites." The user-generated reviews include photographs and details on the site, including accessibility and cell service.
iOverlander is a nonprofit that is run by volunteers. Its services are completely free to use, but they do accept donations to help fund the website and app.
Other Ways to Find Boondocking Spots
Social Media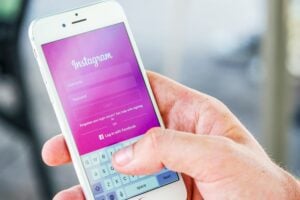 Social media is another way to find amazing RV boondocking destinations. In particular, Instagram is a great resource for finding new locations to camp. RV content creators love sharing their amazing boondocking photos on the gram.
To use Instagram to find cool camping spots, simply search the boondocking hashtag. With over 200,000 results, there are plenty of new places to discover. Browse through the photos and check the caption to see if the poster shared the location.
For safety reasons or to keep undiscovered places undiscovered, many RV campers choose not to share exact campsite locations on social media. If you see an awesome spot without precise location details, send a direct message to the account to see if they are willing to share more details.
Word of Mouth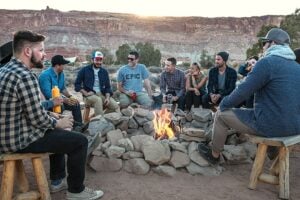 Finally, word of mouth is a great way to discover new RV boondocking areas. When hanging out a traditional campground, talk to other RV owners and ask about their favorite spots. Most people are happy to share their top locations with other campers.
Conserving Water while Boondocking
RV Boondocking Water Systems Overview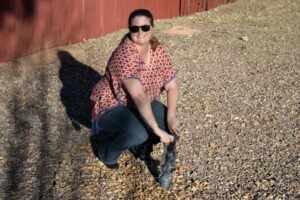 All RVs have three type of holding tanks: fresh water, gray water and black water. The fresh water tank holds potable water to power sinks and showers. After water flows down the sink and shower drains, it is stored in the gray water tank. The black water tank holds water and waste that is flushed down the RV toilet.
When boondocking, campers typically do not have access to a water source to fill the freshwater tank or a dump station to empty the gray and black water tanks. Therefore, to extend a boondocking trip for more than a couple of days, campers need to restrict their water usage.
Ways to Conserve Water while Boondocking
There are several ways to use less water when boondocking in an RV. Use the below tips to reduce your water usage, and use our RV Water Tank Calculator to discover how many days your tanks will last while boondocking.
Limit Showers
Showers use more water than any other daily activity. Therefore, showers need to be extremely limited when boondocking. A typical RV shower produces 1.5 gallons of water per minute, which means a 10 minute shower could easily fill up a third of your gray water tank.
If you are only boondocking for a short time, use the RV shower but only take navy showers. Navy showers are a method of showering where you turn the water off while lathering with soap and only turn the water on when rinsing. Most RVs have a quick on-off button on the showerhead to make it easier to take navy showers without screwing up the water temperature.
For campers trying to boondock for several days without dumping or filling water, avoid taking shows in the RV. Instead shower outside in natural water sources or using a portable shower bag. When showering outside, only use a biodegradable soap, such as Cleancult soap bars.
Wash Dishes Efficiently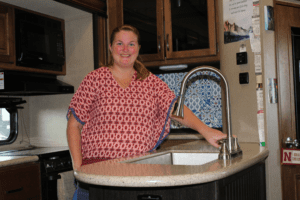 Washing dishes is another activity that uses a lot of water in a short amount of time. While disposable dishes are one obvious solution, we also try to avoid generating more trash while boondocking. Instead, we focus on washing dishes efficiently to conserve water.
One effective method for saving water is to wipe dishes down with a rag before washing. As long as you avoid messy meals that cake plates and pans, this method can accomplish 90% of the washing without any water. Then, instead of washing dishes under running water, collect a small amount of hot water in a bucket or pan and use that water to wash all of your dishes.
Prepare Food before your Road Trip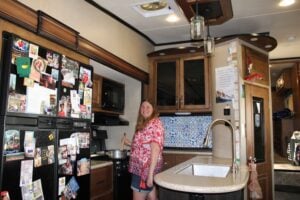 Another way to wash less dishes, is to prepare food at home before your RV boondocking trip. If you live in your RV, prepare food in your kitchen at a full service campground before heading into the wilderness.
While you will still use dishes for eating, there won't be any dirty pots, pans and utensils from food preparation. Click here to see our favorite make ahead meals for RV camping.
Bring Extra Jugs of Water
To save the water in your fresh water tank, bring extra jugs of water to use for drinking and rinsing hands. Make sure to purchase BPA free, food grade containers if you plan to drink the water.
Don't Use Ice
Instead of driving to the store and buying bags of ice or using your precious water to make ice, consider buying an electric cooler. Many electric camping coolers are able to store food as well as a refrigerator and run off 12 volt plugs or battery power. Some of our favorite electric coolers can even be recharged with solar power.
Turn Off Unessential Appliances
Many modern RVs include luxury appliances, such as washing machines, ice makers and dishwashers. However all of these appliances also use large amounts of water. While these features may be great to use when staying at an RV park, they should be turned off when boondocking. These appliances all also use a large amount of power, which is another reason to keep them off while dry camping.
There is one exception to this rule: the Living Vehicle Pro was created with an incredible off-grid system that allows you to enjoy luxuries while boondocking. Click here to learn more about this luxury boondocking RV.
Dumping Holding Tanks while Boondocking
Both black and gray tanks must be dumped in legal dump stations or sewer outlets. I think the reason for not dumping the black tanks on the ground or in the water is pretty obvious, but the same rules also apply to gray tanks. The water in gray tanks typically contains soaps, detergents, food particles and other human products that may harm the environment, attract pests or contaminate groundwater.
Ways to Dump RV Tanks while Boondocking
Dump Stations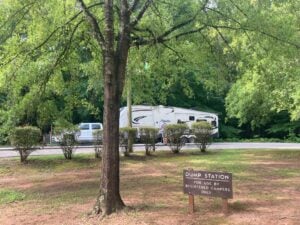 One option for dumping tanks while RV boondocking is using a dump station. Since you won't find a dump station at most boondocking spots, this means you will have to leave your campsite to empty your tanks.
Dump stations can be found using same apps used to find RV boondocking destinations. Most dump stations are found at campgrounds, rest areas and truck stops. It is typical to pay between 5 and 10 dollars to dump your RV tanks. If you are new to RVing, see our beginner's guide to properly dumping and cleaning your RV holding tanks.
Portable Tank
If you want to dump your holding tanks without leaving your campsite, you will need to purchase a portable waste holding tank.
To use a portable tank, connect a sewer hose to the RV and to the drain valve on the portable tank. Pull the black tank valve handle to open the black tank and allow it to empty. Stay close by while the black tank is emptying. If the portable tote's capacity is smaller than your black tank's capacity, close the black tank valve when you expect the tote is three-fourths of the way full. Transport the tank to a dump station to empty.
Dump RV Tanks at Home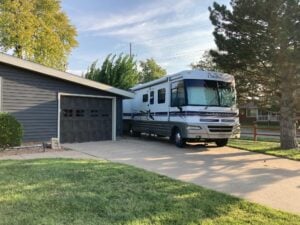 If you own a sticks and bricks home and do not need to dump during your road trip, you may be able to dump your tanks into your house's septic system. See our complete guide to dumping your RV tanks at home for more information.
How to Power your Rig while Boondocking
Boondockers need to consider their available power sources before heading off into the wilderness. There are plenty of power options for boondockers, but they require planning. If you plan to dry camp without enough power to run your air conditioning, read our guide on how to keep your RV cool in summer weather.
Boondocking Power Systems Overview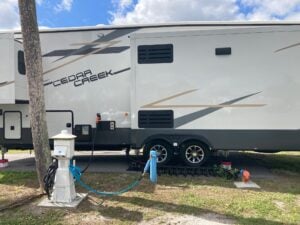 Like water, power also needs to be conserved while boondocking. RVs have two electrical power systems. The first is the 12 volt DC power system, which is powered by the RV's battery. When boondocking, RVers need to minimize their use of electricity in order to prevent the battery from dying.
Second, there is a 120 volt AC power system similar to the electrical system found in homes. 120 volt power is needed in an RV because some of the appliances (such as air conditioners and microwaves) consume too much power for standard RV batteries and conductors. 120 volt AC power in will only work when plugged into shore power, when using a generator or when the RV has an inverter to convert 12 volt power.
Conserving Electricity while Boondocking
There are several easy ways to use less electricity and battery power while RV boondocking.
Turn the Lights (and Everything Else Off)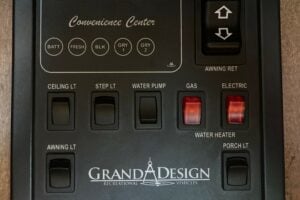 The easiest way to use less electricity and conserve battery power is to keep everything off until you absolutely need it. For example, lights should never be on during the day and they should only be on at night when you are awake and inside the RV.
Also, keep the water pump off unless you are actively using water. Turn it on before using the bathroom, and turn it off as soon as you are finished. If your RV has an invertor, turn it off when you are not using any 120 volt DC systems. The invertor will continue to drain the RV battery if it is left on.
Boondock in Mild Weather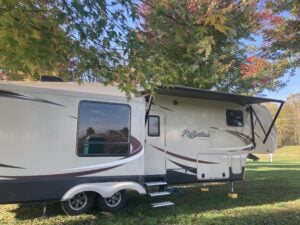 Camping in mild weather when heating and cooling systems are unnecessary makes boondocking much easier. Air conditioners utilize a huge amount of power, and cannot be run without 120 volt power. If you want to run your AC units while boondocking, you will need a generator or other upgraded power system. Consider purchasing battery-powered fans to use instead of an AC.
Some novice boondockers believe the furnace is safe to use for heating since it runs on propane. However, the furnace's fan does utilize a significant amount of electric power.
Utilize Propane Power Efficiently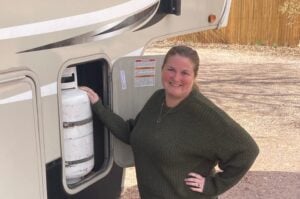 When RV boondocking, campers will use propane to run their refrigerator, oven and stove top. As noted above, we do not recommend utilizing the furnace as its fan uses a significant amount of electricity. The furnace will also use up propane more quickly than the kitchen appliances.
If hot water is needed, campers can utilize their propane-powered water heater. However, the water heater should be turned off when not in use as it will drain battery power when turned on.
Invest in a Portable Power Station
One of the best ways to save your RV's power is to pack another power source. Portable power stations, such as the Jackery Explorer 500, allow you to use any electrical appliance or device. These devices are perfect for digital nomads who need to charge their laptops and phones to work remotely.
Jackery also sells small solar panels that can be used to recharge the power station. With a power station and solar panel, campers can easily power their devices for their entire boondocking trip without using any RV power.
Options for Maximizing Power while Boondocking
The alternative to conserving power is adding additional power sources to your RV. Here are three ways to maximize your power capacity for RV boondocking.
Upgrade your RV Batteries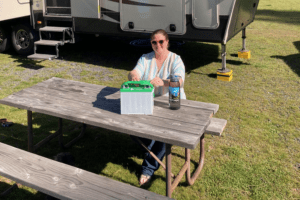 Most RVs come equipped with a lead-acid house battery. The amount of time these batteries will stay charged depends on the specific type of battery, age of the battery, whether the battery has been properly maintained and power usage.
However, the majority of these lead-acid RV batteries won't last more than a couple of days boondocking without being charged. Therefore, many frequent boondockers chose to upgrade to more energy-efficient lithium ion batteries that stay charged longer.
Use Solar Panels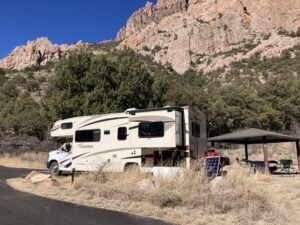 Another way to make your battery power last longer while boondocking is to charge the battery. Solar panels are an easy and effective way to charge RV batteries as long as there is sunlight. For campers who conserve power while boondocking and don't need to run 120 volt appliances, a portable 200 watt panel is sufficient to keep your battery charged.
If you want to maximize your RV's power without using a generator, the experts at Future Solutions can design a solar plus battery power system that will allow you to camp off-grid as much as you like.
Use a Generator
Generators allow RVers to be self-sufficient and power their 120 volt appliances without plugging into shore power. Many motorhomes and some travel trailers come equipped with onboard generators. Those that do not have an onboard generator can purchase a portable generator. Click here to see a list of the best travel trailers with a built-in generator.
All generators need diesel, gas or propane to run, so generator usage needs to be monitored to avoid running out of fuel. Generators are also noisy, so most RVers want to limit generator use so they can enjoy the peace and quiet associated with RV boondocking.
RV Boondocking with Pets
Many RV campers and RV dwellers travel with their cats and dogs. However, RV boondocking with pets requires some extra safety precautions. Below are tips for keeping your pets safe in the wilderness.
Safety Tips for RV Boondocking with Pets
Monitor the Temperature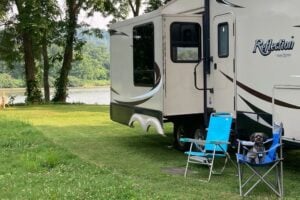 Earlier, we recommended camping in milder temperatures to conserve power. But temperatures are also important for your pet's safety. If you do not have a sufficient power supply to run the air conditioner or furnace, you should consider the temperature before RV boondocking with pets.
Acceptable conditions will vary based on your pets' age and health, but, generally speaking, it is safe to dry camp with pets when the temperature stays above 50 degrees Fahrenheit and below 85 degrees Fahrenheit.
Don't Let Pets Lose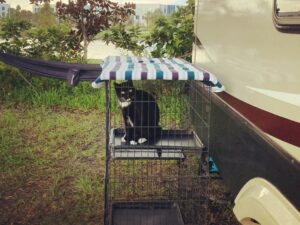 Even if your boondocking spot has endless space to roam, your dog or cat should never be let loose. Letting your pet explore without a leash leaves them vulnerable to dangerous plants and wildlife. Pets are also more likely to get lost in a new place.
However, keeping pets restrained is not just for their safety and your peace of mind. If left to roam, pets could hurt the local wildlife. Also, if you are not monitoring your pets, you won't be able to pick up after them.
Locate the Nearest Vet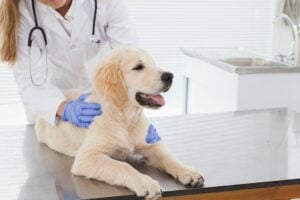 Unfortunately, illnesses and accidents can happen anywhere. To prepare for an emergency make sure to research local vets before your RV boondocking adventure, especially if you won't have cell service at your campsite. Write down the names, phone numbers and directions to the nearest veterinarian and the nearest 24-hour emergency animal hospital.
How to Get Internet while Boondocking
Boondocking spots do not come with amenities like Wi-Fi. Many young RVers rely on internet to work remotely from their RV, and other campers just prefer having a connection for safety and entertainment. Here are two options for connecting to the internet while boondocking.
Mobile Hotspots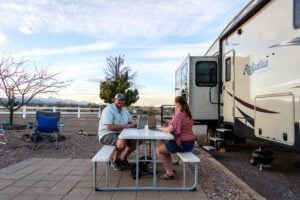 If your boondocking location has cell service, that is the easiest way to connect to the internet. Using your phone's hotspot or a jetpack device, RVers can use their cellular service to connect other devices to the internet.
Before heading to a boondocking spot, check Campendium, iOverlander and your provider's coverage map to verify cell service strength. Many RVers purchase hotspots from two or more carriers to maximize the number of locations where service is available.
Satellite Internet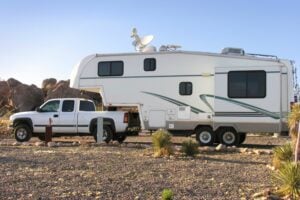 The other option for connecting to the internet while boondocking is satellite internet. However, while companies are actively working on developing affordable satellite internet solutions, they are not currently available.
Mobile satellite internet solutions are available, but they are not always reliable and the equipment alone cost thousands of dollars. If you are open to paying high dollar for an internet connection that does not require cell service, check out our guide to RV internet options for more information.
How to Boondock Responsibly
RV camping, and in turn, RV boondocking have exploded in popularity in the last few years. With more people at boondocking campsites, it is more important than ever to be a responsible boondocker.
Boondocking Etiquette
These days, it is rare to have a scenic boondocking location all to yourself. Follow these boondocking etiquette rules to respect other campers.
Limit Generator Use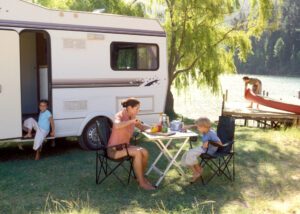 Generators are noisy and the noise can make it difficult for nearby RVers to relax. If you are parked within earshot of other people, limit generator use down to only essential needs and do not run your generator overnight. Also, keep music and other noises to a respectable volume and be quiet at night.
Turn Off Outdoor Lights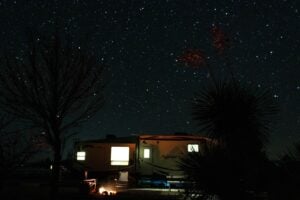 To avoid annoying other campers who came to enjoy the outdoors and look at the stars, keep your outdoor lights off unless they are needed for safety. While it is fine to turn on lights for a quick task, lights should never be left on all night while other campers are nearby.
Do Not Park Near Other Campers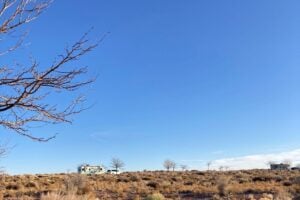 Privacy and space are one of the many reasons campers chose RV boondocking over developed campgrounds. Never assume other boondockers want to welcome neighbors. When selecting a parking spot, put as much distance as possible between yourself and other RVs.
Also take other RVs' views into consideration. It is best to try to park so your RV is not in front of another RV's door, then you won't block anyone's main view.
Don't Let Pets Run Free
Keeping pets leashed or otherwise secured is not only important for their safety, it is also good boondocking etiquette. Always supervise pets to ensure they do not roam onto other people's campsites.
Responsible Boondocking Practices
Get Permission before Parking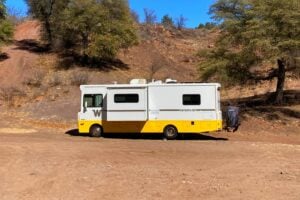 The first rule of boondocking is to obtain permission before parking. If the land is public land managed by a government agency, research the agency's policies and make sure camping is allowed in the area where you plan to boondock. If the land is privately owned, you must obtain permission from the owner before camping.
Many public lands, such as BLM lands, allow boondocking but restrict where and how long campers are allowed to stay. Know the rules of the land, and respect all restrictions and stay limits. These limits help manage crowds and keep the land clean, which benefits everyone in the RV community.
Park on Designated Campsites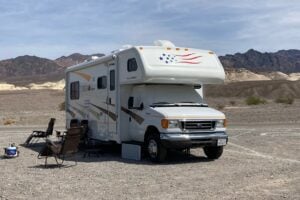 Both the Bureau of Land Management and the U.S. Forest Service have set aside designated dispersed camping lands specifically for RV boondocking. Within these designated lands, campers should try to park in places where other campers have been before.
Not creating new campsites help prevents the land and its flora and fauna from being destroyed. Only parking on established campsites minimizes RVers impact on the land.
Leave No Trace
As with all outdoor adventures, RV boondockers should aim to leave no trace of their time spent camping in the wilderness. All trash, food and waste should be contained in your RV and taken with you when you leave the boondocking site.
If you make any impact on the land, make it positive. It is a great practice to spend a few hours at each boondocking spot taking a walk to look for and pick up trash left behind by other campers.
5 Awesome RV Boondocking Locations
Now that you know all about RV boondocking, it is time to start planning a camping trip. Below are five awesome boondocking locations in the United States. Click on the location names below for details and exact dispersed camping locations from Campendium.
The Bonneville Salt Flats are a 30,000 acre expanse of hard, white salt crust on the western edge of the Great Salt Lake basin in Utah. As BLM land, RV boondocking is allowed at the Bonneville Salt Flats. Although driving on the salt flats is permitted seasonally, overnight camping is not. RVs must park off the salt on durable surfaces.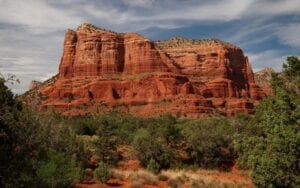 There are several RV boondocking locations in and around Sedona, Arizona. Most of these dispersed camping spots are located on National Forest land, so they have easy access to incredible hiking. Almost every camping location near Sedona delivers wide open spaces and fabulous views of red rocks. Be prepared to share these camping areas as the incredible views often draw large crowds.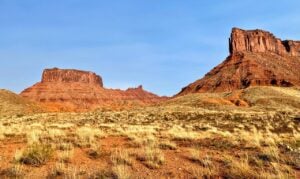 Moab is another super awesome, but also super popular RV boondocking destination. There are several dispersed camping areas on the BLM and National Forest lands near Arches and Canyonlands National Parks. Park for free on these public lands and take day trips into the national parks. Views from boondocking campsites in this area range from sandstone rock formations to snow-capped mountains.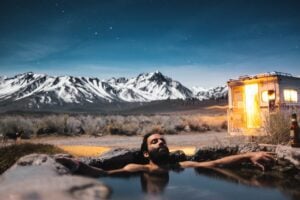 While the other boondocking locations on our list have views, this camping spot is even better with mountain views and a natural hot spring to soak in. The best parking spaces at this dispersed camping area are a short walk from the Rock Tub Springs. Have a plan B if trying to camp near the hot springs as there are only a few campsites available.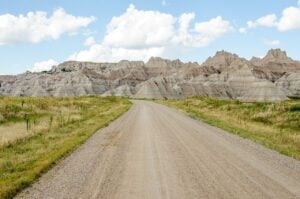 One of the most famous RV boondocking spots in the country is the Nomad View Dispersed Camping area in the Buffalo Gap National Grassland. Campers park on the side of the road on an elevated ridge that looks out over Badlands National Park. RVs may end up close together here since there is only a narrow strip for parking, but everyone has a great, uninterrupted view from their front door.
FAQs about RV Boondocking
What is Boondocking in RV terms?
Boondocking is RV camping on undeveloped land without electric or water hookups or sewer connections. Common boondocking locations include beaches and public lands, managed by the U.S. Forest Service or Bureau of Land Management.
Is RV boondocking legal?
Yes. If, the RV owner has permission to camp on the land and follows all regulations, boondocking is legal. The Bureau of Land Management and the U.S. Forest Service have designated dispersed camping areas where boondocking is allowed.
How do you find bookdocking sites?
The easiest way to find RV boondocking sites is to use free apps, such as Campendium and iOverlander. Social media and other campers are also good resources for finding boondocking locations.
Can I dump gray water when boondocking?
No. For environmental and safety reasons gray water should only be dumped at official dump stations that connect to a sewer system or septic tank.
Can I run my RV air conditioner while boondocking?
No, unless you are using a generator or have installed a powerful aftermarket battery and solar system. RV ACs will not work using power from a standard lead-acid RV battery.
---
That concludes our definitive guide to RV boondocking. If you have made it this far, you now understand:
What is RV Boondocking?
Reasons to Go Boondocking
How to Find Boondocking Campsites
How to Conserve Water while Boondocking
Where to Dump Holding Tanks while Boondocking
How to Conserve and Generate Electricity while Boondocking
How to Keep Pets Safe while Boondocking
How to Get Internet while Boondocking
If you have any questions about RV boondocking or dry camping, drop them in the comments section below.
Happy Camping!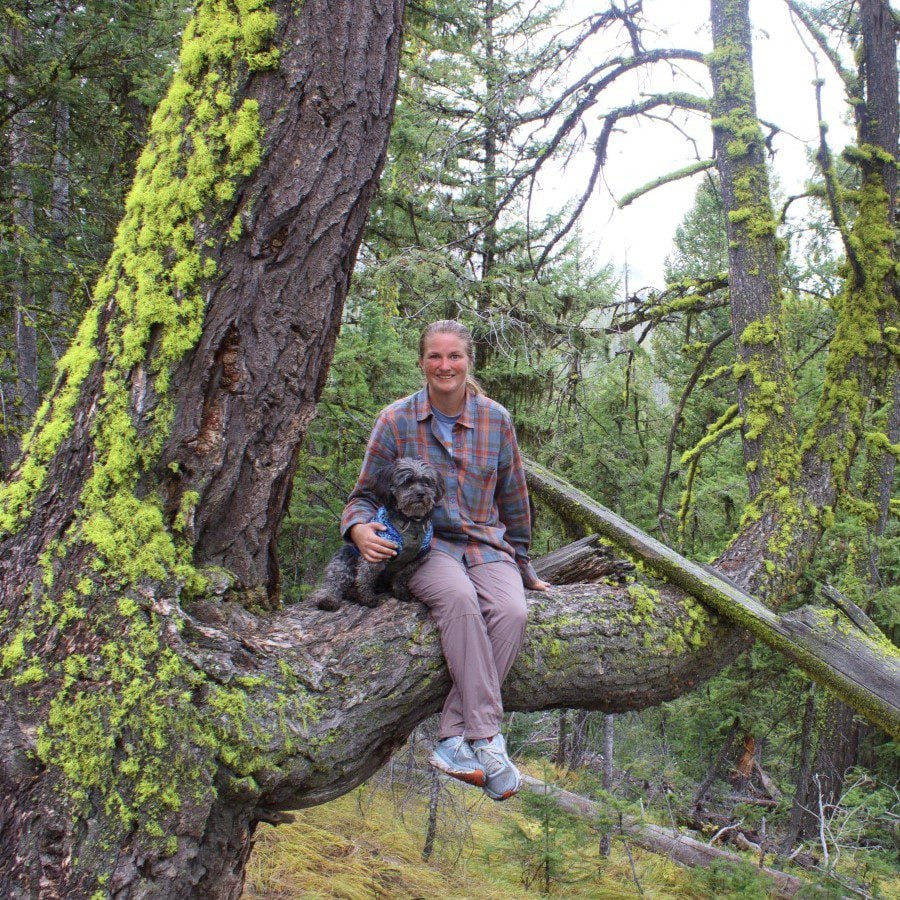 Christina Pate is a seasoned full-time RVer who, along with her husband Justin, has journeyed across the US, Canada, and Mexico. Drawing from her extensive travels, RV repairs and RV renovations, she founded Travels with Ted to guide and inspire fellow RV enthusiasts. Christina is also the co-author of The Owner's Guide to RV Maintenance and the creator of My RV Log Book.