This post may contain affiliate links. See our affiliate disclaimer here.
I love color! Unfortunately our fifth wheel RV's kitchen was brown and drab. To add a little color and personality to our interior, we completed an RV kitchen remodel. Keep reading to see how we transformed our RV kitchen in just a few days for less than $800.
RV Kitchen Remodel Before and After
Before
Prior to the renovation, our RV kitchen was brown and boring. However, the layout was functional, so only cosmetic updates were needed. We added backsplash tiles early on, so I do not have a picture before those were added.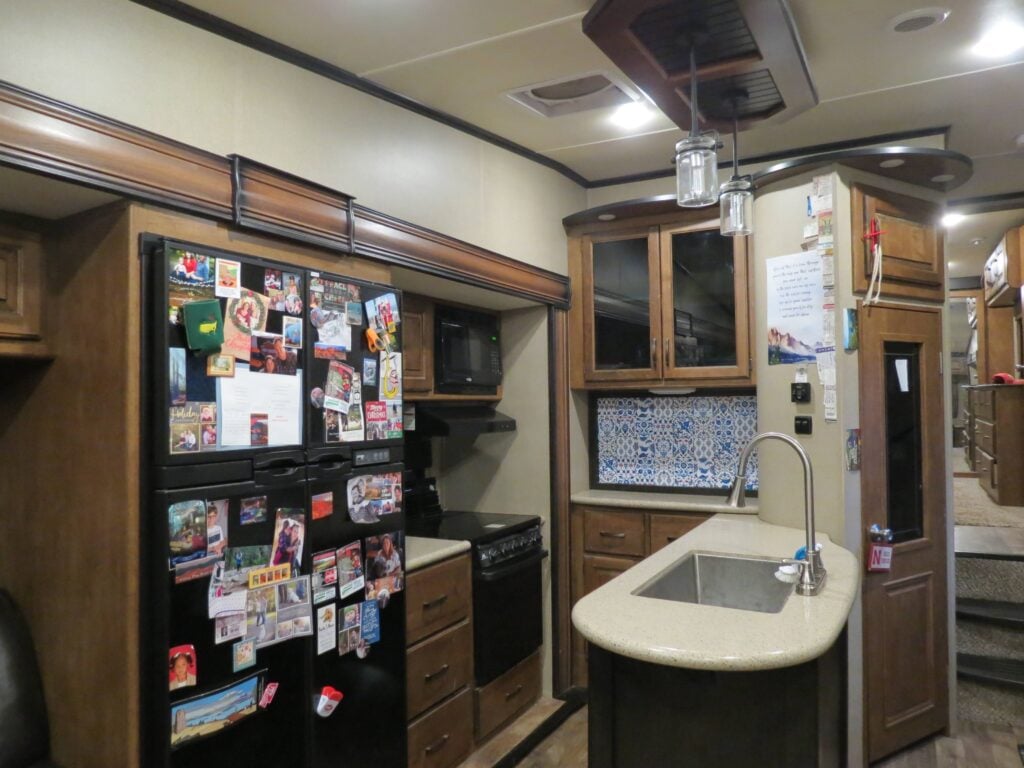 After
After our remodel, our RV kitchen is now a bright, happy space. We could have gone with a simple farmhouse look, but that is not our style. If you prefer a little less color, you can use the same techniques to create a sleek, white RV kitchen.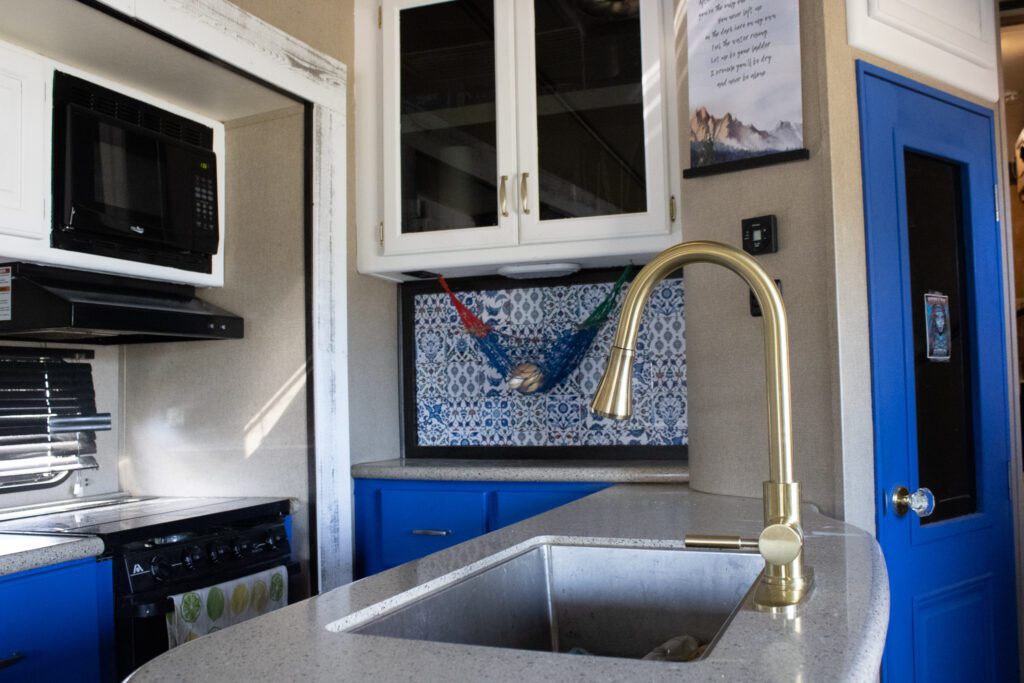 RV Kitchen Remodel Details
RV Kitchen Cabinets
Cost: $300 for paint and supplies
Painting cabinets takes the most time, but also has the biggest impact in any RV kitchen remodel. Because we used chalk paint to cover our RV cabinets, we were able to complete the job in half the time without any sanding or priming!
We started by removing all the cabinet doors, and taping around the cabinets. Chalk paint does not require primer, but it does require multiple coats, so we rolled on four total coats of paint over two days.
We wanted to add color to our RV kitchen, but we did not want it to be overwhelming. So, we used a bright blue paint on the lower cabinets and kitchen island, but painted all of the upper cabinets with a bright white.
We were worried that the chalk paint would chip or fade, but after more than three years living in our renovated RV, it still looks great.
See our complete guide to painting RV cabinets with chalk paint for detailed instructions.
Cabinet Hardware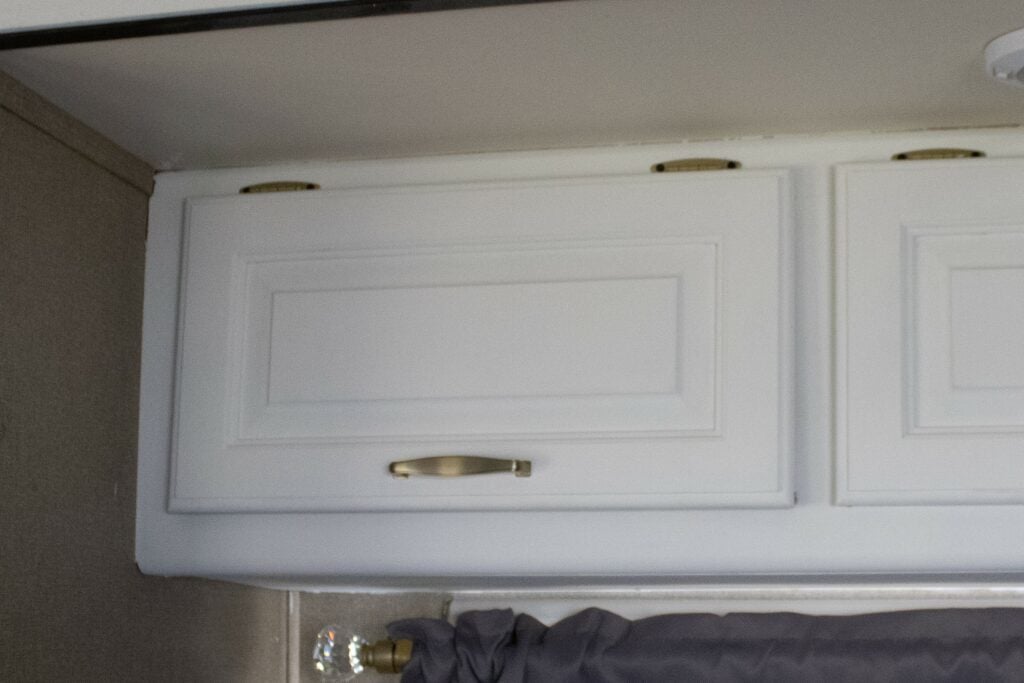 Cost: $71.97 for 30 cabinet handles
After painting our cabinets, we also replace all of the cabinet and drawer handles. Before purchasing new hardware, we tried covering our original cabinet handles and hinges with metallic spray paint, but it quickly chipped with everyday use.
To make the update as simple as possible, we chose new hardware and hinges that were the same size as the originals. That way, we did not need to patch old holes or drill new holes in the cabinets.
Backsplash Tiles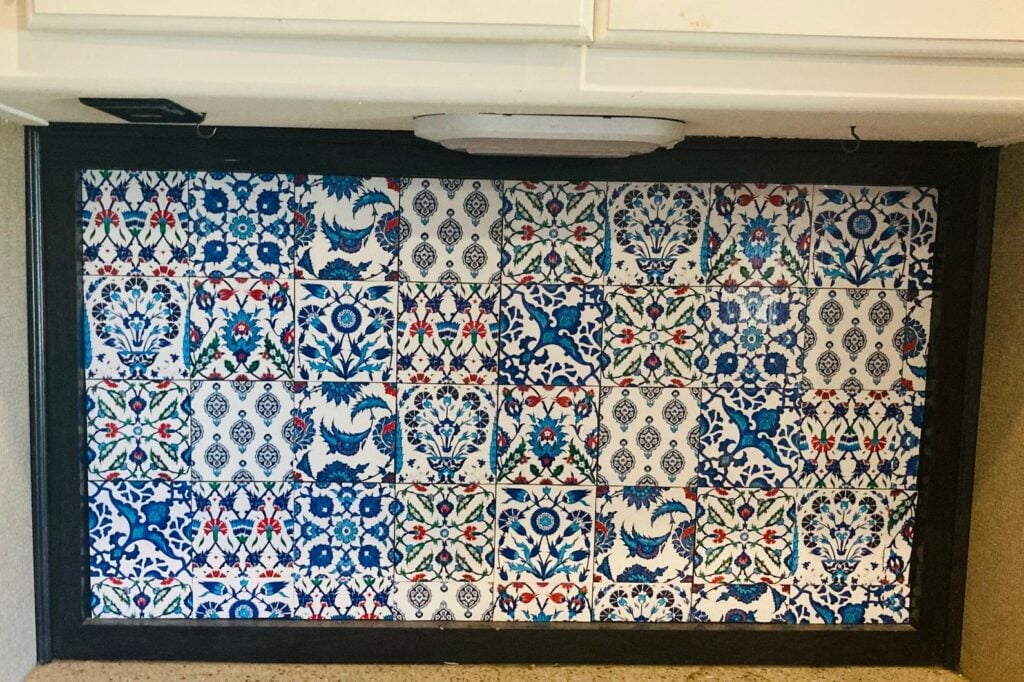 Cost: $70.90 for Sticker Tiles
Well before we started our full RV kitchen remodel, we installed a faux tile backsplash to add a little pop of color to our RV interior. These SnazzyDecal sticker tiles weigh almost nothing and were super easy to install.
We simply cleaned and dried the wall, then placed the stickers on. If the line was not perfectly straight, it was easy to remove and adjust the stickers.
We have traveled for over six years with these SnazzyDecal tiles, and they have not faded or peeled at all.
Kitchen Faucet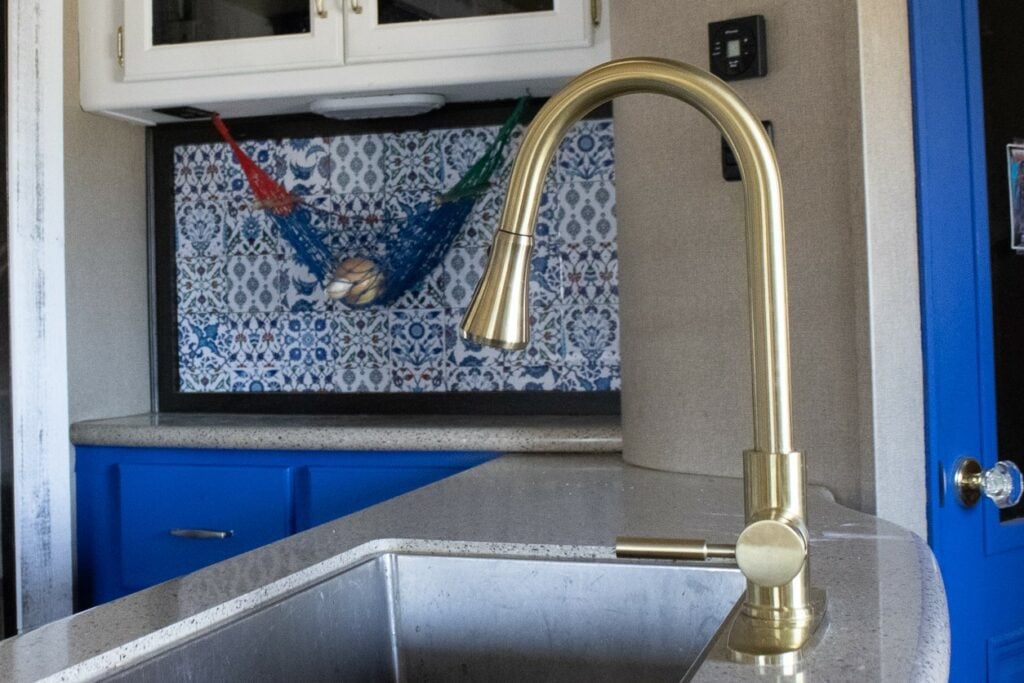 Cost: $58.25 for a new faucet
Another simple, but impactful project in our RV kitchen renovation was replacing the faucet on our sink. We selected a gold faucet that matched our new cabinet hardware. Since most faucets designed specifically for RVs are not the prettiest, we bought a residential model with an efficient water flow rate.
To ensure the project was easy, we removed the original faucet before ordering a new one, so we could guarantee the new fixture would fit perfectly without have to create new holes in the countertop.
Light Fixtures
Cost: $109.98 for two new light fixtures
We also replaced the light fixtures above our kitchen island. The original fixtures were actually cute, but we wanted something with a gold finish to match our new faucet and hardware.
We purchased residential light fixtures, but used 12 volt LED bulbs to make them compatible for our RV. One last project, we haven't completed yet is painting the wood trim on the ceiling to match our new, white cabinets.
Slide Out Trim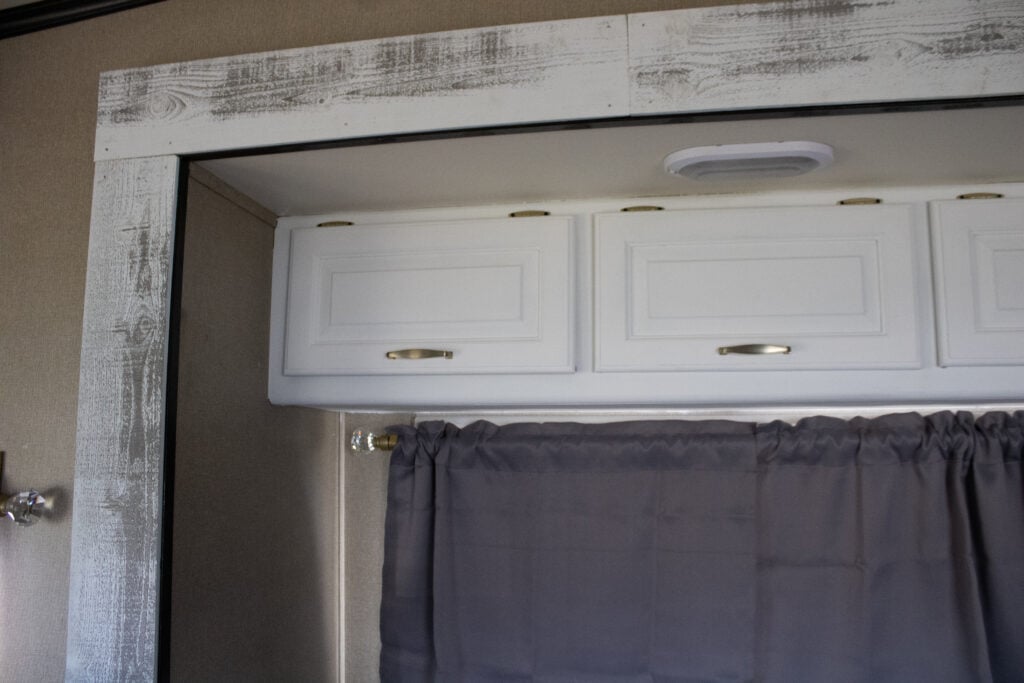 Cost: $103.92 for new trim
The last major project in our RV kitchen remodel was removing and replacing the slide out trim. I wasn't sure how difficult it would be to remove the old trim, but it came down easily using a small pry bar.
To make the project even simpler, we bought pre-painted wood planks that were the same width as our original trim. Then, we cut the planks to the correct length and nailed them in place.
See my complete guide to replacing RV slide out trim for more details.
Decorative Touches
Cost: Less than $50 for frame, poster and fruit hammock
Finally, we added a few decorative touches to complete our RV kitchen remodel. First we used a lightweight, magnetic frame to hang a piece of artwork in our kitchen.
Then, during our travels to Baja, Mexico, we purchased a handmade fruit hammock. We had the hammock made to match the colors in our backsplash. It is both beautiful and practical, as it keeps all our fruit and veggies off the countertop.
Items We Did Not Update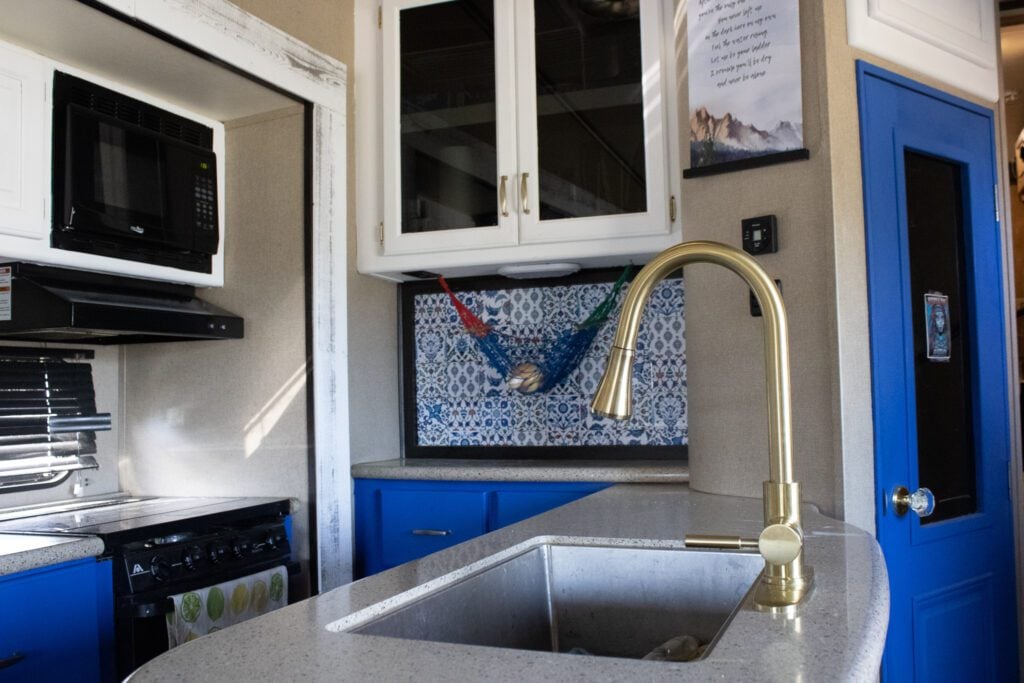 There are a few common RV kitchen remodel projects that we chose not to tackle. These projects were too difficult or expensive, so we were happy to keep the original items.
Countertops
Many DIY RV kitchen renovators choose to replace or refinish their countertops. We just happened to like the solid surface countertops that came installed in our Grand Design Reflection fifth wheel, so we left them alone.
If you hate the countertops in your RV kitchen, consider using an epoxy refinishing kit to transform them without actually having to buy new, custom countertops.
Appliances
We also kept all of the original RV kitchen appliances. The black appliances looked nice with our color palate, and replacing all of them would have been expensive and unneccessary.
If you really hate the look of your RV fridge, you can paint it or use a fridge cover to change the look of the appliance without replacing it.
Shop Our RV Kitchen Remodel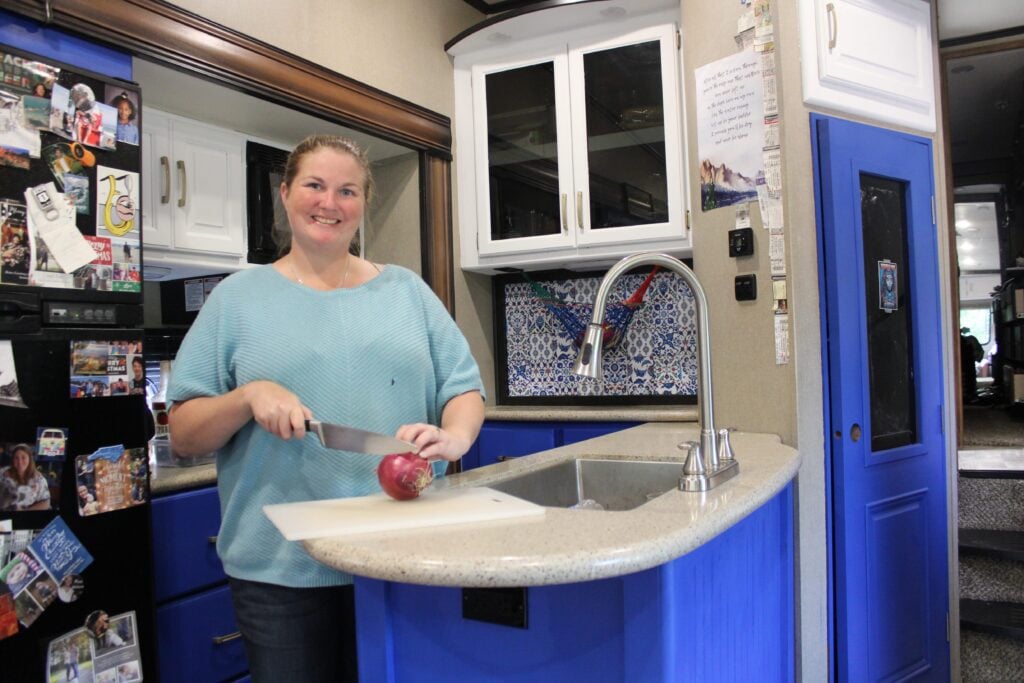 Interested in using any of our RV kitchen remodel ideas for your own renovation? Below are links to all the products we used.
---
Thanks for checking out our colorful RV kitchen remodel, we hope you found some inspiration for your renovation.
If you are updating your entire RV interior, also check out these easy RV renovation ideas.
Happy Camping!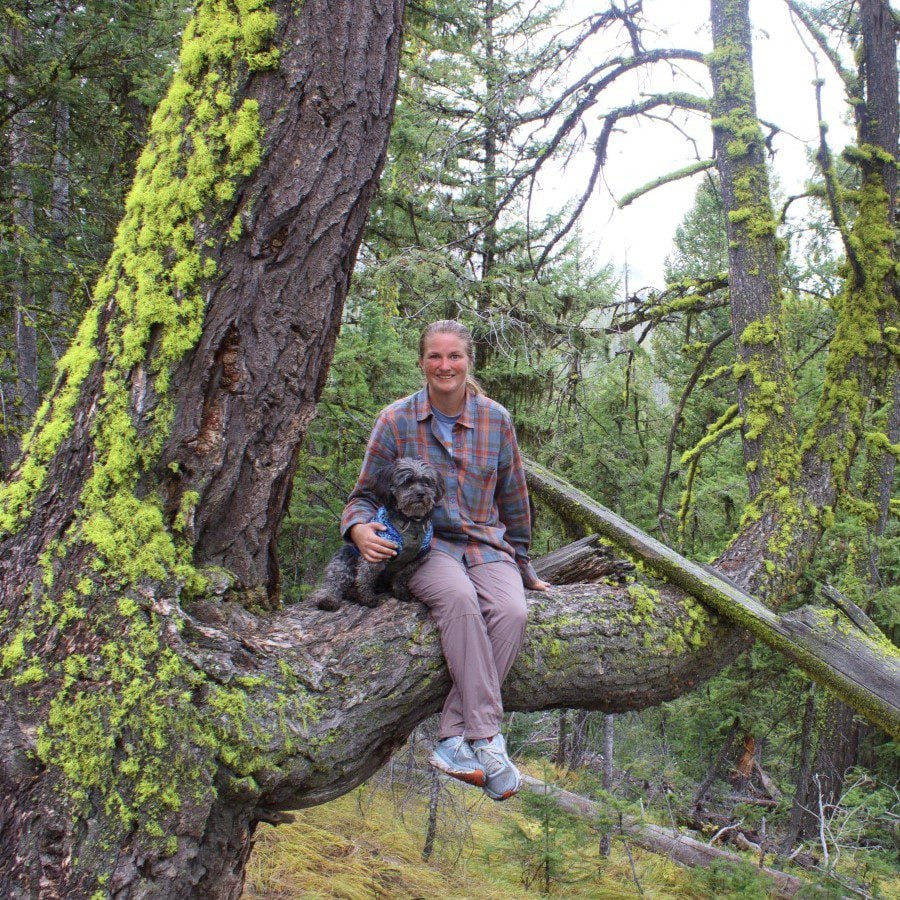 Christina Pate is a seasoned full-time RVer who, along with her husband Justin, has journeyed across the US, Canada, and Mexico. Drawing from her extensive travels, RV repairs and RV renovations, she founded Travels with Ted to guide and inspire fellow RV enthusiasts. Christina is also the co-author of The Owner's Guide to RV Maintenance and the creator of My RV Log Book.