This post may contain affiliate links. See our affiliate disclaimer here.
Bringing your feline family members along on your travels is one of the best parts of RV living. However, finding a place to store your RV cat's litter box is challenging in a tiny space. Here are the ten best places to hide a litter box in an RV.
If you are planning to live in an RV with pets, check out my full guides to RV living with cats and RV living with dogs. Also, check out our favorite RV modifications to create play and resting spaces for cats.
Litter Box Cabinet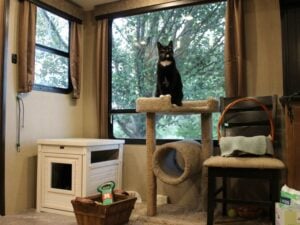 Buying a litter box cabinet is one of the easiest ways to keep a litter box out of sight in an RV. We removed our dinette table, and put this white litter cabinet as well as pet food bowls and a scratching post in the empty slide out space.
In most RVs you will need to remove a table or chairs in order to have enough room to accommodate the litter box cabinet. However, giving up the seating space is worth it to avoid look at a litter box all day.
Click here to see more RV dinette replacement ideas.
Under the RV's Bathroom Sink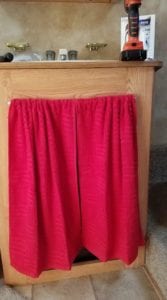 For an easy solution that does not require carpentry skills, replace the doors on the bathroom vanity with a curtain to create a private potty for your RV cat.
If you prefer to keep the doors, you can cut a hole in the cabinet door and install a pre-made kitty door.
In the RV Shower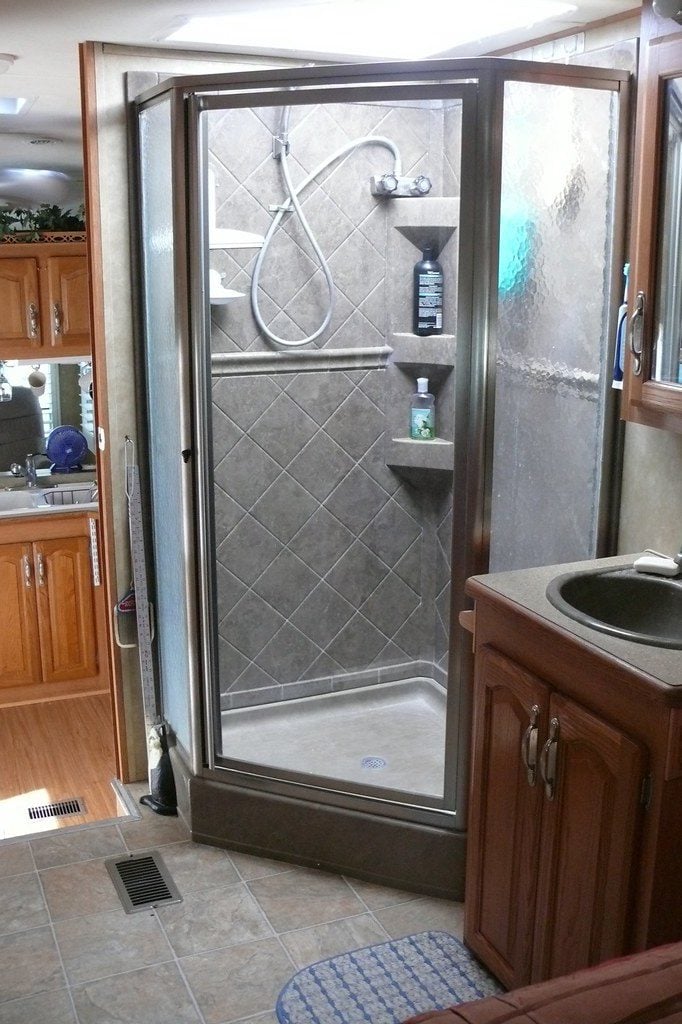 In a small travel trailers and motorhomes, the shower can be the best place to hide an RV cat litter box.
Of course, the box will have to be removed when you use the shower and any stray litter will need to be swept so it does not end up in your grey water tank.
Tunnel to the RV Storage Bay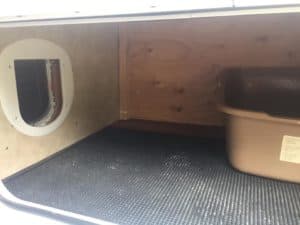 You can also install a kitty door in any wall that leads directly into the RV storage bay.
If you are willing to give up the storage space, this is a great solution to keep odors out of your living space.
In the Outdoor Kitchen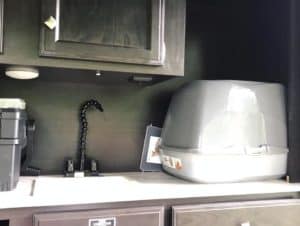 RV owner Kylie Ann turned her outdoor kitchen into an outdoor bathroom. She cut a hole in the wall and installed a door, so her cat can easily access the litter box from inside the RV.
The litter box can be moved inside temporarily if you need to use the outdoor kitchen. Or the outdoor kitchen can be repurposed as a place to store pet supplies and outdoor gear.

Washer Dryer Closet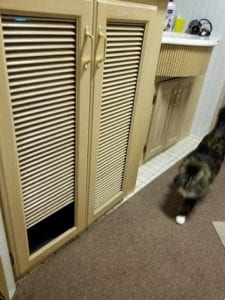 If you are lucky enough to have a washer dryer hook-up in your RV, you can use that space for a litter box instead. You'll have to go to the laundromat, but the space will provide ample privacy for your cat.
Simply cut a hole or install a kitty door to allow access to the litter box. This solution will also work with any wardrobe closet in larger RVs.
Click here to see RVs with washer and dryer hookups.
Under Fifth Wheel Stairs
In most fifth wheel RVs, the stairs in the middle of the trailer sit directly above the basement storage bay. Therefore, it is possible to cut a hole in the stairs to allow cats to access a litter box in the storage bay.
It is best to build walls (see picture) to keep your cat from playing with wires and other potentially hazardous items in the basement area.
Under the Bed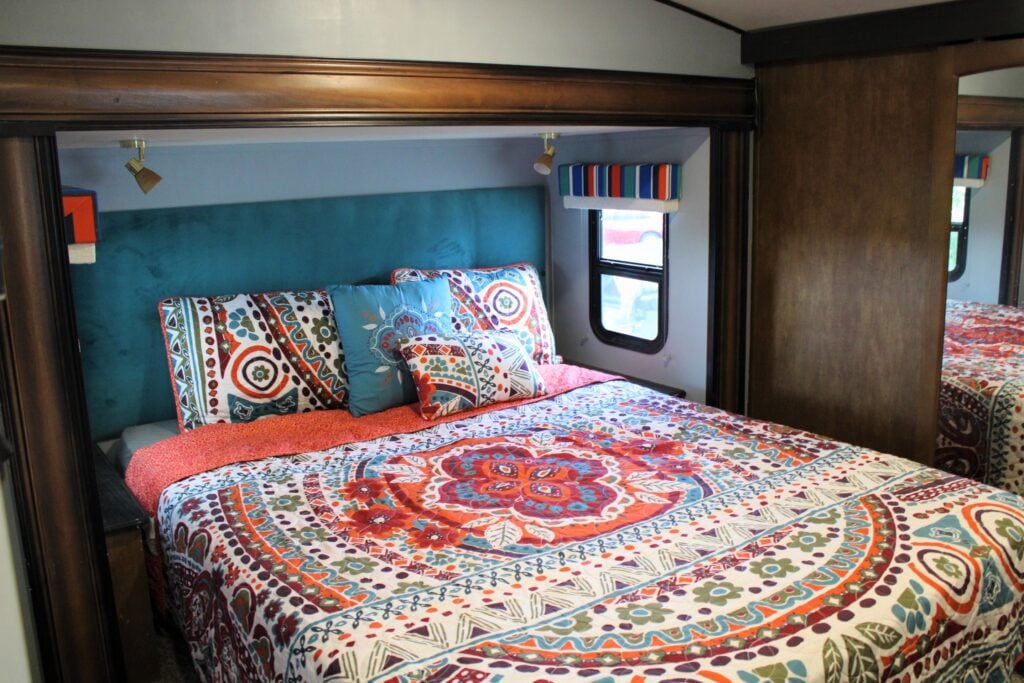 Many RV beds lift up to reveal a storage area under the mattress platform. This under the bed storage area, has plenty of space for an RV cat litter box and all of your pet supplies.
Of course, it isn't feasible to leave the storage open (you wouldn't be able to use the bed), so you will need to cut a hole or install a cat door for access.
Litter Box and Cat Tree in One
If you cat is used to having a cat tree to climb, consider a cat tree with a litter box compartment for the base. This setup will take up a significant amount of floorspace in your RV, but it will take up less room than having a separate cat tree and litter box.
If you have a large RV, you could place the tree in the bunk room. In smaller RVs, you can make space for the cat tree by removing the dinette or dining table.
Corner Litter Box
If your RV is really small, you can place a triangle-shaped litter box in any corner of your RV. Select the least used corner and buy a box with a lid to minimize unpleasant sights and odors.
---
Litter boxes stink, but it's a small sacrifice to be able to travel with your cat. If you are still on the fence about moving into an RV, check out this article to learn all the pros and cons of RV living.
Have other ideas for hiding RV cats' litter boxes? Share your idea in the comments section below.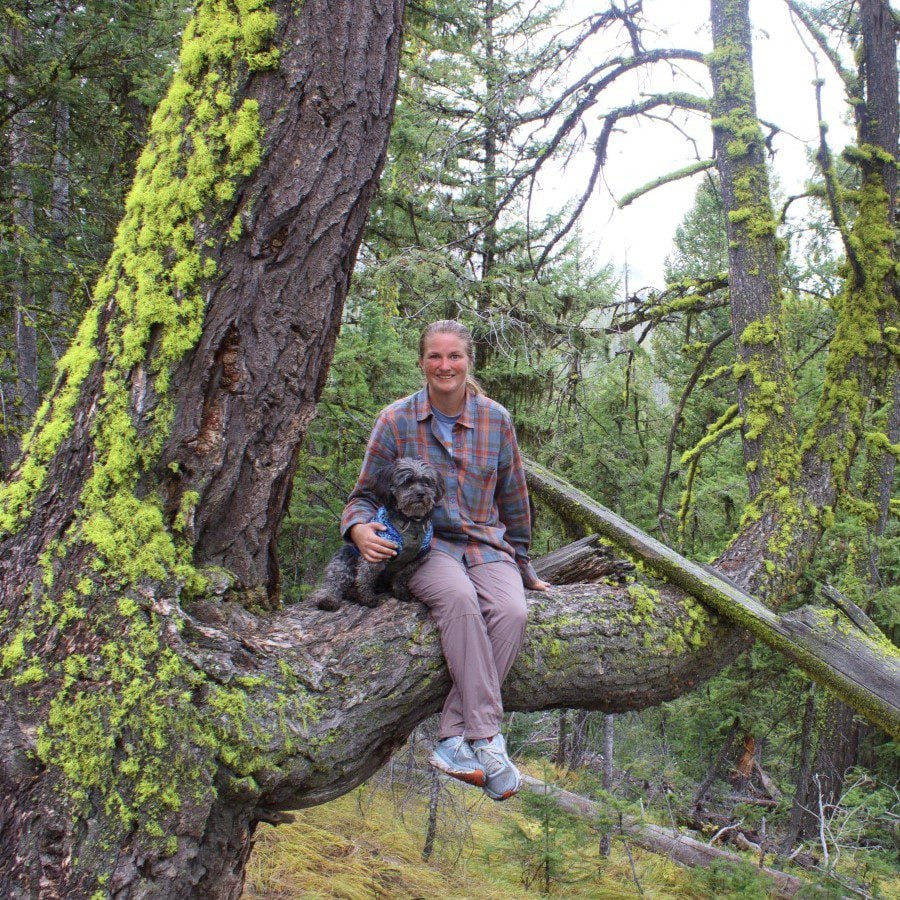 Christina Pate is a seasoned full-time RVer who, along with her husband Justin, has journeyed across the US, Canada, and Mexico. Drawing from her extensive travels, RV repairs and RV renovations, she founded Travels with Ted to guide and inspire fellow RV enthusiasts. Christina is also the co-author of The Owner's Guide to RV Maintenance and the creator of My RV Log Book.