This post may contain affiliate links. See our affiliate disclaimer here.
After over six years living in an RV and traveling full time, I can say without question that I love this lifestyle. However, RV living comes with many pros and cons. You need to have a strong desire to travel and a good sense of humor to deal with the bumps in the road (literal and figurative).
If you are considering full time RVing, you need to start with realistic expectations. Below is a comprehensive list of all the things I love and hate about living in an RV.
Interested in living in an RV? Click here to check out my new podcast, RV Life Unpacked. After living on the road for more than six years, I am teaching you everything you need to know to make your RV dreams a reality!
Pros of Living in an RV
Unlimited Adventure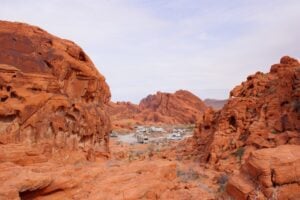 Exploration and adventure are the main reasons we chose to live in an RV. Having a home on wheels allows you to explore all parts of our country (and Canada and Mexico). Since moving into an RV, we have visited several National Parks and hiked in countless state parks.
We have also gone whitewater rafting, riverboarding (look it up; it is crazy!) and scuba diving. Living in an RV means we have more experiences in one year than we used to have in five years.
Quality Time with Friends and Family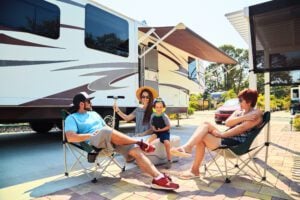 Before RV life, we lived a few hundred miles from my family and half-way across the country from my in-laws. We also had friends all over the country who we typically only saw one weekend a year.
Living in an RV, we drive our home to our friends and family for extended visits. During the week or month we are parked near loved ones, we spend so much more quality time with them than we did pre-RV life.
Traveling with your Home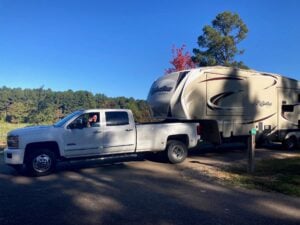 Packing is the least fun part of any vacation. I always put it off until the last minute and I always forget something. Towing our home means, we take all of our belongings with us on every trip.
We do not need to check the weather or make a list; we just hitch up and go! Always having our home with us also brings comfort and relaxation into our travels. We get to cook our own meals and sleep in our own bed every night. As an added bonus on travel days, you can pee in your own home instead of a nasty truck stop bathroom.
Pets can Travel Too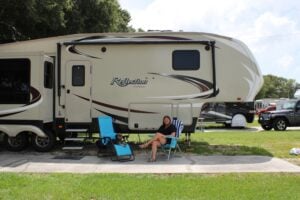 We also get to bring our dog and cat along on every vacation. Instead of boarding our pets, we can bring them along to enjoy the outdoors. Ted, our dog, has been on hundreds of hikes and swam in two oceans over the last few years.
Our cat, Mr. Man, loves hanging outside the RV and having new birds to watch in each campground. Read my posts on RVing with cats and dogs to learn more about keeping your pets happy on the road.
Relationship Growth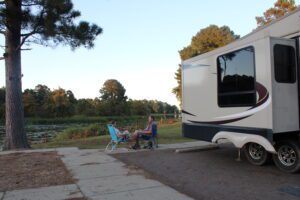 When you live in less than 300 square feet, you have no choice but to be close to your spouse physically and emotionally. Although we visit friends often, we spend at least six months of the year in places where we do not know anyone else. Therefore, we have had to figure out how to be together 24 hours a day without getting on each other's nerves.
Living in small quarters away from friends, our communication skills have improved and we have grown closer. Of course, spending all of your time with your spouse could be a pro or con of living in an RV, depending on how well you are getting along. Never move into an RV with someone you don't love!
365 Days of Summer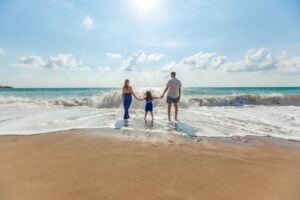 Living in an RV, we get to choose the climate we want to live in each season. Personally, we choose to avoid winter like the plague.
Therefore, we spend winters in southern states, such as Arizona and Florida, and travel more frequently in the summer months. Of course, if you prefer four seasons, you can find RV parks in many winter destinations.
Fewer Household Chores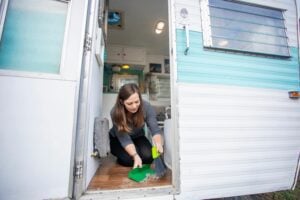 RVs are tiny houses, which means even a deep clean takes less than an hour to complete. A quick clean up typically takes us ten to fifteen minutes.
Even better, we are never responsible for our yard, so we never have to spend a beautiful day mowing and weeding the lawn. The time we used to spend on daily chores is now used for exploring or relaxing at the campground.
Life is Lived Outside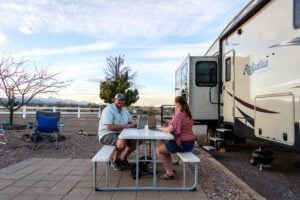 With limited indoor living space, we spend much more time outside. We eat meals at picnic tables, and relax in hammocks. When we are in the mountains, we hike frequently, and when we are on the coast, we go to the beach all the time. Having less house motivates us to get outside and move more than we ever have before.
Working with a View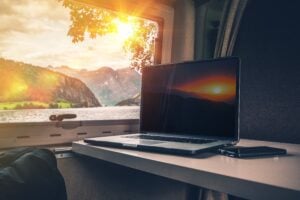 Working from the RV, I only have to walk ten feet to get from my bed to my "office." It is a pretty incredible commute. There are many ways to make money while living in an RV, and most of them allow you to sit outside or by the window and enjoy the scenery.
Being a digital nomad makes the hours I spend working fly by. Once I am off work, I simply have to close the computer and there is adventure waiting outside the door. Selecting an RV with built-in office space makes working from the road even easier.
Freedom
Living in an RV provides freedom in many ways besides just the flexibility of location. The minimalist life style frees you from consumer culture. Having a home on wheels, gives you the freedom to visit family when you are needed. And, cheesy as it sounds, the experiences you have make you feel free inside.
Cons of Living in an RV
Ongoing Maintenance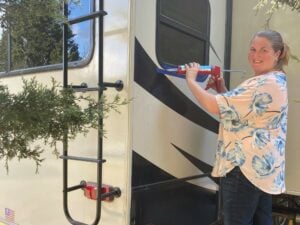 Any homeowner knows that maintenance is an ongoing process and expense. RVs (even new ones) tend to have lots of little issues. We have had a whole host of issues from blown tires to defective gas alarms (we are on our third) going off in the middle of the night.
The upside is that you will quickly learn how much you are capable of fixing yourself. Hiring a professional means finding an expensive mobile repair service or staying in a hotel, so learning to DIY is a necessity. See our RV maintenance checklist for more information on RV projects owners should complete each year.
Missing Friends and Family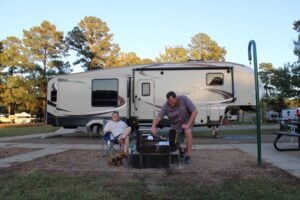 As I mentioned above, our RV lifestyle allows us to have quality time with all of our family and friends. However, we now spend over half the year traveling to far off destinations where we don't know anyone else. It can be difficult to miss group gatherings and only seeing our friends a few times each year.
Lack of Community Services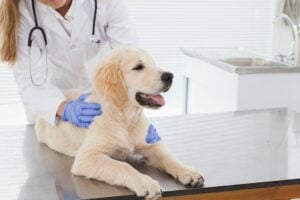 As we move around we have to find new service providers in each location. We try to schedule annual doctor and vet visits in our old hometown, but many things can't wait.
We often have to find new doctors, veterinarians, hairdressers and mechanics. Despite reading reviews online, I have had one awful haircut and several bad service experiences. We print out copies of all our medical and vet records to avoid having to repeat tests with new providers.
Complex Budgeting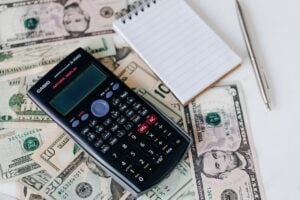 The cost of living varies greatly across the country, which makes sticking to a budget challenging. Fuel prices double in certain parts of the country and RV campground fees differ in each state. Since our bills our not steady each month, we have to constantly evaluate our expenses to stay on budget.
Check out my post on full time RV budgeting and our RV Living Cost Calculator for more detail on our living expenses. Also, use our RV Fuel Calculator to create your monthly gas or diesel budget.
Bumpy Roads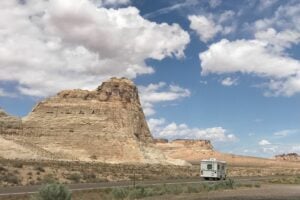 This is not a metaphor. After driving thousands of miles across the country, I can confidently say that most of America's highways are in terrible shape. I am prone to car sickness and uneven lanes and potholes make travel days difficult.
Spending Time at the Laundromat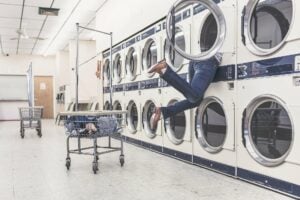 While it is possible to have a washer and dryer in your RV, it is not very practical. RV units take up precious space and are not very efficient. Therefore, we spend at least a few hours per week at the laundromat.
Some RV parks have spacious laundry rooms, but many only have a few washers so you have to get there early to beat the crowd. Many campgrounds also have bans on clothes lines, so we have to air dry delicate clothes inside.
Proximity to Neighbors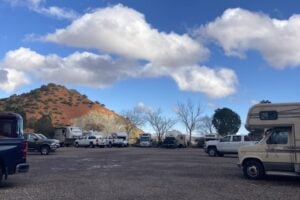 While close neighbors may be a pro for some, it is a con of living in an RV for me. We spend most of our time parked at campgrounds, which means we usually have neighbors only a few feet away.
While it is great to meet new people, the lack of privacy can be taxing. Neighbors often want to chat at inconvenient moments like when you are hooking up. If you take the dog out in the morning without changing out of your pajamas, you will certainly run into a neighbor.
Bugs also Like RV Life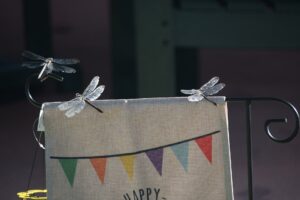 Living near nature in beautiful climates, there are almost always bugs around. Keeping pests out of the RV can be difficult since it is impossible to seal every entry point. Spiders love hanging out in our bathroom, so I have to do a spider sweep before each shower. We have also dealt with a few ant infestations, and our home served as a mosquito haven during our last winter in Florida.
Dumping your Waste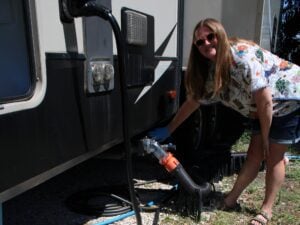 If you are going to live in an RV, you better get comfortable with bathroom talk. We have to dump our black water tank at least once a week, and it is a smelly job. Since our neighbors are close by, we often get the pleasure of smelling their blank tank as well.
Living in such a small space, you also have to deal with bathroom and litter box odors inside the RV. Before moving into an RV, you need to learn about tank maintenance to ensure you avoid any smelly disasters.
No Bubble Baths
Finally, the absolute biggest downside to living in an RV: no bathtub. You may think I am kidding, but this is truly my biggest complaint. In addition to the lack of a bathtub, the length of showers is limited by the size of your hot water tank and water pressure is average at best.
We stay at a few AirBnBs each year while the RV is in the shop to get our fix of long baths and hot showers. However, for our next RV purchase we may splurge on one of these RVs with a bathtub.
---
If you are considering living in an RV (or a van or a bus), I highly recommend it. After weighing the pros and cons of living in an RV, it is definitely the best lifestyle for us. The experiences we enjoy and the time we spend in nature more than make up for any inconveniences we suffer.
Also, its important to see the humor in the cons. Check out our list of funny RV camping memes to enjoy a good laugh.
Are you considering living in an RV? Comment below and let us know what other questions you have.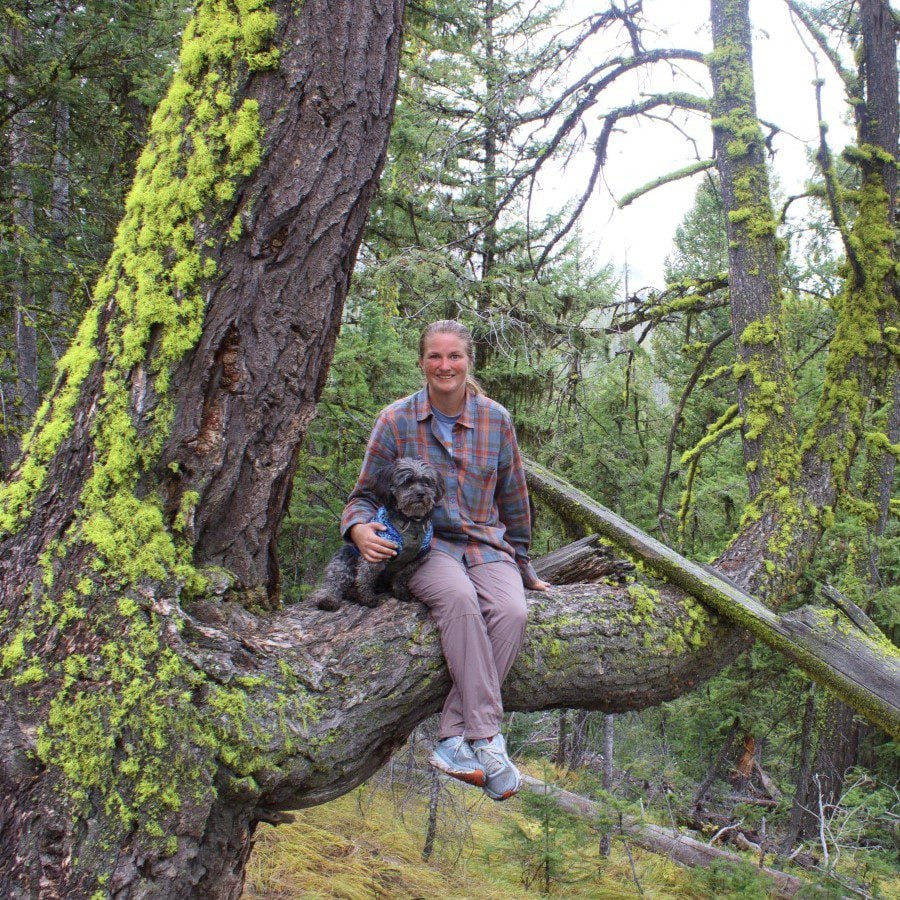 Christina Pate is a seasoned full-time RVer who, along with her husband Justin, has journeyed across the US, Canada, and Mexico. Drawing from her extensive travels, RV repairs and RV renovations, she founded Travels with Ted to guide and inspire fellow RV enthusiasts. Christina is also the co-author of The Owner's Guide to RV Maintenance and the creator of My RV Log Book.