This post may contain affiliate links. See our affiliate disclaimer here.
RVing is a great way to travel and see the country, but it can be an expensive way to camp. Many RV parks with full hookups cost upwards of $40 per night, which can add up quickly, especially if you are a full-timer. Fortunately, there are many great options for free RV camping and parking in America.
Below are 11 places you can park your RV without paying a dime. They range from restaurants with overnight parking to public lands where you can camp for extended periods. Before I share the list of free RV camping spots, I want to clear up some terminology.
Overview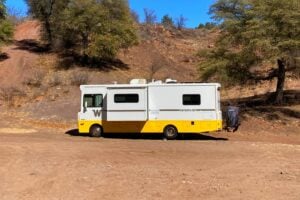 What is the difference between boondocking and free camping?
Boondocking refers to dry RV camping on undeveloped land without any hookups (water, electric or sewer). Dry camping is RV camping anywhere without hookups. Dry camping is not necessarily free, but most boondocking is free.
Stores and Restaurants
Stores and restaurants located near interstates and highways can be a great option for overnight parking on a long RV trip. The Allstays app lists all locations that offer free RV parking. Always call ahead and speak to the manager before parking your RV.
For most of the below retail chains, each location has their own parking policy and it is up to the manager whether overnight RV camping is allowed. Also ask for permission before running a generator or putting down your jacks.
Cracker Barrel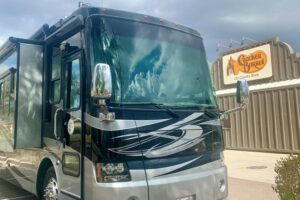 Many Cracker Barrels allow RVs to park overnight in their parking lots. Some of these restaurants even have dedicated parking spaces for RVs and buses. The best part of parking at Cracker Barrel? You can eat a delicious, home style breakfast before continuing your journey.
Read our complete guide to RV parking at Cracker Barrel for more information.
Cabela's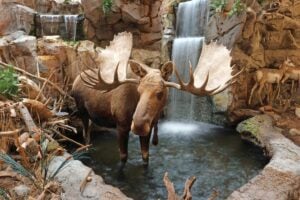 Many Cabela's stores welcome RVers to park in their lots. Typically, the stores have separate RV and truck parking available. Some Cabela's even provide dump stations (for a fee) so you can dump your tanks before leaving the next day.
Walmart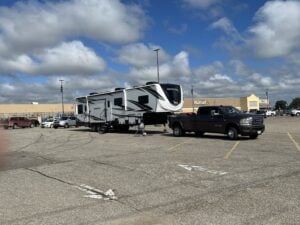 Camping overnight in a Walmart parking lot is a right of passage for full-time RVers. While Walmart may not be the most scenic free camping spot, it is convenient. Most Walmarts are open 24 hours, sell everything you could need (including RV supplies) and have bathrooms inside.
Not all Walmart stores allow overnight RV parking, read our complete guide to camping at Walmart to learn more.
Casinos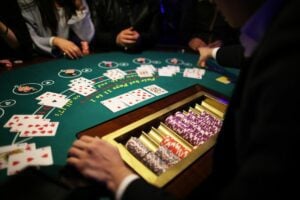 Many casinos across the country offer free parking for RVers. Casinos make for a more exciting overnight stop than retail stores and restaurants. You can eat a good meal and try your hand at black jack without unhooking your trailer or tow vehicle.
Public Lands
Public lands are a quieter, more scenic option for free RV camping. Both BLM properties and National Forests allow RVers to park for free on their land. You can search for free camping on public lands using the Allstays app or Campendium.
Make sure to familiarize yourself with Leave No Trace principles and check current burn bans before camping on public lands. Ensuring these beautiful lands are available for the next generation is every camper's responsibility.
See our definitive guide to boondocking to learn more about camping on public lands.
BLM Land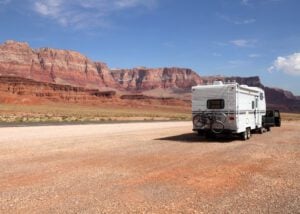 The Bureau of Land Management allows RVs to park for free on their land. Free RV camping is permitted along secondary roads on BLM land. Campers should look for flat, disturbed areas to identify campsites.
Only park on existing campsites to avoid creating new disturbances in the landscape. The maximum stay varies by location, but is typically 14 days within a 28 day period.
National Forests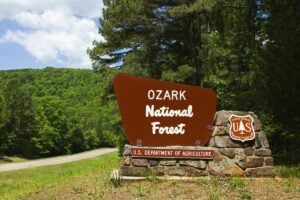 There are National Forests with free RV camping all over the western half of the United States. Many National Forests offer developed campgrounds with amenities, such as picnic tables and fire rings. However, there is usually a fee to stay at developed campgrounds.
To camp for free, you can boondock on National Forest land outside the campgrounds. This is also known as dispersed camping. Dispersed camping areas don't have bathrooms or many of the other amenities you will find at developed campgrounds.
Dispersed camping in National Forests is only allowed at designated areas. Contact the nearest U.S. Forest Service office to confirm where dispersed RV camping is allowed. The maximum stay allowed varies from 3 to 30 nights.
Wildlife Management Areas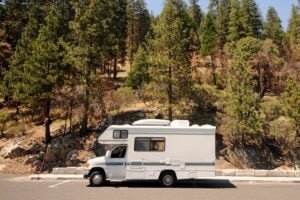 State and National Wildlife Management Areas also allow free RV camping on their land. Wildlife Management areas are created for the conservation of wildlife, so they provide a great opportunity to get outside and view the local fauna.
Because many of the areas are managed by states, the rules and maximum stays vary by location.
Free RV Camping Clubs
Camping clubs charge a small, annual fee to utilize their platforms. Once the annual fee is paid, RVers can access unlimited free, overnight RV parking.
Harvest Hosts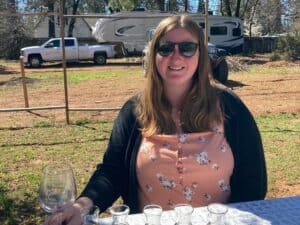 Harvest Hosts is a club that offers free RV parking at wineries, breweries, farms, museums and golf courses across the country. Some of the most unique camping spots include alpaca farms, an active salt mine and an air museum.
The program also provides an opportunity to support local businesses and meet the people who run them. Sign-up now using this link and receive 15% off your Harvest Host membership.
Boondockers Welcome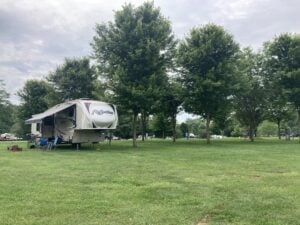 Boondockers Welcome connects members with free RV parking on private property. Host members offer free camping in their driveway or on their land. While there is a fee to join, you can earn subscription credits by becoming a host in the program.
Boondockers Welcome is also expanding globally with host sites available in Europe, Australia and New Zealand. Read our complete guide to Boondockers Welcome for more details.
Thousand Trails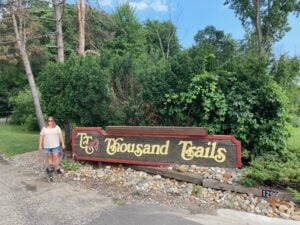 Thousand Trails is an RV club with 82 membership campgrounds across the country. Thousand Trails members stay at these campgrounds without paying any nightly fees.
Basic and upgraded memberships levels offer different maximum stays, booking windows and benefits at partner campgrounds. See our complete guide to Thousand Trails membership levels for more information.
Friends and Family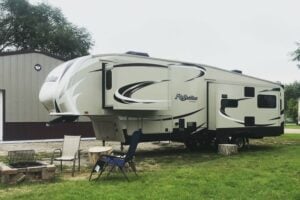 Moochdocking
Moochdocking is camping for free in a friend or family member's yard or driveway. This is an awesome way to RV camp for free. You can utilize all the amenities of your friend's house, but still sleep in your own bed at night.
Depending on how much they like you, friends may even let you plug in to their electricity and use their water. If plugging in to a house's 120 volt electric, do not use your microwave or air conditioner. We have had some great nights moochdocking in friends' backyards, and we even have two friends that offered 50-amp plug ins.
---
Utilizing free RV camping spaces is a great way to save money while traveling the country. See our guide to finding free places to dump RV waste to save even more!
If you are interested in living in an RV, see our article on creating a budget to better understand all of the expenses associated with the lifestyle. Then checkout, our 10 top tips to make RV camping cheaper.
Have you stayed at a great, free campsite? Share your favorite fee-less RV camping spots in the comments below.
Happy Camping!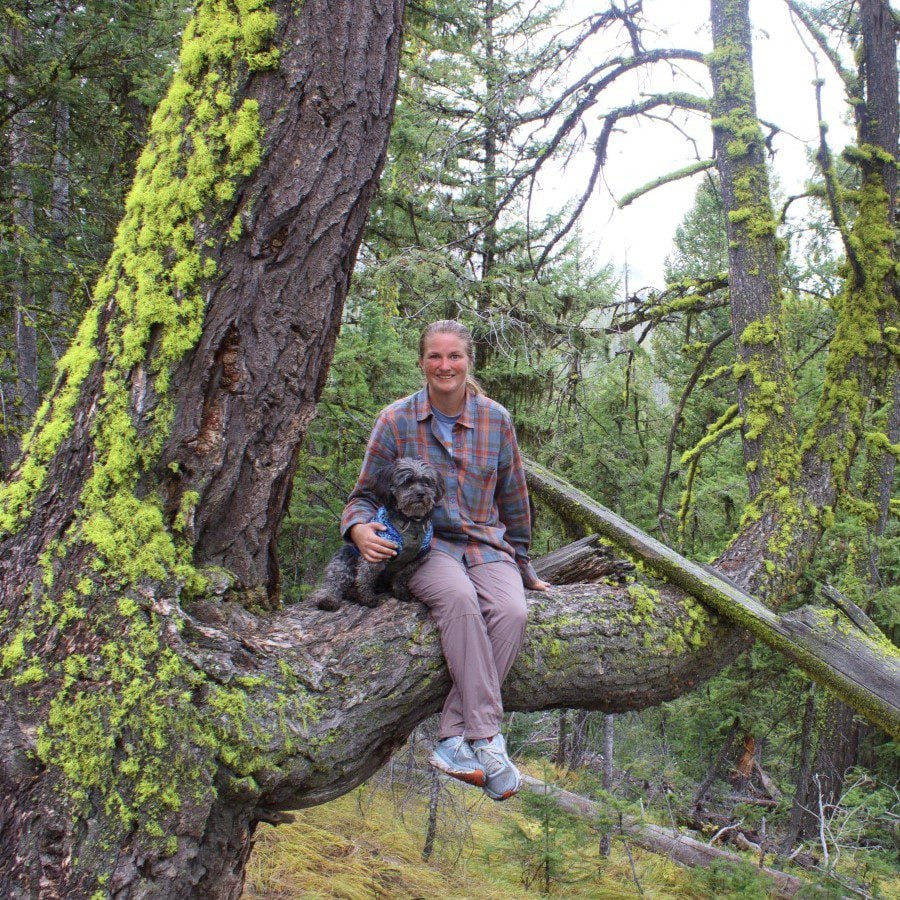 Christina Pate is a seasoned full-time RVer who, along with her husband Justin, has journeyed across the US, Canada, and Mexico. Drawing from her extensive travels, RV repairs and RV renovations, she founded Travels with Ted to guide and inspire fellow RV enthusiasts. Christina is also the co-author of The Owner's Guide to RV Maintenance and the creator of My RV Log Book.