This post may contain affiliate links. See our affiliate disclaimer here.
A good RV patio mat will protect your patio from the elements and make it a more comfortable place to spend time. It will also help to keep your RV clean and tidy by preventing dirt and debris from being tracked inside.
In this blog post, we share the 10 best RV patio mats on the market.
How to Choose the Best RV Patio Mat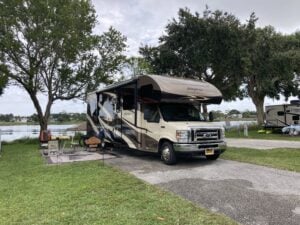 When choosing an RV patio mat, there are a few things to keep in mind:
Size
Make sure to choose a mat that is the right size for your patio. You want the mat to be large enough to cover the entire area, but not so large that it is difficult to manage.
If your RV has a slide out, we recommend getting a mat that is the same length as the distance from the front of the RV to the start of the slide. If you RV doesn't have a slide out, you may want a mat that is close to the same length as the RV.
Material
RV patio mats are available in a variety of materials, including polypropylene, polyester, and vinyl. Choose a material that is durable, weather-resistant and easy to clean.
Portability
For full-time RVers and campers who travel frequently, portability is also an important consideration. Consider the total weight of the mat, and how easy it is to fold and store.
If you have limited storage space in your RV, try to purchase an RV patio mat with a carrying case.
Design
Finally, when choosing the best RV patio mat, consider the color and design. Your RV patio mat will be in all the pictures of your campsite, so pick something cute that coordinates with your outdoor furniture.
10 Best RV Patio Mats
Design-wise, the Anidaroel Outdoor Area Rug is my favorite RV patio mat. It's bright yellow sunshine pattern is sure to bring joy to any campsite. Made of 100% premium recycled polypropylene, the mat is breathable and waterproof.
Available in a variety of sizes, this mat can be great for any campsite. A medium-size version of the rug weighs less than 5 pounds, and all sizes include a carrying case for easy storage. The mat also has corner loops, so it can be staked down.
Camco Handy Mats are some of the best small RV patio mats. These 5-foot by 6.5-foot mats weigh less than 2 pounds. With the attached strap, the mat easily folds up to become its own carrying case.
This small mat is perfect for full-time RVers who want a mat for their campsite that can also be used on day trips to the beach and other destinations. Design options include striped prints in 3 different colors.
Camco also make large RV mats for your campsite's patio. This black and white, checkered print mat is 9-feet by 12-feet. It looks especially good with brightly colored camping chairs.
The reversible mat is made from lightweight, breathable material that will not trap rain or snow. It is also UV-coated to prevent wear from the sun. Campers will find this mat to be easy to clean, fold and store.
CGEAR's RV camping mat is built with "sand-free technology." The unique weave construction allows dirt, sand, soil and moisture to easily pass through. Although it is hard to get this mat dirty, it is easy to clean with a simple water rinse.
This awesome RV patio mat is available is 3 sizes (all 8-feet wide with a variety of lengths), and 2 colors (orange and blue). It packs neatly into a included carrying case for travel, and comes with brass eyelets in each corner for staking it down.
Overall, Fab Habitat's outdoor rugs are some of the best RV patio mats. These rugs are available in several sizes and a huge variety of colors and patterns. Made from 100% premium recycled plastic tubes, the rug is also recyclable.
The material does not absorb moisture and is stain resistant. Instead of folding for storage, these rugs are rolled up and secured with an elastic band. Smaller sizes also include a carrying case.
Another line of RV patio mats available in a large variety of sizes and colors is FH Home's outdoor camping rugs. For a fun, but classic look, select their black and white Aztec print.
These lightweight rugs are reversible and water and stain resistant. They are also deigned to easily fold up into a compact rectangle for storage. Loops at each corner provide a way to anchor the rug on windy days.
Made by the king of RV accessories, Lippert's All-Weather RV Patio Mats are a great option for any campsite. These mats are available is 3 sizes (all 8-feet wide) and 4 different colors.
Featuring a 100% polypropylene fabric construction, the mats are resistant to outdoor elements and made to hold up through rain, sun exposure and foot traffic. A carrying case is included, and each corner has a reinforced loop for staking the mat down.
With timeless black and beige design, the Sand Mine Reversible Mat is as elegant as it is functional. The lightweight mat is available in several sizes, including a large 9-feet by 18-feet version.
The rug is made to fold into a compact size and comes with a carrying case for easy transport. It also comes with corner loops and 4 stakes, so it is easy to secure to the ground.
The swirl-patterned RV patio mats by Stylish Camping match the decals on many RVs. The swirl pattern mat is sold in a a variety of colors, so you can find an option that perfectly matches your RV's exterior.
Available in variety of sizes up to 9-feet by 18-feet, these mats can also fit any campsite. Made with a woven, quick dry material, these mats are lightweight and easy to fold. A carrying case is included, and there are corner loops for staking the mat down.
Stylish Camping also makes these reversible RV patio mats with a fun, outdoorsy print. At 9-feet by 12-feet, these mats are a medium size. They are also easy to fold and include a carrying case.
Made from soft and durable virgin polypropylene material, the mats are UV-coated, easy to clean and quick to dry. Corner loops are attached, so the mat can be staked down at your campsite.
---
Thanks for reading our guide to the best RV patio mats! We hope you found the perfect outdoor rug for your RV campsite.
For more great campsite furniture and accessories, see our list of 20+ adorable RV campsite decorating ideas.
Happy Camping!