This post may contain affiliate links. See our affiliate disclaimer here.
Wrapping an RV is a popular way to customize the exterior of your vehicle without having to repaint it. It can also be a good way to protect your RV's paint job from the elements. But is wrapping an RV a good idea?
In this article, we'll take a look at the pros and cons of wrapping your RV, and help you decide if it's the right choice for you.
What is an RV Wrap?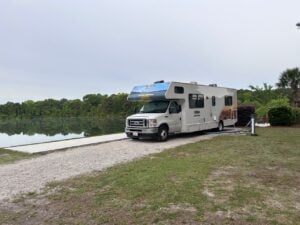 An RV wrap is a specialized form of exterior customization that involves applying adhesive vinyl material to the exterior of the recreational vehicle. These wraps are designed to transform the RV's appearance.
Think of it as a giant, custom-made sticker for your RV. Many RV wraps are created by business owners who want to use their RV to advertise their business.
Reasons to Wrap an RV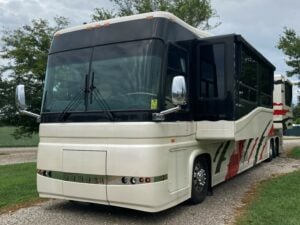 There are several reasons RV owners choose to wrap their RV. Here are a few common reasons.
Customization
Just as many RVers remodel their RV's interior to make it feel like home, some RVers want to customize the exterior of their RV. Wrapping an RV allows you to create an RV exterior that is unique to you.
Refinish the RV Exterior
While some RVers may choose to wrap a new RV with a custom print, others choose to wrap their RV because the exterior is in need of a makeover. After years of use, RV decals can start to fade or peel, leaving the RV looking worn out.
When an RV exterior needs to be refinished, wrapping the RV is a good alternative to painting the entire RV or replacing the decals.
Advertising
Wrapping an RV is also a way to create a mobile billboard. Many RVers design custom wraps that advertise their business. We have seen custom RV wraps promoting a campground membership and travel websites.
Cost of Wrapping an RV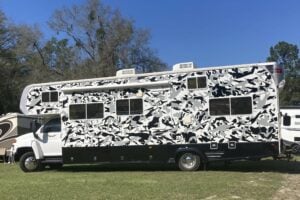 If you are considering wrapping your RV, you are probably wondering how much it will cost. Of course the cost of the wrap will depend on the size of your RV, the design of the wrap and the company you hire.
A complete wrap of a mid-size RV generally costs around $10,000.
More specifically, I was quoted $10,640 for a full wrap of my 34-foot fifth wheel. This including wrapping the entire RV exterior, including the sides of the slide outs. It did not include designing the wrap.
If you are interested in wrapping your RV, but cannot afford a full wrap, wrapping half the RV is also an option. Putting a custom wrap on just one side of the RV is a more affordable option.
Benefits of Wrapping an RV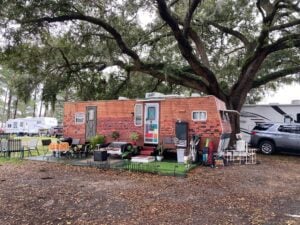 Reversible
Compared to painting an RV, wrapping is preferable because it is reversible. If you are wrapping your RV to personalize it or advertise your business, the wrap isn't likely to be appealing to other travelers.
Vinyl RV wraps can easily be removed, which makes them ideal for RVers who are worried about maintaining the resale value of their rig.
Cheaper than a Custom Paint Job
While wrapping an RV is not cheap, it can be less expensive than a professional exterior paint job. A wrap is often a better option financially, especially if the RV owner wants custom details instead of a solid finish.
Protect your RV
A quality vinyl wrap can also serve as an added layer of protection for your RV's exterior. The wrap protects the RV's original paint job from scratches, debris and weather damage.
If the wrap is removed to the sell the RV, the exterior will be in great shape.
Disadvantages of Wrapping an RV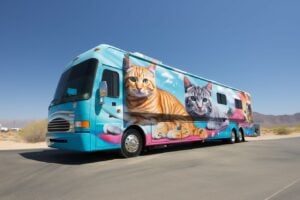 High Cost
If your RV is not in need of a exterior renovation, it can be hard to justify the cost of wrapping your RV just for cosmetic reasons. Since the wrap is removable, it will not decrease the value of your RV, but it also probably will not increase the value either.
Unless your wrap is for advertising purposes and you run a business whose customer-base is other campers, it will be hard to see a return on your investment.
RV Park Restrictions
Some RV parks have rules restricting the types of RVs that are allowed at their campsites. The most common of these restrictions is the 10-year rule, which bans RVs that are more than a decade old.
However, some upscale RV parks also prohibit advertising and do not allow RVs with custom wraps advertising a business. If you often stay at high-end RV resorts, you should think twice before wrapping your RV.
Insurance Requirements
Wrapping an RV may also impact the type of insurance policies that will cover your rig. If you wrap an RV with an advertisement, your insurance company may require that you have commercial insurance for the RV.
If you plan to wrap your RV with an advertisement, consult your insurance company first to make sure you have the right coverage.
How to Maintain your Wrapped RV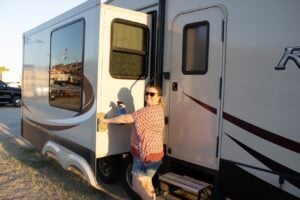 If you decide to move forward with wrapping your RV, it is important that you care for it properly. No one wants to spend thousands of dollars on a custom exterior remodel only to have it damaged from improper care.
How to Wash your Wrapped RV
Vinyl wraps are relatively easy to clean, but it's important to avoid using harsh chemicals or abrasive tools, as these can damage the film. Instead, use a mild soap and water solution and a soft microfiber cloth.
Be sure to rinse the wrap thoroughly after washing to remove any soap residue. Once dry, you can apply a silicone or Teflon based polish designed for vinyl vehicle wraps for added protection.
Inspect your RV Wrap Regularly
It's also important to inspect your RV wrap regularly for any signs of damage, such as tears, rips or peeling. If you notice any damage, have it repaired immediately by a professional wrap installer.
---
Thanks for reading our complete guide to wrapping an RV. Now, you will be able to make an informed decision on whether or not an RV wrap is right for your rig.
Happy Camping!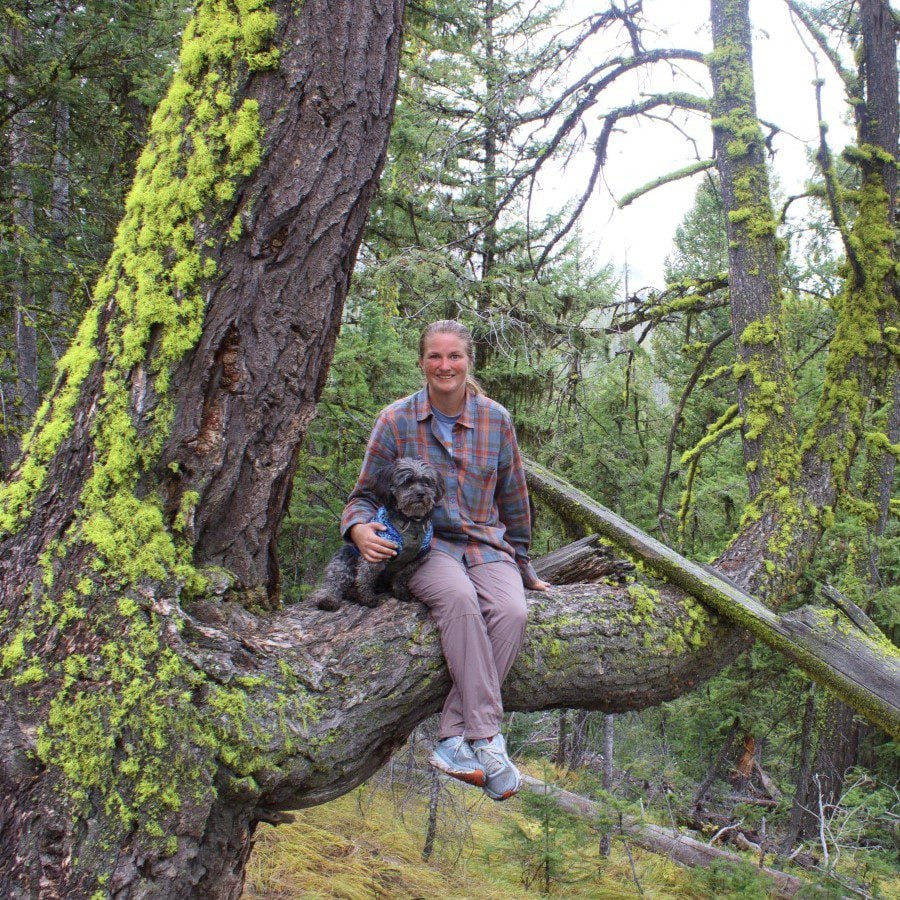 Christina Pate is a seasoned full-time RVer who, along with her husband Justin, has journeyed across the US, Canada, and Mexico. Drawing from her extensive travels, RV repairs and RV renovations, she founded Travels with Ted to guide and inspire fellow RV enthusiasts. Christina is also the co-author of The Owner's Guide to RV Maintenance and the creator of My RV Log Book.