This post may contain affiliate links. See our affiliate disclaimer here.
Interested in a new solution for RV trip planning or GPS for RVs? RV LIFE Pro is an awesome suite of tools designed to make RVing easier. Keep reading our RV LIFE Pro review to find out if this platform is right for you!
What is RV LIFE Pro?

RV LIFE Pro is a suite of tools designed to make camping simple. The tools within the RV LIFE Pro suite include:
An RV Safe GPS
A Visual RV Trip Planning Tool
Access to Detailed Campground Reviews
An RV Maintenance Tracker
RV LIFE Masterclass Online Courses
RV LIFE Community Forums
RV LIFE Pro Coupon Code
If you already know you want to purchase RV LIFE Pro and are just looking for a coupon code, simply click this link and enter code TRAVELSWITHTED at checkout for 25% off your first year!
Note: When using our exclusive RV LIFE Pro discount, new users must sign-up on rvlife.com. The code does not work in the RV LIFE mobile app.
How Much Does RV LIFE Pro Cost?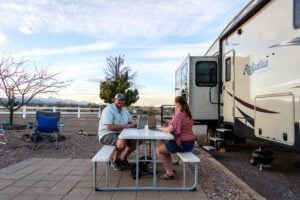 RV LIFE Pro costs $65 per year. The annual subscription includes full access to all of the tools listed above. All annual memberships include a 7-day free trial. With our exclusive coupon code (TRAVELSWITHTED), your first year of membership will only cost $48.75.
RV LIFE also offers monthly subscriptions for $19.99. Monthly memberships do not include a free trial. RV LIFE Pro coupon codes are also not valid for monthly memberships.
If you are not ready to sign-up for the full RV LIFE Pro membership, you can still use some of the RV LIFE features for free. A free membership includes access to RV forums, access to campground reviews and RV classified ads and use of the basic features of the RV LIFE App.
Benefits of RV LIFE Pro
Now that you have a basic understanding of what RV LIFE Pro is, let's dive into the details of member benefits.
RV LIFE App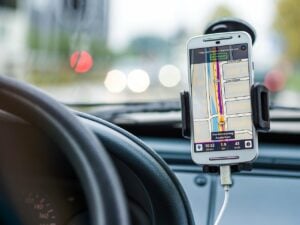 Many of the benefits of RV LIFE Pro are housed in the RV LIFE app. The app is available on iOS and Android and makes it easy to access the program's tools from your phone.
RV Safe GPS
The best feature of the RV LIFE app is the RV safe GPS. Customized for the weight and height of your RV, the RV LIFE GPS helps you avoid steep mountain passes, low clearances, bridges with weight limits and propane-restricted tunnels.
The GPS provides turn by turn navigation with voice guidance, and works even when you are offline.
Campground Search Reviews
Campers can use the app to easily find their next campground. The awesome search feature in the RV LIFE app, allows you to set advanced filters to match your preferences so you can find the perfect campsite quickly.
Filters include price, rating, amenities, affiliations (Good Sam, Passport America, KOA, FMCA and more), kid friendly, pet friendly and big rig accessible.
RV travelers can also access over 500,000 campground reviews from the RV LIFE app. The detailed reviews, collected from other RVers, include photos, lists of amenities and cell coverage information. The reviews are also available offline for RV LIFE Pro members.
If a member has an unanswered question about a campground or RV park, they can ask their question in the app to be answered by other members.
Local Tips
In addition to campground reviews, RV LIFE Pro members have access to tips from other travelers about what to do at their destination. The app contains suggestions about what to do, where to eat and places to visit near each campground.
RV News and Information
The RV LIFE Pro app also includes access to the latest articles on RV camping. App users can stay up to date on all things RVing with articles on new RV products, RV safety tips and RV renovation tips.
For more great information on RVing, check out our list of the best free RV magazines.
RV LIFE Trip Wizard
The next feature included in an RV LIFE Pro membership is the RV LIFE Trip Wizard. Built specifically for RVers, the visual RV trip planner has the most advanced features available.
The trip planner allows you to search for and plan stops on your next RV road trip. Simply select campgrounds on the map to read reviews. Then, select your desired campground and the trip planner will automatically calculate the best RV safe route and estimated travel time.
The trip planner even indicates where you will run low on fuel, so you can pre-plan fuel stops at RV friendly truck stops or gas stations.
Once you've created your trip online, you can easily access the trip from the RV LIFE app. Open a planned trip to quickly get RV Safe GPS directions, and access your trips when you have no internet connection.
RV LIFE Maintenance Tracker
RV LIFE Maintenance is a cloud-based service that works on your tablet, computer and smartphone. It tracks upcoming maintenance dates and sends detailed reminder emails, showing what needs your attention, and also the last time you performed that task, its costs, and related documentation.
The tool also allows you to track fuel consumption, so you can budget more accurately. Track fuel consumption and cost based on the terrain you travel, towing load and generator use.
One of the best ways to save money while RVing is to learn how to perform your own maintenance. For step-by-step RV maintenance instructions, purchase our eBook: The Owner's Guide to RV Maintenance.
RV LIFE Masterclass
RV LIFE Masterclass is your place to get instant access to online courses where RV experts share tips about purchasing your RV, transitioning to full-time in your RV, boondocking and more.
Signature courses include Mobile Internet Explained, Ready to Roadschool and RV Buyers Bootcamp.
RV LIFE Communities
RV LIFE Communities are online forums that connect members to other RVers. With over 20 RV forums covering a range of brands, RV types and general RVing, the communities are filled with friendly, knowledgeable RVers, and new RVers looking to learn.
Is RV LIFE Pro Worth It?
At $65 per year (or $48.75 using our discount code TRAVELSWITHTED), we think RV LIFE Pro is a great value. Many RV safe GPS tools cost hundreds of dollars, even though their software becomes outdated quickly.
The RV LIFE Pro GPS is in a convenient app and automatically updates as needed. Therefore, we think this feature alone is worth the $65 annual membership. With the maintenance tracker and trip planner also included, RV LIFE Pro is a great value!
---
Thanks for reading our detailed review of RV LIFE Pro. If you plan to sign-up for a membership, don't forget to use our coupon code TRAVELSWITHTED for 25% off your first year!
If you are planning an RV road trip, check out our full list of essential RV travel apps.
Happy Camping!