This post may contain affiliate links. See our affiliate disclaimer here.
Class C toy hauler RVs are rare, but they do exist. In this article, we will share the best (and only) 2023 Class C toy haulers available, and all the reasons why you would want to own one.
Once you find the perfect RV, you will also need to buy lots of gear to keep you safe and happy while traveling and camping. Check out our Amazon shopping list for all the gear you need to successfully hit the road.
What is a Class C Toy Hauler RV?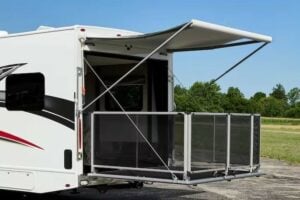 Class C toy haulers are small motorhomes with a rear garage space to haul toys such as kayaks, motorcycles or golf carts. Simply put, a Class C toy hauler is just a Class C RV with a garage.
While there are plenty of travel trailer and fifth wheel toy haulers on the market, there are only two brands that make Class C toy haulers: Thor Outlaw and Coachmen Cross Trail. The Thor Outlaw is the only 2023 Class C toy hauler with a full rear garage and rear patio.
All of the current year Class C toy haulers have a gas engine.
If you would rather drive your motorcycle on your road trip, check out these tiny but awesome motorcycle campers.
What are the Benefits of Class C Toy Haulers?
Hauling Toys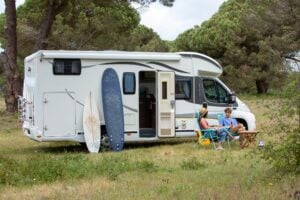 The main reason to purchase a Class C toy hauler is for the garage storage space. Built-in garages allow RVers to bring fun toys along on their camping trips. Class C toy haulers can carry motorcycles, golf carts, kayaks and other toys inside the RV.
Not having to tow a trailer for toys, also means you have the ability to tow a car behind the RV for daily use. With these Class C toy haulers, you can bring your adventure vehicles and your everyday car on your camping trips.
Extra Interior Space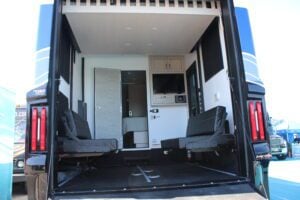 The garage space built for hauling gear, also serves as an additional room in these Class C RVs. Once you are parked, and the toys are pulled out, this room can easily be converted for another use.
Common uses for the garage room, include an extra bedroom, an office space or a craft room. However, the possibilities are endless.
Built-In Patio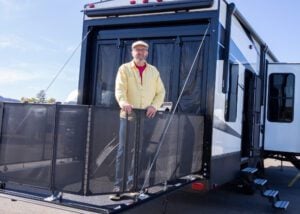 Another big benefit of some Class C toy haulers is a large rear porch. In these models, the rear garage ramp converts into a patio with railings around the side.
The patio makes the RV feel bigger as your living space continues outside. Patios are also great because they allow campers to step outside without worrying about dirt or bugs.
Compact Rig for Big Adventures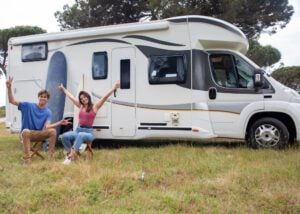 While Class C toy haulers can carry all your gear, they are small compared to Class A toy haulers or travel trailer toy haulers being pulled by a large truck.
The small size of Class C toy haulers allows campers to take them to more campsites and more off-grid locations. They are also easier to drive than a large motorhome.
The Best Class C Toy Haulers
Thor Outlaw Class C Toy Haulers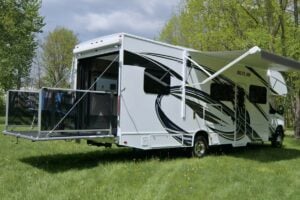 Thor's Outlaw Class C Toy Haulers are the only true Class C toy haulers on the market. These toy haulers are just over 31-feet long and feature awesome garages!
With a garage capacity of 1000 pounds, the Thor Outlaws can haul most motorcycles or tons of non-motorized toys. Other notable features of these RVs include an onboard gas generator, a 100-watt solar charging system, a 1000-watt inverter and a tankless water heater.
There are two Thor Outlaw Class C toy hauler floorplans currently available: the 29J and the 29T.
Thor Outlaw 29J
The more expensive of the two Thor Class C toy haulers, the 29J starts at $180,000. One of the premium features of this floorplan is the rear patio. The cargo ramp converts into a porch with a bug screen to keep critters outside.
Inside the 29J, the 8-foot by 8-foot garage doubles as the master bedroom. A queen-size bed drops down from the ceiling, and can be lifted up when using the garage for hauling or working.
Entering the RV from the garage, there is a three-piece bathroom on one side of the RV and a galley kitchen on the other side. The main living area includes two jack-knife sofas.
Thor Outlaw 29T
Starting at $170,000, the Thor Outlaw 29T does not have a rear patio, but it does have more garage space. The 8-foot by 10-foot garage has plenty of space for toys. It also has more headroom than the 29J garage because it does not have a drop-down bed.
Entering from the RV garage, there are doors on either side housing a split bathroom. The main living area houses a galley kitchen, a Murphey bed that converts into a sofa and a wardrobe closet.
Coachmen Class C Toy Haulers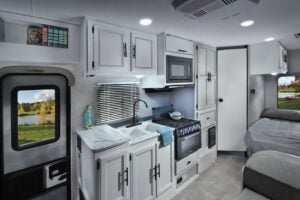 If you are interested in a smaller class C RV with garage storage space, Coachmen makes three semi-toy haulers with garage storage space inside the RV and exterior access doors.
Since the garages do not have ramps, they are not suitable for carrying motorized toys. However, the space is perfect for carrying bikes, kayaks and other adventure gear.
Coachmen Cross Trail XL 22XG Class C Toy Hauler
The Cross Trail XL 22XG is 24 feet, 3 inches long. The rear door is located just behind the raiseable queen bed, and the space under the bed serves at the garage space.
The interior of the 22XG also include a galley kitchen, a large dinette booth and an overcab bunk. In the rear of the RV, next to the bedroom/garage, is a three-piece bathroom.
Coachmen Freelander 22XG
The Coachman Freeland 22XG is the same length and has the same interior floorplan as the Cross Trail XL 22XG. The garage space is also in the rear of the RV under a Murphy bed.
The main difference between the two models is the weight rating. The Freelander has a GVWR of 14,500 pounds, while the Cross Trail's GVWR is 12,500 pounds.
Coachmen Cross Trail EV 20XG
The Coachmen Cross Trail EV 20XG is a small, unique Class C Toy Hauler. It is 24 feet, 1 inch long and has a GVWR of 11,000 pounds.
The rear of the RV houses a double power bed which can be raised up and down. Under the raised bed is rear storage garage with tons of space. The storage area can be accessed from inside the RV or via exterior doors.
The Cross Trail EV 20XG also has a galley kitchen with a refrigerator, two-burner cooktop and microwave and a cross-hall bathroom with toilet and sink on one side and a shower on the other.
---
Thanks for reading our complete guide to the best Class C Toy Haulers. If you want to haul toys on your camping trip but need a little more space, check out our guide to the best Class A toy hauler motorhomes.
On the other hand, if you want something more affordable, check out our guide to the best small toy haulers.
Happy Camping!