This post may contain affiliate links. See our affiliate disclaimer here.
Many nomads and homesteaders are converting school buses into tiny homes on wheels. However, keeping a Skoolie conversion registered as a bus is not ideal for travelers. Registering the school bus as a recreational vehicle will lead to lower insurance premiums and negate the need for a special driver's license. Keep reading for a step by step guide on how to register a bus as an RV.
If you are new to Skoolie life, also check out our list of 25 steps to prepare for full-time RV living. This complete guide details everything you need to accomplish to make your move into a home on wheels a great experience.
Why Register a Bus as an RV?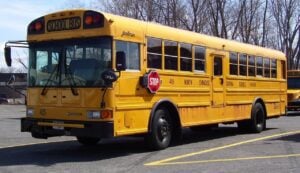 Before we get into the details of how to register a bus as an RV, let's go over the reasons it is a beneficial change.
Insurance
Many insurance agencies will not insure a retired school bus if it is still registered and titled as a commercial use bus. While the policies for insuring a bus conversion vary by state and insurance company, all Skoolie owners will have more insurance options if they register their bus as an RV. For more details on the process of insuring a bus, check out Trail and Summit's guide to getting a Skoolie insured.
Drivers Licenses
If your school bus is still registered as a commercial vehicle, many states require you to have a CDL (commercial driver's license) to drive the bus. However, if you register the bus as a recreational vehicle for personal use, you can drive in many states with a regular license. Some states still require special licenses for personal vehicles over 26,000.
How to Register a Bus as an RV
Contact the DMV
The first step to register a bus as an RV is to contact your state's Department of Motor Vehicles. Each state has slightly different requirements to register a bus as an RV, so you should confirm the exact requirements in your state early in the process.
Ideally, you should contact the DMV before the bus is purchased or early in the renovation process. Since school bus conversions are still relatively rare, be prepared for the first person you contact to be unsure of the process. Contact different offices or departments until you find A DMV employee who is knowledge about buses and recreational vehicles.
Common state requirements to register a bus for personal use, include:
Removing seats so the bus cannot carry more than a certain number of passengers
Having a kitchen area, including a cooking appliance and refrigerator in the vehicle
Having a sink or potable water supply
Having a toilet with a proper evacuation drain
120 volt power supply
Having a dedicated sleeping area
Having heating and/or air conditioning units not powered by the engine
Painting exterior another color than yellow
Removing all school insignia
Document the Conversion Process
Some states, like Texas, will require photo documentation of the build process or the final conversion. Simply photograph all the major changes to the vehicle starting with its original condition. Take extra photos of any of the systems required by your DMV just in case there are questions.
Schedule an In-Person Inspection
While some states will accept photos as proof of conversion and required systems, other states, such as Illinois, will require an in-person inspection by a DMV official. Scheduling the inspection can be a bit difficult as all the required systems and appliances must be fully installed before the inspection. When you initially contact your DMV about the requirements, also ask about wait times for an inspection. Try to schedule the appointment after your desired completion date, so you have buffer time for unforeseen delays.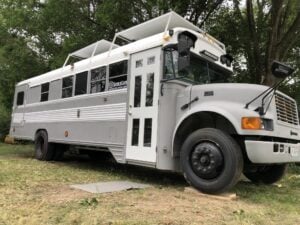 Gather Additional Documents
In addition to proving that the converted bus meets the state's requirements for a recreational vehicle, most states will required additional documents for the new registration. These documents include:
Current Title: The current, clean title for your bus
Bill of Sale: The purchase receipt should include the VIN, the year, make, and model of the bus, purchase price, purchase date, seller's name and address, buyer's name and address, and the odometer reading
Primary Driver's License: Make sure you have the proper license required by your state if your bus weighs 26,000 pounds or more
Certified Weight Ticket: Some states require you to weigh your vehicle at truck stop or other weight station and bring in the official weight certificate.
Submit Application for Registration
Once the conversion is complete, submit all of the documents to your state's Department of Motor Vehicles and wait to see if the registration is approved. Most Skoolie owners wait a few weeks to receive their updated registration.
The Easier Way to Register a Bus as an RV
If all of the above sounds too daunting, don't worry! There are a few states that make registering your school bus as an RV a much simpler process. Vermont has the easiest process of any state.
First of all Vermont forgoes all of the conversion requirements except repainting the bus's exterior and removing any school insignia. Once the painting is complete, obtaining a recreation vehicle registration is super easy.
For any vehicles over 15 years old, Vermont will issue the owner a transferrable registration. They do not issue a new title, but the Vermont registration can be taken to any other state to obtain a new registration and title. For vehicles newer than 15 years old, Vermont will issue a new, RV title for the vehicle.
How to Register a Bus as an RV in Vermont
The process of obtaining a new title and/or registration in Vermont is pretty straightforward. Bus owners do not have to be Vermont residents to register their vehicle. Simply follow the below steps and your new documents should be ready in 1 to 2 months.
Download form VD-119 from the Vermont DMV website
Fill out section 1 of VD-119 with your personal information
Skip sections 2 and 3A
Fill out section 3B with the seller's information
Under section 4, check New Registration
In section 4, leave the Plate Number and Expiration fields blank, and write "Motor Home" in the Plate Type field
Fill out section 5 with the relevant information from your bus's title and fill out the axles and weight information in the Trucks section
In section 6, put the price you paid for the bus under purchase price. Most buses do not have a NADA value, so you can leave that field blank.
To calculate the Net Taxable amount, simply multiply the purchase price by 6 percent. For example, if you paid $10,000 for your bus, the net taxable would be $600 ($10,000 X .06)
Leave section 7 blank unless the bus is older than 25 years
In section 9, calculate your total fees. For older buses applying for a transferrable registration, the fees will be the registration fee plus the taxes calculated in section 6. For newer buses who want to receive a title, a $35 title fee should also be added.
Sign and date the form
Gather the additional documents required, including a copy of the title (for buses older than 15 years old), the original title (for buses newer than 15 years old), bill of sale, check for all fees owed and a handwritten note itemizing the fees paid
Also include a VIN verification if your vehicle does not meet the ownership requirements detailed on page 3 of the VD-119 form
Mail all the above documents to the Vermont DMV
Always double-check the requirements and fee amounts with the Vermont DMV, and on this awesome thread at Skoolie.net before completing and mailing in the registration request in Vermont.
Is a Skoolie the Right RV for You?
As it is easy to see from the registration process, everything with a school bus conversion is significantly more difficult than buying or remodeling an RV or motorhome. If you are still in the process of purchasing a home on wheels, consider the following factors before deciding if a Skoolie is right for you.
Paperwork Headaches
The registration process is a great example, but insurance can also be difficult. While there are standard practices for registering and titling travel trailers and motorhomes, school bus conversions are usually seen as a unique situation. This makes finding insurance agents and DMV employees who are knowledgeable about the proper procedures difficult to find. If you are going to convert a school bus, you will need to dedicate significant time to find insurance and ensure the bus is properly registered.
Renovation Timeline and Budget
Most traditional RVs are functional when purchased. While cosmetic updates may be in your plans, they are not required for the vehicle to move and be legally registered. People who plan to live in their bus or RV full time will most likely want a kitchen and bathroom. These rooms come preinstalled in RVs, but have to be built from scratch in school buses. Most remodels cost more and take more time than originally planned, but this is particularly true for Skoolies that are essentially being built from a shell.
Aesthetics
The main advantage of school bus conversions over RVs seems to be the aesthetics of the exterior and the ability to fully customize the interior. However, it is also possible to customize an RV inside and out, but you can start to live in it and travel without having to make these modifications.
Parking
If you plan to travel in your bus, your parking options will be more limited than they are for RV owners. Some RV parks allow Skoolies and other non-traditional RVs, but many RV resorts prohibit buses and older vehicles. Free camping options will also be limited as school buses may not be able to navigate the tight, unpaved roads required to access many boondocking campsites.
If a school bus is what you truly want to live in, then go for it. Just make sure you have a realistic idea of the work involved in a conversion, and are willing to hire out work that is not within your skill set.
---
Once your bus is registered and ready to hit the road, you will need to find some fabulous destinations. To start planning your first trips, check out our favorite summer RV destinations and the 10 best road trips routes in the USA.
Are you planning to or in the process of converting a school bus into a home on wheels? Share your plans with us in the comments section below.