This post may contain affiliate links. See our affiliate disclaimer here.
Many RV dinette cushions are less than desirable because they come covered in ugly or uncomfortable fabric. Fortunately, there are many ways to easily recover RV dinette cushions.
If you are looking for RV dinette cushion replacements that are super easy to install and removable for washing, purchase cushion covers with a zipper. Here are 5 options for RV dinette cushion covers with zippers.
Handcrafted RV Dinette Cushion Covers with Zippers
Etsy is a great place to purchase new RV dinette cushion covers with zippers. Many seamstresses on the marketplace sell RV cushion covers that can be customized for your RV and style.
The Etsy store GlampNChicks offers custom cushion covers for U-shaped dinettes and regular booth dinettes. The covers are made-to-order, so they can be made to fit any dinette booth.
The look of the cushions is also completely customizable. Buyers can source their own fabric or choose from a wide variety of fabrics the store already has in stock. All of the cushion covers from GlampNChicks have a zipper for easy removal and cleaning.
StitcherDodge is another Etsy seller offering great RV dinette cushion cover replacements. Their RV set includes 4 RV dinette cushion covers with zippers (2 seat cushion covers and 2 inside back cushion covers). The covers are made to fit your dinette cushions.
StitcherDodge offers almost 20 different fabric choices, all of which are heavy duty and fade resistant. Sunbrella fabrics are also available for an added cost.
The Sew Shack is an Etsy store that offers replacement RV cushions for your camper renovation. These high quality RV dinette cushions include seams made with extremely durable outdoor-grade thread and a zipper on the back seam.
The store has a variety of solid and printed fabrics to choose from. All Sew Shack cover fabrics are made with Sunbrella quality materials which are UV-resistant, non-light sensitive and dirt and water repellent.
Out last Etsy seller offering handmade RV dinette covers with zippers is VstarButtons. Their cushion cover set includes 4 covers (2 seats and 2 backs) up to 58 inches in length.
They can make straight or arched back cushions. Current fabric options are updated on their website, and the shop typically has a few hundred options in stock.
DIY RV Cushion Covers with Zippers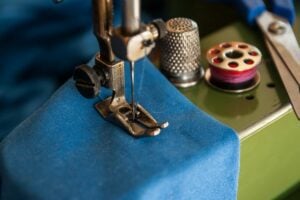 If you don't love any of the fabric options from online sellers, considering sewing your own RV dinette cushion covers. If you know how to sew, making your own cushion cover replacements is much more affordable than ordering custom covers online.
Treasurie provides a step-by-step guide to sewing your own zippered cushion covers. When selecting the fabric for your DIY RV cushion covers, try to find a heavy-duty fabric that is also washable.
Other RV Dinette Cushion Cover Ideas
It is almost impossible to find premade RV dinette cushion covers with zippers because there is not one standard size RV dinette. If you need a quicker cushion cover solution to protect a torn dinette, consider these premade RV cushion covers.
RV Dinette Cushion Slipcover
A premade slipcover is the easiest way to quickly makeover your RV dinette without sewing or waiting weeks for a custom cushion cover. While slipcovers do not have a zipper, they are easily installed and easily removed for cleaning.
Hyha offers slipcovers in a variety of patterns that can be shipped quickly with Amazon Prime. The medium size slipcover fits cushions that are 40 to 50 inches long, which is appropriate for many RV dinettes.
Use a No Sew Reupholstering Method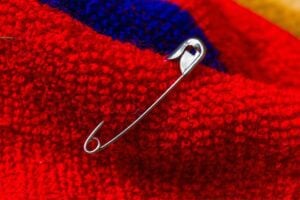 If you want to complete a DIY makeover of your RV dinette cushions but do not know how to sew, consider using a no sew reupholstering method.
One easy option is to simply pin the new fabric to the old cushion covers. Since the fabric is not permanently attached, it can still be removed for cleaning. Click here for a step-by-step guide on how to recover cushions using safety pins.
---
Thanks for reading our guide to the best RV dinette cushion covers with zippers. We hope you found the perfect seat covers for your RV dinette booth.
If you are interested in a more complete makeover, check out our top RV dinette replacement ideas.
Happy Camping!