This post may contain affiliate links. See our affiliate disclaimer here.
Dumping holding tanks is a reality of RV camping, and dumping tanks requires hoses and several other pieces of gear. Since black tank gear regularly comes into contact with human waste, it is important to find a sanitary storage solution. Keep reading to see the best RV sewer hose storage solutions.
RV Sewer Hose Storage Solutions
Utilize Built-in RV Sewer Hose Storage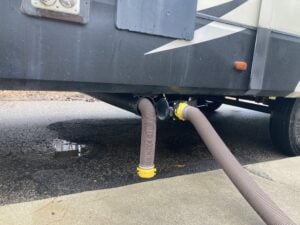 Many RVs come with a tube under the RV that is designed to hold sewer hoses. The tube has a cap on the end that can easily be removed to access the sewer hose, and replaced to keep the hose secure during travel.
The downside of some built-in sewer hose carriers is that it they are only meant to house the hose. Sewer hose accessories, such as elbow connectors, often will not fit in these cylindrical compartments.
Therefore, built-in RV sewer hose storage is a great solution, but you will need to find additional storage for other contaminated accessories.
Add Built-in RV Sewer Hose Storage
If your RV, does not come with a pre-installed tube for RV sewer hose storage, it is pretty easy to install one yourself. Below are several options for after market RV sewer hose storage tubes.
The Valterra Adjustable EZ Hose Carrier has an inside diameter of 4.45 inches, so it easily holds most RV sewer hoses and fittings.
The 53-inch long tube is easily screwed under an RV with the included mounting brackets. The EZ Hose Carrier also has vented end caps to help prevent moisture build-up.
RecPro also makes an easy-to-install RV waste hose carrier. This carrier is built to fit 3-inch sewer hoses and their fittings.
Made of heavy-duty polymer plastic, this sewage hose carrier is expandable and telescoping, so it can stretch between 43 and 80 inches depending on your RV size and storage needs.
If your RV has a built-in sewer hose carrier that doesn't fit your accessories, install the Valterra EZ Accessory Carrier. 15 inches long with a 5.5 inch opening, the tube fits most 90° sewer fittings.
Store the RV Sewer Hose in a Lidded 5-Gallon Bucket
If you are looking for a simpler RV storage hose storage solution, a lidded 5-gallon bucket is a good option. The bucket easily fits an RV sewer hose, and should have extra room for fittings and other black tank accessories.
Since the bucket will need to be stored in your RV's basement storage, it is important to purchase a bucket with a secure lid.
Store the RV Sewer Hose in a Plastic Tote
A long plastic tote is another easy way to safely store your RV sewer hose and accessories in the storage bay. Look for bins that are tall and wide enough to hold all your gear, but don't take up too much extra space.
Also, make sure the bin has a lockable lid. Stackable bins, like these Rubbermaid Cleverstore Clear totes, are ideal so you can easily store other accessories in other bins.
Buy a Special RV Sewer Hose Storage Bag
Some companies make round storage bags that are specifically designed to hold RV black tank gear. RV Mate's RV hose storage set comes with bags designed to store fresh water hoses, sewer hoses and electrical cords
While the bag is durable, it does have a mesh top. Therefore, the bag needs to be stored upright without anything on top of it to prevent contamination.
Store the Sewer Hose in the Bumper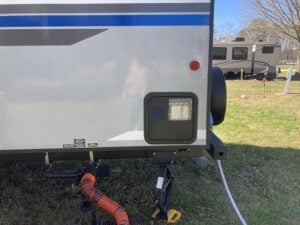 While some RVs have a built-in storage tube specifically for sewer hoses, other RVs have storage space built into the bumper. Many manufacturers put removable end caps on the bumper, so a sewer hose can easily be stored here.
As with mounted RV sewer hose carriers, most bumper storage can only fit the hose and is not large enough to store elbow connectors.
Under Stair Storage Box
If you want a dedicated RV sewer hose storage area with room for multiple hoses, consider adding a permanent storage box to your RV. One great storage box solution is the Lippert SolidStep Storage Box, which fits in the open space under an RV's doorjamb for RVs with SolidSteps.
If your RV doesn't have SolidSteps, you could also consider bumper-mounted or travel trailer tongue storage boxes.
Garbage Bag
If you are hitting the road today, and don't have time to purchase a fancy RV sewer hose storage solution, a garbage bag is a great last-minute solution. Any household garbage bag can fit a sewer hose and accessories, and be secured tightly to prevent leaks.
RV Sewer Hose Cleaning & Handling Tips
Before putting your sewer hose away, it is important to clean it properly. It is also important to be careful when handling black tank gear to avoid contact with contaminated surfaces. Follow these tips for safely handling an RV sewer hose.
For more detailed instructions, see our complete guide to RV holding tanks.
Wear Gloves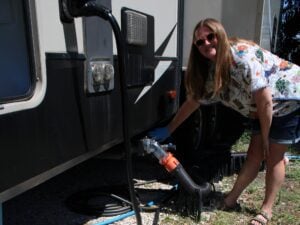 The most important thing to do when using or handling an RV sewer hose is to wear gloves. Gloves will protect you from coming into contact with gross stuff on the RV sewer hose and accessories. Remove the gloves safely, and store them to prevent contact with other RV gear.
Dump Black Tanks First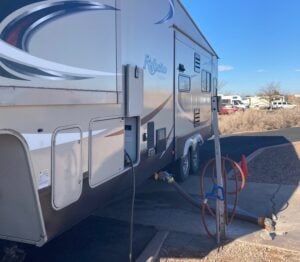 One easy way to help clean your RV sewer hose is to always dump the black tank first. Then, the water from your grey water tanks will help wash out any waste or toilet paper stuck inside the sewer hose.
Wash the Hose
After you have completed dumping your tanks, disconnect the sewer hose from the RV and spray water from the dump station hose into the sewer hose. Let the water in the hose completely drain into the dump station before disconnecting the other end.
---
Thanks for reading our complete guide to RV sewer hose storage. We hope you found the perfect solution for your RV.
Check out our list of RV camping essentials for more black tank gear every RVer should own.
Happy Camping!