This post may contain affiliate links. See our affiliate disclaimer here.
Many RV campers search for free and convenient places to spend the night. One easy place to stop for the night is the parking lot of Cracker Barrel restaurants. However, camping overnight is not permitted at every Cracker Barrel. Keep reading our complete guide to Cracker Barrel RV Parking to learn how to camp at the restaurant and when it is allowed.
Can I Park My RV at Cracker Barrel?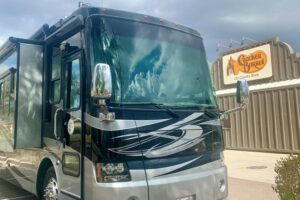 Many Cracker Barrel restaurants allow overnight RV parking and have designated RV parking spaces. However, overnight RV parking at Cracker Barrel is subject to manager approval, local laws and parking space availability.
Therefore, RVers wishing to spend the night at Cracker Barrel should contact the restaurant and request approval before planning an overnight stay. There is no charge for RV parking at Cracker Barrel.
How to Find Cracker Barrel RV Parking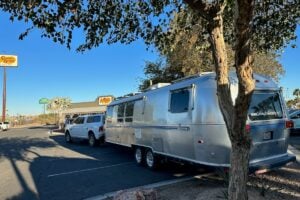 Since not all Cracker Barrels offer free RV parking, it is important to plan ahead for an overnight stay at Cracker Barrel. The following resources can help you determine if a Cracker Barrel near you allows RV camping.
AllStays Camp and RV App
AllStays Camp and RV is an essential RV travel app that helps campers locate campgrounds, overnight parking options, dump stations and more. A one-time fee of $9.99 is charged to use the app.
The app's map and directory includes Cracker Barrel locations across the country. In the Location Information section for each restaurant, there are notes indicating whether or not the location allows overnight RV parking.
Cracker Barrel Website
Another great resources for RVers looking for free overnight parking is the Cracker Barrel website. RVers can use the website to find restaurant locations.
Each location's page has an amenities list. If the restaurant has RV parking spaces, it will list "Bus/RV Accessible" under the amenities.
If the location does not have RV parking, there is not enough room for overnight camping. If the location does have RV parking, manager approval should still be requested for overnight stays.
Cracker Barrel Overnight Parking Etiquette
One of the reasons Cracker Barrel managers decide to prohibit overnight parking is because they have seen campers acting rudely in the past. If you are granted permission to camp overnight in a Cracker Barrel parking lot, follow these basic etiquette rules so camping privileges won't be revoked in the future.
Ask Permission from the Manager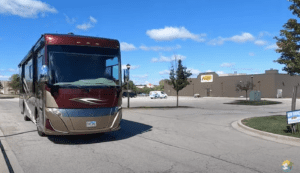 As noted above, all RV campers should request permission from the restaurant manager before staying the night. As policies may change, it is not sufficient to check an online tool to see if overnight parking is allowed. You must always get verbal permission from the store manager.
Ideally, campers should call the restaurant while they are driving and request permission to stay before arriving. If you are unable to reach the store by phone or are looking for last-minute parking, you can also park in the lot and go to the hostess stand inside to request permission. Never try to stealth camp at Cracker Barrel.
Park in a Designated Area
When speaking to the manager, ask if they have a specific area where they prefer RVs to park. Follow their instructions and park in the designated area. Fortunately, many Cracker Barrels that alow overnight stays have long parking spaces specifically for RVs and buses.
Keep Slide Outs In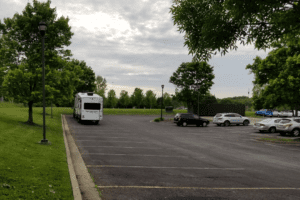 In an effort to minimize the amount of space your RV occupies, keep your slide outs pulled in while camping overnight at Cracker Barrel, unless your slide outs fit within the parking space lines.
Make sure slides never extend outside of parking spaces, where they might block the road for other customers.
If you must extend a slide out to reach the kitchen, put it back in once you are finished grabbing food. If you must extend a slide to access the bedroom or bathroom, only extend it as far as you need to create a walkable pathway.
Don't Set Up a Campsite
While many Cracker Barrel restaurants offer overnight parking as a courtesy to travelers, their parking lot is not a campground. Campers should only use Cracker Barrel to rest, eat and then move on.
Therefore, campers should not pull out chairs, a grill or otherwise set up camp. If you look like you plan on getting comfortable and staying a while, you will likely be asked to leave.
Order a Meal or Buy a Souvenir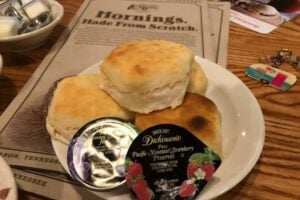 Cracker Barrels offer free RV parking as a perk for customers. If you spend the night in a Cracker Barrel parking lot, you should support the business. Either go inside the restaurant for a meal, order takeout to carry with you on the road or buy a souvenir from their store.
Leave at a Reasonable Hour
Once you are well rested and have ordered some food, you should get up, get ready and move on. If you do not plan to continue your travel, book a stay at a campground or other facility where it is appropriate to spend the whole day.
Never Dump Waste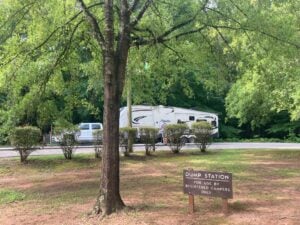 I wish this rule could be left unsaid, but there are horror stories of campers disposing of their waste in parking lots. It is never okay to empty your gray tank or black tank outside of a dump station.
Some new campers mistakenly think that gray water is clean and can be dumped in parking lots or other open areas. This is absolutely untrue. Gray water contains all sorts of things from soap to food waste and needs to be disposed of properly at a dump station.
Preparing to for Cracker Barrel RV Parking
If you plan to camp overnight in a Cracker Barrel parking lot, there are a few preparations you should make to ensure a comfortable night.
Bring Light and Noise Blockers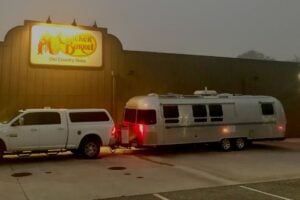 While most Cracker Barrels close by 10 PM, there may be lights and noise from other nearby businesses and roads. If your RV is not equipped with blackout shades, purchase an eye mask to block out the light. If you are a light sleeper, also pack earplugs to block out the noise.
Time your Arrival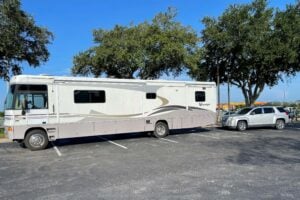 As noted in our etiquette section, RVers should try to limit their stay at Cracker Barrel to just enough time to eat and rest. Also, Cracker Barrel parking lots are not that fun, so you probably won't want to stay any longer than you need to.
If you plan to stay at a Cracker Barrel, try to find one at the end of day's drive so you will arrive no earlier than dusk and after their nightly dinner rush.
Cracker Barrel RV Parking Alternatives
RV campers who plan to spend the night at a Cracker Barrel restaurant should always have a plan B in case they are turned away by the store manager. Here are four alternatives to Cracker Barrel RV parking.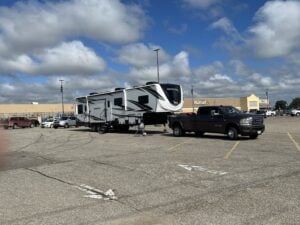 Stores with Overnight RV Parking
Walmart
Many Walmart stores allow RV parking overnight in their lots. As with Cracker Barrel RV parking, campers can use the AllStays app to locate Walmart locations, but should always ask permission from the manager before staying.
Cabela's
Most Cabela's stores also allow RV campers to stay in their parking lots. Typically, the stores have separate RV and truck parking available. Some Cabela's even provide dump stations (for a fee) so you can dump your tanks before leaving the next day.
Other Overnight RV Parking
Casinos
Many casinos across the country also offer free parking for RVers. Casinos make for a much more exciting overnight stop than retail stores and restaurants. You can eat a good meal and try your hand at black jack without unhooking your trailer or tow vehicle. Always ask permission before parking at any casino.
Harvest Hosts
Harvest Hosts is a club that offers overnight RV parking at wineries, breweries, farms, museums and golf courses across the country. Some of the most unique camping spots include alpaca farms, an active salt mine and an air museum. Click here to learn more about the Harvest Hosts membership.
---
Thanks for reading our complete guide to Cracker Barrel RV parking. Click here to learn about more free RV parking options.
Happy Camping!